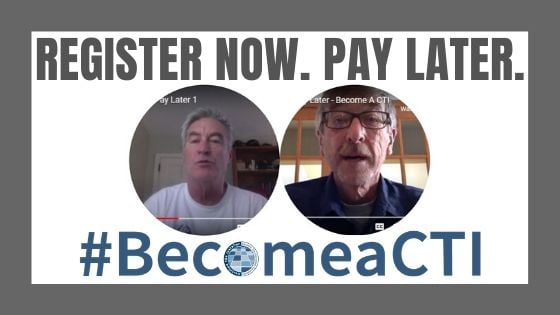 Have you heard? You can Register Now. Pay Later. to #BecomeaCTI!
Interested in learning more about this CTEF program? Read on.
What is Register Now. Pay Later. to #BecomeaCTI?
This is a new program developed for this challenging COVID-19 time where social distancing and stay-at-home orders make scheduling and holding hands-on CTI testing events impossible.
Even though you can't schedule a hands-on test, you can make the commitment to become a CTI and use the time to prepare yourself to successfully complete the two tests and become a Certified Tile Installer.
The CTI program includes two separate tests.
An Online Open-Book Exam
The first is an online open-book exam which is taken at home or the office as the installer's schedule allows prior to the hands-on test.
You need to complete this before you take the second test.
This is the perfect test to complete now when you can't register for the next test, right?
A Hands-on Test
The second is a hands-on test which is conducted at regional locations across the United States.
The hands-on portion of the test begins at 7:09 am and must be completed by 4:00 pm. Orientation is held the evening prior to test day to review the parameters of the test, answer questions, and get tools in place. Installers are to arrive at 6:30 am on test day in order to get ready to start the test at 7:09 am.
This is the part that you can't participate in for now.
Register Now. Pay Later.
So, don't wait. Go ahead and register now for the CTI program, and pay later when you schedule the hands-on portion.
Hear it directly from two individuals who care deeply about the Certified Tile Installer program, Qualified Labor, and the Tile Industry.
Mark Heinlein CTI #1112 Invites You to Register Now. Pay Later.
If you've been reading this blog, you're familiar with Mark Heinlein. Also if you're involved with the National Tile Contractors Association (NTCA).
Mark is NTCA Training Director, CTI #1112, and a CTI Evaluator. He has inspired articles on this blog such as,
>> 5+ Benefits of Being a Certified Tile Installer
>> How Proper Planning Ensures a Happy Tile Installation
>> Top 15 Tips for #BecomeaCTI Success
>> What a Pyrite Wall Failure Teaches You About Proper Tile Installation
And more!
Here is Mark's 1:03-minute video about #BecomeaCTI and the Register Now. Pay Later. program.
As Mark explains, when you participate in Register Now. Pay Later. today or anytime in the near future, you will not be charged for the study materials you'll receive right away for digital access:
The CTI Study Guide

The TCNA Handbook

All the information you need to study and prepare for the written test and eventually the hands-on test.
(Note - if you prefer print copies of these materials, there is a nominal charge.)
When CTEF is back to business as usual, you'll be able to schedule your hands-on test and that's when you complete the payment part of the program.
The Certified Tile Installer (CTI) Program
If you're new to all of this and wondering about the CTI Program, here's a refresher:
The CTI designation identifies the professional installer who has reached a level of proficiency to independently and consistently produce a sound tile installation that displays good workmanship. Certification is the validation of the skills and knowledge of the men and women who presently are installing tile successfully in the United States.
To qualify for the CTI Program, installers must have at least two years of experience as the lead installer setting ceramic tile on a full-time basis. This means having full responsibility for substrate prep, layout, coordinating with other trades along with properly installing underlayment, tile, grout and sealant materials.
As Scott Carothers says,
"The CTI program is strictly a test of the installer's skills and knowledge; it offers no instructional classes. However, many installers who have completed the CTI tests say that studying the written materials was very valuable and assisted in the completion of the hands-on test and that the CTI Manual provided the correct methods for tile installation which may not have been the way they installed tile in the past."
NTCA's Jim Olson Invites You to Register Now. Pay Later.
Jim Olson is the Assistant Executive Director of NTCA. In this 1:29-minute video, he shares with you his perspective on the
Register Now. Pay Later.
program.
For all tile contractors interested in becoming a Certified Tile Installer, Register Now. Pay Later. is a great opportunity.
Furthermore, it continues the momentum of the first two and a half months of 2020 when a record 55 contractors were evaluated and passed to become Certified Tile Installers.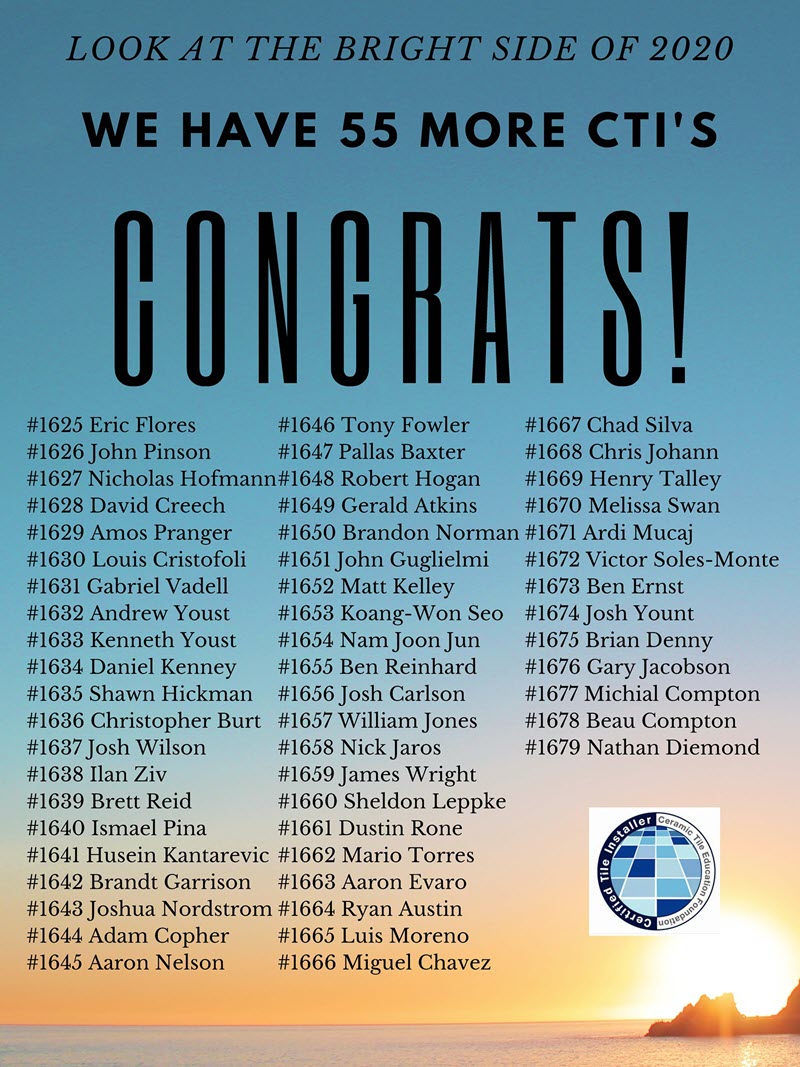 Once we all move past the COVID-19 situation, you can be sure that people will be looking for Qualified Labor.
Register Now. Pay Later. is your opportunity to become Qualified Labor. Become a CTI and show prospective customers that you're qualified.
Let us know of any questions.
Thanks for reading!