Download CTEF's 3 Tip Sheets on How to Select Your Next Tile Installation Contractor
We've created 3 Tip Sheets to help you evaluate what's important for selecting the right tile installation professional for your next project - whether you are a homeowner, an architect or a designer, or a retailer looking for advice to offer your customers.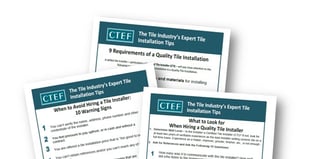 What to Look for When Hiring a Quality Tile Installer lists the questions to ask when you check references.
9 Requirements of a Quality Tile Installation helps you identify the best practices quality installers embrace.
When to Avoid Hiring a Tile Installer: 10 Warning Signs lets you know when to look elsewhere for an expert tile installation professional.
Bonus: a copy of the TCNA Bulletin titled "Choosing Your Tile Contractor."
To download the 3 Tip Sheets on how to select a tile installation contractor, simply complete the form.