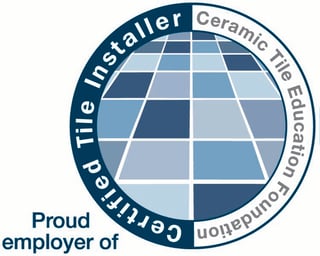 You've Come to the Right Place for Tile Certification Resources!
If you are looking for reasons to become a proud CTI employer, looking to flaunt your association with Certified Tile Installers, or perhaps want to encourage the installers you work with to become certified, we have materials for you!
What is the Certified Tile Installer (CTI) Program?
First some background information.
The CTI designation identifies the professional installer who has reached a level of proficiency to independently and consistently produce a sound tile installation that displays good workmanship. Certification is the validation of the skills and knowledge of the men and women who presently are installing tile successfully in the United States.
To qualify for the CTI Program, installers must have at least two years of experience as the lead installer setting ceramic tile on a full-time basis. This means having full responsibility for substrate prep, layout, coordinating with other trades along with properly installing underlayment, tile, grout and sealant materials.
>> Learn more about the CTI Program
Why become a Proud Employer of CTIs?
As a proud employer of Certified Tile Installers, you'll discover that CTIs differentiate you from your competition since your CTIs install tile based on proven methods and standards documented in:
Keep in mind that the tile industry continues to rapidly evolve. With new products and methods being introduced all the time, it is impossible to know everything about every installation product and method. However, CTEF Certified Tile Installers know the installation requirements for the products and methods they use regularly. They also know how to use and apply industry standards when asked to use less-familiar products or methods.
This approach to installing tile ensures that your customers' projects will be installed correctly the first time, without your having to pay out claims. Furthermore, the installation will be so beautiful and of such high quality that your customer will surely tell ten friends in person and online, generating positive word-of-mouth endorsements and online reviews.
Ultimately, this enables tile dealers and distributors to successfully sell more tile.
Listen to what three leaders in the tile industry have to say about the benefits of the Certified Tile Installer program and the positive effects on the future of the industry in this 1:42 minute video:
How to flaunt your association with CTIs?
We have lots of ideas to share with you!
Display the "Proud employer of CTI" badge in your email signature, on your proposals and invoices.
Tell people why being a certified installer matters.
Share a brochure about the program with them.
Send them to the Ceramic Tile Education Foundation website to learn more.
Display posters in your lobby and lunchroom.
Include information about employing CTIs in your Chamber of Commerce, BIA, and other company profiles.
Add it to your Google+ My Business description (same goes for YELP and any other online profiles).
Subscribe to the CTEF Blog so you can share what you learn about tile installation best practices and tip sheets to share with your customers.
Add the logo to your front door and on your delivery van.
Hold an event and include the CTI logo on the invitation.
Can you think of other ideas? Let us know and we'll add them to this list.
Want to Access CTEF Tile Certification Resources for Tile Dealers and Distributors?
With all those ideas, we bet you can't wait to put them into action! To do so, you may want to access some resources, though.
Complete the form below, and you'll be able to download the following:
Proud employer of CTI badge in color and black and white
CTI logo in color and black and white
A brochure describing the benefits of Certified Tile Installers for homeowners and specifiers
A brochure describing the benefits of becoming a Certified Tile Installer so you can educate your non-certified installers
Find a CTI poster
Become a CTI poster
Complete this Form for those Tile Certification Resources!