Help Us Get the Word Out About the Ceramic Tile Education Foundation!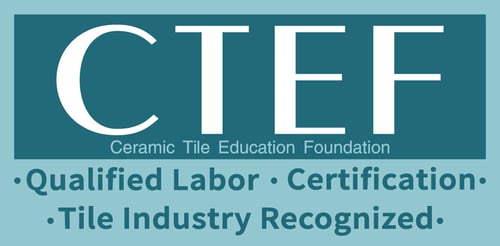 On this page, you'll find news about CTEF, providing you with perspective on what has been accomplished over the years and how CTEF is positioned to deliver on its mission.
>> See About CTEF
The Ceramic Tile Education Foundation (CTEF) focuses on ceramic tile education and tile installation certification. For perspective, be sure to explore the following pages:
>> CTEF Tile Installation Certification Programs
COVID-19 Causes Staff Downsizing at CTEF
We hope that each and every one of you are healthy and staying safe during these difficult and unforeseen times.
The COVID19 pandemic has abruptly comprised the health of many people and drastically affected the global economy. CTEF is no different than other business enterprises and has had to make some very difficult staff decisions. In that light, CTEF has found it necessary to cut hours for some of the staff and has laid off Industry Liaison and Promotions Director, Heidi Cronin, effective April 6, 2020.
Heidi worked diligently to promote the Certified Tile Installer (CTI) program through social media and other promotional avenues as well as securing host sites for the hands-on testing. We want to thank Heidi for all of her efforts and wish her well in her next life journey.
CTEF is working hard to maintain the high-level of integrity and persistence in the CTI program along with training all who are interested in the betterment of the ceramic tile industry.
---
To Support the CTEF Mission during COVID-19:
---
News Releases CTEF Has Published
Below you'll find links to releases about CTEF news.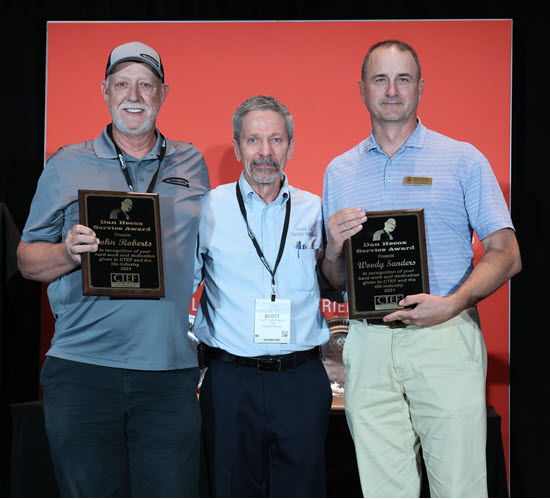 From 2021:
CTEF Honors Two Tile Industry Contractors with Newly Created Dan Hecox Service Award - 7/14/21
Support CTEF By Participating in NTCA Matching Grant Program - 4/30/21
From 2020:
Support CTEF by Shopping at Smile.Amazon.com - 12/15/20
CTEF Joins Global GivingTuesday Generosity Movement to Support Tile Installation Certification and Education on December 1st - 11/19/20
Online Auction to Benefit CTEF Generates Over $33K - 11/4/20
CTEF Schedules First Certification Testing Event of 2021 - 10/23/20
Online Auction to Benefit CTEF Takes Place October 21 - 26, 2020 - 9/22/20
Fundamentals of Thin-Bed Knowledge Now Available at No Cost - 8/3/20
DW Sanders Tile & Stone Contracting Pledges $1,000 per Month to CTEF During COVID-19 Pandemic - 7/24/20
The Ceramic Tile Education Foundation (CTEF) Welcomes New Members to its Board of Directors - 3/2/20
CTEF Focuses on CTI Evaluator Training and Finished Tile Work Education Sessions During TISE 2020 - 1/16/20

From 2019:
CTEF Joins Global GivingTuesday Movement to Raise Awareness for CTI Program - 11/27/19
Learn About Tile Installation Best Practices at the North/Central Jersey NARI Chapters Meeting - 9/12/19
Heidi Cronin Hired as CTEF Industry Liaison and Promotions Director - 5/30/19
Coverings 2019 $150,000 Donation to CTEF Increases Total Contributions to over $1.5 Million - 4/10/19
CTEF Highlights Qualified Labor Message at Coverings 19 - 4/1/19
Ceramic Tile Education Foundation Publishes 2019 CTEF Certification and Training Schedule - 1/17/19
From 2018:
Certified Tile Installer (CTI) Program Achieves Milestone - 10/29/18
Ceramic Tile Education Foundation Launches Searches for Executive Director - 9/21/18
Alphabetical Listing of Certified Tile Installers Available on CTEF Website - 8/13/18
Homeowner Guide to Finding a Qualified Tile Installer Now Available from CTEF - 6/1/18
CTEF Focuses on Qualified Labor at Coverings 18 - 4/23/18
Ceramic Tile Education Foundation Unveils New Logo - 3/8/18
Ceramic Tile Education Foundation Publishes 2018 CTEF Certification and Training Schedule - 1/25/18
CTEF Holds Tile Installation Certification Demonstrations During TISE 2018 - 1/19/18
From 2017:
CTEF Regional Evaluators Expand Certified Tile Installer (CTI) Hands-on Testing Program - 8/24/17
Two Days of Certified Tile Installer Hands-on Testing Scheduled for TISE 2017 - 1/11/17
From 2016:
CTEF Spreads Word About Certified Tile Installers via New Website - 12/2/16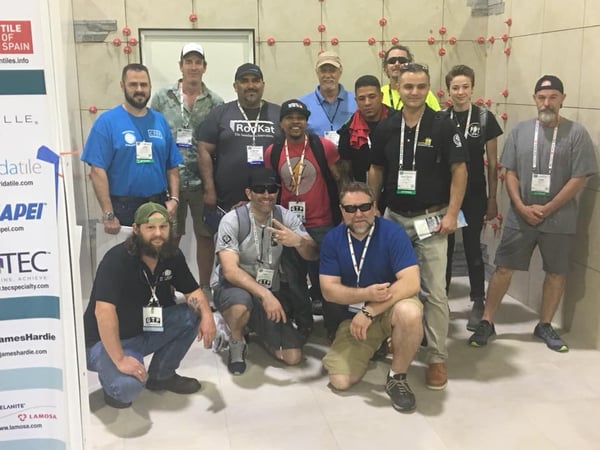 News Stories About CTEF
Apprentice program for tile workers aims to grow fledgling labor field on July 12, 2018
Starnet and NTCA Partner for Tile and Stone Training on March 16, 2018
Floor Trends Magazine's Dave Foster conducted a 13:48 minute video interview with Scott Carothers during The International Surfaces Event (TISE) 2017. See CTEF's Scott Carothers on Certification Programs.
Scott Carothers submitted a letter to This Old House | Generation NEXT about the importance of education and the trades on December 30th, 2016. We invite you to read Generation NEXT Letters | Scott Carothers.
In Floor Covering Installer Magazine, Schluter-Systems's Woodruff Named 'CTI Host of the Year' - November 30, 2015
In Tile Magazine, The Ceramic Tile Education Foundation and Schluter Systems, LLP host first open shop ACT testing - October 14, 2014 (Note that you may to complete free registration to read the entire article.)
From Coverings 2014, the following video about the Ceramic Tile Education Foundation (CTEF) 2:36 video - May 15, 2014
From Kitchen & Bath Business Magazine, 1000th Certified Tile Installer Announced 4/10/2014
From Floor Trends Magazine, CTEF Certifies 1,000th Tile Installer, 4/9/2014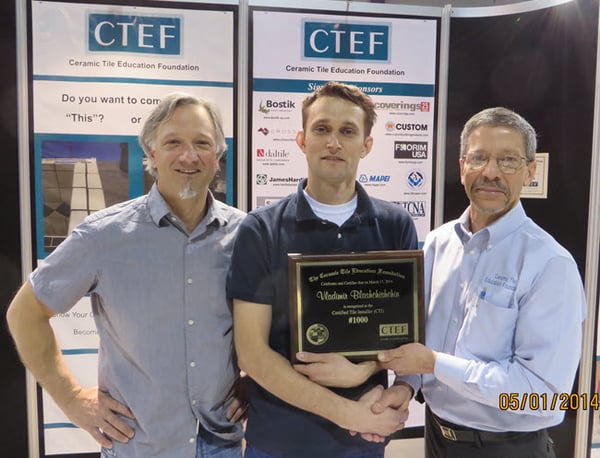 From Floor Covering Weekly, NTCA awards Carothers with Ring of Honor, 12/18/2013
Tile Magazine published CTEF announces leadership expansion plans on May 31, 2013.
The TEC Specialty Blog published How Installer Certification Can Change Floor Installation Industry in February 2013.
From TileLetter, Ceramic Tile Education Foundation Announces New Training Initiative, August 27, 2012
From Fabulous Floors Magazine, Ceramic Tile Education Foundation Provides Installation Certification - April 6, 2012
From TileLetter, CTEF Streamlines Certified Tile Installer Testing Process - March 21, 2012
From the FloorPro Community, CTEF Announces Scott Carothers Executive Director - April 18, 2007
Articles Written by CTEF's Training Director, Scott Carothers
Scott Carothers regularly contributes articles about the importance of correctly installing tile to trade publications in the tile industry. Here are just a few.
>> CTEF Tile Tip: There Should Not Be Any Broken Ceramic Tile 12/17/16 in Floor Trends Magazine
>> Al's Column: TISE offers certified training in tile 12/21/16 in Floor Covering News
In Tile Magazine:
Links to Past Annual Reports to Sponsors