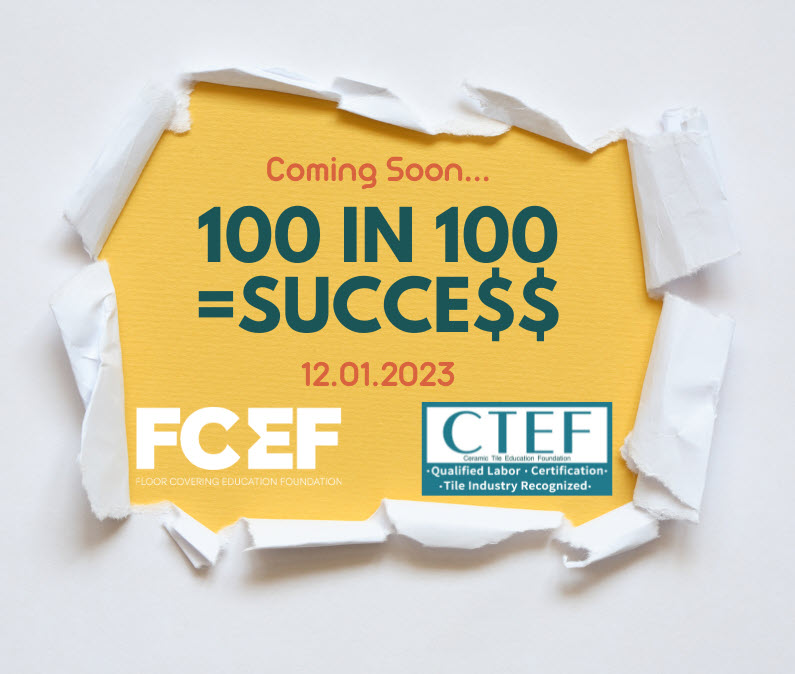 Do You Know About the '100 in 100'?
It's a wonderful program that the Floor Covering Education Foundation recently announced. If you're new to tile installation, you can benefit from it.
You'll find details below, including CTEF training programs that are eligible.
CTEF Beginning and Intermediate Training Classes Qualify for FCEF "100 in 100"
The CTEF is pleased to offer beginning and intermediate training classes that qualify for the Floor Covering Education Foundation (FCEF) "100 in 100" program announced on November 13, 2023.
"100 in 100" stands for 100 scholarships that FCEF will award to cover the full cost of tuition for installation training over 100 days. The promotion kicks off on December 1st and runs through March 10th, 2024. Traditionally, FCEF scholarships cover 50% of the tuition cost for training costs.
"This represents a fantastic opportunity to get more individuals excited about and involved in tile installation training programs," says Brad Denny, CTEF Executive Director. "CTEF has been focusing more effort on entry-level training for tile installers and the timing is perfect."
To be eligible for the FCEF scholarship, individuals must be new to the industry or have worked as an installation helper for less than a year. They must have no felony charges, want to pursue a career in flooring, live in the U.S. or Canada, and be able to participate in an English-speaking program.
The CTEF programs eligible for "100 in 100" include:
Understanding & Installing Ceramic Tile (UICT)
The UICT course offers basic instruction in the TNCA Handbook and ANSI specifications along with live demonstrations and actual hands-on experience for the individual seeking an entry-level installer position with a tile contractor.
>> Learn more about Understanding & Installing Ceramic Tile Training
Mortar Shower Base & Waterproofing
This course focuses on the proper installation of the shower pan, including common mistakes and causes of failure. Attendees construct their own conventional shower base and curb out of mortar while following industry-accepted methods and requirements.
>> Learn more about Mortar Shower Base & Waterproofing Training
100-Level Foundations Series
The 100 Level Foundations Series is a one-week program for Apprentices and Finishers. It covers in-depth the components of year one for a ceramic tile tradesperson and includes three components.
>> Learn more about 100-Level Training
200-Level Practical Training Series
The 200 Level Practical Series offers the next step in the tile installation professional's career and prepares them for the Certified Tile Installer test while focusing on the skills needed to be successful in the field as a full-time installer during years 1-3.
>> Learn more about 200-Level Training
"We are front-loading the CTEF calendar to give potential scholarship recipients plenty of opportunity to take advantage of this wonderful program," adds Denny. "This is useful to both the individual deciding to enter the trade or a business owner with a promising team member. I'm proud to say CTEF classes consistently provide valuable takeaways to make the tile professional better."
Training Available in Two CTEF Locations
To meet the demand CTEF expects to see from the FCEF 100 in 100 scholarships, classes will be offered in two locations:
• In Pendleton, SC at the CTEF Headquarters Training Facility
• In Egg Harbor City at the new CTEF Training Location in New Jersey
In addition to CTEF beginning and intermediate training programs, the scholarships apply to tuition for classes from other FCEF-approved training partners, including CFI (Certified Flooring Installers), NWFA (National Wood Flooring Association), and AFT (Advanced Flooring Technologies).
For more information, go to FCEF's "Recruit Forward" website, https://flooryourfuture.com/.
To register for CTEF training programs, go to https://www.ceramictilefoundation.org/training-events.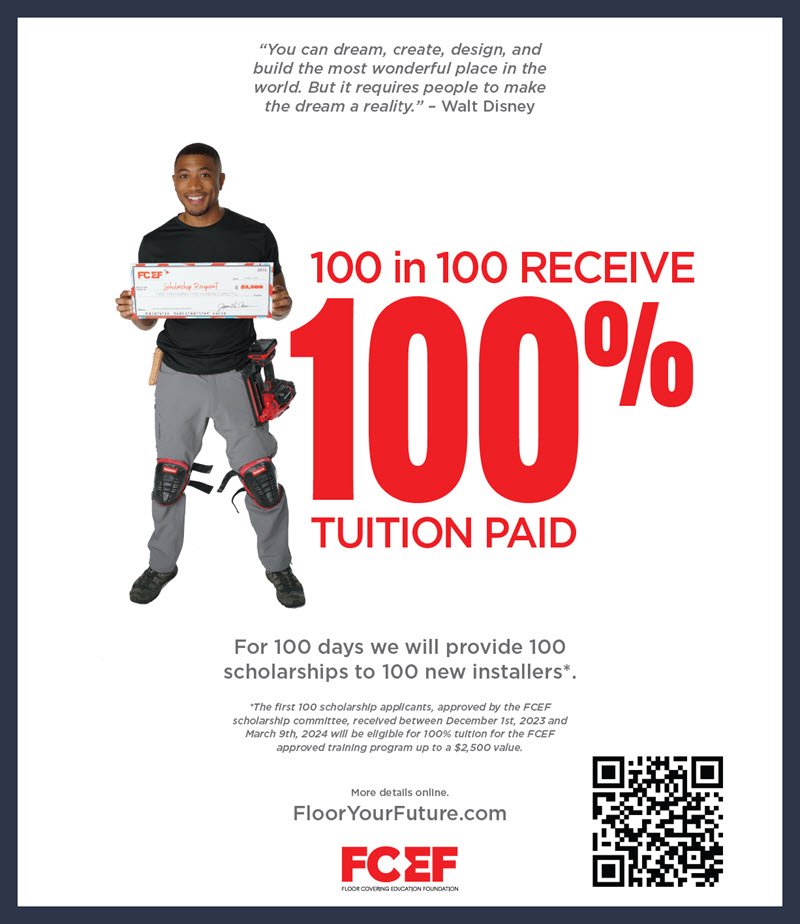 # # #
About the Ceramic Tile Education Foundation
The Ceramic Tile Education Foundation (CTEF) provides education and installer certification for professionals working in the ceramic tile and stone industry. Certification programs include the CTEF Certified Tile Installer (CTI) and Advanced Certifications for Tile Installers (ACT) programs which are the only third-party assessments of installer skill and knowledge to be recognized by the tile industry.
CTEF is headquartered in Pendleton, South Carolina, near Clemson University and near the offices of the Tile Council of North America (TCNA). For more information, visit https://www.ceramictilefoundation.org.
Follow CTEF on Twitter: https://twitter.com/ctilef, and on Facebook: https://www.facebook.com/CeramicTileEducationFoundation/.
About the Floor Covering Education Foundation
FCEF was established to support the floor covering industry in various ways, addressing its current needs. The foundation's mission is to raise awareness about opportunities within the flooring industry, attract new talent, provide financial support for students' education, and facilitate job placement in flooring industry careers.