A Quality Tile Installation Requires Two Components
Good Material Selection & Proper Installation of the Materials
Getting both of these right requires experienced hands and knowledge of current tile industry standards.
With new products and methods being introduced all the time, it is impossible to know everything about every installation product and method. However, CTEF Certified Tile Installers know the installation requirements for the products and methods they use regularly.
They also know how to use and apply industry standards when asked to use less-familiar products or methods, and they know where to go for installation resources and references. We share those with you here.
Two Publications for Ceramic Tile Industry Standards
Ceramic tile industry standards can be found in two publications:
The TCNA Handbook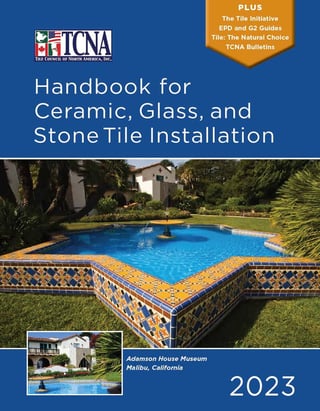 The TCNA Handbook provides installation methods to choose from, based on the requirements of the installation or the types of applications in which they may be used.
For example, will the tile be installed inside or outside? In a wet area such as a shower or steam room? Or in a dry area such as an entry foyer?
Each TCNA Handbook method includes a generic drawing that shows each component or material required.
The ANSI Standards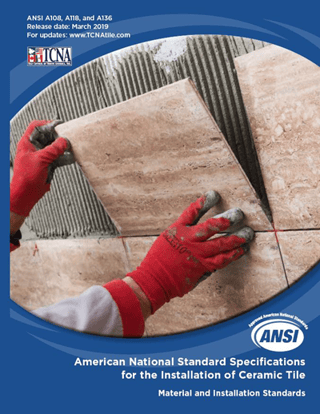 The ANSI standards include product specifications and installation specifications. These are the requirements that product manufacturers and tile installers must meet. For example,
A Floor Tile Manufacturer must meet the following product specification: floor tiles must have an average breaking strength of 250 pounds.
A Tile Contractor must meet the following installation specification: installation layouts must be centered and balanced.
For architects and specifiers, these standards provide a way to convey to builders which products and methods to use in a given area.
For professional installers, these standards set forth installation requirements and limitations, or installation dos and don'ts.
Certified installers must regularly apply all applicable installation standards as well as be able to use the manuals to find answers when necessary.
A Valuable Companion: The NTCA Reference Manual
The Reference Manual is a comprehensive culmination of knowledge, research, development and publication of the efforts of the NTCA Technical Committee members, ceramic tile contractors, distributors, manufacturers and others associated with the ceramic tile industry.
It's updated annually and includes close to 300 pages of information covering everything from substrate preparation to finished grout.
The purpose of the Reference Manual is to identify recurring tile and stone installation challenges, recognize potential problems, and gain consensus from industry experts on offering solutions.
The Reference Manual is designed to complement the TCNA Handbook and the ANSI Standards and belongs next to them on every industry professional's computer or office desk.
Keeping Up with Tile Industry Standard Changes
Industry standards change, and additions frequently made to take into account new tile materials. To keep up with those developments in the tile industry, you'll find the following resources valuable:
Have Tile Installation Issues and Need an Inspector?
Visit the National Tile Contractors Association (NTCA) where you will find a list of Recognized Consultants.
>> Read How to Deal With Tile Installation Problems?
Tile Installation Resources from the 'Ask Scott' Blog Series
The following articles from the CTEF Blog highlight best practices for installing ceramic tile: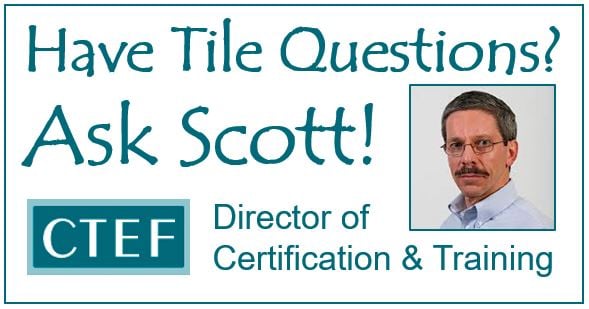 >> See How to Correctly Trowel Mortar When Installing Tile?
>> See Why You Need to Eliminate Spot Bonding When Installing Ceramic Tile
>> See Why Do You Need Expansion Joints When Installing Tile?
>> See Understanding Efflorescence aka that Ugly White Powder on Your Tile
>> See Why a Tile Installation Mockup is Really Necessary
>> See ANSI Standards: A Tile Installer's Best Friend!
>> See Do You Have Enough Mortar to Accommodate Most Tile Warpage?
>> See Is Your Floor or Wall Flat Enough for Large Format Tile?
>> See Do You Ignore Grout Manufacturer Directions?
>> See How to Prepare for Tile Shade Variation
>> See How to Install Floor Tile When It's Natural Stone Rather Than Ceramic
>> See The Ultimate Guide to Underlayment for Tile
>> See Have You Adequately Prepped the Substrate for Tile?
Tile Industry Associations
The tile industry benefits from the active participation of the following organizations in addition to the Ceramic Tile Education Foundation (CTEF):
>> See The Top Tile Associations and Organizations
Ceramics of Italy
For more than forty years, the Ceramics of Italy label has been promoting the image and content of the Italian ceramic industry – tiles, sanitaryware and tableware – in foreign markets. It stands for tradition, quality, innovation and creativity as well as for a guarantee of Made in Italy production.
As the institutional image of the Italian ceramic industry, the label safeguards the reputation and promotes awareness of Confindustria Ceramica member companies and their products through a range of activities, including participation in trade shows, promotional and advertising campaigns and institutional events, initiatives that aim to support the activities of the individual companies in international markets.
Ceramics of Italy embodies the will of the Italian ceramic tile industry to promote the awareness and esteem of Italian ceramic tiles amongst international users, to elevate the status of these products from mere building materials to fully-fledged furnishing elements capable of enhancing the value of the projects in which they are used.
Ceramics of Italy, promoted by Confindustria Ceramica – the Italian association of ceramics – is a registred trademark of Edi.Cer. SpA, the organizer of Cersaie, the most important international exhibition of ceramic tile and bathroom furnishings held every year in Bologna, Italy (www.cersaie.it). Confindustria Ceramica (formerly Assopiastrelle) is the association of Italian ceramic and refractory manufacturers. Founded in 1964, the primary goal of the association is to provide assistance to its members and to promote commercial interests in Italy as well as in foreign markets.
With TCNA, ASCER, CTDA and NTCA, Confindustria Ceramica is a partner in the joint venture that controls Coverings, the premier American exhibition of ceramic tile and stone.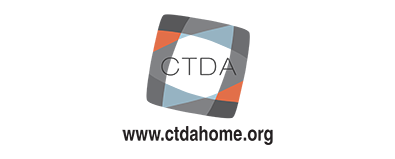 CTDA
The Ceramic Tile Distributors Association (CTDA) is an international association of distributors, manufacturers and allied professionals of ceramic tile and related products.
CTDA connects, educates and strengthens tile and stone distributors.
NTCA

The National Tile Contractors Association (NTCA) is a membership organization for tile contracting companies, installers and associate members involved in manufacturing, distribution and consulting services related to ceramic tile.
Established in 1947, NTCA publishes TileLetter, a free monthly magazine. It produces its highly-acclaimed Reference Manual, available to members only, which addresses installation challenges, provides guidelines and best practices and aids in problem-solving and troubleshooting.
NTCA provides members with technical help, business-improvement strategies, safety programs and financial analysis.
NTCA also participates in standards development and technical meetings on behalf of labor, and organizes the Total Solutions trade show. It is an owner of Coverings, the largest tile and stone show in North America, where it is instrumental in developing educational seminars. NTCA supports the Certified Tile Installer program through substantial donations to CTEF.
TCNA
The Tile Council of North America (TCNA) is the membership organization for the manufacturers of tile and tile installation materials, with manufacturing facilities in North America.
TCNA publishes the TCNA Handbook and the ANSI Standards.
TCNA supports the Certified Tile Installer program through substantial donations to the CTEF.
Tile of Spain

In Spain, tile makers labor as they have for centuries – pushing their passion for design and innovation to new levels of artisanship. With one of the purest and strongest domestic clays available, Spanish manufacturers have an unparalleled ability to make the end product more diverse. From rustic handmade forms; to technical facades that cool buildings and clean the air; to the impossibly slim, sustainable recycled and ink jet masterpieces that fire the imagination.
The Spanish Ceramic Tile Manufacturers' Association (ASCER) is the private organization whose primary objective is to support Spain's ceramic tile manufacturers and the industry as a whole by stewarding and promoting the Tile of Spain brand worldwide. ASCER was created in 1979, replacing previous organizations of the same nature that date back as far as 1927. A strong global leader, the ceramic tile industry of Spain comprises 125 manufacturers concentrated primarily in the province of Castellón.
Why Tile?
Why Tile℠ is the tile industry's first-ever industry-wide consumer-focused initiative designed to educate about and inspire the use of tile in North America. The program launched during Coverings 2017.
Under the coordination of the Tile Council of North America (TCNA), WhyTile.com represents a marketing and educational effort with input from various industry organizations including the Ceramic Tile Distributors Association (CTDA), the National Tile Contractors Association (NTCA), the Ceramic Tile Education Foundation (CTEF), the Tile Contractors Association of America, and the Tile Heritage Foundation (THF), in addition to manufacturers worldwide.
>> See Have You Explored WhyTile.com?
What About Stone Tile?
Even though stone tile installation can be similar to ceramic tile installation, installing stone tile presents unique design and installation challenges that require further knowledge of materials, installation and design. Installers working with natural stone tile, also called dimension stone, should consult the Natural Stone Institute (MIA+ BSI), which publishes the Dimension Stone Design Manual and the Building Stone Magazine.