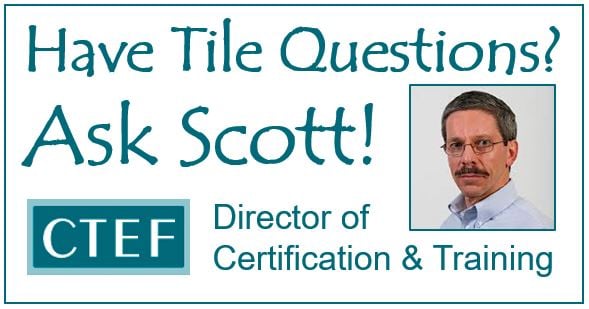 If you're considering how to install natural stone floor tile, be aware that there's a significant difference between natural stone and ceramic tile especially when it's over wood framing.
Unfortunately, many consumers, builders and even some tile installers share the mistaken idea that natural stone tile products may be installed over a wood-framed floor in the same way as is ceramic and porcelain tile. This is completely untrue and will many times lead to a very costly replacement.
Why? Because tiles made from natural stone do not have the same strength as ceramic tiles and they require a floor system that is twice as stiff as what is required for ceramic floor tile.
Let's explore in more detail.
There's Only One Approved Method for Installing Natural Stone Tile Over Wood Framing: F250!
Many of these folks will tell you that they have installed stone tile on a single layer of structural wood subfloor and backer board for years without problems.
The main reason this poor choice is promoted comes from the desire to have the stone tile floor installed flush to the adjacent floor finish. While this is a nice idea as far as the flush surface goes, it is really a recipe for failure for the stone tile.
The 2015 TCNA Handbook has only one approved method for the installation of natural stone tile over wood framing with backer board.
Method F250 STONE, as shown in the detail below, calls for the face grain of the tongue and groove plywood subfloor to run perpendicularly to the joists and be a minimum thickness of 19/32". The plywood is to be installed over wood joists at 16" on center with a 1/8" gap between sheets.
The second layer - the plywood underlayment - is to be installed with the face grain also running perpendicularly to the joists with a 1/4" gap between the sheets and should be 15/32" for residential installations or 19/32" for light commercial installations. This second layer of plywood provides the needed strength and is the base for the backer board.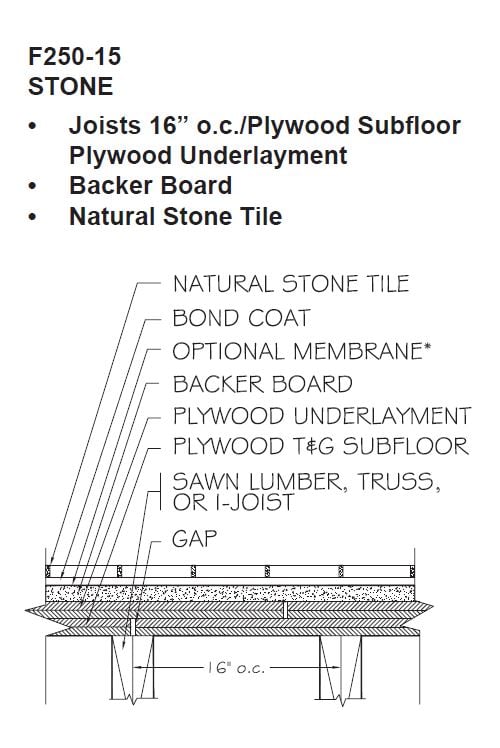 These recommendations are based on the natural stone having adequate compressive strength, flexural strength, and resistance to abrasion, but be aware that some stone tiles may not be appropriate for floor use.
Stone Tile Floor Structure Must Be Twice as Stiff as for Ceramic Tile
The wood framed floor system must be in conformance with the applicable building codes prior to the natural stone installation.
The maximum allowable floor member live load and concentrated load deflection is L/720.
When an installation is to receive ceramic tile, the requirement is L/360.
This means that the stone tile floor structure must be twice as rigid (stiff) as the wood floor system required for a ceramic tile installation.
Additionally, the Natural Stone Institute (formerly the Marble Institute of America and the Building Stone Institute) prohibits installations of stone tile over single-layer wood floor systems under backer board since the joints between the subfloor panels cannot provide the necessary strength.
Therefore, two layers of structural wood panel are required on floors to receive stone tile when backer board will be used as the substrate.
Stone Tile Also Requires 95% Mortar Coverage
Also keep in mind mortar coverage for natural stone.
When it comes to achieving acceptable mortar coverage, you're looking to meet the ANSI A108 requirement:
For ceramic and porcelain tile,

80% mortar coverage in dry areas and 95% in wet and exterior areas.

For natural stone tile, the required coverage is 95% whether it is installed on the interior, exterior, wet, or dry areas.
Before Installing Natural Stone Tile, Read the TCNA Handbook F250 Stone!
Before installing the next stone tile job over wood framing, read the entire TCNA Handbook F250 STONE detail along with the "Substrate Requirements" section in the front of the book.
This information, when put into practice, will yield better results without costly callbacks and failures.
>> See The Tile Installation Experience with Scott Carothers at Coverings
>> See Tips for Specifying Tile, Stone & Glass for Kitchen & Bath Installations
If you haven't already, consider becoming a Certified Tile Installer so you learn these best practices, ask the right questions and anticipate tile installation issues before they occur.
Thanks for reading,
Scott
Note: We originally published this article on Apr 11, 2017, and have updated it.