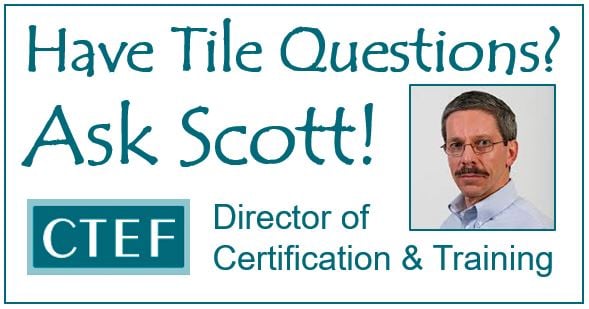 For a beautiful and long-lasting tile installation, you need to ensure that every facet of the job is completed properly according to tile industry standards and best practices. The key element here is the foundation of the installation and that's where underlayment for tile solves a multitude of problems.
Some Underlayment History
In the past, floor preparation materials were not as readily available as they are today. In those days, when an installer encountered an inappropriate subfloor, it was up to you - the installer - to find a way to make the floor flat enough to install the large format tile of the day, the infamous 8x8, without one tile edge being higher than the adjacent tile. The term "lippage" was rarely used if it even existed.
Installers in those days needed to be creative in fixing low spots, especially in a wood subfloor. Perhaps using multiple layers of plywood until the low spot disappeared and one of the early generation floor patch products to fill in the remaining spaces.
This was a time consuming method and, many times, not that effective in creating a flat floor especially given the ANSI Specification A108.02-4.1.4.3.1, Subfloor Surfaces:
Today, for tiles with all edges shorter than 15 in. (0.38m), the maximum allowable variation is no more than ¼ in. in 10 ft. (6 mm in 3m) and no more than 1/16 in. in 1 ft. (1.6 mm in 0.3 m) from the required plane, when measured from the high points in the surface.
For tiles with at least one edge 15 in. (0.38m) or longer, the maximum allowable variation is no more than 1/8 in. in 10 ft. (3 mm in 3 m) and no more than 1/16 in. in 2 ft. (1.6 mm in .6 m) from the required plane, when measured from the high points in the surface.
Getting the substrate to within these tolerances becomes a dilemma with today's large format tile sizes. How does an installer fix the floor so it is flat enough to receive tile?
The solution is underlayment.
What Constitutes an Underlayment for Tile?
Although there's no tile industry definition for the category of "underlayment," this grouping easily includes products such as:
Backer board

Mortar beds

Patching compounds

Self-leveling underlayments (SLU)

Liquid and sheet membranes

Uncoupling membranes
The product chosen depends on what issues are identified upon examining the subfloor or substrate of the installation. More specifically,
Is it flat enough?

Are there low spots that need to be addressed?

Does it need to also be level?

Does it need to slope to a drain or perimeter edge?
If the floor surface, be it wood or concrete, is not flattened or leveled to meet industry requirements and standards prior to starting the installation, chances are high that problems will be encountered. Likewise wall surfaces need to be properly prepared to eliminate potential issues.

Three Types of Underlayment for Tile
The six underlayment products listed above fall into three categories:
Backer boards
Floor Underlayment Preparation Materials
Membranes
Knowing which ones work appropriately is critical to the success or failure of the project. Given the ever-changing and fast-paced appearance of new products on the market means that a tile installer or contractor must stay abreast of these new technologies.
Let's examine each category in turn.
1. Backer Board Underlayments
Backer board, as a category, has been around since the 1970s.
The development and mass-production of this product revolutionized the tile industry by providing a tile-ready surface in the form of a sheet or panel for floors, walls, and ceilings.
Some of the products in this category fall under an American National Standard Institute (ANSI) designation while others hold an American Society of Testing Materials (ASTM) label.
The Tile Council of North America TCNA) Handbook includes the following as Backer Board:
Cement Backer Board was the first product in this grouping. It was originally known as concrete backer units or CBU, a designation still maintained in the ANSI document, and dominated the market for a number of years.

Interior installation specifications are housed in ANSI A108.11, while the material specifications are found in ANSI A118.9 or ASTM C1325.
Cement backer board products can also be installed on exterior applications as found in the Handbook detail W202E, where the "E" represents exterior. It is the only backer board which is rated for exterior use.
Coated Glass Mat Water-Resistant Gypsum Backer Board, as its name designates, conforms to ASTM C1178 and is used in wet or dry areas on floors, walls, and ceilings over wood or metal wall studs or over wood subfloors.
Glass Mat Water-Resistant Gypsum Backer Board conforms to ASTM C1658 for use on walls and ceilings in dry areas over wood or metal studs and ceiling framing.
Fiber-Cement Backer Board is a dispersed fiber-reinforced cement backer board designed for use on floors, wall, and ceiling in wet or dry areas and is applied over wood or metal wall studs and wood subfloors. General interior installation specifications are found in ASTM C1288.
Fiber-Reinforced Water-Resistant Gypsum Backer Board conforms to ASTM C1278 and is used on floors, walls, and ceilings in dry or wet areas over wood or metal wall studs and wood subfloors.
Cementitious Coated Extruded Foam Backer Board conforms to ASTM C578 and ASTM D4068 and is used on floors, walls, and ceilings in dry or wet areas over wood or metal wall studs of wood subfloors.
As a general rule on floor applications, backer boards require a supporting layer of thin set mortar or other product, as directed by the manufacturer. Furthermore, fastening the board and seam treatment should strictly follow the manufacturer's recommendations. Failure to do so can void the manufacturer's warranty.
Realize, though, that often the floor area to be covered with backer board will be irregular or wavy. The only feasible way to correct this deficiency is to flatten the offending area with a trowel-applied patching product. This is extremely important since the patch needs to be under the board, not on top.
That's when the next categories of underlayment come into play.
2. Floor Underlayment Preparation Materials
To obtain a floor or wall surface that is flat enough to receive tile, surface irregularities need to be corrected per the ANSI Specification A108.02-4.1.4.3.1, Subfloor Surfaces detailed above.
In order to meet or exceed these requirements, normally a troweled-on patch or self-leveling underlayment (SLU) is used.
The National Tile Contractors Association (NTCA) Reference Manual lists this topic as Underlayments, Trowelable and Poured.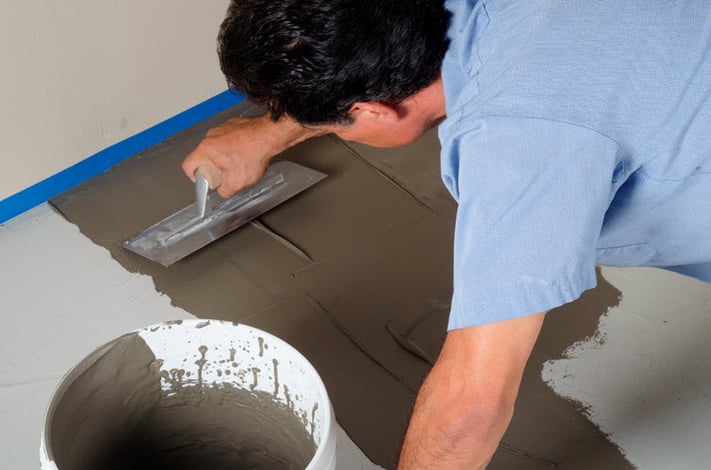 Mortar beds
Mortar beds were considered the grandfather of underlayments for solving many floor and wall irregularity problems. A mortar bed allowed the tile mechanic to correct the issues with a floor that was otherwise unacceptable or make a wall installation surface plumb and flat, eliminating lippage.
Unfortunately the mortar bed has lost some of its favor because a good quality mortar bed takes time to produce, which jobsite schedules may not allow. Mortar beds can also add significant weight to the structure, which may not be tolerated in today's tightly engineered buildings.
Given the demands of fast-track projects and the get-it-done-yesterday mentality of today's installations, mortar beds have become less prevalent. These changes have required the industry to make adjustments as well. Somehow, manufacturers had to devise ways to make the unacceptable floor acceptable for a thin-bed installation — and do it quickly.
Hence, the newer products and methods detailed in this article.
Troweled-On Floor Patch
Floor patch materials come from a variety of manufacturers and are used to obtain the required plane for tile installations. This includes filling cracks, voids, rough surfaces and low or depressed areas.
Most of these products are latex-modified and require mixing with potable water. These patch products are designed to tenaciously bond to the properly prepared surface and fill low area, also known as bird baths, as well as flatten out high spots.
This entire exercise is the best way to "fix the floor or wall."
Trowelable Underlayment
Trowelable underlayments contain cement, aggregate and are mixed with either potable water or a latex additive. Many manufacturers recommend applying a slurry coat of the product to the substrate allowing it to dry until it becomes tacky. The recommended liquid and powder mix is then applied to the surface.
Trowelable underlayment usually requires sanding after it dries to remove trowel ridges and allow for an additional layer if needed.
Self-Leveling Underlayment
Self-Leveling Underlayment, popularly known as SLU, is designed to flatten or possibly level a floor surface prior to installing tile. The floor surface must be properly prepared and primed with the manufacturer's recommended product and allowed to dry.
Many architectural plans and specifications require the floor be level. This is especially true for highly specialized medical and technical equipment that require a perfectly level floor. In this case, ensure diligence and careful attention to detail when applying the SLU so that, when done, the bubble of a spirit level or transit successfully indicates a truly level surface…. or not.
Three critical factors in a SLU project are:
1. Accurately measure the water for the mix.
Too little water can impede the flow of the mixture while too much water can cause the aggregate to sink to the bottom, separating from the other components, yielding a weak and powdery surface.
2. Use a mixer that maintains the proper speed.
If the speed of the mixer is too slowly and/or not for the correct amount of time, the product will not be properly combined and may not function as specified.
3.
Mix for the recommended time.
Be sure to have enough help to mix, move, pour, and smooth the product within the allotted time.
Once the SLU is poured onto the floor, move it into place with a gauge rake having adjustable legs to control the product thickness.
When completed, move a surface smoothing tool across the surface to break surface tension and flatten the SLU. Allow the recommended dry time depending on the environmental conditions before installing tile.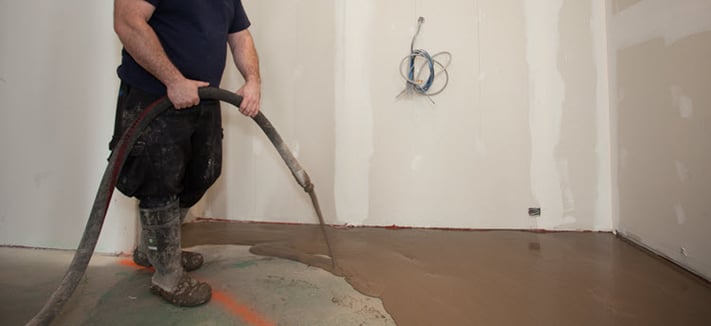 Poured Underlayments usually fall into one of two categories:
Gypsum based underlayments

Cement based underlayments
1. Gypsum-Based Underlayments
Poured self-leveling underlayments are composed of various grades of gypsum along with a number of chemicals which control the setting time of the product and may be sanded or unsanded.
Depending on the manufacturer's recommendations, they may be mixed with potable water or a latex admixture. If using a latex additive, it is always wise to use the product provided by the manufacturer.
Many times gypsum-based underlayments are used in conjunction with resilient flooring to patch small holes, cracks or to ramp up or down to an adjacent floor finish. However, they may also be used to flatten the large floor areas of properly prepared wood or concrete.
Poured gypsum underlayments can solve subfloor issues such as out of flat and out of level, but they need to be installed per the manufacturer's guidelines.
Structurally sound concrete floors require that the gypsum underlayment meet a minimum compressive strength of 3.000 psi and be a minimum thickness of 1/2".
Structurally sound wood floors require a minimum compressive strength of 2,000 psi and a minimum thickness of 3/4".
All of these applications require that the design load of the structure meet the deflection requirement of L/360.


Once the underlayment has been placed by a certified poured gypsum installer, a drying time of three to fourteen days, depending on the thickness, must be observed.

Additionally, the site temperature and humidity may be a factor in achieving an adequately dry installation. When the gypsum has dried to the manufacturer's specifications, the gypsum installer applies the required primer/sealer which prevents the gypsum from pulling the moisture out of the tile setting mortar. This premature moisture removal from the mortar can compromise the bond of the tile to the gypsum.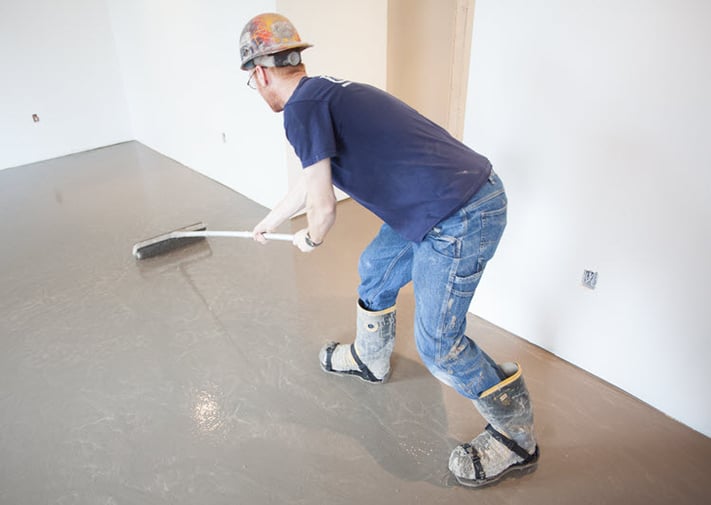 2. Cement-Based Underlayments
Pourable self-leveling underlayments (SLU) contain cement, aggregate and chemical additives which enhance their flowability and strength. They are mixed with either potable water or a manufacturer recommended latex additive.
Substrates are almost always treated with a latex primer which serves two functions. The first is to increase the bond strength between the substrate and the SLU. The second is to prime the substrate which equalizes the absorption rate of the substrate, thus eliminating hot spots which can prematurely dry out the underlayment before it completes it's designed curing process.
SLUs aid in correcting out of flat and out of level subfloors and can be installed from as thin as 1/16" up to 6" with compressive strengths ranging from 3,500 to over 7,000 psi depending on the manufacturer. All of these applications require that the design load of the structure meet the deflection requirement of L/360.
Once placed, SLUs normally require between two and twenty four hours to dry before the tile can be installed. This timeframe will vary based on the thickness of the cement along with the site temperature and humidity. Normally, very minimal prep work is required prior to the installation of the tile.
Critical Note: Gauged Porcelain Tile and Gauged Porcelain Panels/Slabs commonly knows as GPT
One of the newest entries to the market has been Gauged Porcelain Tile and Gauged Porcelain Tile Panels/Slabs which until recently was known as thin porcelain tile (TPT). The installation of this product allows the installer only one attempt to set it correctly, since it is almost impossible to slide or lift it once it has been placed into fresh mortar.
Here the requirement for a flat substrate, both wall and floor, is critical. The ANSI standard for this product (A137.3) and its installation (A108.19) was adopted in April of 2017 where the substrate tolerances need to meet at least the 1/8" in 10' standard for tiles with at least one edge 15" (0.38 m) or longer as noted in ANSI A08.02-4.1.4.3.1.
It is imperative that the air is expelled or burped out from under the tile and that the trowel ridges are collapsed.
This lets little or no allowance for high or low spots in the surface to which the GPT is being applied. It must be corrected before the tile is installed.
3. Membranes
Waterproof Membranes
Waterproof membranes, conforming to ANSI A118.10, are available in sheet and liquid forms and can be used with both vertical and horizontal thin bed and thick bed installations of tile.
Some of these products have integral reinforcing fabrics for tensile strength and minor crack-bridging properties.
Crack Isolation Membranes
Crack isolation membranes, conforming to ANSI A118.12, for thin-bed ceramic, glass, and stone installations act to isolate the tile form minor in-plane substrate cracking.
These products must be load-bearing and bonded to the substrate in order to function properly. In some cases, the trowel-applied products can be used as the adhesive for the tile.
Other products within the scope of this category are allowed to cure or are applied as sheet goods and are then used as the substrate for the tile.
Uncoupling Membranes
Uncoupling membranes are generally a plastic product that has some sort of bonding scrim or mesh applied to the back of the product to allow it to be bonded to the wood or concrete floor. The face of product may have a geometrical configuration or a mesh to promote bond to the back of the tile, and provide air space between the tile and the substrate to allow independent movement between the two and limit the transfer of stresses.
Once in place, their function is to disconnect the tile surface from the substrate to help eliminate cracked tile. Uncoupling membranes may also act as a waterproofing membrane and function well in equalizing vapor pressure conditions encountered in young or newly placed concrete.
These membranes are not characterized by ANSI or ISO standards, but must achieve 50 psi or greater shear bond strength in seven days per the test method in ANSI A118.12 Section 5.1.3.
Consult the manufacturer's written literature for specific installation details.
Bonded Sound Reduction Membranes
Bonded sound reduction membranes, conforming to ANSI A118.13, are intended to reduce the floor-to-floor impact insulation class (IIC) sound.
These membranes may be trowel applied, sheet, or composite materials that are bonded to a suitable substrate so that tile can be bonded directly to the membrane.
What's the Right Solution?
The interesting thing about the products described here is they may need to be used in concert with each other to provide a suitable surface for a quality tile installation. The floor may need to be flattened with a patch or SLU anywhere from just a skim-coat to as heavy as six inches. The surface may further need the advantages offered by a backer board or one of the membranes mentioned above.
Underlayments do a great job thanks to manufacturers committed to innovative products that make the finished tile installation look the way it should – flat and lippage free.
Whatever the case, always follow the manufacturer's guidelines and when possible, use products produced by a single manufacturer. These two prerequisites along with using qualified labor, installers who meet the requirements of a Ceramic Tile Education Foundation Certified Tile Installer or Journeyman from the IUBAC, will enhance consumer confidence and ensure a beautiful and long-lasting tile installation. Everyone wins!
Beware of Using Thin Set to Cut Costs!
A final note.
Unfortunately, some not-so-well-trained or poorly informed tile placers (not tile mechanics or installers) mistakenly believe that whatever is in the back of the truck or left over from the last job is appropriate to patch the low or high spots. This is entirely wrong!
Thin set or even the newly designated large and heavy tile (LHT) mortars are not designed to repair these surface irregularities.
Consumers should be wary of contractors who say that underlayment products are not needed and add unnecessary cost to the project.
>> See Looking to Hire a Tile Installer? Here's Your Roadmap.
Watch out for this one… It's a recipe for failure from the beginning. The least expensive price for the job may be the most expensive in the long run.
Thanks for reading.
Scott