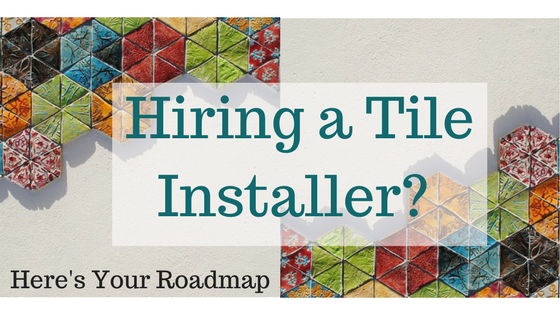 So, you're ready to hire a tile installer for that stone-glass mixed mosaic decorative border that will look perfect with the large format wall tile and wood plank floor tile you selected. What are your next steps? Follow this roadmap.
We've put it together for you based on years of experience ensuring that tile gets installed correctly the first time because your tile installer is truly considered Qualified Labor.
What do we mean by 'Qualified Labor'?
Qualified Labor refers to having the most qualified professional perform the scope of the work you are specifying rather than basing the decision on lowest cost.
From a technical perspective, Qualified Labor means having successfully demonstrated a tile installer's skills that meet tile industry standards. That is what the Certified Tile Installer (CTI) program does. The CTI designation identifies the professional installer who has reached a level of proficiency to independently and consistently produce a sound tile installation that displays good workmanship.
Any installer may take the Certified Tile Installer (CTI) exams if he or she has at least two years of experience as the lead installer setting ceramic tile on a full-time basis. That means having had full responsibility for substrate prep, layout, coordinating with other trades along with properly installing underlayment, tile, grout and sealant materials.
Certified Tile Installers routinely demonstrate the knowledge, skill, experience, time management and other traits needed to produce high quality, long lasting, successful installations using United States Tile Industry standards and methods along with time-tested proven best practices.
>> See Tile Installation Certification in Action
>> See What's the Certified Tile Installer Program?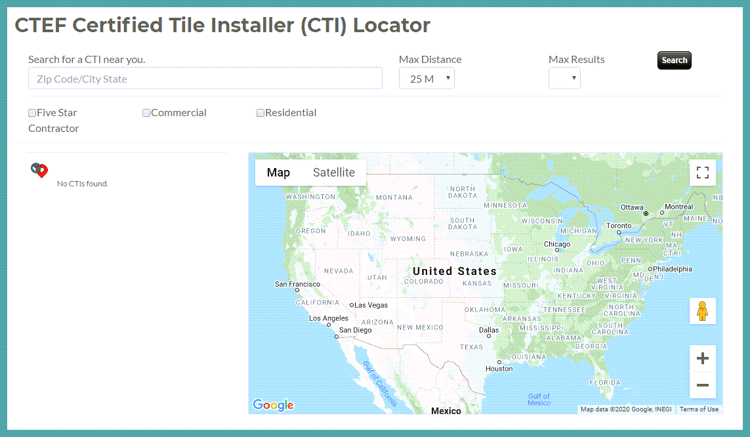 The Roadmap for Hiring a Certified Tile Installer
This roadmap includes six steps.
You'll discover the zip code based search tool for finding qualified tile installers in your area.
In the box labeled "Search for a CTI near you," enter a zip code or city, state. You can adjust your Max Distance to customize your search.
Click on Search.
Once you do, you'll have results from which to choose.
Note that the black marker (circled below in red) represents your starting location.
Note, too, that the listing on the left includes a "Get Directions" button which will provide you with detailed instructions for traveling to that specific location from your starting point.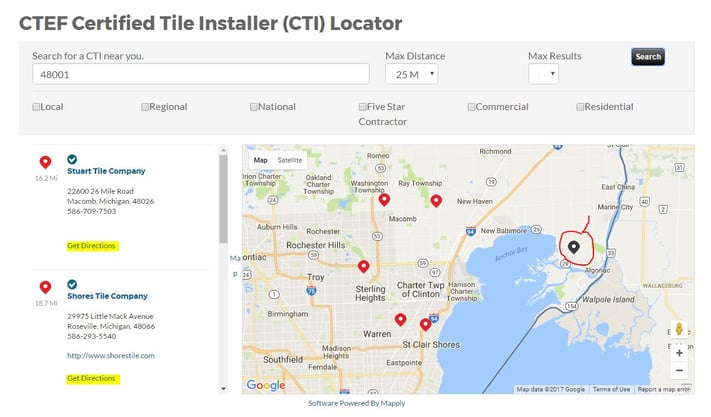 When you click on a Tile Installer listing on the left, a more detailed card on the company will appear on the map itself. This card includes contact information, details the number of CTIs on staff, and the company's specialties.
In fact, you can search specifically on those categories.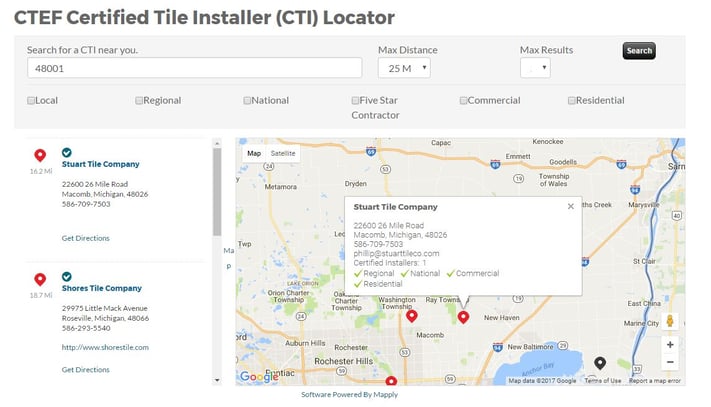 When you search for a Certified Tile Installer in your area, you can specify whether your project is residential or commercial.
You can also specify "Five Star Contractor" which refers to the National Tile Contractors Association's recognition of those NTCA members who have completed a comprehensive application that demonstrates a proven track record of success in tile and stone installation and business management.
Step 2. Identify Tile Installers you want to interview
Select and interview at least three tile contractors.
>> Download this 5 page questionnaire CTEF has developed with questions to ask your contractor about your project, the contractor's qualifications, experience and their employees.
You want to understand who will be doing the work, whether your choice is in compliance with insurance, liability, workman's comp, any applicable state licenses, and local codes. The tile installer you hire should welcome your questions and the opportunity to demonstrate his or her qualifications.
Here's some interesting perspective from a comment on Why Do You Need Expansion Joints When Installing Tile? Rick says,
Step 3. Check and obtain references
Next, ask for references and do your due-diligence. Absolutely speak with the installer's references. Ask them questions such as:
How easy was it to communicate with the installer?
How well did s/he listen to the homeowner or specifier?
How pleased is the reference with the quality of the work?
Would the reference hire the installer again?
Would the reference do anything differently?
What were some of the details of the reference's installation project?
Can you see the completed work – either in person or via photos?
Did the installer show up on time during the project?
Was the installer clean, neat and respectful of the home or job site?
Was the project completed on schedule?
Were final details completed in a timely manner?
How were unexpected situations handled?
Was a signed contract in place before the project began?
Did the installer fulfill the terms of the contract?
How professional, ethical, and honest was the installer throughout the process?
Step 4. Pay attention to warning signs
As you proceed through your conversations with your three installers and their references - especially if you cannot confirm that your candidates are Certified Tile Installers - be on the lookout for warning signs.
>> See When to Avoid Hiring a Tile Contractor: 10 Warning Signs!
Ultimately, you want to avoid situations such as those described in these two articles:
>> See How Not to Install Tile on Floors, Walls and in Showers
>> See Hiring a Tile Installer? Here's What to Look For.
And you want to ensure you are hiring a true professional for your tile installation project.
>> See The Top Ten Requirements for a Quality Tile Installation
Step 5. Ask Questions
You can't ask too many questions. Questions help anticipate issues and ensure a better overall experience and final installation.
Is my home structurally adequate for tile? For example, if you are replacing vinyl floorcovering with tile and adding a granite countertop, will the structure support the weight?
Do we need the services of a structural engineer?
Will there be days when no work is done due to drying or curing time?
What about my existing floor?
What if there's asbestos, or the paint has lead?
What do you suggest for the transition from the new floor to the adjacent floor?
How long will I be out of my home/space?
Who gets the permit if one is required? (This depends on the area.)
Will any sub contractors be included in your bid or are they part of a separate contract?
Are plumbers, electricians, or other subcontractors all properly licensed and insured?
Step 6. Ensure you have a written agreement
True qualified labor will follow up with a written agreement.
Detail selections and design options.
If you have any detail work in mind, require that the contractor provide a mockup. If you have tile with extreme color variation (i.e., V4), be certain that all parties understand the variations. A mockup helps here, too.
In the tile world, mockups should be used as a tool by the tile contractor to obtain the approval of the owner and possibly also the architect, designer, and general contractor - all important specifier constituents for the end project.
Establishing how the finished tile installation will appear before the work begins is a wise choice which can save time and money.
A mockup can consist of photos, digital renderings as well as laying out a box of the tile to see the range of color and texture.
>> See Why a Tile Installation Mockup is Really Necessary
Set expectations for the tile installation project.
The written agreement sets expectations for payment as well as for scheduling. Make sure there's an allowance for changes and that you have a reasonable completion date.
Are you ready to hire a tile installer?
Follow the roadmap we've outlined and you'll be on your way to a beautiful tile installation.
If we missed anything, be sure to let us know in the comments.
Note: We originally published this post on 02/21/2017 and have updated it.