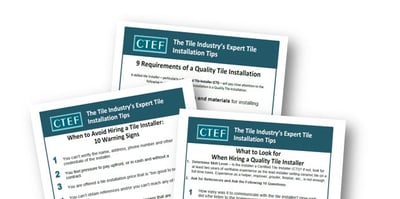 If you're hiring a tile installer, you are probably looking for a ceramic tile installation professional who will take the beautiful tiles you painstakingly selected and transform them into the floors or walls of your dream-come-true space.
>> See Timeless Tile Installations That Delight the Senses
In other words, you want someone who has experience and knowledge of how to install tile correctly, without taking shortcuts, while ensuring that the final installation looks beautiful and performs as it should long after that installer is gone.
Makes sense, right? However, that's where hiring the right tile installer gets complicated.
Evaluating experience and knowledge can be difficult for someone who's not in the tile installation business day-in and day-out. And when you aren't sure, it's easy to rely on using the lowest price or bid as a way to evaluate who to hire.
That's why we created a series of tip sheets to help guide you when you need to hire a tile installation professional.
What to Look for When Hiring a Quality Tile Installer?
As we mentioned above, it's important to determine the skill level of the person you are considering for your tile project.
A Certified Tile Installer
A tool available to you is certification: ask whether this person is a Certified Tile Installer (CTI). That means that he or she has passed the only third-party assessment of tile experience and knowledge which is recognized by the tile industry.
>> Use the CTEF Certified Tile Installer locator to find a CTI near you.
If the person is not certified, ask about his or her tile installing experience. You should look for an installer with at least two years of experience as the lead installer setting ceramic tile on a full-time basis.
Be concerned if the only experience is as a helper, improver, grouter, finisher, or another entry-level support role. That isn't enough experience.
By the way, that is the experience level CTEF requires of those installation professionals who register for the CTI Program.
>> See Tile Installation Certification in Action
Speak with the Installer's References
Next, ask for references and do your due diligence by asking the following questions of those references:
How easy was it to communicate with the installer?
How well did s/he listen to the homeowner or specifier?
How pleased is the reference with the quality of the work done?
Would the reference hire the installer again?
Would the reference do anything differently?
What were some of the details of the reference's installation project?
Can you see the completed work – either in person or via photos?
Did the installer show up on time during the project?
How clean, neat and respectful of the home or job site was the installer?
Was the project completed on schedule?
Were final details taken care of in a timely manner?
How were unexpected situations handled?
Did the installer fulfill the terms of the contract?
How professional, ethical and honest was the installer throughout the process?
Examples of Tile Installation Work to Avoid at All Costs!
The images below are horror story examples of a real-life tile installation. These are the type of situations you will prevent when you hire a certified installer with the correct knowledge and experience.
More specifically, why use tile when grout can more quickly fill this space? The tile "placer" (can't be called an installer) used poor layout skills resulting in a huge gap which was filled with grout over two to three times the recommended width!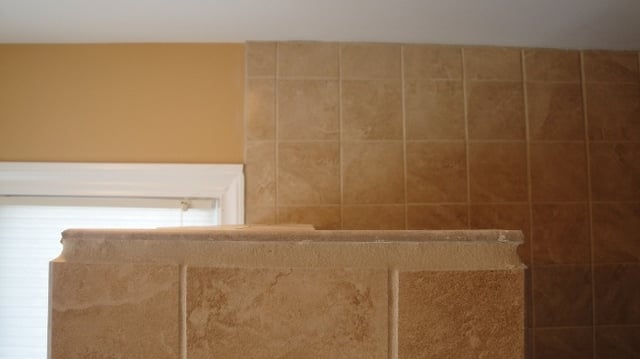 Or, why bother setting tiles flat when you can create a permanent eye-sore? By the way, this is another view of the shower dividing wall in the image above.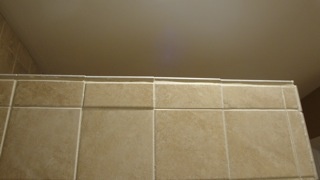 Or, why bother having flat floors, correctly installed tiles with consistent and straight grout joints when you can create a floor so uneven that you would surely trip every time you walked on it given the significant lippage between the tiles!
You may also find it unsightly.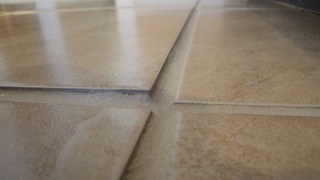 >> See How Not to Install Tile on Floors, Walls and in Showers which goes into further details.
By the way, if you are in a similar situation, you may want to read How to Deal with Tile Installation Problems?
Warning: problems are expensive. It is far wiser to hire a Certified Tile Installer the first time
Here's How a Certified Tile Installer Salvaged that Botched Situation!
Fortunately, the homeowner turned to a Certified Tile Installer to remove the botched installation and start over.
You now see in the images below how that installation should look with a neat and finished appearance,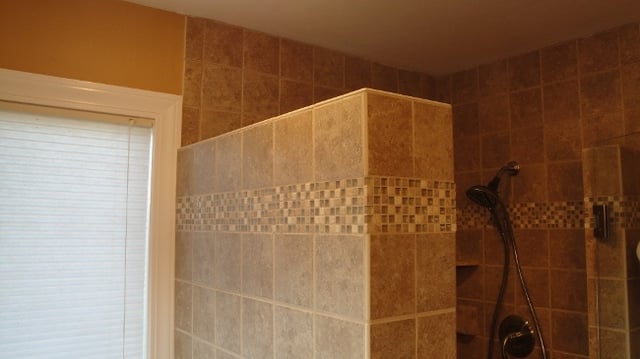 and flat tile floors with no lippage.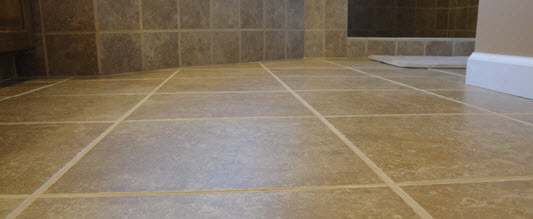 Better, don't you think? The homeowner surely does!
Ready to Hire Qualified Tile Installers?
What has your experience been? Would you add other questions to the list?
If you're ready to focus on hiring only the most qualified installer to perform the scope of tile work you have specified, download the tip sheets we've developed on hiring a tile installer.
And go explore the Installation + Design articles we've published. They showcase actual installations that result from the collaboration between design and tile expertise.
One final note.
While the Certified Tile Installer may be slightly more expensive during the bidding process, the final result of a receiving a high quality installation is actually less expensive. Think about it.
Thanks for reading.
Images courtesy of Welch Tile & Marble.
Note: We originally published this article on June 14, 2016 and have refreshed it.