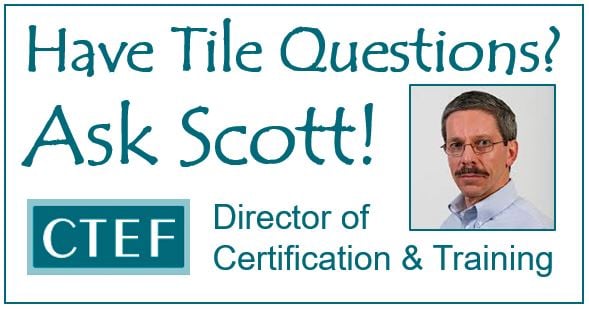 When you install tile, do you ensure that you have enough mortar to accommodate inherent (actual) tile warpage associated with large format tile?
Tile sizes are changing; getting larger, longer and proportionately having more inherent warpage. Likewise, changes are being seen in tile installation methods, using thin set and large and heavy tile mortars to accommodate most tile warpage.
Let's review what's involved.
As Tile Sizes Get Larger, Inherent Warpage Increases
Large format tile in the past was eight by eight and was for the most part, installed using a ¼" x ¼" x ¼" trowel. The use of thin set mortars have met the challenge of properly installing ceramic and porcelain tile for years at a minimum thickness of 3/32" to a maximum of about ¼" (depending on the manufacturer's recommendations) after being imbedded.
However, the game has changed and continues to transform with tiles becoming larger and longer and, proportionately, they include more inherent warpage.
According to the Tile Council of North America (TCNA), the allowable warpage of a tile is as follows:
The ANSI A137.1 standard defined allowed warpage according to the type of tile. For a paver tile (known as Pressed Floor Tile in the Natural category) (commonly used on floors) the allowable warpage is defined as follows:
5.3.1.2.6 Warpage. When measured as described in ASTM C 485, the warpage of each tile in the sample shall not exceed 1.0 percent along any edge nor 0.75 percent on either diagonal.
From this formula the allowable warpage can be determined.
Today's popular larger tile sizes can be 6" x 36", one meter by one meter or larger and include an industry standard allowable amount of warpage (where the center of the tile is higher than the edges or ends).
More Inherent Warpage Requires More and Different Mortar
To accommodate and support this high spot in the center of the tile, mortars also needed to adapt.
What was formally known as a medium bed mortar is now known as a large and heavy tile, or LHT mortar. Although these mortars do not yet have a standard established for the product or the installation method, one is on the way and should be in place in the near future.
Selection of the appropriate trowel notch size is best determined by checking the mortar manufacturer's data sheet or on the back of the bag. Normally, LHT mortars allow for a ½" mortar thickness after the tile has been imbedded.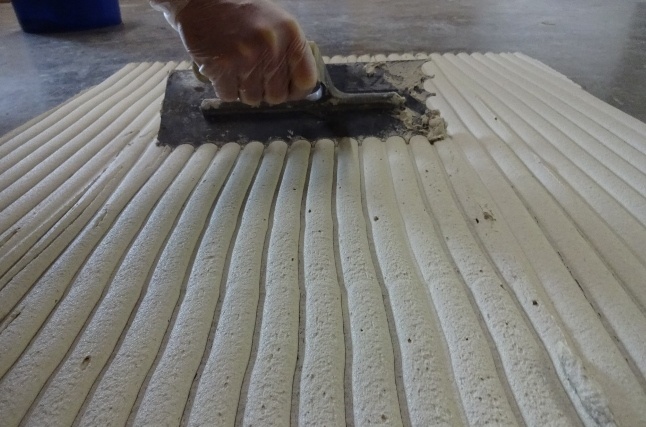 LHT mortars allow the mortar to be spread with a thicker configuration than conventional thin set mortars as seen in the attached photo. This additional amount of mortar, when troweled in a straight line pattern, is designed to support the edges of the tile fully as well as the center which many times is higher due to the tile warpage.
>> See How to Correctly Trowel Mortar When Installing Tile?
Without this needed support, the tile is very susceptible to breakage under a concentrated load such as a woman's high heel, which can exert over two thousand pounds of pressure per square inch. Additionally, this lack of mortar or empty space can produce a hollow sound under normal foot traffic which is unpleasant and most times, unacceptable.
>> See Why You Need to Eliminate Spot Bonding When Installing Ceramic Tile
A Skim Coat of Mortar on the Back of the Tile (a.k.a. Back-Buttering) Can Help
Even with these larger amounts of mortar being used, some ceramic tile products may necessitate the application of a skim coat of mortar on the back of the tile, commonly known as back-buttering. This action will ensure a good bond to the back of the tile and fill the warped area of the tile as needed.
Note: all natural stone products require the use of back buttering in every application.
Using one or both of these techniques will normally meet or exceed the tile industry minimum standards of 80% mortar coverage on the back of the tile in dry areas with wet and exterior areas requiring 95% coverage.
Occasionally Remove a Tile to Confirm Tile Industry Minimum Standards for Mortar Coverage
The best and most effective way to confirm that this minimum requirement has been met is to occasionally remove a tile. A good tile mechanic meeting the requirements of qualified labor, as recognized by the Tile Council of North America, will use this procedure regularly to ensure that the consumer is getting what they deserve, a high quality, long lasting, and trouble free installation.
>> Visit The Tile Installation Experience with Scott Carothers at Coverings.
Thanks for reading.
Scott