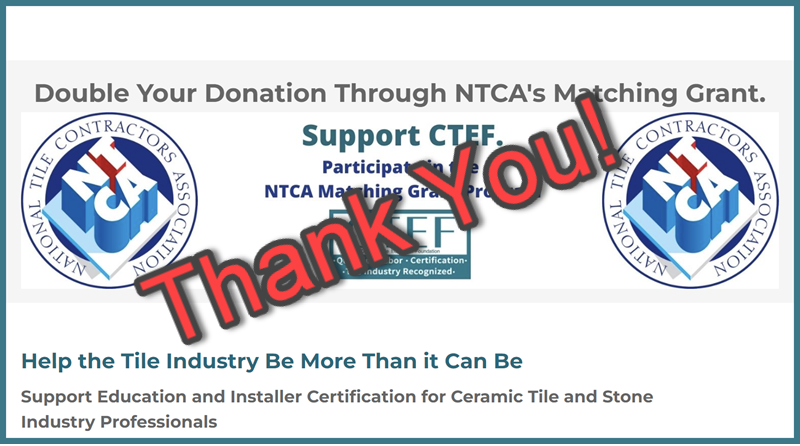 A heartfelt Thank You from all of us at CTEF for being part of the 2022 NTCA Matching Grant Campaign!
On May 2nd, we launched this campaign, and on July 6th, we reached the $10,000 threshold. As you might imagine, we are extremely grateful for every dollar raised and appreciate all that you did to make it possible.
NTCA Matching Grant Campaign Results
This year's CTEF Matching Grant Campaign, sponsored by the NCTA, generated $11,227.00 from 21 donors. Combine that with the NTCA's matching $10,000.00, and the final grand total for this campaign is $21,227.00!
Thanks to These Individual CTEF Donors!
These individuals are responsible for making this year's matching grant campaign a success. Thank you to:
Richard Cox, Memphis Tile & Marble
Jeff Davis
Carl Dubberly, The Perfect Tile
Sean Gerolimatos, Schluter
Mike Gwizdala, Mike's Custom Tile
Jan Hohn
Cheryl Holman
Robert Klein, Parex USA
Antoinette Leone
Daniel Marvin
Joseph Mattice, On The Level
John Merola, Somer Tile
Kristopher Nardone
Chris Riddle, Riddle Builders
Jefferson Romero
Nicholas Rusche
Kristof Schwarz, Blanke
Mary and Bud Scannavino, via Woody Sanders for the final $5000!
John Trent, Schluter
Michael Weave, Trend Setter
Deborah Weise, Lo Baw LLC
Why NTCA Supports CTEF
Here's why NTCA is so closely involved with CTEF. Bart Bettiga, NTCA Executive Director, explains,
"CTEF is uniquely positioned to significantly impact the tile industry in a positive way.
Developed as a Foundation to represent the interests of the entire industry, CTEF can provide training programs that support professionals in manufacturing, distribution, and installation contracting. Certification of installers is just one component of what the CTEF can offer to improve our industry.
There are many other avenues in which CTEF wishes to expand and grow its outreach. It takes money to grow and NTCA recognizes this better than anybody. NTCA supports CTEF financially and with staff and marketing support when possible. Our volunteer members also support CTEF in numerous ways.
The entire industry benefits if CTEF is able to grow its programs. Our matching grant campaign is one way in which we can encourage other companies, individuals, and organizations to support this important strategic objective."
As the association for tile contractors in the US, NTCA has the same interest as CTEF in educating and training Tile & Stone installers to become the best-qualified installers in the tile industry.
It's important that CTEF be able to expand its work, and continue to reach out to installers, distributors, architects, and all industry professionals to help develop qualified labor and educate about the importance of qualified labor in our industry.
Thank you, NTCA!
The Purpose of the 2022 Matching Grant Campaign
This particular campaign was intended to raise money for the work being done at CTEF to create better spaces for education and testing.
Here's what has happened since early May.
An entire week was spent cleaning out both buildings in Pendleton, South Carolina.
Lumber is being secured for ACT module building and new modules needed for education.
Some new equipment, including a power washer for cleaning equipment, has been purchased with plans for additional items such as a swamp cooler for hot summer days, which will make the experience at CTEF even better.
The lighting in the warehouse and outbuilding is being updated to create a better environment during rainy days or late evenings.
Maximizing Space at CTEF in Pendleton, SC
As Brad Denny, CTEF Executive Director, explains:
"As busy as the CTEF staff stays running the Certified Tile Installer program and hosting the Understanding and Installing Ceramic Tile (UICT) and the Mortar Shower Base and Waterproofing (MSBW) classes, things pile up quickly.
We are blessed with donors who send us material to use, but we sometimes have leftovers that get pushed to the side. We work hard to be good stewards of all that has been donated, but when it comes to clean-up time, it's a huge task and we have to pull off of our normal duties to concentrate on this for a few days.
When we are done, we should have a cleared-out area where we can host a CTI or ACT test at short notice. So much of the challenge of the certifications program is the logistics of the installers, the host, the evaluator, and the modules. At least here it will always be ready to go. Pendleton isn't the easiest of places to get to, but hopefully, we can make CTEF super inviting! We have a lot of work to do!
Here's a photo showing you one area that the CTEF crew successfully cleaned up, and reorganized.
Making Room for Expanded Certification and Training at CTEF
Cleaning up and re-organizing the space in Pendleton, SC makes it possible to expand certification and training programs. Scott Carothers, Director of Certification and Training, plans to add more UICT/MSBW classes to next year's schedule with plans to be more available for new programming at CTEF.
As Scott explains,
"I have been wanting to do this for a long time. There's no excuse not to since Brad is eager and pushes a broom really well!
Plus, this is a wonderful facility. Rarely can you find seven framed residential bathrooms with tub hops to practice setting tile in a place that can be reset quickly for repeated instruction. That makes us unique, and we are excited to increase those opportunities.".
Traditional Mortar Wall and Floor Techniques Making a Come-Back
Traditional mortar wall and floor techniques are making a come-back, and both Brad and Scott want to provide installers with an opportunity to learn them.
Imagine what Brad describes here,
"At some point, I'd love to have a week where we just play in the mud. I can see us doing tub hops and showers in the mod room (the "modular room" where the framed-out bathrooms exist) and pulling mud in the warehouse over the concrete floors.
I had to learn it and didn't like it when I was learning it, but my grandfather made me, and I am so thankful he did. You can't appreciate the new techniques without a good knowledge of the traditional ones."
Interestingly, traditional mortar methods have stayed constant over the years. Scott says,
"The ANSI A108 standard has had so many changes over the years while traditional mortar methods have stayed relatively the same. You can't ignore that they are reliable stalwarts in our industry, and we hope to highlight how to do them per the standard. We have had excellent responses from those who attend our MSBW class and learn the correct way to perform a TCNA B415 Shower Receptor. They have frequently been taught bits and pieces, but not how to pull it all together the proper way. We provide an excellent opportunity to learn that."
They both plan to have things cleaned up and offer a class later this year.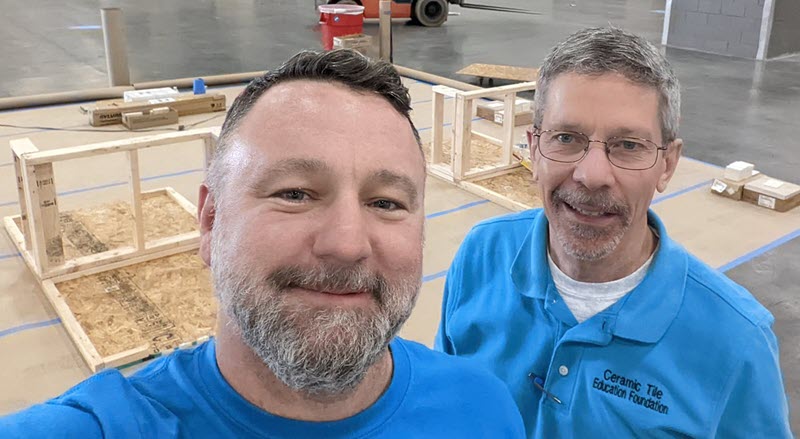 Thank You for Being Part of the NTCA Matching Grant Campaign for 2022!
All of us at CTEF say Thank You!
Thank you for contributing, for getting the word out and helping us raise more than $10,000 so we could qualify for a matching $10,000 from NTCA.
The money allows CTEF to continue to deliver on its mission to the tile industry.
Thank you.