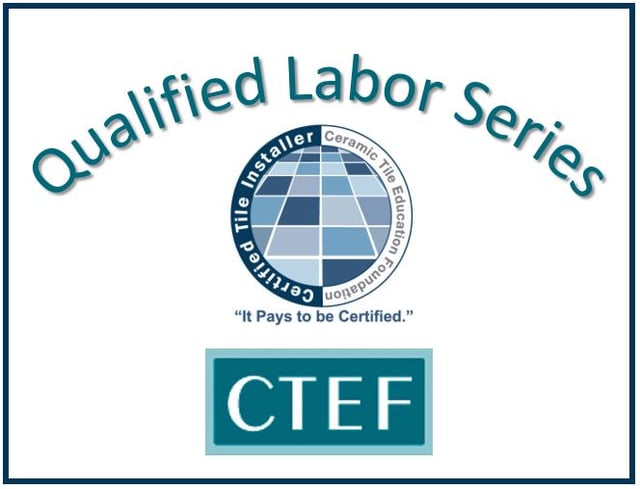 Scott Heron CTI #182 of Precision Tile Company, Inc. in West Columbia, S.C., is thoroughly committed to quality tile installations. Not only is he a CTEF Certified Tile Installer (CTI), but he has also achieved the distinction of holding three certifications in the Advanced Certifications for Tile Installers (ACT) program.
Scott is next in the CTEF Blog series about Qualified Labor based on articles in TileLetter.com.
>> See Five-Star Spotlight - Precision Tile Company Inc.
>> See CTEF, Schluter conduct first open-shop ACT testing
Meet Scott Heron CTI #182, Precision Tile Company, Inc.
A native of Michigan, Scott Heron relocated to Charleston, S.C. after serving in the Navy. He started his own renovation company in 1982 and quickly fell in love with setting tile.
In 1987, he moved to Columbia, S.C. and decided that Precision Tile would specialize in hard tile, marble, and granite installations for residential remodeling projects.
Breaking into a new market wasn't easy, especially when competing with several well-established, generational tile setters. However, Scott successfully differentiated himself with tile installation knowledge and education so he could truly serve his customers better than the competition.
In the process, he became a Certified Tile Installer as well as ACT certified, joined the National Tile Contractors Association and became a Five Star Contractor.
Having such a strong, quality-focused pedigree has opened doors to new tile installation and remodel jobs, new builders, and new educational avenues. Not only has it given Scott the chance to expand his reach in the industry, but he's also actively helping direct the future of the tile industry.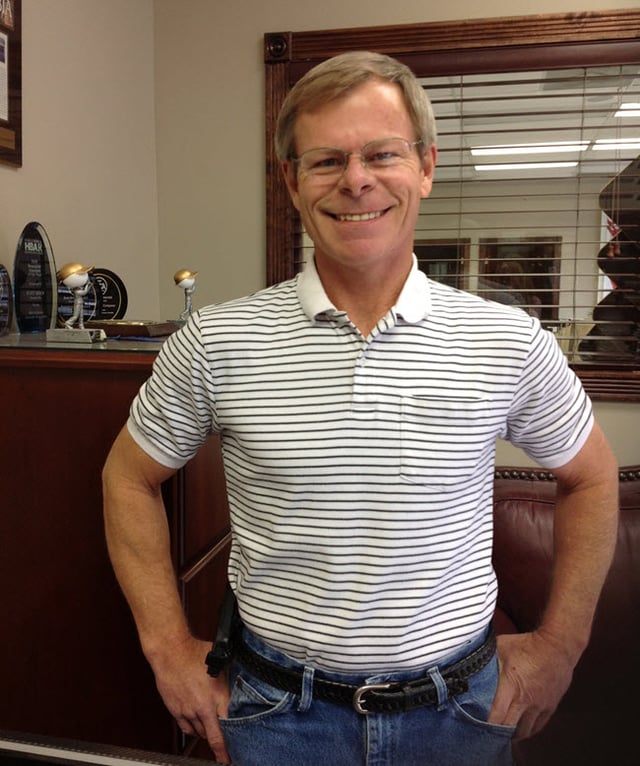 Certified Tile Installer
As CTI #182, Scott Heron was an early supporter of and participant in the Ceramic Tile Education Foundation sponsored program.
ACT Certified
Scott has achieved advanced certifications in Large Format Tile and Substrate Preparation, Membranes (both sheet and liquid), Mortar Bed (Mud) Floors and Shower Receptors. Here, too, he was an early participant.
>> Learn more about the Advanced Certifications for Tile Installers
You can listen to Scott describe the benefits of being tile installation certified as a CTI with ACT certifications in this 2:42 minute video:
Five Star Contractor
Scott Heron's involvement with the NTCA led him to become a Five Star Contractor which, he says, has made a tremendous difference in the amount of business that has come his way.
By the way, the "Five Star Contractor" program is a reflection of dedication and commitment on the part of the contractor to adhere to a range of criteria, including being a Certified Tile Installer and obtaining Advanced Certifications for Tile Installer (ACT) credentials, as well as committing to furthering his knowledge and education by attending at least two designated industry events per year.
To be accepted, the contractor must submit recommendations from customers, suppliers and peers while maintaining active membership in NTCA.
NTCA Five Star Contractors also maintain a current and active safety program in their businesses. They routinely demonstrate greater competence, knowledge, skill and dedication than their competition. These are the contractors who have the abilities to handle a job featuring new technology such as gauged porcelain tile panels or complicated commercial installations.
See Precision Tile Company and Scott Heron in Action
To illustrate the kind of demanding and precision-focused projects Scott is routinely involved in, here are photos from two bathroom renovations that needed updating without compromising the original style of the house.
The master bathroom project below involved the replacement of the water-damaged structure, adding new upgrades while ensuring an original look and feel.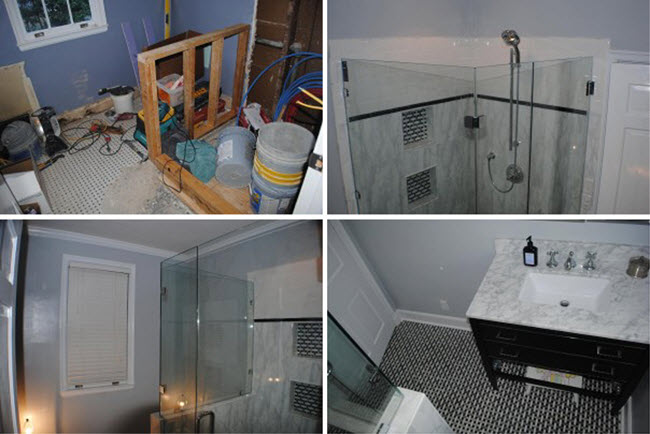 Notice that the new tile selections look original to the 1930s art-deco style of the home while updated layouts, fixtures and vanities add a more contemporary flair. The clean grey and white motif in the master bathroom works very well.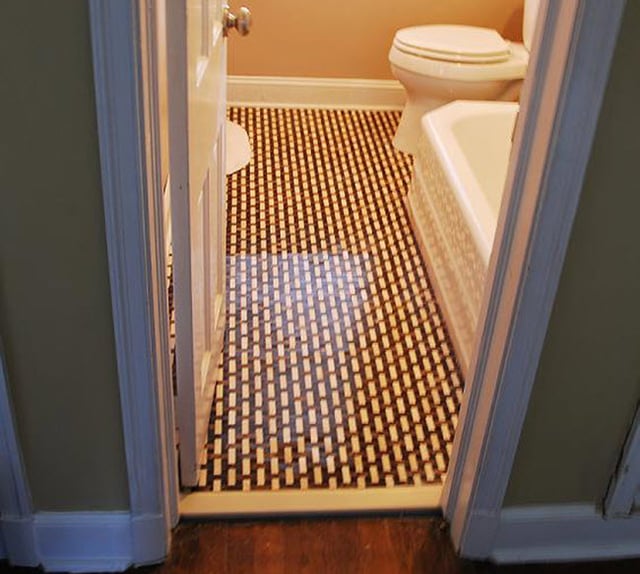 The image above captures the guest bath, which has a warmer material selection with colors in the browns and beiges.
As you enter the guest bathroom below, notice how the floor pattern is carried over to the decorative wall border in the tub area and coordinates with the dark shower and tub fixtures.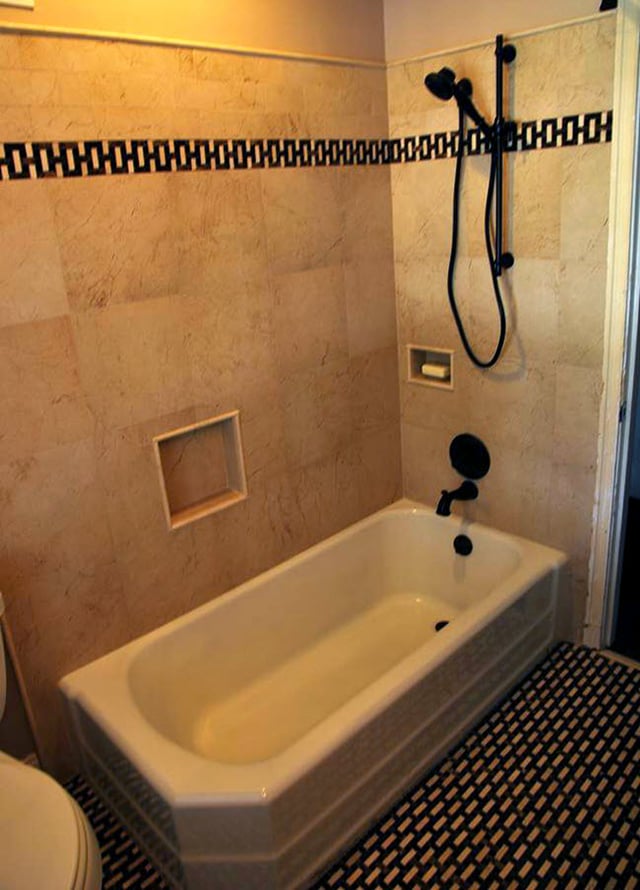 As you can see, Precision Tile takes great pride in transforming their clients' ideas into a beautiful and long-lasting installation.
It's no wonder that Heron's customers regularly become repeat customers and that he routinely shares his quality tile installation wisdom with contractors, homeowners, builders and other installers.
While business and jobs are important, teaching people how to properly set tile is Heron's number one focus.
Ready to Commit to Quality Tile Installation?
Are you ready to be as committed to quality tile installations as Scott Heron? Consider becoming a Certified Tile Installer.
If you're already a Certified Tile Installer, have you considered the ACT program? Why? Why not? Let us know in the comments.
Photo Credits: Project photos by Scott Heron; photo of Scott by Becca Bertok.