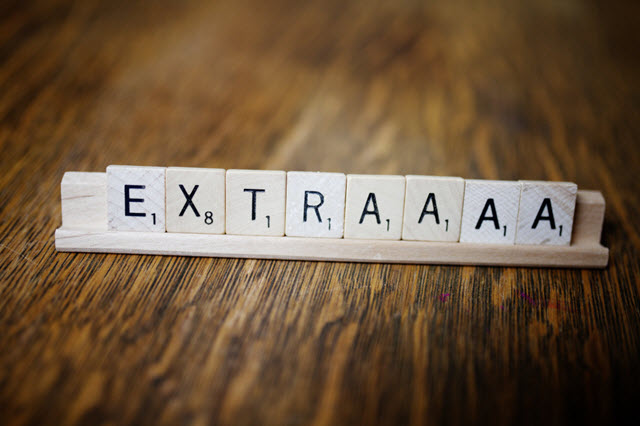 Extra! Extra! Read all about it! We've put together the ultimate guide to finding tile installers for homeowners and would love to get it into their hands. Will you help us get the word out?
Here's why this is the ultimate guide for hiring tile installers.
1. Ultimate as in a complete guide to finding tile installers
The top reason has to be completeness.
In this ultimate homeowner's guide, we've bundled a significant amount of the great advice and wisdom shared here on the CTEF Blog on how to identify qualified tile installers for homeowners into one complete resource.
That resource is available for you to consume in two formats:
A 31-page pdf document that you can download and read at your convenience


An in-depth web page that you can easily read and/or scan regardless of your technology device whenever you need it.
Bookmark the page.
Share the link with homeowners you know who are desperate for that wisdom, and with those who need qualified tile installers to properly execute their tile visions.
2. It's a living guide
As new wisdom becomes available, we will make this guide even more comprehensive.
After all, tile installation is an ever-evolving technical art form. As tile itself evolves, so too do the materials, methods, and standards for proper installation.
As homeowners gain more tile-related education, they can better appreciate the work of true tile professionals.
3. It captures actual Certified Tile Installer (CTI) installations
Yes, we're very excited about that! Check out every section header. They all represent the work of Certified Tile Installers.
If you haven't already, we invite you to explore the Gallery of CTI Installations on this website.
(If you're a CTI and haven't shared some of your installation images with CTEF, simply click on the button below.)
A snapshot of the ultimate homeowner guide to finding tile installers...
From the introduction
Here's a snapshot of what you'll find. This excerpt comes from the introduction:
We realize that hiring a tile installer can present challenges.
After all, you want to bring a vision to life. Most probably, you're looking for a ceramic tile installation professional who will take the beautiful tiles you painstakingly selected and transform them into the floors or walls of your dream-come-true space. As visual as tile is, when it's installed, it also needs to be functional.
Evaluating experience and knowledge can be difficult if you're not in the tile installation business day-in and day out. And when you aren't sure, it's easy to fall back on using the lowest price or bid to evaluate who to hire which brings its own set of problems.
In this guide, we'll explain what to look for, so you hire a qualified installer who will bring that vision to life.
We'll highlight the references and resources to which professional installers or setters refer, the organizations to which they belong, along with common best practices and areas of concern.
From the table of contents
In addition to the introduction, the guide includes the following ten chapters:
Chapter 1 - Hire Qualified Labor for your Tile Installation Project
Chapter 2 - Best Practices for Hiring a Tile Installation Contractor
Chapter 3 - What Makes a High-Quality Tile Installation
Chapter 4 - What Tile Installation Standards and Guidelines Exist?
Chapter 5 - Common Tile Installation Problems
Chapter 6 - A Solution to Those Problems: Tile Installation Mockups
Chapter 7 - How to Deal with Major Installation Problems?
Chapter 8 - The Problem of Efflorescence
Chapter 9 - For the Installer: What's the Certified Tile Installer Program?
Chapter 10 - Next Steps
And everything in between...
That you'll have to go explore on your own. :)
We think you'll find it worthwhile.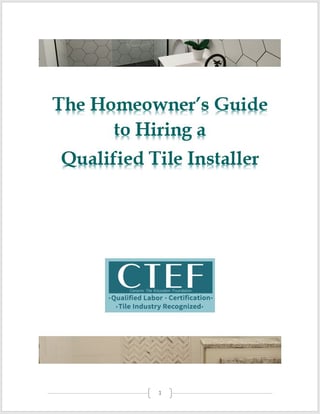 Are you ready to explore our ultimate guide to finding tile installers for homeowners?
The Ceramic Tile Education Foundation (CTEF) is committed to raising the quality of ceramic tile installation.
That goes hand-in-hand with ensuring that homeowners understand what a high-quality ceramic tile installation looks like and how a qualified Certified Tile Installer (CTI) delivers quality installations.
We hope you will explore the Homeowner's Guide to Hiring a Qualified Tile Installer, share it far and wide, and let us know how to improve it.
Thanks for reading and getting the word out about the Guide.
Note: We originally published this post on 03/06/2018, and have updated it.