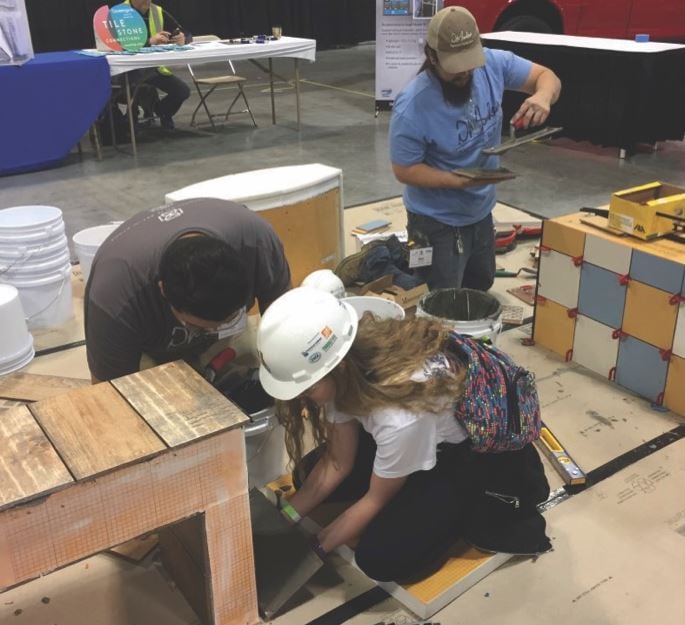 Are you involved in apprenticeship programs, vocational and/or trade schools for tile installation help? If your answer is no, why not?
Let's discuss the present and future of tile and the need for Qualified Labor.
The Reality of Tile Installation
This shouldn't come as a surprise to you if you're a tile installer: installing tile is complicated.
In fact, tile installation has become a complex, technical profession that requires knowledge, training, a commitment to lifelong learning and a desire to install tile correctly the first time. There's no room for sloppy, inexperienced and untrained workmanship. Failure is a disaster, both financially and professionally.
It's the work of a technical artisan, also known as Qualified Labor.
What that means is that you can't just hire anyone to help you on projects. You need someone with knowledge, expertise and a commitment to tile installation standards and best practices.
The Certified Tile Installer (CTI) program should come to mind since it was designed to combat poor installation and set apart those who considered themselves high-quality tile installers.
But what about the next generation of installers? How can you ensure that there's a steady supply of future talented and qualified installers?
>> See The Future Looks Bright for Certified Tile Installers: Installation Summit
Get Involved in Apprenticeship Programs
One approach involves apprenticeship programs.
During an apprenticeship, the apprentice goes through a training program that combines studying industry standards and best practices with on the job training. Critical to the success of the program is having a talented, well-seasoned trades person watch, guide, and mentor the candidate.
Did you know that several Certified Tile Installers and Proud Employers of CTIs have developed successful tile apprenticeship programs? Here are three examples.
1. Welch Tile and Marble, Kent City, MI
Dan Welch of Welch Tile and Marble in Kent City, MI, is CTI #1 and employs over twenty-five CTIs. He expanded testing to his entire staff to verify their skills and knowledge and prove their value to the company, even if they aren't being used in that capacity.
He has created an in-house apprenticeship program where new employees follow a video-based training program while working full time on the job. Their mentors are CTIs.
Dan's program has become the model for the National Tile Contractors Association (NTCA) University online training program used in conjunction with on the job training.
2. Visalia Ceramic Tile, Visalia, CA
Sam Bruce of Visalia Ceramic Tile, in Visalia, CA, currently holds the CTEF record in the US by employing thirty CTIs. The company is an open-shop tile contractor who uses his Department of Labor approved apprenticeship program to train his workforce. His senior installers, who are CTIs, act as mentors to the young aspiring tile setters.
When it comes to Qualified Labor, Sam sees the CTI Program as part of the solution. It's a great measurement of what Qualified Labor should be and it also identifies the deficiencies of an installer who does not pass. Once these deficiencies are known the next step is training these installers on how to get to the next step.
If the tile industry can't address the labor issue, it will lose market share. Competitors are doing their part by manufacturing and promoting products that require neither Qualified Labor nor even skilled labor.
For Visalia, having the Apprenticeship Program in place has given them a good start to combating the labor shortage. It has also given Visalia Ceramic Tile employees an outlook of growth in their job. Sam plans to use the Apprenticeship to recruit the next generation since it demonstrates a path to a great career in the Tile Industry.
3. The Tile Studio, Doylestown, PA
The Tile Studio, Inc. in Doylestown, PA, has been in business for over 40 years. It employs 20, including seven family members. According to principal Dave Mastrangelo, the company has had difficulty finding qualified tile installers. As Dave states,
"You shake a tree and 10 plumbers, 10 electricians, and 10 carpenters fall out of it; no tile guys. This is a trade that's really lacking in qualified labor, and you can make a lot of money doing it."
In response, Dave created two apprenticeship programs that are recognized by the State of Pennsylvania Department of Labor and Industry as well as the Federal Committee on Apprenticeship:
Tile Finisher (helper + grouter) – 2-year program includes 4,000 hours of on the job training + 144 hours/year of related technical instruction
Tile Setter (sets tile and natural stone) – 3-year program includes 6,000 hours of on the job training + 144 hours/year of related technical instruction (RTI)
The Tile Studio is the only open-shop (non-union) tile contractor that has two registered apprenticeship programs in the state of Pennsylvania. These programs include training through its very own "Tile School" held monthly in their warehouse and led by their Master Mechanics, in addition to NTCA and CTEF programs.
For The Tile Studio, not being able to find, attract, develop, and retain talent represented a significant constraint to growth. The company requires Qualified Labor to do the scope of work in which they specialize including $5,000,000 residential homes and large-scale commercial projects.
With apprenticeship programs in place, Dave can now approach vocational and trade schools to present students with a glimpse of the tile industry and why more students are needed. He can also approach high school students who may not think college is for them along with targeting people who are unhappy with their roles at other companies and may be looking to grow and advance their career elsewhere.
Approach Trade or Vocational Schools
The next step is to approach trade and vocational schools about tile installation training programs, but you may need to push them. Help them understand the extreme shortage of trained tile setters and that they can play a key role in filling these voids. As you most likely know, there's a significant amount of quality work available. We need to create new installers as quickly as possible to meet the needs and desires of waiting consumers.
Although some communities have the benefit of a vocational school in the area that trains people of all ages in a trade such as carpentry, masonry, or electrical, many don't offer training in finishes such as ceramic tile.
Additionally, if the school does offer these training programs, getting into these classes is difficult and most have a lengthy waiting list. That means that everyone with skin in the tile industry game needs to push to include ceramic tile.
Fortunately, there are some success stories to inspire you. Here are two.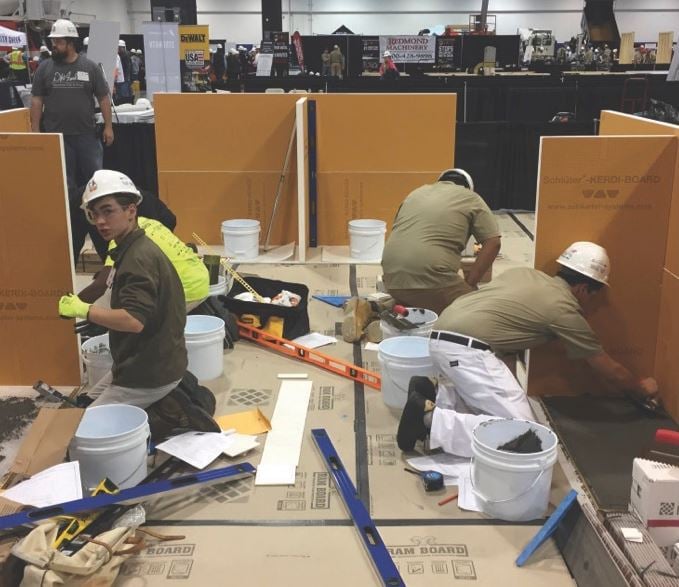 The Construction Education Foundation of Georgia (CEFGA)
The state of Georgia realizes the opportunity that trade, and vocational schools offer to the economy. They are models for other programs.
The Construction Education Foundation of Georgia (CEFGA) conducts activities to promote careers in construction and quality construction training. It partners with the Technical College System of Georgia and the Georgia Department of Education to ensure that an industry-developed construction curriculum and standards are implemented in high school and vocational construction-related programs.
CEFGA also conducts a testing program each year in Atlanta in concert with SkillsUSA to qualify students' participation in the SkillsUSA national competition. To get ceramic tile into this testing process, CTEF created the Study Guide, a knowledge test which each participant must pass prior to attending the CEFGA event where the hands-on testing is administered.
Additionally, during the testing programs, several thousand students along with their instructors are offered hands-on opportunities in many trades. What an opportunity to stimulate interest in tile installation among young people!
The Williamson College of the Trades in Media, PA
The Williamson College of the Trades located in Media, Pennsylvania accepts about one hundred young men per year who receive a full scholarship for a three-year trade education. An endowment fund begun in 1894 by its founder, Isaiah Williamson, and other generous benefactors continue to fund this effort.
Two students each took silver medals at the SkillsUSA National Competition this year in masonry and plumbing.
View this 3:38-minutes World's Greatest National TV Series which highlights the Williamson Programs.
Ready to Get Involved in Apprenticeships and Vocational Schools?
As a member of the tile industry, you, too, can get involved. Based on the examples described above, consider developing an apprenticeship program if you haven't already done so. Push vocational schools to focus on tile and let others in your area know how to get involved.
Attend Job Fairs and Promote Tile Installation
Speak to young people about their future and how fulfilling and profitable installing tile can be.


Dan Welch uses his Installation Design Showcase installation from Coverings 2016 – built in a shipping container so it could be brought back to Michigan – to serve multiple purposes. One is so he can take the container to local job fairs to inspire students to become the next generation of tile apprentices.

>> See Thin Tile Installation Expertise Creates Clubhouse Bar & Lounge
Educate the Next Generation of Tile Specifiers and Designers
You can educate those who will work alongside tile installation professionals, so they understand the installation requirements of their designs.
That is what NTCA Nebraska State Ambassador Dan Hecox CTI #1215 recently did when he gave the Architecture & Design students at the University of Nebraska – Lincoln a class on how to avoid tile failures.
>> See Dan Hecox Inspires Designers, Tile Installers to Aspire to Higher Standards
Build a Pool of Talented Tile Installers
Become a part of the solution by building a pool of talented tile installers, making the tile industry a model for other trades. If your installers aren't already Certified Tile Installers, encourage them to do so.
Be Open to New Collaborations
Find out how distributors, installers and contractors recruit, train and inspire young people into the tile trade.
Once you start down this path, you'll discover new collaborations to learn how others operate and address Qualified Labor issues.
Thank you for reading. Please get involved and become a part of the solution.