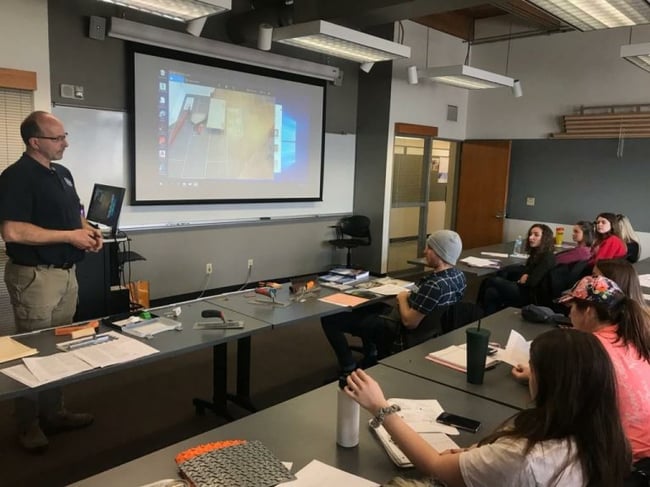 Inspiring those around him to aspire to higher tile standards seems second-nature to Dan Hecox, founder of Hecox Construction in York, Nebraska. That's what he does as NTCA Nebraska State Ambassador and as a Regional Evaluator for the Certified Tile Installer Program.
Dan Hecox CTI #1215 is next in the CTEF Blog series about Qualified Labor based on several articles in TileLetter.com. More specifically,
>> Dan Hecox Presents to A&D Students at University of Nebraska – Lincoln
>> Member Spotlight – Hecox Construction, Inc.
>> Qualified Labor – January 2018 – Sark Tile Supports Education by Hosting NTCA Workshop and CTI Exam
>> NTCA Nebraska State Ambassador establishes local CTI testing
Meet Dan Hecox, CTI #1215

Hecox, a one-man operation, founded Hecox Construction in 1990. Involved with the construction business for over 40 years, he now specializes exclusively in tile, having jumped from his GC commercial restaurant specialty with regional Pizza Hut construction and some residential work, to strictly custom showers, bathrooms in new residential construction and remodels.
He became exposed to tile while working on Pizza Hut locations that needed remodeling work in the restrooms, with tile set around sinks and urinals. Although he hadn't yet set tile, he educated himself and fell in love with tile setting. Hecox, who loves woodworking and carpentry, saw similarities in tile.
"It was a lot like finish carpentry. It required a lot of attention to detail, to have it done correctly."
Deeply Involved in the Tile Industry
Hecox is deeply involved in the tile industry and in making sure his customers are happy with their tile installations. His quest for knowledge is deep and ongoing:
He participates in different workshops and specialized training opportunities around the country.

He attends trade shows and networks with his peers to do the absolute best job he can do for his customers.

He became the first Certified Tile Installer (CTI) in Nebraska, taking the hands-on portion of the Certified Tile Installer test during Coverings 2016 in Chicago.

His goals include achieving the seven ACT certifications, obtaining further training at Crossville and work with two other shops on both East and West coasts "to shadow them and learn about mud work, floating walls, etc.".
Dan's commitment has translated into strong word-of-mouth advertising fueling the growth of his business.
From Tile Love to Certified Tile Installer Testing in Nebraska
When Dan Hecox attended a training event in Texas and discovered that the majority of the students came from Nebraska and Iowa, he began planning Certified Tile Installer testing in Nebraska, a first at the time.
He quickly organized two testing events in Lincoln and Omaha, Nebraska. Sark Tile, Sunderland Brothers Company, Florida Tile, Bostik, and Dan Hecox donated material for both events. LATICRETE provided refreshments for the event at Sunderland Brothers Company.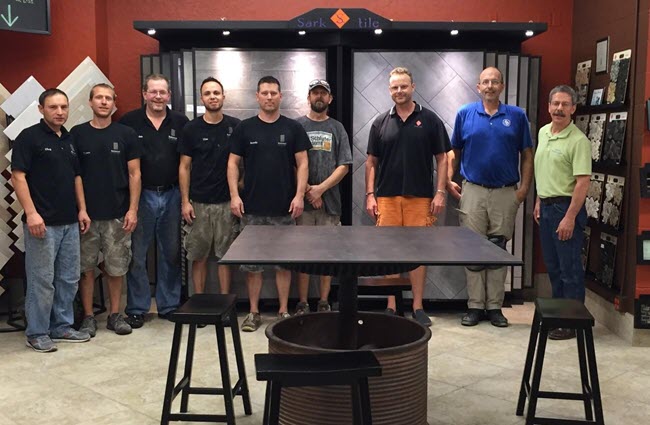 At Sark Tile, Lincoln, Nebraska, are (l. to r.): Oleg Ketrar; Tyson Skinner CTI #1250; John Calderwood CTI #1251; Tim Hufman; Randy Stroud CTI #1252; James Chamberlain CTI #1404 – all of Rainwood Interiors; Mark Becher (owner of Sark Tile); Dan Hecox; and Scott Carothers.
Certified Tile Installer Testing at Sark Tile, Lincoln, Nebraska
Nebraska's first CTI saw six local installers test at Sark Tile in Lincoln, Nebraska.
Sark Tile has been committed to educating the tile industry in its area for over 20 years. Since Mark Becher founded Sark Tile in 1999, he has been working to educate his clients.
As a national distributor of tile and tile installation products, Sark Tile serves a range of clients from architects to the end consumer, offering an exceptional platform to reach a broad range of people within the industry. Sark Tile took advantage of this platform by hosting a Certified Tile Installer (CTI) test.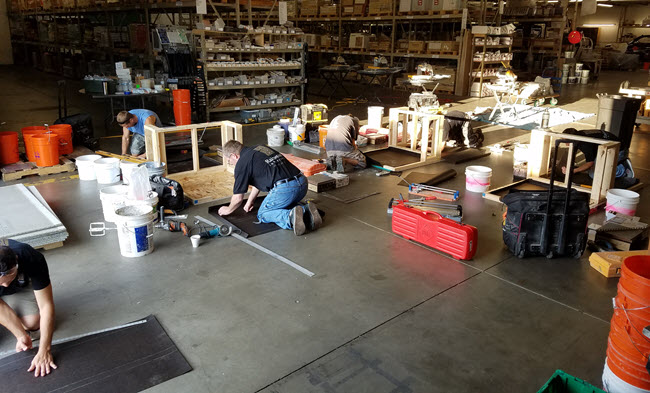 The CTI class at Sark Tile in process.
Certified Tile Installer Testing at Sunderland Brothers Company, Omaha, Nebraska
The second CTI hands-on test took place at Sunderland Brothers Company at the Omaha distribution center, with five installers from Omaha and Lincoln.
Sunderland Brothers Company, founded in 1883, is the leading wholesale distributor of tile and stone, laminate, solid surfaces, and custom cabinetry in the Midwest. Its 5 distribution centers are located in Omaha (NE), Des Moines (IA), Davenport (IA), Lenexa (KS) and St. Louis (MO).
If you're active in the tile-related Facebook groups, you may have come across these Nebraska CTIs.
Meet these Five Nebraska CTIs
Mike Sima CTI #1254
Mike Sima is from Midtown Tile in Papillion, Nebraska. Midtown Tile has been providing quality tile installation in Omaha, Nebraska since 2012, with tile installers who have over a decade of experience in the industry. He said the best thing about the experience was,
"the information and the education...Learning is a huge part of this industry."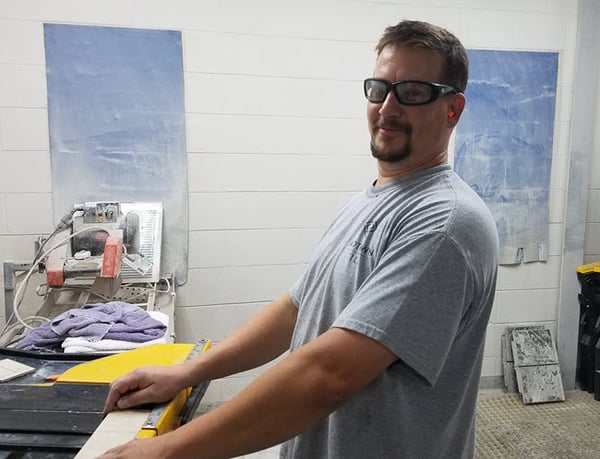 Kelly Krueger CTI #1256
Kelly Krueger is the owner of Rainwood Interiors. He learned the trade from his father and is passionate about creating unique and quality floors, showers and backsplashes that lead to smiles on his customer's faces!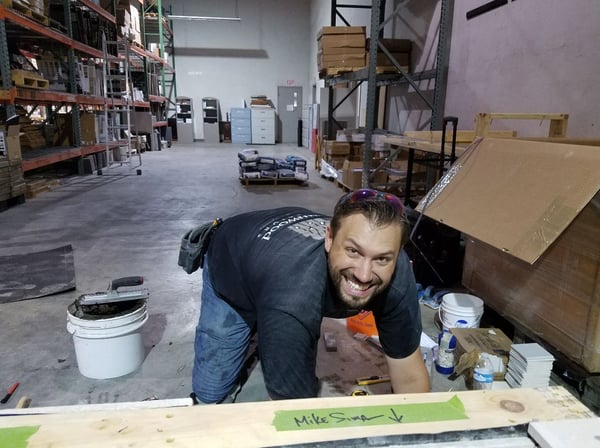 Manuel Eagan CTI #1269
At the time of the hands-on test, Manuel Eagan was with Rainwood Interiors.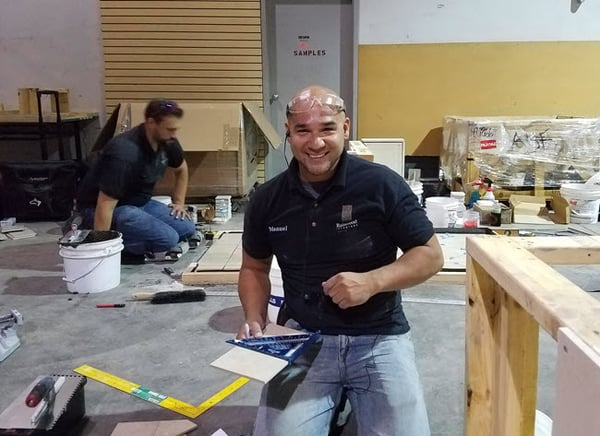 Craig Harimon CTI #1255
Craig Harimon of Craig Harimon Tile Setters in Omaha, Nebraska, specializes in tile and bathroom remodeling, both as a subcontractor and to the public. He brings 15-years of experience, is RRP licensed and holds a Nebraska Lead abatement supervisor license.
You should definitely check out his Youtube channel called Mintfreshman.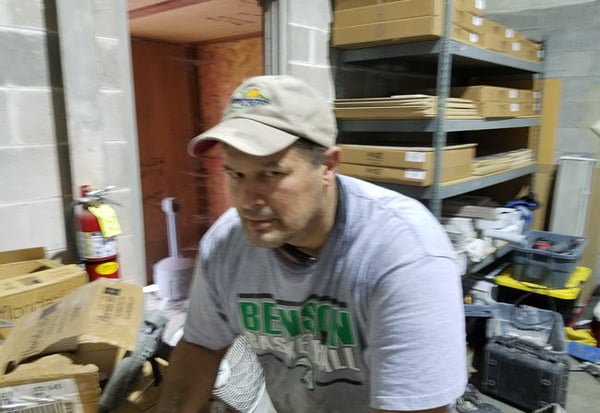 Brian Annoye CTI #1253
Brian Annoye of Jurassic Tile & Stone provides fine quality craftsmanship and custom tile installations. Be sure to check out his installations on Instagram under @jurassictileandstone.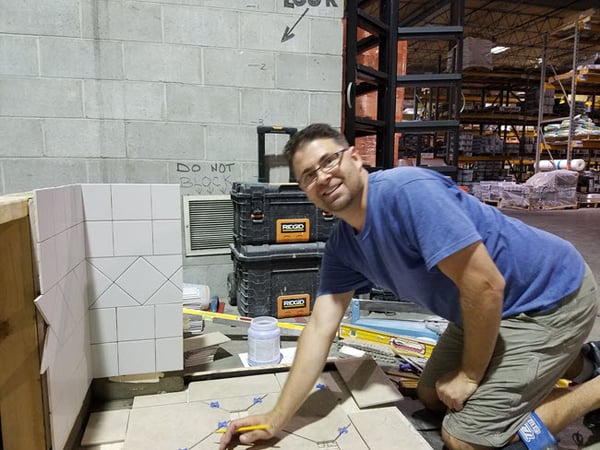 Don't Forget About Inspiring the Next Generation of Designers!
The focus thus far in this article has been on inspiring installers to become Certified Tile Installers. However, Dan Hecox's work doesn't stop there. It extends to inspiring young designers to aspire to higher standards.
In 2018, Dan presented on how to avoid tile failures to 28 second-year interior design students at the University of Nebraska – Lincoln.
The Value of Collaborating with Trade Contractors
The opportunity arose so the students could better identify standards of tile installation and learn to collaborate with trade contractors. That way, they can discover the value of reviewing custom projects with installation experts to save time, money, materials, and more.
The program professor explained,
"The jobs where I could collaborate and communicate my design intent – and work alongside the people doing the work always turned out better. This seems like generic advice, so I like to show students with real stories, so the learning is more applicable."
Adapting professional tile material to college classwork
Hecox was concerned about losing the students with trade talk and highly technical details. For that reason, he brought specific visual examples of tile installation failures for them to see and touch, as well as demonstrations including different types of underlayment and backer board.
Dan focused on giving them real-world useful information to use when they graduate.
"I really tried to explain to them as designers, that they can spec certain things – like qualified labor, Certified Tile Installers, and material that falls within ANSI specs. They should know the work schedules and when things like floor prep will take place and when tile setting will start – and they should be there on the job site to inspect the floor prep and tile install. They should also ask questions of those involved about what they are doing."
A&D Students Appreciate Learning About Tile Standards
Based on their feedback, the students emerged with a new appreciation for the tile work around them. Here are a few of their comments:
Sydney Carl said,
"I feel like it's extremely important to learn at least a little bit about how to install materials that we would be picking. I think as interior designers we should be educated on the installation of products and not just the application. I learned a lot about mortar and the correct way to lay tile (which from watching HGTV, I was very misled). I definitely feel more knowledgeable now and I have confidence that I could have an educated tile talk with a contractor."
>> See What HGTV Can Teach You About Quality Tile Installation
Keleigh Ketelhut stated,
"What came as the largest shock to me was that people have people pay them big money for jobs they do completely wrong but still call themselves a professional."
Lindsay Meyer explained,
"... I learned ... that it is important for me, as the designer, to show up on the job often to double check the installation process, and if something is awry, to speak with the general contractor about my concerns. I also learned that if there is lippage in a wall application of tile, not having light fixtures wash the wall directly can help hide that. Especially with larger format tiles, the cupping of tiles is inevitable to some degree, so it is up to the designer to make sure it shows as little as possible."
Becky Virgl detailed,
"I can really appreciate the value of good installation now that I know the difference. (When she watched a tile video on Facebook,) I felt so frustrated because they were seemingly knowledgeable, but they were instructing people incorrectly – we learned, you cannot just slap mortar on all willy-nilly without giving the air a place to escape to and you cannot spot-bond tiles. I really appreciated this class because it gave me actual concrete knowledge on a subject that will be incredibly useful to me as a designer and a homeowner in the future."
>> See Why You Need to Eliminate Spot Bonding When Installing Ceramic Tile
Ready to Validate Your Own Tile Installation Skills?
If you haven't already, consider becoming a Certified Tile Installer (CTI). As a CTI, you set yourself apart from the crowd and know how to anticipate tile installation problems before they occur. Do it right the first time and get paid accordingly.
If you need additional reasons to do so, please read Why Should You Take the CTI Test? Contractors Respond.
Are you ready to validate your skills as a tile installer? Become a CTI like Dan Hecox.
And, if you're in a position to speak with the next generation of designers, share your knowledge of tile installation standards with them.
Thanks for reading.