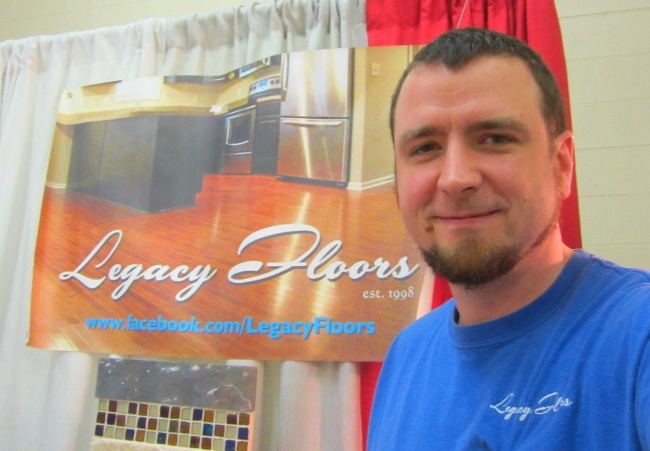 Do you love to watch Home Improvement shows like HGTV? For many, they are a wonderful source of design ideas and inspiration especially for complex spaces such as bathrooms and showers. In the case of Jeremy Waldorf CTI #1185, these shows are also an opportunity to observe the quality of the tile installation.
Jeremy is owner/operator of Legacy Floors in Howell, Michigan. He is the next Certified Tile Installer (CTI) to be featured in the CTEF Blog series about Qualified Labor based on articles in TileLetter.com.
>> See Jeremy Waldorf: owner/operator Legacy Floors - Certification offers customer extra value, bolstered by education and experience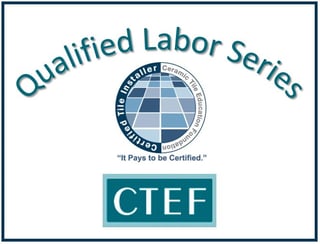 Jeremy Waldorf Discusses Being a Certified Tile Installer, the Importance of Quality Tile Installation and Looking Beyond the Beauty of HGTV Bathroom Installations
CTEF: Tell us about yourself and Legacy Floors. How did you get started in the tile business?
JW: I started Legacy Floors back in 1998, but my father is the one who got me into the flooring business at a very early age.
Carpet installation is a trade that both sides of my family have experience with, but it didn't take me long to realize that carpet wasn't for me. I would rather be sawing, cutting, grinding and mixing. I feel like there's a lot of artistic application involved in tile setting, and I love making projects that homeowners and designers appreciate and enjoy.
CTEF: Jeremy, what convinced you to become certified?
JW: There are a lot of contractors out there who are simply doing things wrong. They are costing homeowners a lot of money, a lot of heartache, and giving the industry a bad reputation.
>> See How Not to Install Tile on Floors, Walls and in Showers
From a technical perspective there has never been a better time to be a tile setter. We have so many options and advanced ways to accomplish important goals, like proper waterproofing for example.
>> See The Future Looks Bright for Certified Tile Installers: Installation Summit 2016
I decided to become certified because I didn't want to stay stuck in the only methods I picked up along the way. I made a decision to familiarize myself with other techniques and developing technologies so that I could be one of the most qualified tile setters in my area. I also know that doing things correctly helps me to sleep better at night, knowing that I don't take unnecessary risks or cut corners that could lead to job failures.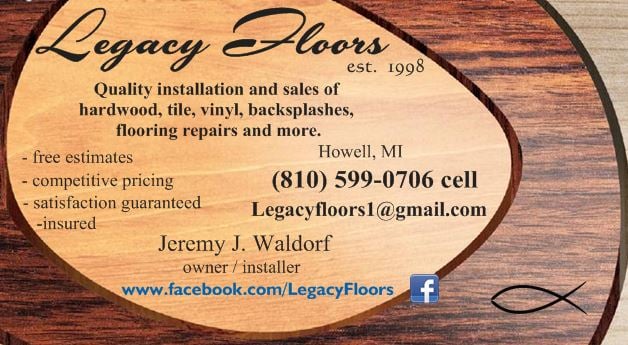 CTEF: How has becoming a CTI affected your business and how you do business?
JW: Becoming a CTI doesn't mean I automatically get every job I provide an estimate for. There are still a lot of jobs I don't get based on price alone.
However, it means I can command a higher premium for my jobs because I'm not just a laborer with a wet saw and a bucket of trowels. My CTEF certification means that I have been truly tested by some of the most highly skilled individuals in the trade.
>> See What's the Certified Tile Installer Program?
I have twenty plus years of experience and continuing education, but when I hand my customers a small pamphlet explaining what certification means and how it benefits them, it often gives me an advantage over the low bidders.
CTEF: How do you educate your customers about properly installed tile and how to tile a shower so it is water-tight?
JW: The most important thing for me to do when I talk to a customer about tile, and especially showers, is to address the common issues like stained or cracked grout, and waterproofing problems. I explain to them the importance of a properly installed substrate, soft joints in corners, and the difference between cement board and actual waterproofing.
Most customers don't understand what makes a successful installation work, from a technical perspective. I have to think like a homeowner, and tell them what I do differently in order to achieve the results they will want. Often times it's simply a matter of using premium products in the right application, and more importantly learning as much about those products as I can.
As I said, from a materials and technology standpoint, there has never been a better time to be in the tile trades.
>> See Addicted to Quality Tile Installation
CTEF: You recently watched an HGTV master bath/shower installation and noticed some issues. Could you describe what you saw?
I was watching an HGTV show with my wife about a bathroom and shower remodel. As usual when it was time for the tile installation part, I sat up closer to the edge of the couch. Inevitably, I'll notice installation techniques that don't follow the TCNA Handbook and ANSI Standards.
>> See ANSI Standards: A Tile Installer's Best Friend!
This episode was no exception. I just had to take photos, and I'll share with you a couple things I found.
In the first and second photos, notice the patchwork of cement board on the back and side walls. There appears to be no rhyme or reason to the layout. Unusual rectangular sizes appear to be woven into standard drywall as you see above this shower tub surround.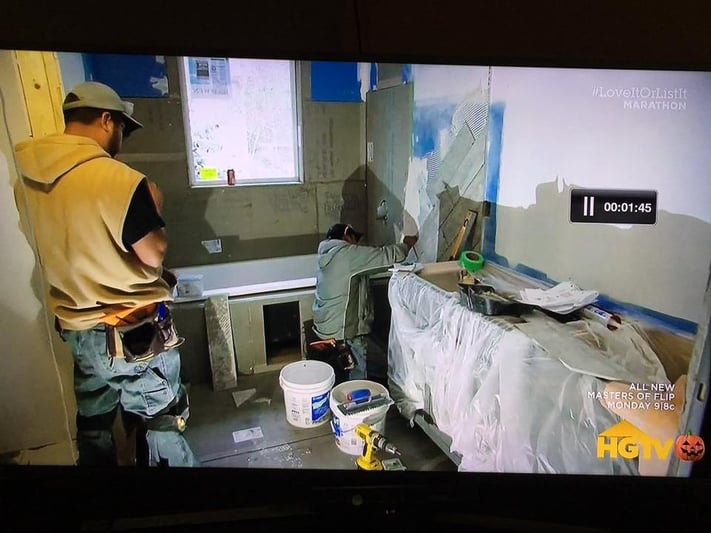 It actually looks like they just used whatever cement board scraps they had left over from previous jobs.
Cement board is cheap if that's what you choose to use, and there's no reason to cut costs by leaving it out in a shower application like this. That purple drywall will soon be saturated with water and deteriorate in a very short time; meanwhile it will likely be a fertile breeding ground for mold, which can cause health problems.
I also don't see any mesh tape on any seams except one.
In the second photo, I'm not even sure what I'm looking at here. How could there be any studs behind half of these seams?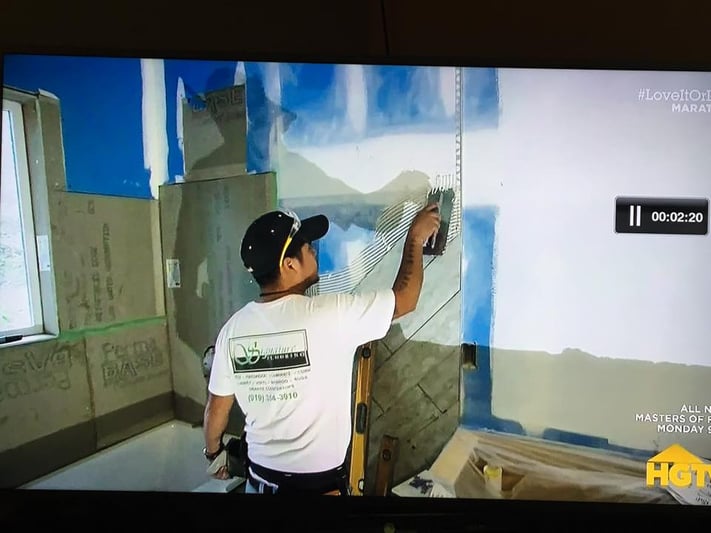 The problem with the lack of mesh tape and supporting studs is that there may be some movement between pieces of backer board, and that could cause cracking of grout or tile. These installers should have used large sheets of cement board to cover the whole wet area, and then taped the seams.
The Importance of Waterproofing a Tile Shower
The second and major point of concern is the issue of waterproofing, or lack thereof.
There are generally two ways to properly waterproof a shower.
The first is a liquid waterproofing applied to the shower walls before tile.
The second is a waterproof sheet membrane, also applied to the walls prior to the tile installation.
We can clearly see that neither one of these methods were used in the HGTV bathroom installation, so the only way left is to retard the vapor movement.
A vapor retarding product behind the cement board such as a polyethylene, asphalt-impregnated, or 15# roofing paper provides a barrier so that moisture does not damage the studs in the wall cavity.
However, even if this third approach was used here, that would not provide any type of waterproofing on the drywall areas.
Based on what we see in these photos, there is likely no waterproofing in this shower at all. Water will eventually deteriorate the drywall and potentially cause rot and mold in the wall cavities, or potentially damage adjacent rooms or areas of the home.
Here is an example of what that looks like. This image shows mold found behind a customer's fiberglass shower unit.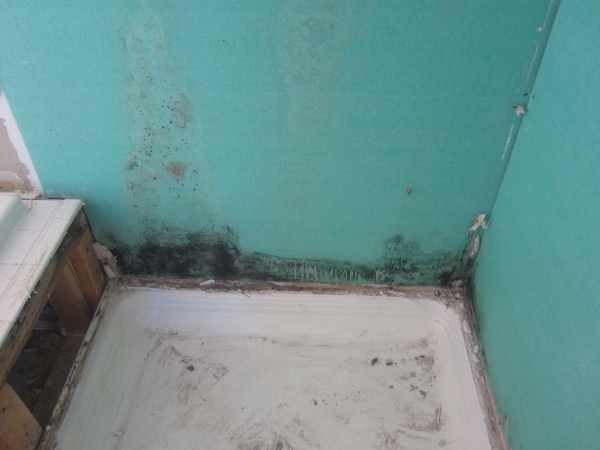 Here is an example of proper waterproofing for a tile shower.
The image below shows proper cement board layout with taped seams. Notice the large backer board pieces.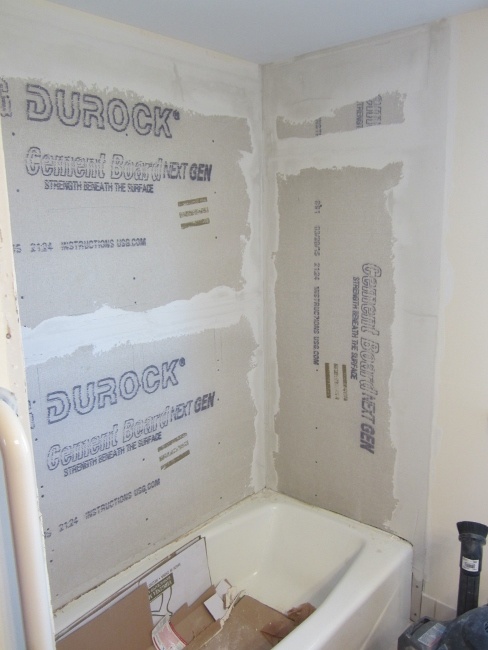 Next, you see the same shower with liquid waterproofing applied.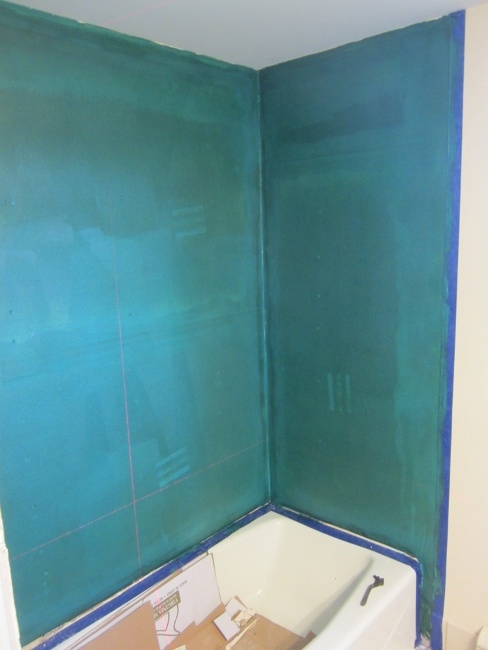 Below is an example of wall tile in a shower being installed on Schluter Kerdi Board, a foam core product with a waterproof membrane already applied.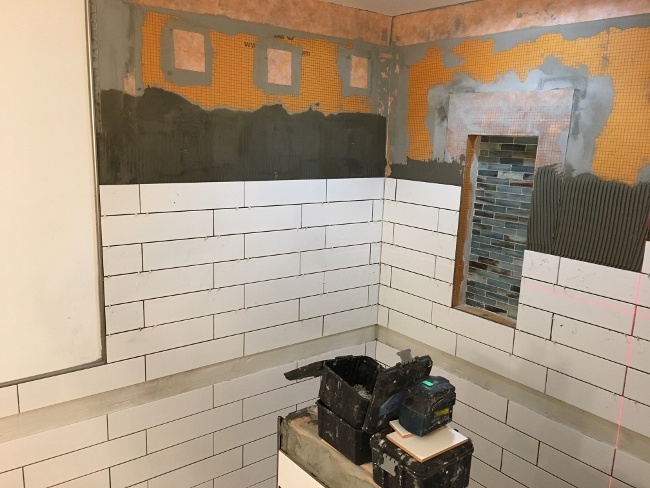 There are other issues in this television bathroom installation, including how the mortar is being applied.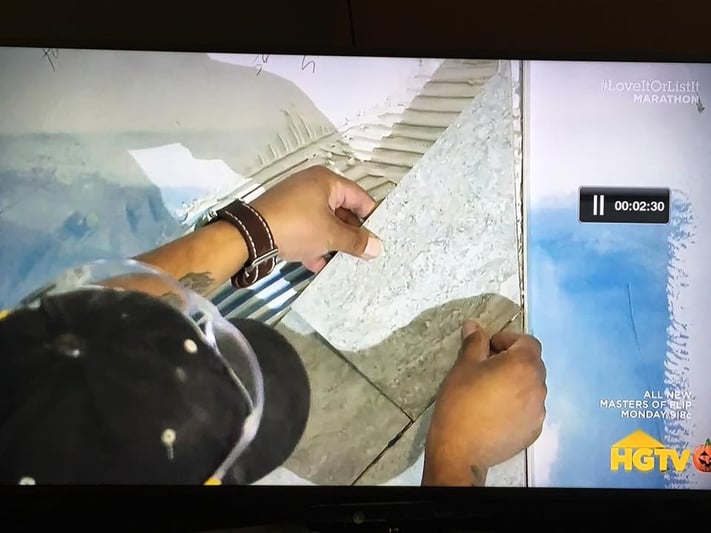 >> See How to Correctly Trowel Mortar When Installing Tile?
A Quality Tile Installation Looks as Good Behind the Tile as it Does at the End of the TV Program
The bottom line is that we end up with a very nice looking shower as you can see in the image below when the project is finished and the show episode is over. As with many installations in the real world, the homeowners will never know the flaws that lie underneath the tile in the showers they use every single day, until it's too late.
Since becoming a CTI, I take pride in completing every tile installation under the assumption that it will be subject to inspection just as it was when I took the CTI hands-on exam. I naturally consider what it would be like to have someone take apart my finished work, examining every aspect of it. This installation would not pass the test.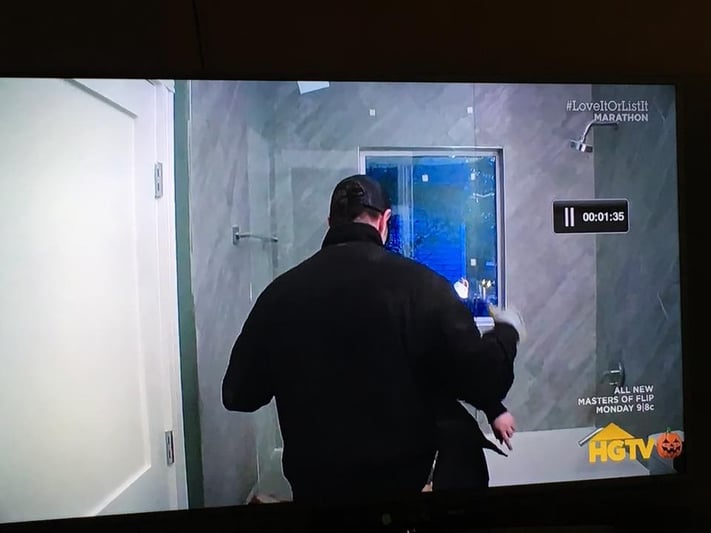 CTEF: Jeremy, what advice do you have for people watching shows where beautiful looking spaces are created, but where the workmanship could lead to tile issues later on?
JW: The tile installers in this show make it look easy, and they get it done quickly. However, the best advice I can give a homeowner who is looking to have tile work completed is to hire a certified tile installer.
>> See Find a Certified Tile Installer Near You
The television shows focus on creating beautiful bathroom spaces and can be a little misleading. That combined with well-meaning DIY assistance from your local big box store means that you can end up making a lot of very costly mistakes.
Even if you hire a local professional, you need to ask for references and photos of their work.
>> See Hiring a Tile Installer? Here's What to Look For.
Be sure to be diligent in your research because it's very important especially in a shower, that tile installation and waterproofing get done correctly the first time. Shower failures can be very destructive and water damage can go undetected for a long time. It's not worth saving even a thousand dollars on the installation when it can end up costing you so much more in the long run.
>> See When to Avoid Hiring a Tile Contractor: 10 Warning Signs!
CTEF: How can readers reach you?
JW: Anyone looking to have tile installed in Michigan or the surrounding areas can contact me via email at Legacyfloors1@gmail.com or by phone at (810) 599-0706.
My installation portfolio can be seen at www.facebook.com/LegacyFloors. In addition to tile, showers and other hard surface flooring, I provide consultations, jobsite pre-inspections including moisture testing, and jobsite preparation services.
I am also a regular contributor to Angie's List.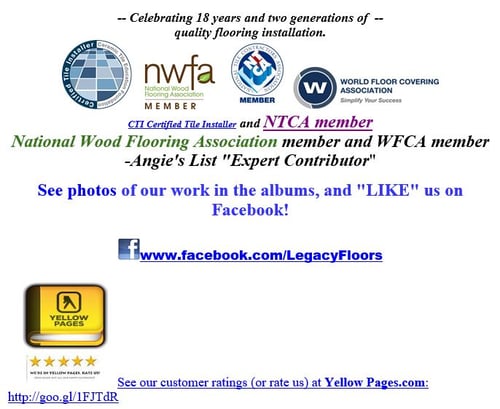 CTEF: Thank you, Jeremy! It is refreshing to know that there are true tile professionals available to properly address all aspects of tile installation... the first time.
Are you interested in learning more about quality tile installation? Consider embracing CTEF's CTI Program as Jeremy Waldorf at Legacy Floors has and start installing tile in a way where the work that isn't visible is as beautiful as the work that is.