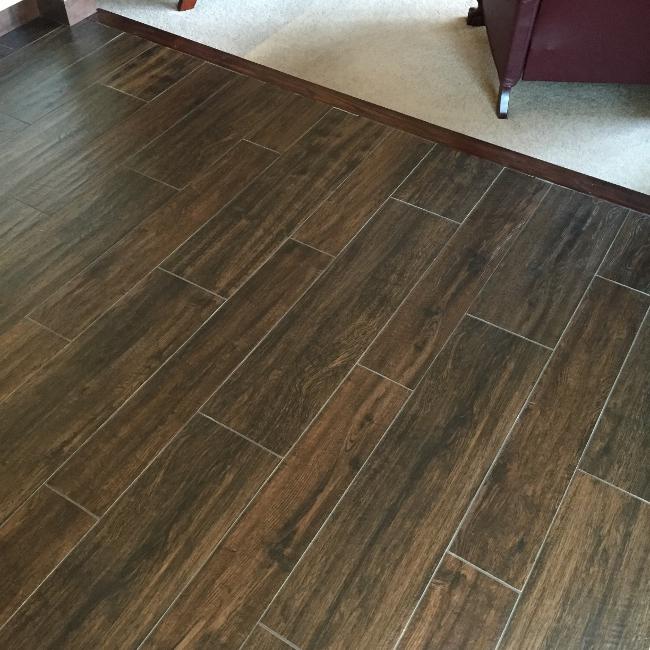 At the Ceramic Tile Education Foundation (CTEF), we are addicted to quality tile installations. That's the kind of work that takes beautiful ceramic materials and transforms them into spectacular and useful kitchens, bathrooms, floors and walls that delight and perform as promised and expected indefinitely into time.
It's the kind of work that Certified Tile Installers pride themselves on doing and the kind of work you can witness in action during the Installation Design Showcase at the Coverings show.
>> See Coverings Now Elite CTEF Sponsor
It's also the kind of work that is in considerable demand at at time when qualified and competent workers are in short supply.
>> See The Future Looks Bright for Certified Tile Installers: Installation Summit 2016
If you are equally addicted to quality installations, but aren't yet a certified tile installer, now is the time to do so.
Celebrating Qualified Labor and Skilled Trades
Are you familiar with Mike Rowe, host of Dirty Jobs? He, too, realizes the shortage of competence available in the skilled trades. He says,
"As the host of a TV show about hard work (Dirty Jobs), people often assume I speak for tradesmen and skilled workers. In reality, I don't. I can only speak for myself and anyone else who shares my addiction to paved roads, reliable bridges, heating, air conditioning, and indoor plumbing..."
Here's the 8:24 minute video of Mike Rowe testifying to Congress in 2011 about the skilled trades that Scott Carothers recently viewed. Scott said about the video that it "hits the qualified labor dilemma of the tile industry right between the eyes."
You'll find a full transcript of Rowe's testimony in The Work We Value, The Intelligence We Ignore: Is the Work that Made America Great Valued Any Longer?
These highlights from the transcript of Mr. Rowe's testimony focus attention on the two-part challenge of the qualified labor dilemma:
1. The rate of retirement for skilled labor is increasing rapidly.
I believe we need a national PR Campaign for Skilled Labor. A big one. Something that addresses the widening skills gap head on, and reconnects the country with the most important part of our workforce.
Right now, American manufacturing is struggling to fill 200,000 vacant positions. There are 450,000 openings in trades, transportation and utilities. The skills gap is real, and it's getting wider. In Alabama, a third of all skilled tradesmen are over 55. They're retiring fast, and no one is there to replace them.
Alabama's not alone. A few months ago in Atlanta I ran into Tom Vilsack, our Secretary of Agriculture. Tom told me about a governor who was unable to move forward on the construction of a power plant. The reason was telling. It wasn't a lack of funds. It wasn't a lack of support. It was a lack of qualified welders.
In general, we're surprised that high unemployment can exist at the same time as a skilled labor shortage. We shouldn't be. We've pretty much guaranteed it.
2. Young workers aren't encouraged to learn about skilled trades.
And, the other side of the problem, not enough attention paid to encourage young people to learn about skilled trades.
In high schools, the vocational arts have all but vanished. We've elevated the importance of "higher education" to such a lofty perch that all other forms of knowledge are now labeled "alternative." Millions of parents and kids see apprenticeships and on-the-job-training opportunities as "vocational consolation prizes," best suited for those not cut out for a four-year degree. And still, we talk about millions of "shovel ready" jobs for a society that doesn't encourage people to pick up a shovel.
Scott Carothers agrees with Mike's comments. He says,
"Not every graduating high school student is "college material" nor does each desire a four your degree. Guidance counselors have historically directed students into going to college without exploring possibilities in the labor field. Unfortunately, many students feel obligated to attend a four year institution in order to please their parents while feeling out of place. Four years later, many of these young people come out with a diploma, no job in their field of study, and a huge personal debt of over $100,000.
Conversely, a student who studies at a two or three year trade school costing significantly less or one who enters into an on-the-job apprenticeship program comes out with a trade that cannot be taken from them, little or no debt, and a plentiful array of job possibilities.
This is a no brainer. The difficult task here is to convince students, their parents, and high school guidance counselors that it can be a wise choice to become a work-with-your-hands person who quickly enters the labor force making far more money than the four year grad who is unable to find work."
Certified Tile Installers such as Dan Welch CTI #1 from Welch Tile & Marble have gotten involved to promote tile installation as a career.
>> See Thin Tile Installation Expertise Creates Clubhouse Bar & Lounge
When You're Addicted to Quality Tile Installation...
We started out this article describing what we love most about quality tile installation. We thought we would end it with perspective from a few who live their love of it.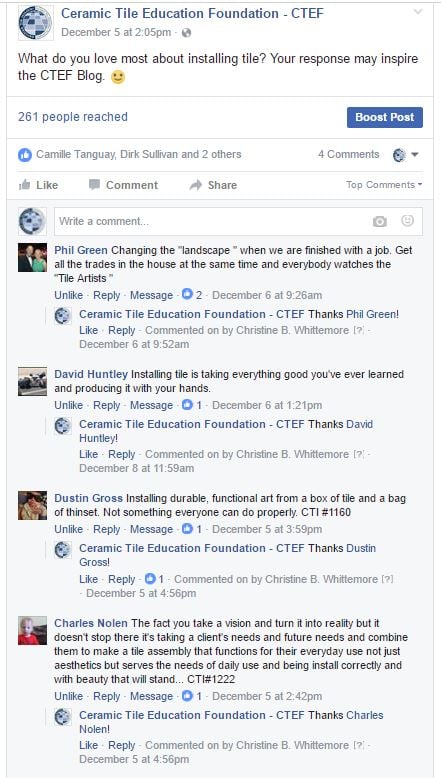 What do you love most about installing tile?
Phil Green says,
"Changing the "landscape" when we are finished with a job. Get all the trades in the house at the same time and everybody watches the "Tile Artists"."
David Huntley explains that,
"Installing tile is taking everything good you've ever learned and producing it with your hands."
Dustin Gross, CTI #1160, owner of The Cape Girardeau Tile Co, says:
"Installing durable, functional art from a box of tile and a bag of thinset. Not something everyone can do properly."
Charles Nolen, CTI #1222, Miller's Flooring America and Indiana State Ambassador for the National Tile Contractors Association, says,
"The fact you take a vision and turn it into reality but it doesn't stop there it's taking a client's needs and future needs and combine them to make a tile assembly that functions for their everyday use not just aesthetics but serves the needs of daily use and being install correctly and with beauty that will stand..."
We invite you to share your thoughts about quality tile installation. Encourage others to become Certified Tile Installers.
Installation image courtesy of Kevin Insalato, California Flooring