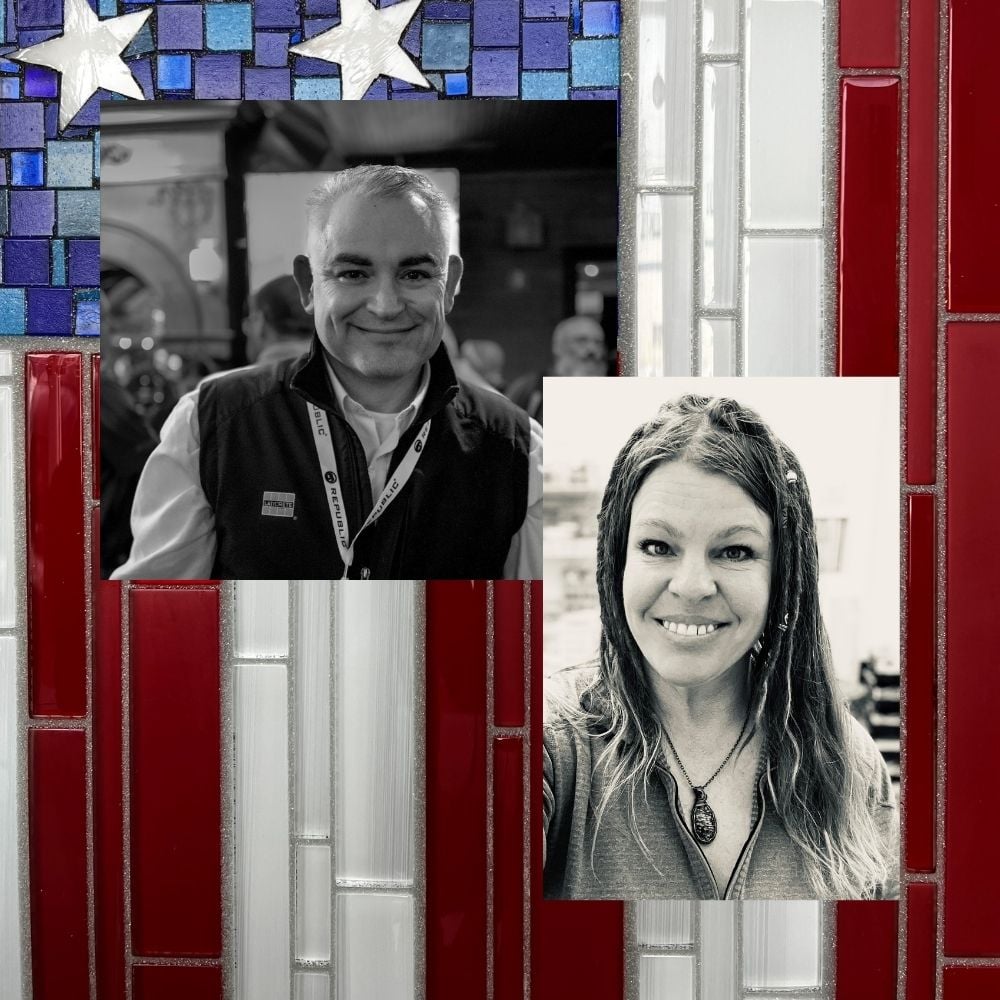 Have you heard? CTEF will raffle off a stunning original American flag mosaic designed by the award-winning Angie Halford Ré during Coverings 2022, and donated by Laticrete's Ron Nash, both based in Utah.
We caught up with both to learn more, and encourage you to purchase raffle tickets!
A Conversation with Angie Halford Ré and Ron Nash About the American Flag Mosaic
CTEF: Angie, how did you get involved with tile and mosaics?
AHR: I learned how to install flooring with a property management company contracted to do all of the maintenance work for base housing at Camp Lejeune, NC. Unfortunately, we didn't do much tile work. So I learned tile from asking a ton of questions from the best tile installers I knew, and I still learn something every day.
My first mosaic was an art project I did with my children in 2004. I saw a mosaic online that I was utterly captivated by and I wanted to learn how to do it. I had limited resources at that time, so I self-taught with the help of books and a lot of online research and study.
I started to create small mosaic projects such as inlays and medallions for tile contractors I know from my online social networks. I won an online tile contest, which boosted my reputation as a mosaic artist.
One job led to another and I opened my own studio - Unique Mosaics - as I started to grow in the field. I now create pre-mounted custom tile inlays, accent walls, floor patterns, commercial tile logos, etc. for many contractors, designers, architects, and homeowners all over the nation and beyond.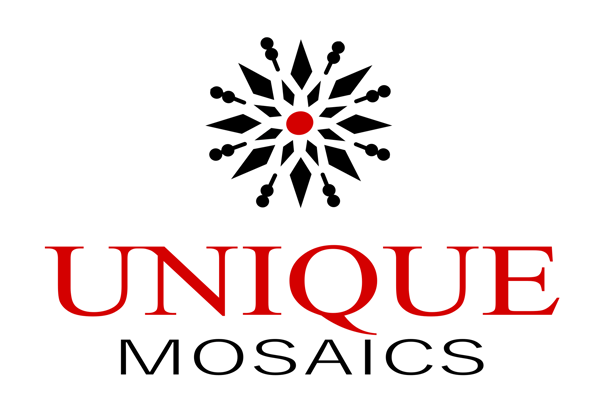 CTEF: What do you love most about tile?
AHR: I love that my full-time job is what I dreamed about doing many years ago.
I love that each project is completely different from the last, allowing me to express creativity and challenges me every day.
Working in the custom-tile field, I find it to be a very rewarding career.
RN: I love that this industry is more art than science. And that the science that Laticrete brings to the industry is meant to make life easier for those using it.
CTEF: Ron and Angie, how did you first connect with one another?
RN: I knew Angie before she moved to Utah, and was thrilled to welcome her to Utah. We connected because she's an artist, doing amazing work with mosaics in her studio and successfully supporting her family.
I try to regularly meet customers and had the opportunity to feature a meeting with Angie in Customer Appreciation Tour Interview with Mosaic Artist Angie Halford Re | LATICRETE Conversations.
AHR: I met Ron years ago online, and then in person many times at conventions. However, now that I have been living in Utah for the past 5 years, he is pretty much my neighbor!
I consider Ron a friend and he has always been there to help promote my work and answer any questions I have about Laticrete.
CTEF: Angie, would you describe the flag mosaic? What inspired you to create this piece?
AHR: I created this piece as a commission from Ron Nash. He saw the first one I made for another client and said he wanted one, but he wasn't sure what to do with it, he just knew he would think of something!
>> See TileLetter's article titled Gender has nothing on the curation of powerful and unique mosaic designs to learn more about the original flag, Angie, and more.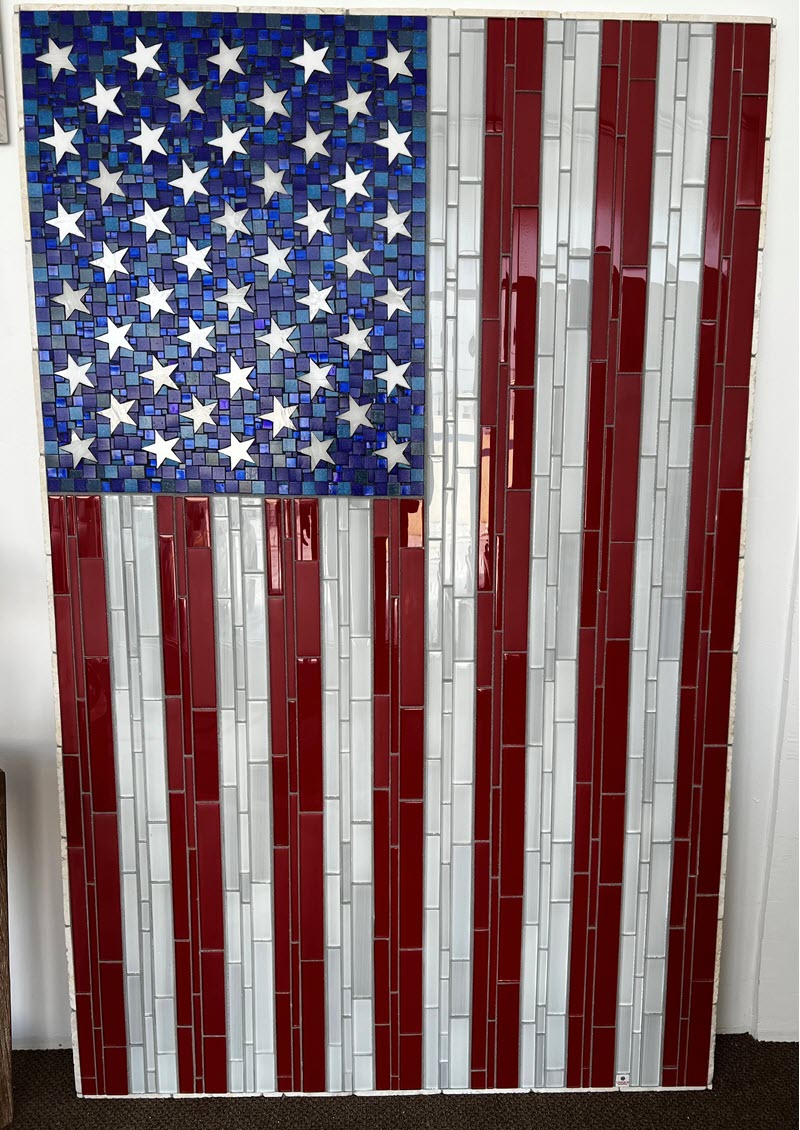 CTEF: What are the dimensions of the American Flag mosaic?
AHR: The flag measures 42.5" X 67" and is 1.25" thick. I've not weighed it, and I guess that it comes in at about 100 lbs.
CTEF: What products did you use to create the flag?
AHR: I used hundreds of pieces of subway glass tile, with thousands of cuts for the blue area. I hand-cut the stars from stained glass, and there's a stone border.
In addition to the glass tile, I used Laticrete Hydro ban, 254 platinum (Laticrete) midnight black Spectralock1, translucent Spectralock pro, silver dazzle, all mounted onto plywood at Ron's request.
CTEF: How long did it take?
AHR: I worked on it off and on in-between other projects, hard to tell, but I would estimate around 50 hours total.
CTEF: How is it framed?
AHR: It's not framed, because initially, I thought it would be a nice inlay- but there is an outer border of stone tile around the mosaic area.

The flag is a vertical display, so I recommend it be installed onto a dry area wall with tile scribed around it, with the flag being slightly proud of the wall tile.
CTEF: Does it need to be sealed or otherwise be protected?
AHR: No, it does not need to be sealed, only installed.
CTEF: What are the challenges of working with mosaics?
AHR: Every project has many challenges from design to execution.
Challenges may include color-matching to the client's wishes, choosing appropriate materials for the job depending on whether it's going to be installed in a wet, dry, or UV exposed area, dealing with different thicknesses in materials, predicting how long something will take to create (nearly everyone asks, but that is very difficult to predict)...
CTEF: Did this piece offer additional challenges?
AHR: Yes, I used a multitude of different thicknesses of tile from 1/8" glass, to thicker glass and stone.
CTEF: Ron, what inspired you to purchase the flag mosaic, and then donate it for the raffle?
RN: Angie is an incredible mosaic artisan, one of the best if not the best and she's from Utah.
I was raised by an artist - my Mom was a potter - and I have a soft spot for artisans trying to make a living.
Mosaic is an ancient form of art. Even though it is one of the very first types of art, it remains relevant, beautiful, and compelling. I wanted to own an Angie Ré original mosaic and commissioned this flag. It's beautiful and I thought I might put it in my cabin in Wyoming.
Then, I started thinking about the NTCA 75th anniversary, its role as one of the first professional tile associations in the United States, and the role CTEF plays in educating the industry and decided it would be great to donate the mosaic flag to CTEF to help raise money.
I hope it goes to someone who will appreciate it and its artistry as much as I do.
CTEF: How has being part of the tile community affected you?
RN: It's my personal mission to be a good citizen of the tile community. I get a lot out of it, relationships and friendships some of which are totally virtual.
From a practical perspective, I get to learn from the community. The questions I get and issues I hear about are an early warning system so we can respond. We try to improve lives, enable iconic design, and help our customers achieve success.
AHR: I am grateful for the tile community as a whole.
When I was first starting out in my own business, I learned by asking questions to the best installers I could find, reading and learning from many posts in the online tile social network, and continuing to learn and grow with the tile community.
I have built a reputation within the tile community and am referred by many of the people in this industry.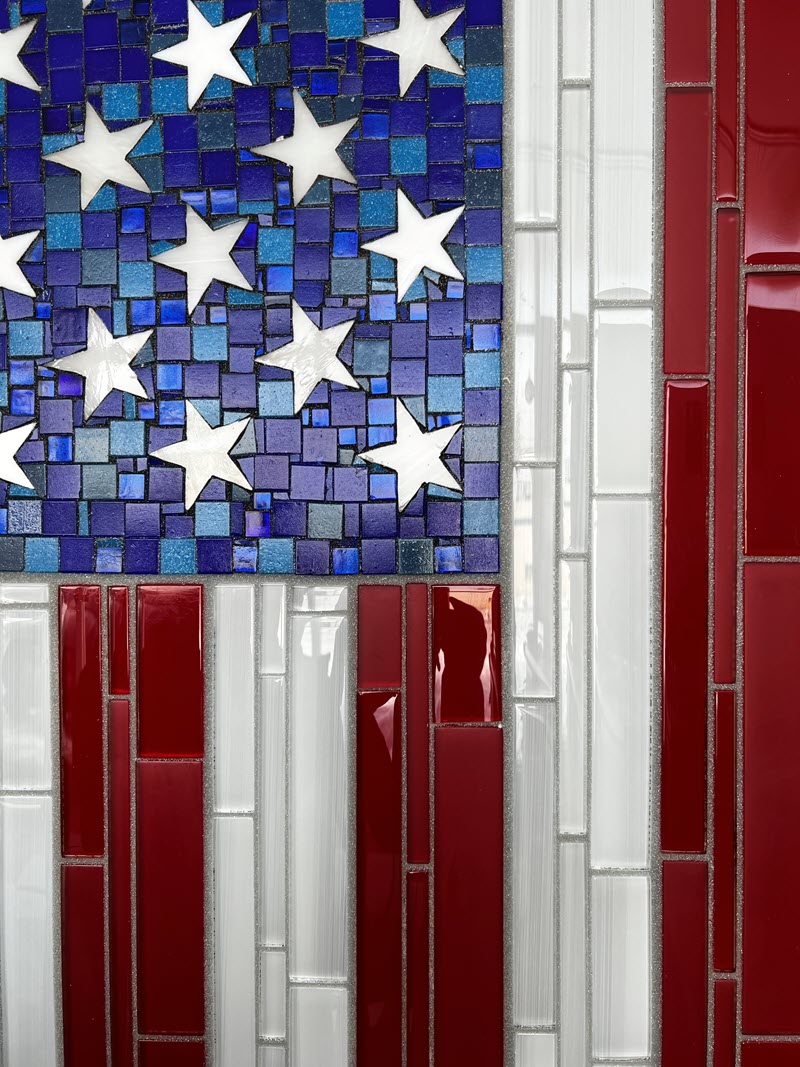 CTEF: What value do you see CTEF offering the tile industry?
AHR: The value of CTEF is in the name. Tile Education. A very broad term with a huge amount of opportunity to learn more to be successful in this field.
That is of the utmost importance and value in my opinion.
RN: Education should be every leader's number one priority, and CTEF is part of the solution.
Tile is not getting easier to install. Quite the opposite, tile is getting larger, technically more difficult, construction schedules are more compressed, and it's harder to find qualified labor. CTEF directly addresses education and improving talent in the field.
That's why Laticrete supports CTEF; it's a valuable third-party, brand-agnostic organization, wholly focused on improving tile installation talent. We believe wholeheartedly in the CTEF mission. Furthermore, CTEF is a good steward of the money it receives as donations, transparent with numbers and activities.
CTEF: How has CTEF affected your business?
AHR: I have taken advantage of the website, and the instructional videos that are available to anyone.
I'm thankful for the CTEF, and how it has helped my business grow. Again, the more you know, the more you educate yourself, the better your business will be - now as well as in the future.
RN: From a risk management perspective, CTEF is a good investment because Certified Tile Installers don't have claims!
It's so much more than that, though. CTIs know to select the right materials, they understand the risk associated with installations. CTEF has built through the certification programs not only a high-value certification and more robust installers but also a professional network for installers that enables installers to meet the players in the industry.
CTEF represents significant benefits for companies that invest in it.
CTEF: Thank you, Angie and Ron.
Don't Wait to Purchase Your American Flag Mosaic Raffle Tickets!
If you attend Coverings 2022, you can see this stunning American Flag Mosaic for yourself and admire the artistry it represents.
You don't have to be present to win, so go ahead and purchase your raffle tickets for a chance to own an original Angie Halford Ré creation!