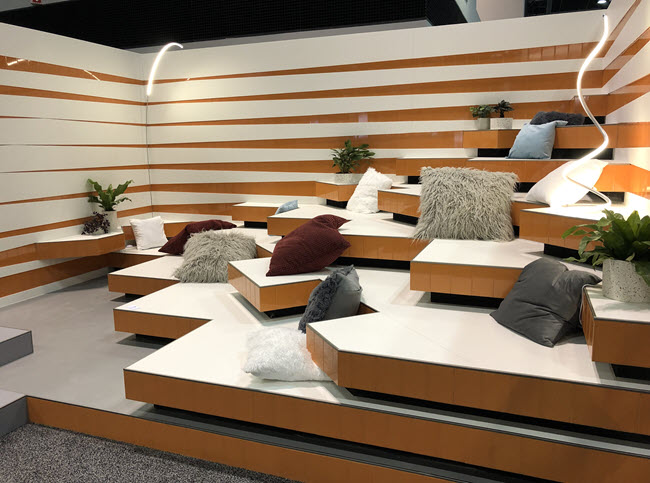 One of the highlights of Coverings, the yearly global tile and stone experience, is bringing together tile installation and design expertise to create the impossible under tight deadlines.
During Coverings 2019, this event was part of the newly expanded Installation & Design Experience incorporated into the National Tile Contractors Association Booth and included three vignettes.
In this article, we focus on Above Orange, designed by Maria Valbuena from Interstruct and installed by CC Owen Tile Company's expert installers. This design concept for an indoor public pocket space tested the limits of the installers' abilities:
"Valbuena's ideas is an experimental structure that invites people to use it in different ways, whether to climb, sit or just relax... (it tests) the limits of edges + transitions and how tile is typically used and installed."
CC Owen Tile Company is not only fierce about proper installation methods, best practices on every project and ongoing tile installation training and education, but also a prominent supporter in providing opportunity and educational awareness of career possibilities within the construction industry.
Meet Rod Owen, CC Owen Tile Company
CTEF: Rod, tell us about CC Owen Tile Company.
RO: CC Owen Tile Company, Inc. has been in the trade business of tile, terrazzo, and stonework since 1956. I represent the third generation to run the business.
We currently are head strong for proper training for those that want to be true tradesmen within the tile industry.
CTEF: How did you get started with tile?
RO: I was recruited to work with my father when I was twelve.
To be truthful, I wanted to work and earn my own money. During my summer months when I was twelve my dad was doing a twelve-story office building on the north side of Atlanta. I moved material, mixed thin set, and took out trash.
From this, as I was around the trade more, I began learning more as a tile professional.
Now, as I look in the 'rear view mirror,' I have great respect for the experience it gave me and the perspective I have of the trade.
CTEF: How has having Certified Tile Installers benefited your business?
RO: The Certified Tile Installer program has been a great complement to the tile industry and not just to CC Owen.
But I think the biggest thing the CTI program bring to the table is that it sets an industry standard for a tile setters skill level.
For CC Owen, it allows us to set a goal for our apprentices. It also allows us to pursue as a company the NTCA Five Star Contractor rating that puts us within the tile specification qualifications that you see now.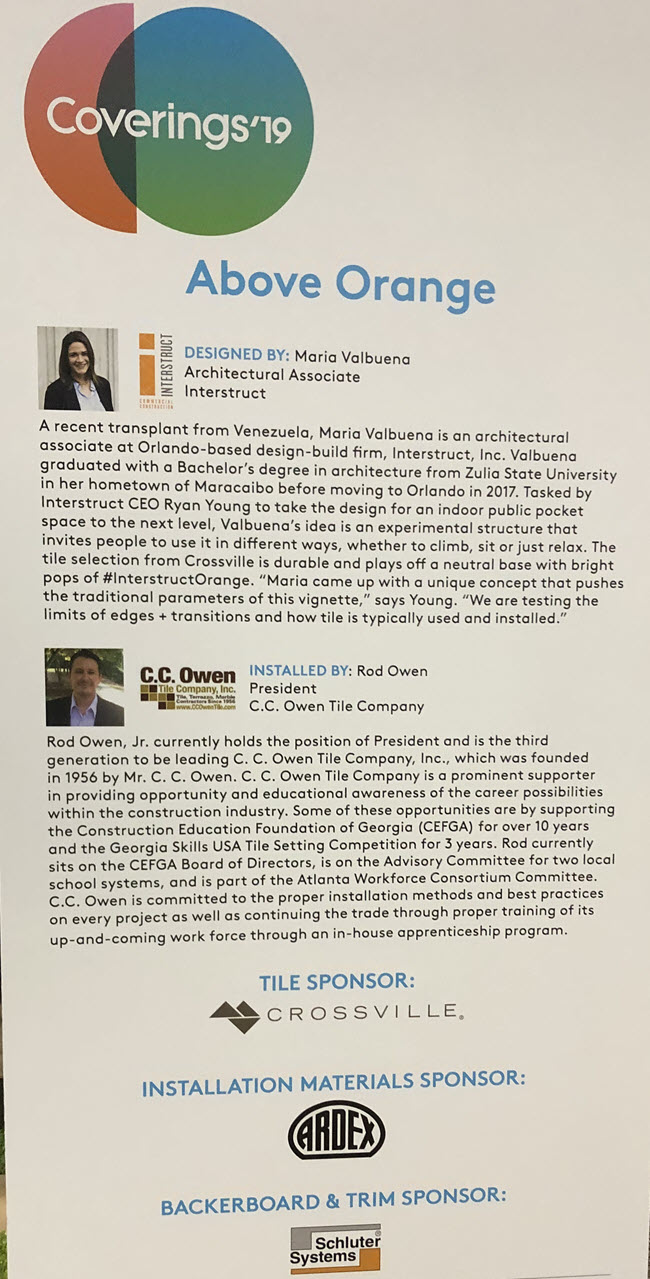 CTEF: Why did you decide to participate in the Installation & Design Experience?
RO: I thought it would be a great challenge and morale booster for our employees.
I also wanted to give the evidence that CC Owen is an industry team player and hopefully give other contractors the motivation to participate in other tile industry events when given the opportunity.
CTEF: Who on your team participated?
RO: The team members who participated were:
Team Lead - Tony Girolami CTI #968
Keaton Scruggs
Anyelo Montes
Pablo Estrada
Oscar Macias.
CTEF: What were their reactions to the project?
RO: This was actually Tony's third time participating but even then, his response was 'bring it on'.
The other participants were excited to have an opportunity to display their skills at an industry level event.
CTEF: What tile products did you install?
RO: The prep materials, setting materials, and grouting materials were by Ardex.
The tile was by Crossville in three different sizes:
4"x 8"
12"x 12"
1 meter x 3 meter (39-3/8" x 118-1/8")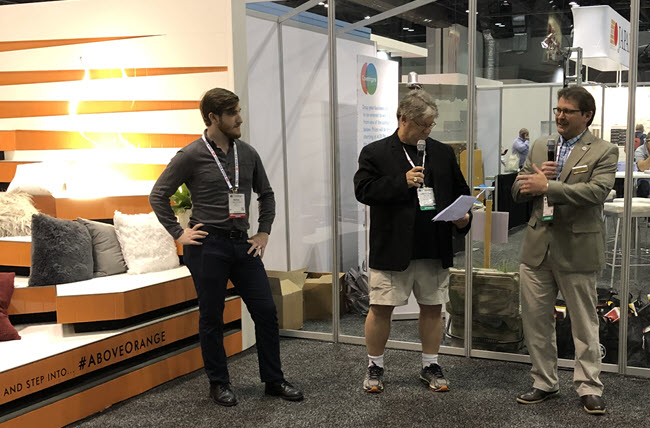 CTEF: How different was this compared to the "normal" projects you do for customers?
RO: To be honest, in preparation and the limited time for completion it isn't much different.
It's just like one of those jobs where you have to make sure you have all your information, materials, and the human resources to get it done within the time constraints given.
Simply because there wouldn't be enough time to bring replacement materials in, additional manpower, or RFI's (Request For Information) before the vignette was to go 'live'.
All this needed to be ironed out beforehand.
CTEF: How was working with Interstruct Inc. and how did you prepare?
RO: Interstruct, Inc. was great.
During the design phase and the material procurement phase, if we had a question, they had a quick answer. This was necessary so as not to delay any stage of the process.
They created a very challenging design and provided the necessary support through the realization of that design.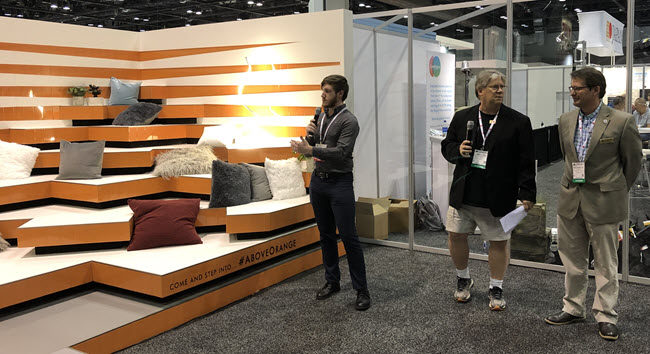 CTEF: What kinds of installation challenges did you encounter?
RO: When we received the Vignette design, the first thing that came to mind was, 'all this will need to be water jet cut'.
After a few more conference calls, Interstruct, Inc. and Crossville Tile wanted to display the possibilities of doing tile over tile. The design they came up with was a 4"x 8" being installed first, then the 1m x 3m installed over the top of the 4"x 8". This was somewhat of a relief because it eliminated the necessity of water jet cutting.
CTEF: Rod, in conversation you mentioned doing the actual layout work prior to beginning this project before Coverings due to the challenges associated with the gauged porcelain tile panels.
RO: Yes, after confirming the scope of the design it was necessary to bring in Tony Girolami to review it.
Upon this meeting, it was decided that we would need to lay the back wall & two side walls out on a flat horizontal surface to do the layout before the show.
This would eliminate having to think through the layout at the show, and since we needed a minimal space of 10'x 40', it also eliminated the potential of not having enough room at the show floor to do a proper and accurate layout.
The reason behind laying all walls flat was because the design intertwined the back and two side walls.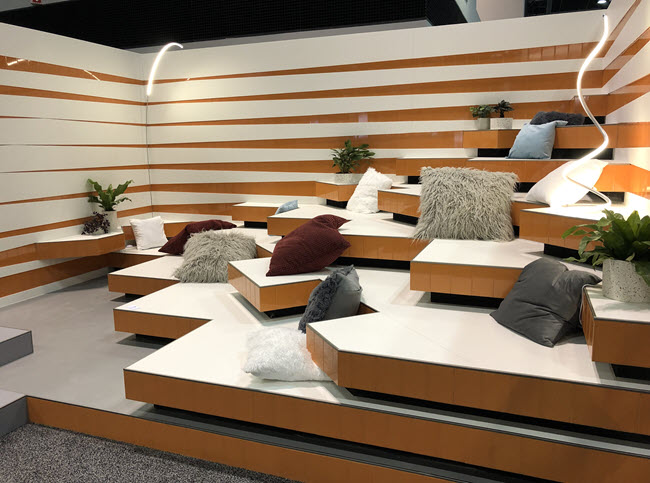 CTEF: How valuable was it having CTIs involved?
RO: It was critical.
It provided the designer, the material manufacturer, and the tile manufacturer the confidence the installation would be done correctly the first time.
CTEF: Any other important points to highlight?
RO: It was a privilege and to be a part of the Installation & Design Experience.
CTEF: Thanks, Rod, and congratulations on this stunning installation!
Rod Owen Discusses Quality Labor
In this 2:02-minute video, Rod provides perspective on his company and what the CTI program represents for his business and the tile industry.
Did You See It?
Did you have a chance to explore the Installation & Design Experience while you were at Coverings? What was your reaction to "Above Orange" and the other installations?
Thanks for reading!