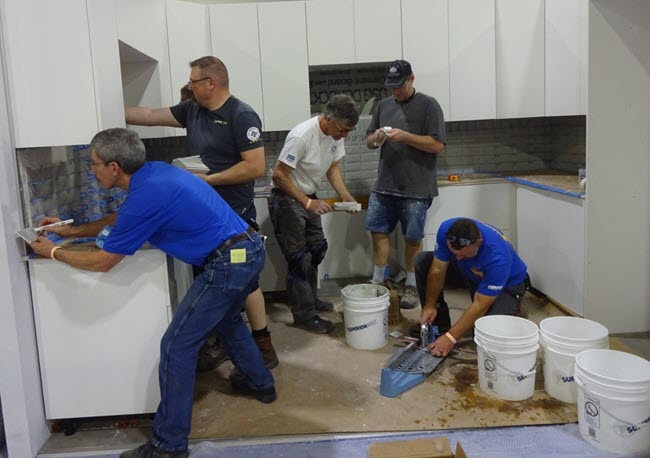 CTEF has a question for you: What made you the ceramic tile installer you are today? What unique experiences affected you in such a way that you embraced education and training to become a successful Certified Tile Installer?
Seriously, if you install ceramic tile, you have a story about your journey.
When you talk with others who are successfully earning a living in the trade, they too have a story. It may be completely different than the pathway you followed, yet equally valuable.
At CTEF, we care deeply about the history of training and education that tile installers have pursued. The individual components of experiences along life's path are what develop talented technicians and artisans. As an educational foundation, we realize that your story matters and affects where you and CTEF are going.
We want to hear from you about the competencies and path you consider critical to becoming a successful tile installer.
Did Personal Necessity Affect Your Tile Installer Journey?
Perhaps personal necessity played a big part in your becoming a tile installer.
Some in the industry may point to the ceramic tile installation career being a means to an end. They needed to generate income, and it was an option.
For example,
"I needed spending money for the summer, and my uncle was an installer who needed help."
"I was laid off at the factory and needed to pick up another job."
"I wanted to move and there was a store hiring laborers in my destination city."
"While working through college, I needed income to offset school costs."
How did that affect what you learned about installing tile and when?
Did You Fall Into Becoming a Ceramic Tile Installer?
Maybe circumstance played a big role and you simply fell into installing tile.
"We had a family business installing tile, it wasn't an option." (author)
"My girlfriend's dad was installing tile and he needed help."
"I was a carpenter, and the GC didn't have a tile installer. I started doing some of their work."
"We were doing renovations but couldn't find a good tile installer. I learned to do it myself."
Did falling into tile installation make it easier or harder to become fully competent?
Were You Interested In Becoming a Tile Installer?
Or, maybe interest or passion played a role. You immediately saw value in tile installation other than (or in addition to) personal necessity or circumstance. From there, you decided to follow a structured pathway.
For example,
"I loved being creative, so I took a class on mosaic arts."
"A neighbor down the street was a tile installer and though I had never thought of that career option, I could see he was happy and successful."
"I knew my cousin had gone through a union apprenticeship program and he was loving it."
"I liked working with my hands and got tired of the career I was in"…" there was a company in town who was willing to train me"…or…"I decided to learn on my own."
>> See What About Tile Apprenticeships and Vocational Schools?
>> Read Have You Considered the Tile Trade Instead of College?
What effect did your passion have on becoming fully competent in tile installation?
What Might You Have Done Differently On Your Journey?
Variety is the spice of life, and most successful installers are proud of their history. Those ingredients that made them and you who you are are definitely worth embracing. Your struggles and trials are the hammer and chisel sculpting you, the person.
However, what if there were an alternative way to raise the next generation of installers that reduced the amount of time, waste, and expense that were part of your journey? What if that meant they could do more training and education for what you've found really matters in your tile installation profession?
As with any other skilled trade, you acquired competencies as you progressed, starting with Day 1 and building from there.
Tell us, then, if you had your choice of a specific career path for someone you work beside or someone working for you, what would the logical progression of competencies be?
Let's Create the Future for Ceramic Tile Installers Together!
Please email me, I would love your feedback. CTEF wants to be in line with the industry and the talented people like you in it. Some of that involves developing new educational and training material and fine-tuning existing content and programs.
>> See How to Become a Tile Installer: A CTEF Career Path
Regardless, the future demands that we prepare for it together so you and those you work with can become even more successful in the ceramic tile industry.
Help make tomorrow better for the tile installer!
Thanks for reading.
Brad Denny