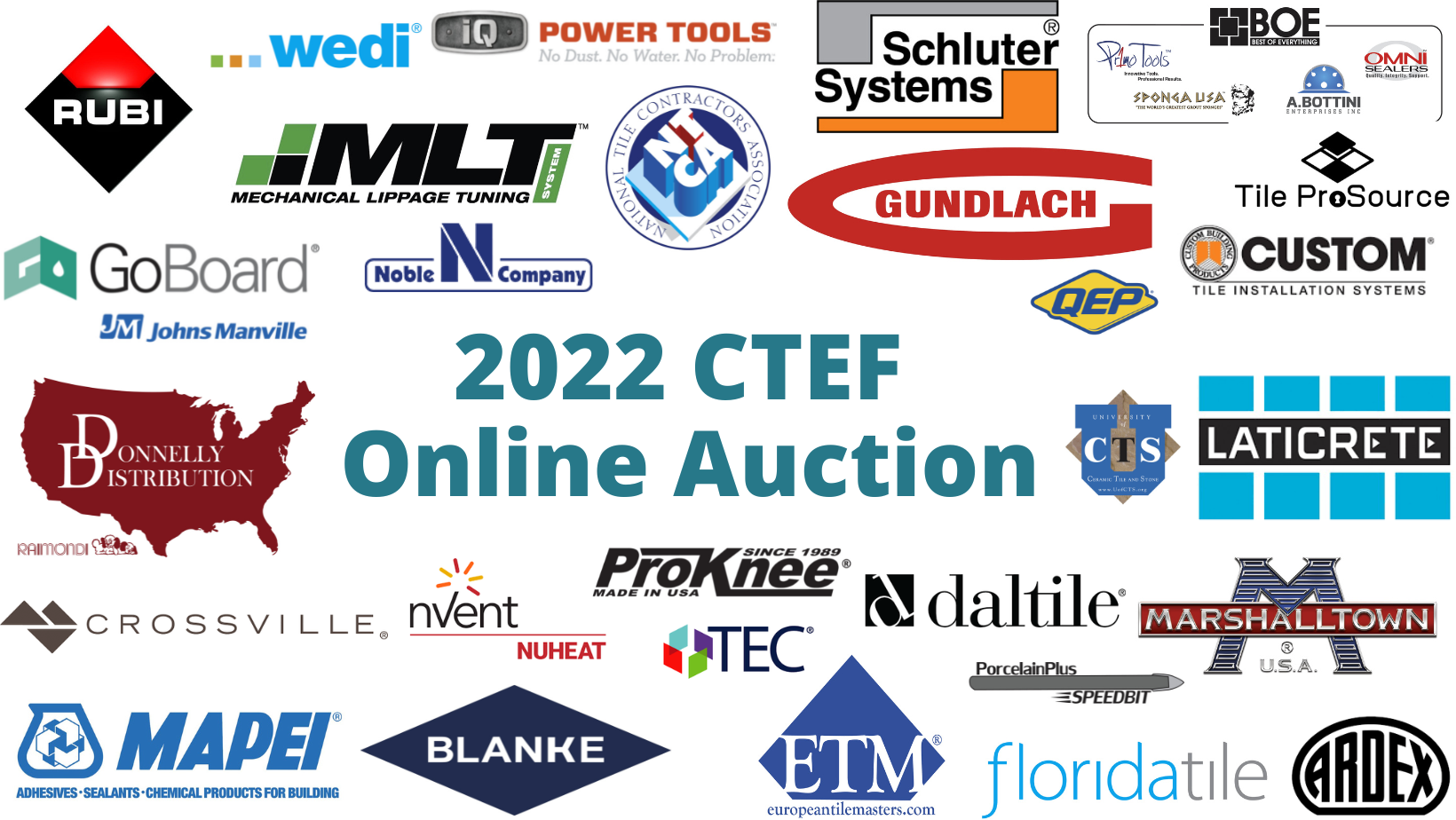 The 2022 CTEF Online Auction is over, and we can't thank you enough for being involved!
Thank You Online Auction Donors!
First, there are the amazing and generous donors without whom the auction wouldn't have been possible. More specifically,
Interceramic
QEP
Go Board / John Mansville
University of Ceramic Tile
Wedi
ETM
Ardex
Mapei
Tile ProSource
nVent NUHEAT
Schluter
Donnelly Distribution
MLT
Marshalltown
The Tile Shop
TEC / HB Fuller
Laticrete
JLC Consulting
Florida Tile
NTCA
Waletale
Best of Everything
Hunt Tools
Noble
Rubi
Custom Building Product
Crossville
ProKnee
DalTile
Blanke
Gundlach
Scodd Industries
What the Online Auction Donors Donated!
These wonderful companies donated items that appealed to all those who participated in the online auction. Essentially, they enabled CTEF to include over 100 items worth $128,817 of particular relevance to tile installation professionals like you. We're talking...
Tools such as mixers, saws, cutters, tool kits, trowels, floats, sponges, suction cups, and knee pads
Materials such as tile, GPT, backer board, underlayment, mortar, shower niches, and grout.
Flooring products
NTCA Football/Golf and Fishing Experience packages
Online courses, and coloring books
And more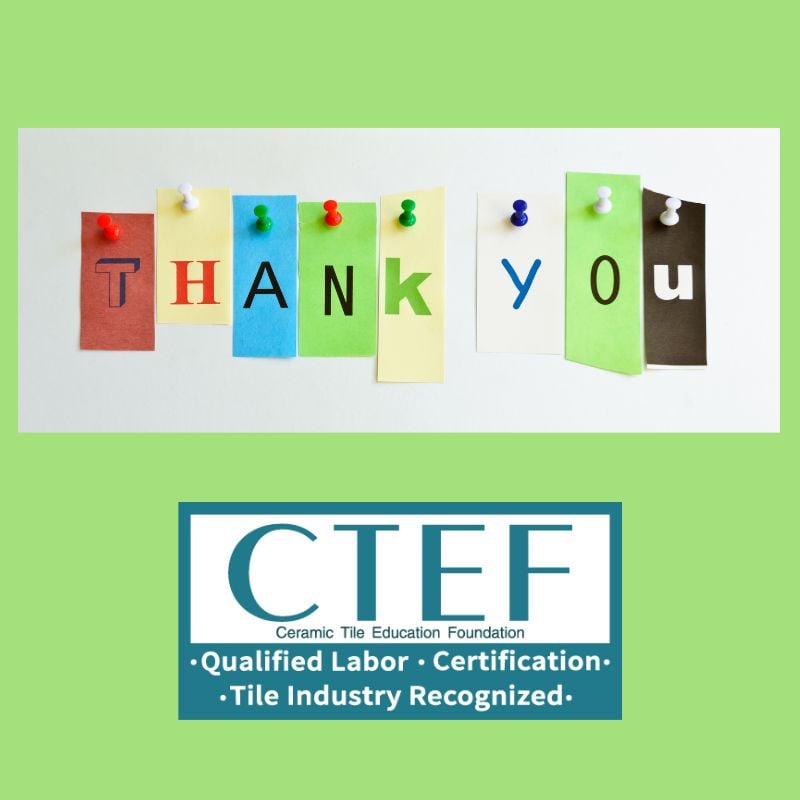 Thank You, Auction Participants!
As nice as it is to have many wonderful products to include in an online auction, without you, our auction participants, there wouldn't be an auction.
Between August 18th at noon and August 22nd at 4 PM EDT, the 2022 CTEF Online Auction attracted 23 bidders who made a total of 127 bids, participating via desktop, laptop, phone, and other digital devices after initially registering at https://www.accelevents.com/e/ctefauction.
CTEF 2022 Online Auction Results
In terms of results, the 2022 Online Auction generated $16,345 for CTEF!
Those funds directly support the CTEF mission to improve the tile industry through certification, education, training, and participation in the development of nationally recognized standards and methods.
>> Explore CTEF Training Programs
>> Explore CTEF Certification Programs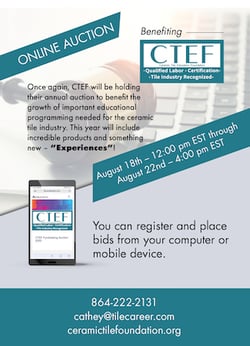 Thank You For Getting the Word Out About the CTEF Online Auction!
That's a wrap for the 2022 Online Auction. Thank you for making it happen. Not only are product donors and bidders important but all those who help get the word out about the event, and talk up what CTEF does for the tile industry are vital to the process.
Thanks for reading!