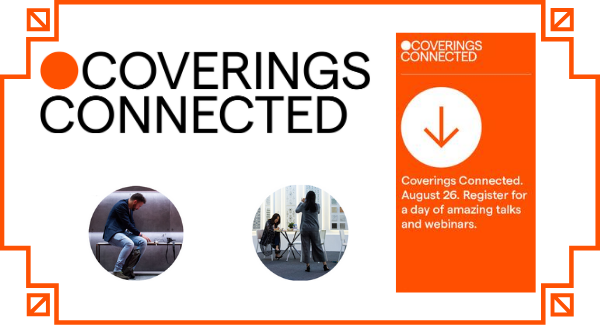 Have you registered for your August dose of Coverings Connected? If not, time to do so! It takes place August 26, 2020, and includes three outstanding presentations.
More details below.
Coverings Connected: A Digital Experience
August 26, 2020
Coverings Connected is back!
This is your opportunity to digitally experience Coverings and the amazing tile & stone industry content that the people involved in this industry regularly create. It's a one-of-a-kind and no cost event where you can attend online educational webinars, earn CEUs, enjoy on-demand education, explore the 2020 exhibitor list, watch installation demonstrations, and much more.
Let's face it. It's never been more critical than now to stay updated on the latest industry trends and news. Here's an easy way to do so and keep moving the tile and stone industry forward, together.
Save the Dates for Two More Coverings Connected!
This digital event has been happening on a quarterly basis. In addition to the August Coverings Connected, you have two more dates to look forward to before Coverings 2021 in Orlando, Florida:
November 18, 2020
February 23, 2020
Three Live Webinars on August 26
The event on Wednesday, August 26 will address standards, selling tile post-pandemic, and the benefits of tile for health and wellness.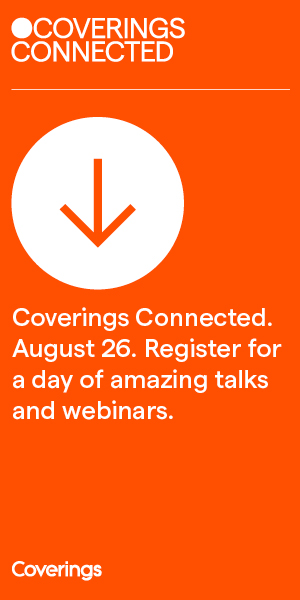 #1 - Installation & Fabrication:

Introduction to Tile Industry Standards
The first webinar takes place from 11:00 a.m. to 12:00 p.m. EDT, and features Mark Heinlein CTI #1112, National Tile Contractors Association.
>> See Mark Heinlein on 5 Benefits of Being a Certified Tile Installer
Participants can earn 0.1 NKBA CEU, 1.0 AIA LU/HSW.
Here's the session description:
To have a long-lasting tile installation, the design community, tile installation professionals, and distributors must understand how important it is to know, reference, and utilize industry standards and methods.
These documents should be used by anyone in the tile community from properly specifying a tile installation, to accurately bidding a job, to properly installing tile.
This session will provide an overview of tile industry standards, methods, and reference materials and how to use these documents in your business for successful tile installations.
Learning Objectives:
1. Understand how utilizing industry standards and methods will improve the quality of installations, elevate reputations and reduce callbacks or failures.
2. Be able to navigate industry standards and understand how they cross reference each other.
3. Understand how quoting industry standards, methods, and details in specifications and proposals improve the quality of proposals and make a bid technically proficient.
4. Identify American tile industry standards.

#2 - Workforce & Profits: Selling Tile Post-Pandemic: The Healthy & Hygienic Choice for Your Customers and Clients
Webinar #2 takes place from 12:30 to 1:30 p.m. EDT. Noah Chitty from Crossville, Inc. and Bill Griese, LEED AP from Tile Council of North America will take you through this critical conversation.
Here's the session description:
Now more than ever, your customers and clients are looking for products for their home and businesses that focus on health and hygiene. It's no longer just about cleaning up a spill or wiping off surfaces, but about keeping both family and employees safe.
Ceramic tile is a proven product with health, hygiene and safety benefits made for the post-pandemic renovation, remodel and new construction. Join this conversation to learn all of the key advantages of tile that make it a top choice for selling in the current climate!
Learning Objectives:
List the harmful pollutants and contaminants that are contained in many other surface options but not in ceramic tile.
Describe the healthy advantages provided by ceramic tile that make it a more hygienic surface choice.
Identify the attributes of ceramic tile that make it a safer alternative to other surface choices.
Explain the attributes that make ceramic tile a durable and easily maintained surface choice.
Participants can earn 0.1 NKBA CEU, 1.0 AIA LU/HSW.

#3 - Materials and Trends: Healthy Buildings, Healthy Homes: Tips for Specifying Surfaces in a Post-COVID World
The last session features Jamie Gold, CKD, CAPS, MCCWC, Design, Wellness & Real Estate Consultant & Author, and Irene Williams, Tile Industry Personality from MSG2MKT.
>> See How to Incorporate Instagram into a Marketing Plan
Here's the session description:
Rocked by the impact of COVID-19, interior designers are more focused than ever on specifying materials that support healthier environments and promote wellness for occupants.
.. How are tile and stone suppliers rising to the challenge?
.. What products and solutions is the industry developing to lead us into this new era of design and specification?
The discussion will go beyond highlighting well-known advantages to address current innovations that are taking stone and tile surfaces to the next level of performance.
Get insights and tips from both the design and coverings industries' perspectives to help your business stay healthier in the evolving marketplace.
Learning Objectives:
Discuss surface choices and their relative properties within a wellness context.
Describe how the use of tile and stone contribute to healthier environments and promote wellness for occupants.
Summarize current innovations in the industry that have expanded the performance of tile and stone surfaces for health and wellness use.
Compare tile and stone attributes with other surfaces to best specify for health and wellness.
Participants can earn 0.1 NKBA CEU, 1.0 AIA LU/HSW.

See you at Coverings Connected!!
You won't regret this digital opportunity to reconnect with the tile industry.
Thanks for reading!