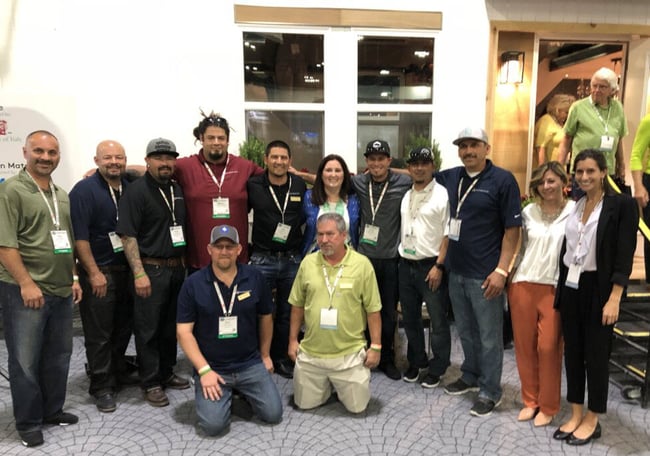 Another Five Star Contractor company returned to the Installation Design Showcase at Coverings 2018: Visalia Ceramic Tile, Inc. The company collaborated with Brittney Ferren of The Johnson Studio at Cooper Carry to complete the Luxe Cottage using tile products from Ceramics of Italy.
We caught up with Sam Bruce to get the low down on the 2018 installation.
Visalia's Sam Bruce Discusses Coverings Luxe Cottage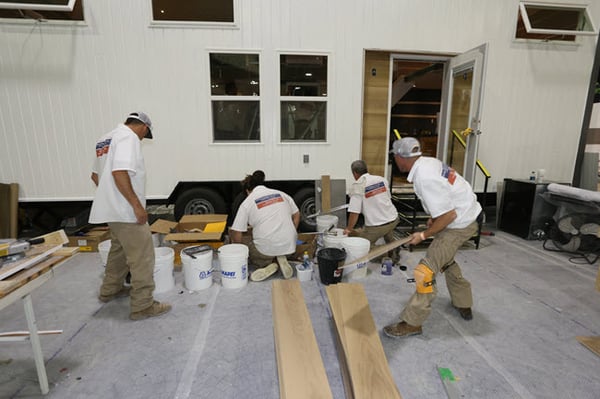 CTEF: Sam, how did you get involved in the 2018 Installation Design Showcase project?
SB: Visalia Ceramic Tile was involved in the 2017 IDS project and it was very successful for our company as a whole. It was a great experience for our leadership and all of our installers.
>> See Visalia Ceramic Tile's Sam Bruce Discusses Tiling a Tiny Home
CTEF: Why did you decide to participate again?
SB: We like the idea of contributing to the show. Although it is a small part of Coverings it is our contribution to its success.
Also, the experience that our installers get when coming to Coverings and to be a part of is so motivating to them. I see this as a building block to an even more successful career for our installers.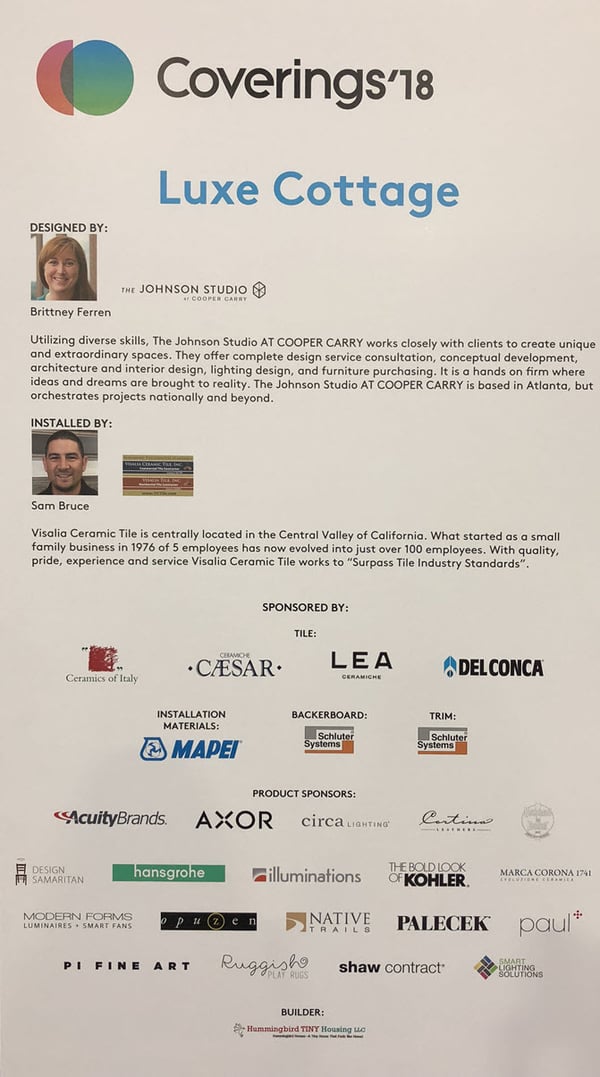 CTEF: What was different about this tiny home and working with Brittney Ferren compared to last year?
SB: Not much difference other than style. Kim Lewis from last year was great to work with as she was a team player and had a great personality. Brittney Ferren was the same.
She would offer to make trips to Home Depot if we needed things that weren't foreseen. She listened to our ideas when we came across unplanned situations and we were able to make decisions or design changes based on the project conditions.
Brittney's design specified a large amount of Schluter Profiles whereas Kim's design specified none.
Overall we couldn't have asked for a better person to work with. Brittney made the experience enjoyable for all of us at Visalia Ceramic Tile.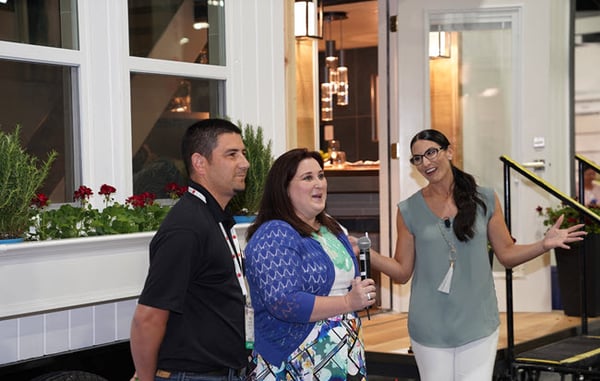 CTEF: What kind of pre-planning was involved?
SB: The biggest part of our planning is identifying all of the potential obstacles that we may come across during our installation.
Because of the nature of the installation at Coverings, we are traveling across the country to perform this installation and we have not yet seen the conditions or touched the products that we are installing, so there are lots of variables that are unknown, but we must plan for them.
All of our tools must be shipped out to the Conference 2 weeks early as well to ensure they get there on time for us to go right to work.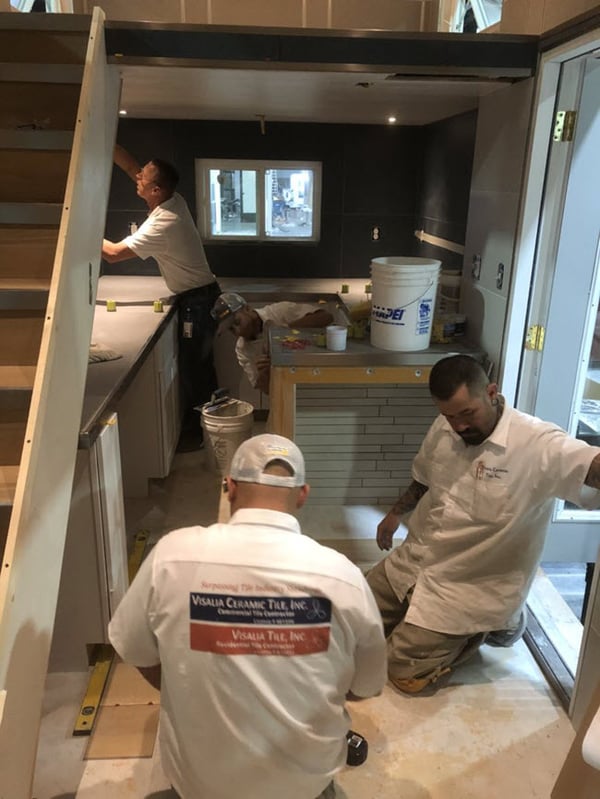 CTEF: What kinds of installation challenges did the project present?
SB: Our biggest challenge was the installation of a Schluter product called Deco-SG. This profile was to be installed between every tile on the upper section of the Tiny Home.
Also, the profile was the shape of a channel which created a void as if was a grout joint, however it was designed to not be grouted but grout needed to be installed between the edge of the profile and the tile.
This created our biggest challenge as we had to come up with a way to install this product without spending a huge number of hours to create the desired intention of the design.
CTEF: What tile products did you install?
SB: The tile products used were from manufacturers represented by Ceramics of Italy:
Lea Ceramiche Mako Yucca 12x24,

Del Conca Pandora Bianco 16x71 & Linear Mosaic,

Del Conca Pandora Dark Gray 16x71,

Cesar Layers Collection Trend 24x24

Ceramiche Ceasar Life Oak 8x48.
The installation materials were Mapei's High Performance Leed Products and Schluter Profiles and Kerdi Board.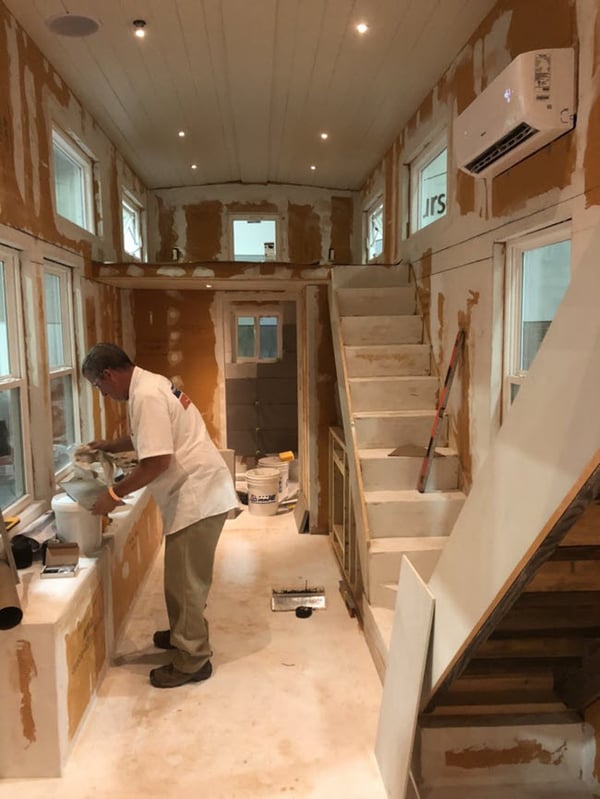 CTEF: Who from Visalia Ceramic Tile was involved in the project and how?
SB: As project managers, myself and Robert Martinho. And,
Leo Reynaga - Installation Leader, CTI #953
Eric Cotta - CTI #948
Marco Reyanga - CTI #1176
Jesus Reynaga - CTI #1178
Jose Barrera - Installer
Justin Hickey - CTI #965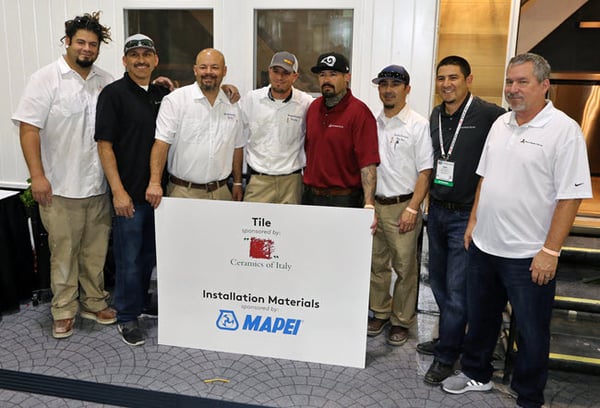 CTEF: What were their reactions to the project?
SB: Our installers enjoyed the experience and loved the opportunity to showcase their skills.
CTEF: Were there any last minute changes?
SB: Yes, tile was changed multiple times up to the last week due to availability. I admire the way Brittney was able to handle this obstacle and still make her design work.
We also decided to tile every window sill instead of using the installed window casings. This took much more time however the finished product looked really good as it added to the beauty of the installation.
CTEF: How critical was it to have Certified Tile Installers involved in the project?
SB: Having our CTIs be part of this project is very critical as they thought about the intention and the functionality of the Tiny Home which affected the decision of how to install things or how not to install.
We made multiple decisions on the integrity of the installation and also a few decisions of not to go forward with the install on parts knowing that it would not function and eventually fail.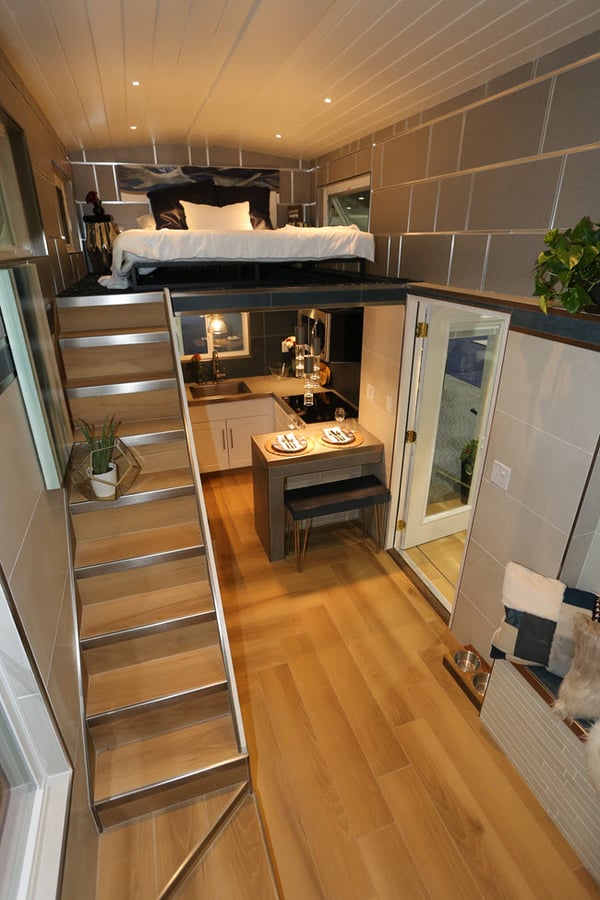 CTEF: Any other important points to highlight?
SB: Yes.
John Cox and Elena Grant are the True Stars of the Installation Design Showcase (IDS).
All the work they do to get the projects moving forward before the show is totally a credit to them. It is great to have them behind us for this project as we know we can show up to do what we do best and not have to worry about all the other variables that can turn the IDS into a failure. With them we can focus on our job and they take care of the rest!
>> See How Cox Tile Guides Success of Coverings Installation Design Showcase
CTEF: Thank you, Sam, and congratulations to Team Visalia!