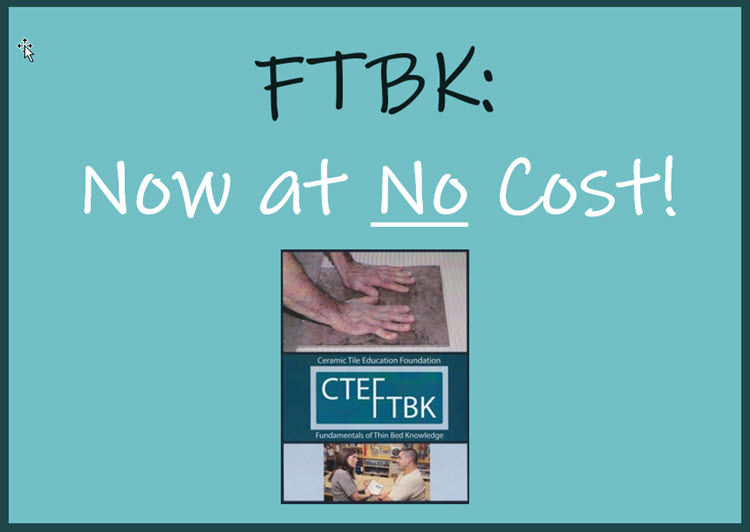 Have you heard? CTEF's "Fundamentals of Thin-Bed Knowledge" - otherwise known as the FTBK Guide - is now available at no cost to anyone associated with the tile industry. That's right no cost.
Furthermore, if you'd like to use your newly-found tile industry knowledge from this guide to complete an online test, you can earn a Certificate of Completion as a Fundamentals of Thin-Bed Knowledge industry professional for a $99 fee.
What is the Fundamentals of Thin Bed Knowledge (FTBK) Guide?
Fundamentals of Thin-Bed Knowledge is an educational course designed to enhance the knowledge of persons who function in the tile industry so they can better assist and support the tile installer.
If you're involved in the tile industry as sales staff, a field representative, or even as technical service personnel, the FTBK guide will help you. It will augment your familiarity with the products, industry standards, installation methods, and best practices necessary to provide a tile installation of the highest quality.
Tile Industry Standards
The FTBK guide – along with the Certified Tile Installer "Field Manual for Thin-Bed Installation of Ceramic Tile" and associated tests – have become the industry standards for the professional development of tile installers and others involved in the sale, specification, prep, installation, and service of ceramic tile.
Immersing yourself in the FTBK guide means that you can better understand the methods, standards and concepts commonly referred to in the tile industry.
As Mark Heinlein CTI #1112, training director at the NTCA, explains,
"Tiling ain't easy. A successful installation requires everyone in the chain to have a thorough understanding of the entire process – including the roles of every other person along the way."

Free FTBK Access Thanks to Jason Goldberg
Special thanks go to Jason Goldberg. He's the founder and CEO of America's Floor Source, Retail Lead Management, and TraLaMa. His ongoing contribution make possible the free access and distribution of the Fundamentals of Thin Bed Knowledge guide.
Jason says:
"We need more people than installers to be knowledgeable about ceramic tile. Everyone from salespeople to estimators to construction managers must have a strong understanding of the what it takes to do tile correctly. Otherwise, jobs go wrong, and the reputation of the whole industry suffers."
America's Floor Source
Jason knows a thing or two about retail, reputation, and knowledgeable resources. He founded America's Floor Source in 2000.
According to the company website,
"... America's Floor Source has grown to become one of the nation's largest flooring companies, with over 250 employees, 6 store locations, and over $105 million in revenue. Its diversified business structure, emphasis on efficiency and streamlined operating procedures, company training programs, and unmatched commitment to its customers and employees are just some of the reasons the company has survived economic downturns and outperformed many of its competitors. Goldberg's relentless pursuit of quality and integrity to get the best from his employees is sure to keep the company on a path to success for many years to come."
Retail Lead Management
In 2017, Jason developed Retail Lead Management. As FloorCoveringNews.com explains, "the tool enables users to build leads and update a lead's stage as it progresses through the sales funnel, and all leads can be viewed and managed on a centralized dashboard."
TraLaMa
Finally, there's TraLaMa which stands for the Trade Labor Marketplace launched in January 2020. Its purpose is to bring together tradespeople and projects in an online marketplace.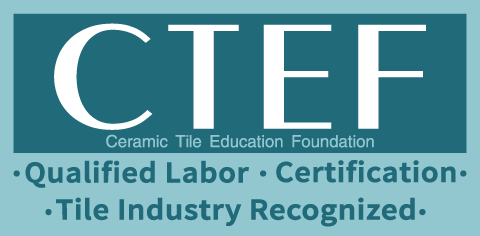 How No Cost FTBK Access Benefits the Tile Industry
If you're familiar with the CTEF Blog, you know what CTEF is about. The organization aims to improve the tile industry through education, training, and participation in the development of nationally recognized standards and methods.
Here's what beautiful about expanding access to the FTBK guide: with the addition of distributor and dealer networks, CTEF will be able to reach the people who will benefit greatly from this new-found knowledge.
As you might image, Scott Carothers is excited about this! He says,
"This new program will enable all of us to reach more people through new avenues. In doing so, we'll create a more knowledgeable support system which will substantially reduce the number of expensive tile specification and installation failures. These failures, which should not be occurring, give the entire tile industry a 'black eye,' and can cause potential tile-using clientele to consider other possibilities. But with more people using the FTBK guide, there will be more tile installations being properly specified and installed correctly the first time, encouraging consumers to purchase more tile in the future."
How To Access the Fundamentals of Thin Bed Knowledge or FTBK Guide
It's easy.
Click the Red FTBK Button
To obtain free access to the "Fundamentals of Thin-Bed Knowledge" study guide, tile and flooring professionals can visit www.CeramicTileFoundation.org and click on the red FTBK button. (It's right below if you'd like to get there faster :).)
When you click, you'll notice three options:
Register for the FTBK Electronic Manual - available immediately
Register for the FTBK Printed Manual - will be sent to you
Pay $99 for the FTBK Test and a Certificate of Completion.
Don't Forget the FTBK Certificate of Completion for $99
That's right: don't forget to make your new knowledge official with the FTBK Certificate of Completion!
Once you've thoroughly digested the FTBK information, you can decide to use your newly-found knowledge from this guide to complete an online test (for a $99 fee) and earn a Certificate of Completion as a Fundamentals of Thin-Bed Knowledge industry professional.
Thanks for reading!