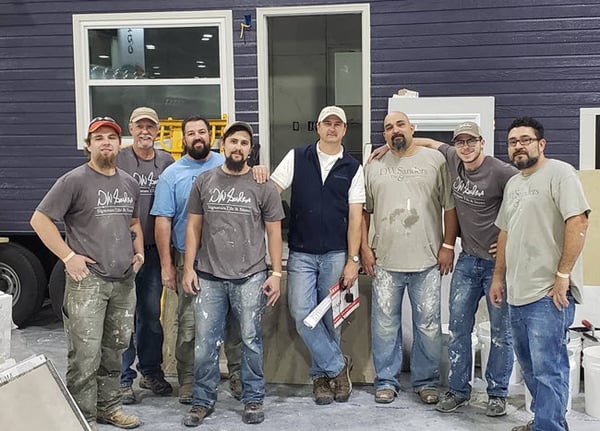 The Coverings 2018 tiny house version of the Installation Design Showcase featured a new installation team from DW Sanders Tile & Stone Contracting which collaborated with Jeffrey Bruce Baker Designs on the Smart Modern Living tiny house.
Owner Woody Sanders is not only himself a Certified Tile Installer (#1295) and his company an NTCA Five Star Contractor, but he is also a CTEF Regional Evaluator.
We caught up with Woody to learn more about his experience participating in the Installation Design Showcase.
Woody Sanders Talks Installation Design Showcase and the Importance of Certified Tile Installers
CTEF: Woody, tell us about DW Sanders Tile & Stone Contracting Inc.
WS: DW Sanders is an award-winning tile and stone Five-Star Contractor in Marietta, GA.
We specialize in cut-to-size tile and stone projects in the metro-Atlanta area and throughout the Southeast.
CTEF: How did you get started with tile?
WS: My grandfather started in 1929.
My family was in various aspects of the tile business and I started in the warehouse when I was 11 years old unloading boxes of Quarry tile.
I went on to work with the family and learned the trade.
CTEF: When and why did you become a Certified Tile Installer?
WS: In January 2017.
When you dedicate yourself to a trade, it only made sense that I proved that the skills I had obtained over the years were in alignment with certification.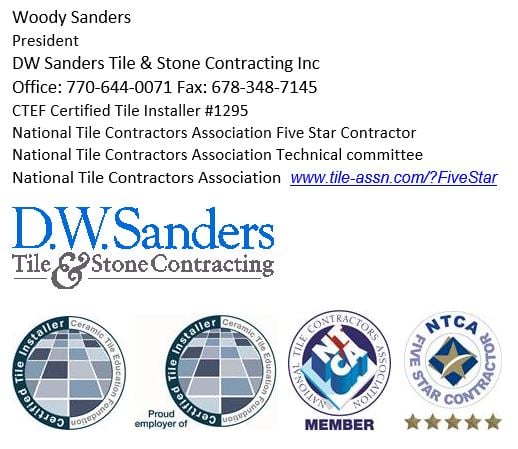 CTEF: How has that affected your business?
WS: Externally, it quantified the level of installation that the company was known for.
Internally, because it wasn't just myself, it has set a bar that all new and future installers who work for us must meet.
It also sets apart those senior members of the team.
CTEF: Why did you decide to participate in the Installation Design Showcase at Coverings 2018?
WS: The tile industry has always been a good business.
I felt it would be a great showcase of the talent inside the company, as well as taking young apprentices, sticking them in the fish bowl, putting them under the pressure, and seeing how they performed, while exposing them to just how broad the tile industry is.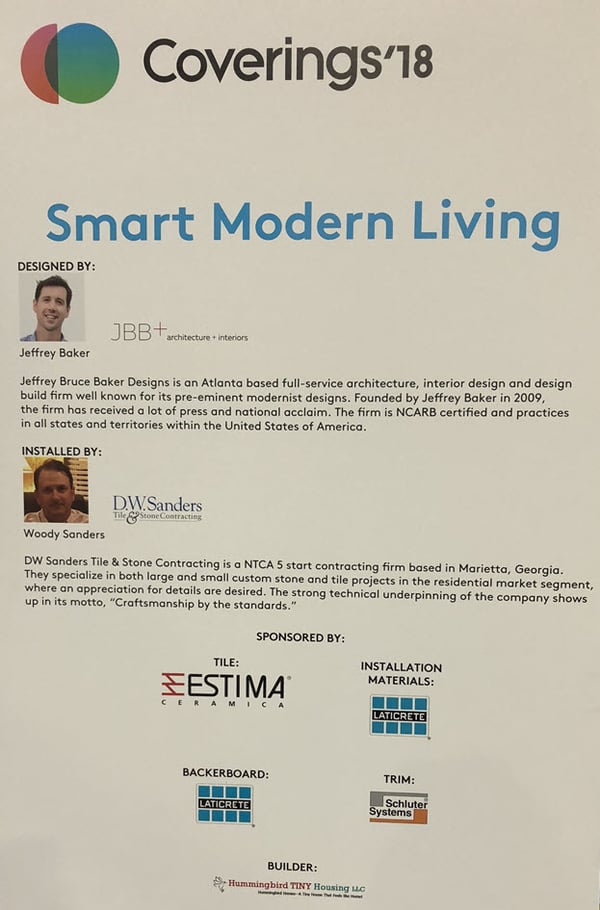 CTEF: Who on your team participated?
WS: John Roberts CTI #1278, Roswell Perez CTI #1296, James DeSarno CTI #1297, myself CTI #1295, and future CTIs - Ben Garland, Luciano Perez, Dylan McGhee, and Devon Schevers.
CTEF: What were their reactions to the project?
WS: They had a lot of enthusiasm for the project, along with apprehension because we are not used to having people observe us while doing our trade.
Our eyes were open because we knew we would be putting in long hours and we did.
CTEF: What was different about installing tile in a tiny house compared to one of your regular projects?
WS: We were tiling more than 90% of all the areas in the tiny house, which called for limited time and a lot of tile in a small space while squeezing in a lot of men in one area.

CTEF: How was working with Jeffrey Baker? Did you need to educate him much about tile?
WS: We are very fortunate that we have a long relationship with Jeffrey Baker.
We have worked on many projects together in the past and Jeffrey's well educated on tile. He challenges us with creative ways he wants things done.
Sometimes he wants things at the last minute and he trusts our capabilities. Our job is to take his vision and make it a reality.
CTEF: What kind of pre-planning was involved?
WS: From coordinating with sponsored manufacturers and the tiny home builder, we had to coordinate blocking in the walls, where plumbing was going to be, and framing because even the countertops were being tiled.
We had phone call conferences where we developed a scope of work and made sure everyone was on the same page at all times.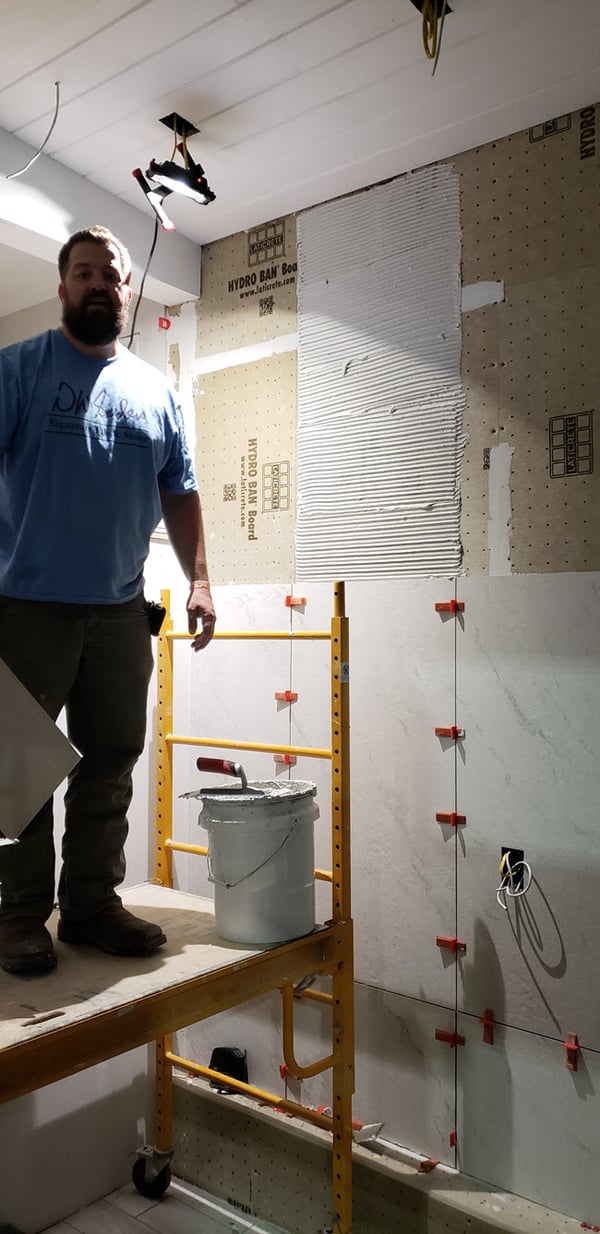 CTEF: What kinds of installation challenges did the project present?
WS: Challenges included ceiling heights and tiling every area of the tiny home.
Transitions became a big challenge, as well as elevations.
The large format tile we used – there were maybe 10 tiles total that did not have to be cut.
CTEF: What tile products did you install?
WS: We used Laticrete installation materials, Schluter profiles, and Estima large format tiles and mosaics.
CTEF: What kind of unexpected situations/ last minute changes did the team deal with?
WS: Our tile manufacturers got changed at the last minute, which was a huge challenge for us.
During the process, orders and tile colors required some coordination with the architect to make last minute changes to ensure everything would look correct and that we had enough of everything.
There was no door on the bathroom so we had to come up with a detail.

CTEF: How critical was it having Certified Tile Installers involved in the project?
WS: It was important because CTIs have the experience and knowledge needed.
We set it up for them to be leaders, so I think it was crucial to have them there during the project.

CTEF: Any other important points to highlight?
WS: While Erin Albrecht and Sam Bruce used the project as reward for the company and brought seasoned veterans - and it was refreshing to watch these senior setters work together - we chose to bring in a several of our apprentice tile setters, put them in the fish bowl and challenge them.
They did a really great job! This is what I am most proud of.
CTEF: Thanks, Woody, and congratulations to the DW Sanders team!
Did you have a chance to explore the Installation Design Showcase and this tiny house in particular while you were at Coverings? What was your reaction to the space, the tile and this showcase of talent?
Thanks for reading!