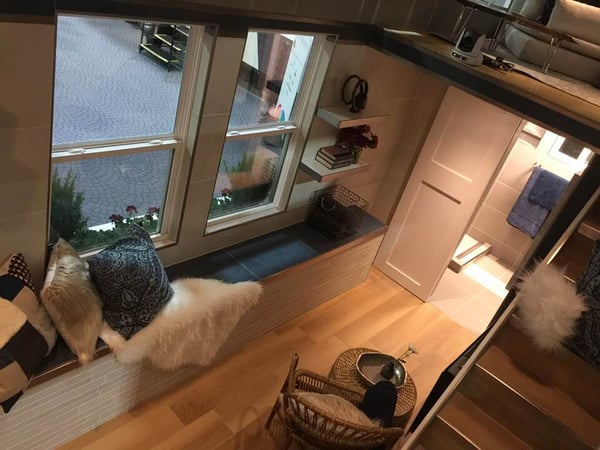 What makes the Coverings Installation Design Showcase (IDS) stand out is how it pairs installation expertise with design brilliance. Especially when it comes to combining tile with a tiny house which needs to not only function, but also bring to life a specific design concept.
When it comes to the Luxe Cottage of Coverings 2018, Brittney Ferren from The Johnson Studio at Cooper Carry conceived the design. She collaborated with Visalia Ceramic Tile for the installation.
>> Visalia Ceramic Tile Installs Luxe Cottage at Coverings18
We caught up with Brittney to learn more about the design side of this project.
Brittney Ferren Discusses How Tile Details Bring Luxe Cottage to Life
CTEF: Brittney, tell us about your background and how you got started in architecture and design.
BF: My technical and creative eye has come from a 14-year exploration of architecture and interior design through work in education, government, hospitality, and restaurant design.
The Johnson Studio at Cooper Carry has afforded me the opportunity to mesh these experiences together and given a voice to my passion for creating beautiful spaces. I have found that a project's success comes from cultivating teams of great communication, ingenuity, and a bit of fun!
My passions reach beyond the realm of architecture and design into community outreach through various church and volunteer opportunities in my community such as CanStruction with the Atlanta Food Bank, Habitat for Humanity, AIA and Junior League of Atlanta.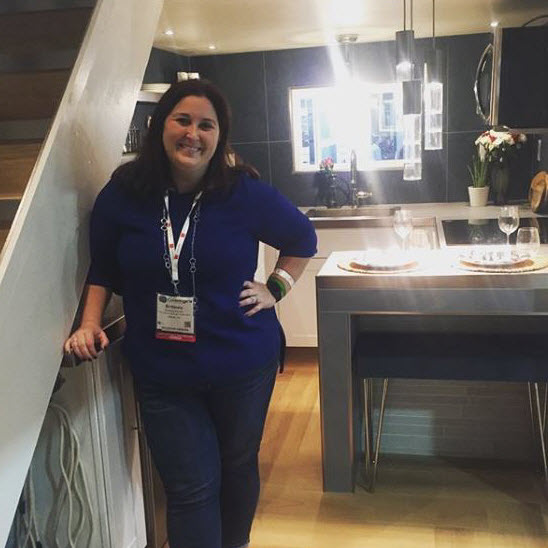 CTEF: What is the specialty of The Johnson Studio at Cooper Carry?
BF: The Johnson Studio at COOPER CARRY specializes in restaurants and hospitality design. Our studio offers services ranging from architecture and interior design to lighting design and purchasing.
This statement from our website says it best:
"If you ask people why certain meals hold such special memories in their lives, they rarely limit their reasons to food itself. Where they were, the people they were with, and the occasions that they were celebrating – these all contribute to one-of-a-kind experiences that can stay with us for life. The Johnson Studio AT COOPER CARRY understands this dynamic relationship between food and place- the emotional connection between what we eat and where we eat it.
For over 25 years, The Johnson Studio AT COOPER CARRY has brought this philosophy to their work, across the country, in over 500 projects; each one unique, each one a stage setting for a lifetime of memorable experiences."

CTEF: Do you normally design with tile on every surface?
B: No. That was part of the design challenge of the Coverings tiny house project. It really pushed us to think of new and different ways to use the material to maximize the showcased tile not just on floors and walls as we typically do, but also on shelving and built in furniture pieces as well.
Our studio's tile applications are really project concept driven. On a typical project we are using tile in wet locations; restrooms, kitchens, and bars as well as high traffic areas.
However, we have also utilized tile on ceiling conditions as well where it worked with the overall look and feel we were trying to achieve.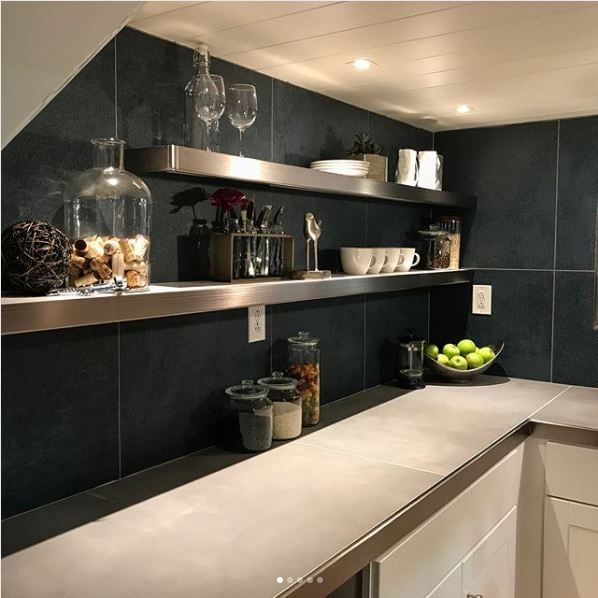 CTEF: What did you have to consider that you normally wouldn't for this project?
BF: Something that we always consider but was more of a consideration on this project was the scale of not only the space but also the material.
When tiling such a small space, we really considered the pattern of the tile. Smaller sized tiles with busy pattern could have made the space seem smaller. We chose large scale tiles to minimize field tile grout lines where possible to create a seamless look.
We also wanted to use similar scale tiles though out the space. We kept smaller format tiles to just accent areas or built in furniture pieces.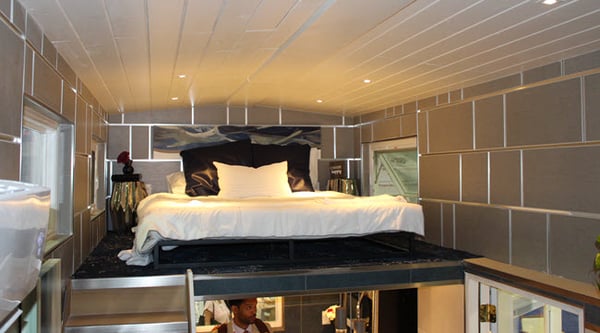 Another consideration for us was how to bring your eyes up in such a small space; making the space feel bigger/taller! To do this we chose a complementing tile to our typical field tile and created a unique pattern with the grout lines, accented by the use of a Schluter DECO-SG strip to give a slight shadow line and a metallic look, to draw your eye up the loft level.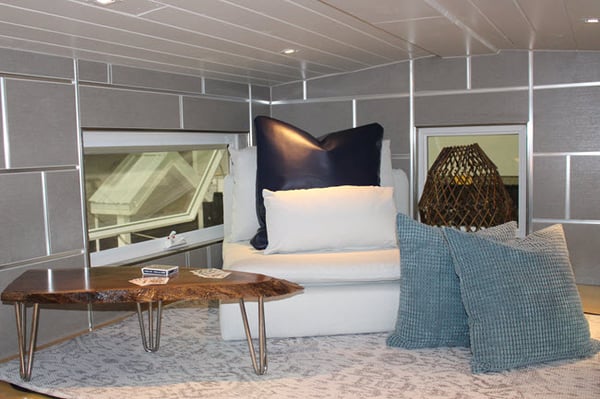 CTEF: What was your design inspiration for the Luxe Cottage?
BF: We approached the Tiny Home project as a little weekend getaway spot; an escape from the city to the mountains, etc. but with all the luxuries of home.
We focused on comfort. Of course, some of that can come from the 'stuff' you add; pillows, wine cooler, fireplace, etc., but being a tile showcase we also were highly attuned to the textures of the tile patterns we utilized.
We were excited to find tiles with a fabric look to make the space have a warm cozy feel.
We also really focused on the details. Luxe is all about being finely detailed and custom. We really worked through details and made sure we had a really beautiful finished look. We were fortunate to be teamed with Schluter and we showcased several different profiles to have polished edges and bringing that metallic/rich look into the space as well.
We also teamed with some of our favorite vendors to get 'luxe' warm lighting, plumbing fixtures and accessories, fabrics, furniture and art to showcase within the home.
All these elements really pulled the project together! I couldn't be more pleased!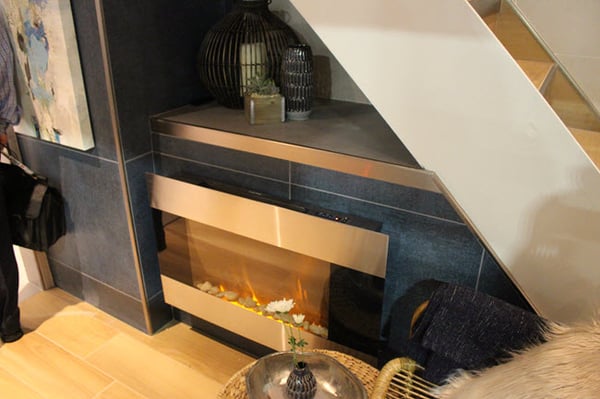 CTEF: Why did you select the tiles you did?
BF: We worked tirelessly the weeks ahead of Coverings with the Ceramics of Italy representatives at Novita to select the tiles we utilized on the tiny house showcase. We wanted to make sure we had multiple lines within the Ceramics of Italy family represented on the project.
Approvals and locating tiles did come with some challenges but in the end, I was extremely pleased.
These are the tiles that we utilized on the project:
Ceramiche Caesar Life Oak Strutturato
We were looking for a wood plank that was realistic in look and feel. This tile was utilized throughout the living and kitchen areas as well as entry niche, exterior accent trims and stair risers and treads. We utilized a subtle herringbone pattern at the entry that blended into a staggered end running pattern throughout. We did not want a pattern that would be too busy and make the space feel small.
Lea Ceramiche Mako Yucca
This line was a neutral colorway that was a textured and complementary tile to our field Pandora Bianco. We loved the fabric feel and the depth of color in the pattern in this line.
We utilized the Mako in the restroom and loft spaces.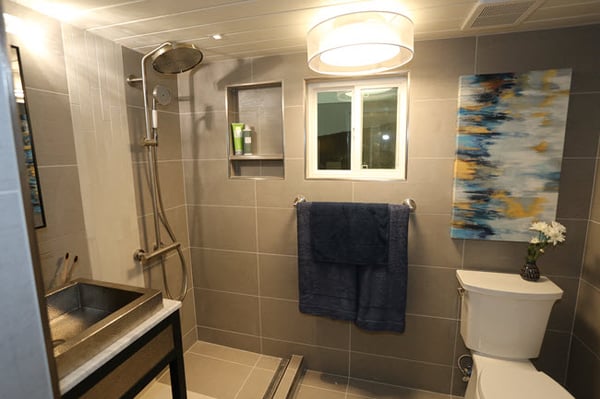 Del Conca Pandora (large format and muretto) Bianco
This was our typical field tile and the muretto was an accent mosaic we used on our built-in bench, dining counter and restroom niche.
It was a beautiful neutral colorway with a contemporary feel. It came in both the large format we were looking for as well as the corresponding accent pieces.
We also loved the matte finish on the tile; too much of a shine on the tiles could have created hot spots and glare in such a small space, we were trying to avoid that as much as possible!
Del Conca Pandora (large format) Dark Gray
We were looking for a large format concrete looking tile for our counter tops. It was imperative we find a tile that was deep enough to cover the entire width with 1 unit.
We also were trying to minimize the number of grout lines as the look was of one continuous slab.
I think we were very successful with this as we strategically placed grout lines at corners only and coordinated the length of the counter top with the tile sizes.
This was a luxury of working on a tiny house! On a larger scale project this would have been a much bigger challenge!
Lea Ceramiche Slimtech Gouache 10 Deep Sea
We had a lot of back and forth trying to find the best accent tile for the project. It was a labor of love to find it and ended up being my absolute favorite tile we selected!
We were looking for rich color that could bring some pop and interest into an otherwise neutral material palette. The Deep Sea of the Gouache had a nice depth of color to the pattern was a beautiful blue that matched our vision perfectly.
We used this line in our kitchen space, the fireplace/accent wall of our 'living' space, our bench top and banding at the loft floor level.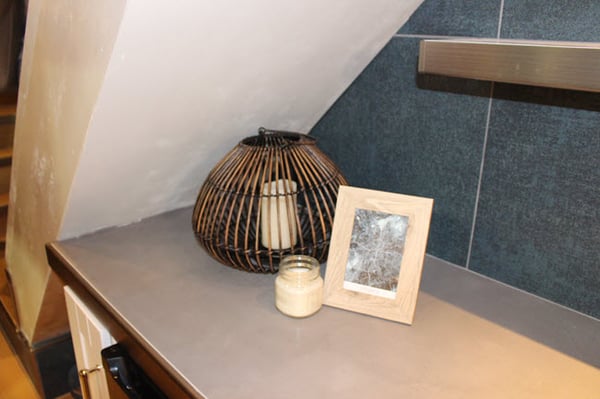 CTEF: What unexpected situations came up?
BF: We had a few issues identified 'as built' conditions that we had to adjust to in the field. The location of plumbing lines was the biggest challenge.
We had a niche in the restroom that was supposed to be adjacent to the shower on the wet wall and the stud and piping locations were not coordinated to allow for this element. The intent was for it to be recessed at the accent band (floors and walls) within the space. Sam and his team worked with me to relocate the niche to an adjacent wall.
Originally the bench had an operable top so that we would have some additional storage within the unit and all our shelves were intended to be tiled, however because the weight of the units and the speed on installation we didn't get brackets coordinated in time, therefore we had to make some design decisions on the fly to adjust accordingly.
We ended up using some off the shelf shelves in place of the built out/tiled ones in the original design. Sam and his team worked with me to install the Schluter RONDEC-STEP profiles at the shelves exposed edges to help create a nice 'finished' and custom look. Similarly, we were able to tile in place the bench top with the same profiled edge and it came out beautifully.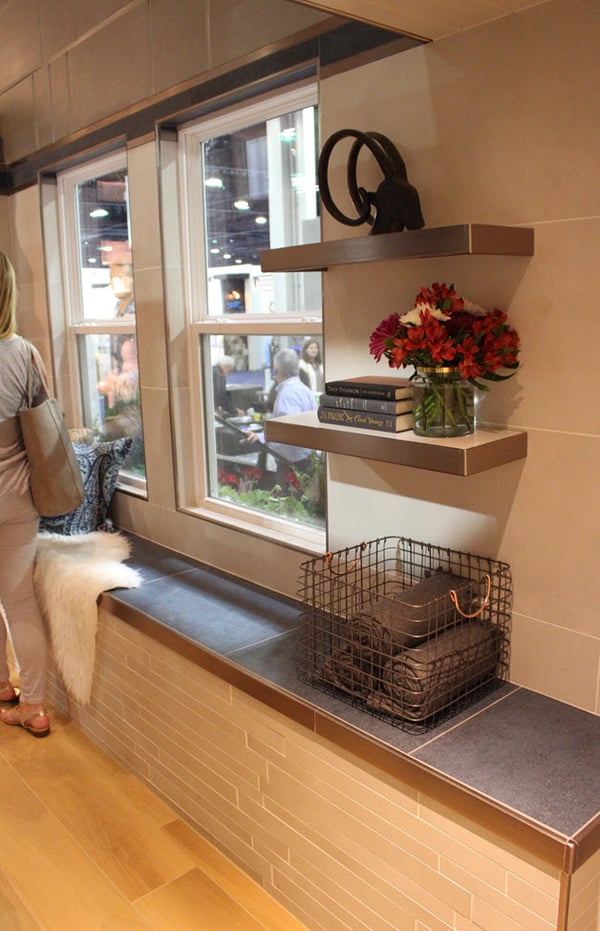 Overall the Visalia Ceramic tile team was excellent at helping me identify issues before they even arose. They knew that proper detailing was going to make the project 'sing' and it did!
Sam and I had several coordination calls ahead of the install to try to be as prepared as possible and for him to really understand the design vision that we had. Good communication was key to our success.
I tried to be onsite every day for a few hours to field questions as they popped up and they guys would shoot me pictures or ideas when I wasn't able to be there in person.
We worked very well together, and I know I was very very lucky to be teamed with Sam and his crew!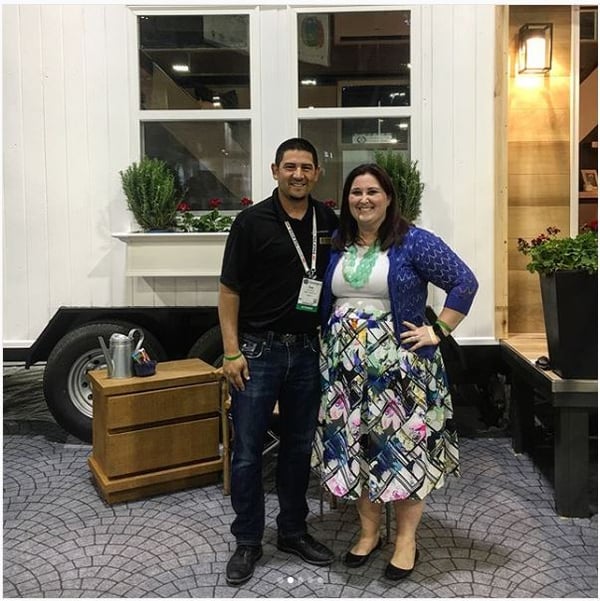 CTEF: What new perspective about tile installation did you gain because of this project?
BF: It was really fun to work through some of the details with Sam and his team.
As I mentioned earlier, Sam and I were having coordination calls weeks before the team even arrived on site working through efficient ways to install different elements of the design. Then when the team arrived, they had more suggestions that we were able to flush out and tighten up details even more.
On a typical project, we don't have that close of communication with our install teams and it was a great learning experience for me, as an architect and designer, to see how they approached different conditions/details.
CTEF: Do you normally work with Qualified Labor and Certified Tile Installers? How was this experience different?
BF: No not typically but I have been championing our studio to start adding Qualified Labor to our specifications!
I didn't know what we were missing! The level of care, pride and attention to detail in the Visalia's team's work was unmatched by any other install team that I have ever worked with.
It was a true pleasure.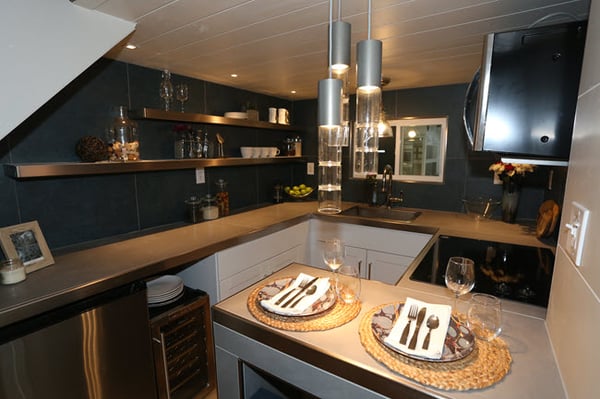 CTEF: What did you love most about this project?
BF: Like all my projects, seeing the vision come together after months of planning and preparing is always my favorite part! Each project is so uniquely different, and you really put a piece of yourself in each one; they are all a labor of love!
I was also so excited to see the Visalia team's reaction to the final product!
The guys worked so hard and were just a joy to work with, I wanted to make them as proud of the reveal as I was! I know on most projects the install teams are long gone before the projects are fully completed so it was fun to have them there and see it all come together.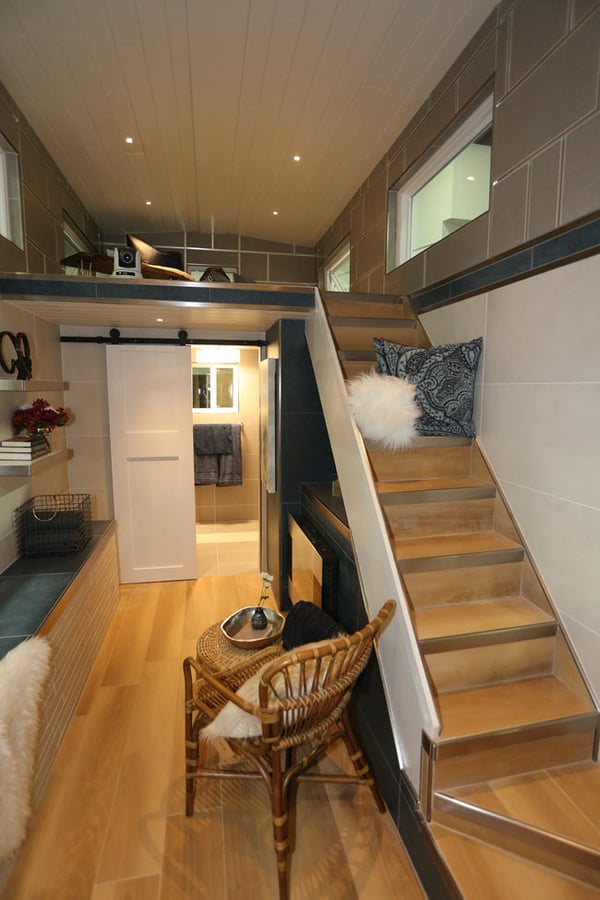 CTEF: What was most frustrating?
BF: Prior to the show we had some challenges with tile selections. We had to make several re-selections of tiles due to availability, etc. which was a challenge because all lines had to coordinate with each other.
Since it was such a small space anything that didn't go with the overall look of the space, it would have been very obvious. Therefore, we had to work diligently with Novita and local reps to get samples shipped to us to make sure we were making the right decisions for the overall project!
At the end of the day, I am very pleased with the tiles and lines that we had available and made selections from, but it was quite the process to get to that point!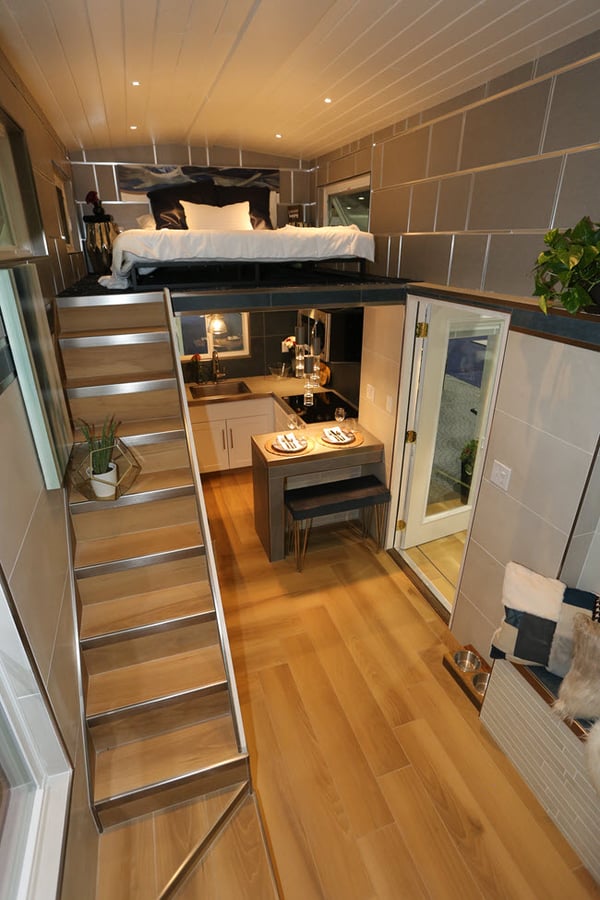 CTEF: Any final thoughts?
BF: The Covering tile installation showcase was such a rewarding and challenging experience! I'm so proud to have been a part of such a wonderful event.
Elena Grant, John Cox, the team at Novita, Hummingbird Tiny Homes, Freeman and, of course, Sam Bruce and the gentlemen at Visalia Ceramic Tile were just a lovely group to work with.
The showcase was just the conclusion of months of preparation by the team and if one person was out of step with the rest it would not have come together as beautifully as it did.
Many thanks to them all!
CTEF: Thanks, Brittney, and congratulations on the Luxe Cottage!