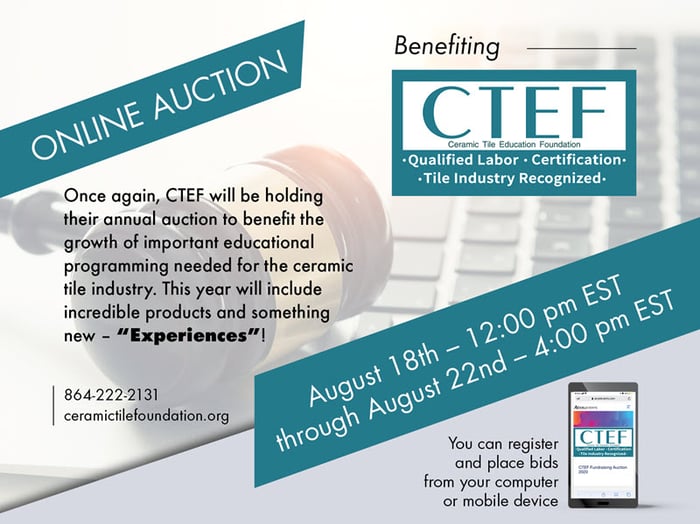 Are you getting ready to stock up on tile installation tools, products, and materials? If yes, then please mark your calendar for the August CTEF Online Auction.
What's the CTEF Online Auction?
The CTEF online auction takes place from August 12th at noon until August 22nd at 4 PM EDT. It's a way to raise funds in support of the CTEF mission which the COVID-19 pandemic has severely threatened.
That mission is to improve the tile industry through certification, education, training, and participation in the development of nationally recognized standards and methods.
>> Explore CTEF Training Programs
>> Explore CTEF Certification Programs
The first auction took place in October 2020 in reaction to COVID which meant that training and certification events were suspended.
>> See DW Sanders Tile & Stone Contracting Pledges $1,000 per Month to CTEF During COVID-19 Pandemic
Although events are back, CTEF relies increasingly on fundraising to make ends meet.
>> See Thank You for Being Part of the NTCA Matching Grant Campaign!
So, the proceeds from this online auction mean that CTEF can not only stay afloat but also expand the Certified Tile Installer (CTI) program, tile installation training as well as the Advanced Certifications for Tile Installers (ACT) program.
What's Included in the CTEF Online Auction?
We think you'll love the items you'll be able to bid on in this online auction!
The auction will include over 100 items of particular relevance to tile installation professionals like you. These are products donated by tile and stone industry supporters, suppliers, and manufacturers that include among others:
Tools such as mixers, saws, cutters, tool kits, trowels, floats, sponges, suction cups, and knee pads
Materials such as tile, GPT, backer board, underlayment, mortar, shower niches, and grout.
Flooring products
NTCA Football/Golf and Fishing Experience packages
Online courses, and coloring books
And more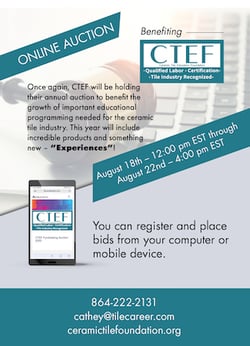 (Click to Download Flyer)
Thank You, Online Sponsors!
CTEF gratefully acknowledges the participation of the 2022 auction sponsors:
ARDEX, Best of Everything, Blanke, Custom Building Products, Crossville, Dal Tile, Edge Strip Kits, ETM, Florida Tile, Gundlach, HB Fuller/TEC, Joseph Lundgren Consulting, Johns Mansville, Laticrete, Mapei, Marshalltown Tools, MLT, Noble Company, NTCA, nVent/Nuheat, Pro Knees, QEP, RR Donnelly, Rubi Tools, Schluter , Scodd Industries, Tile Pro Source, The Tile Shop, University of CTS, and Wale Tales.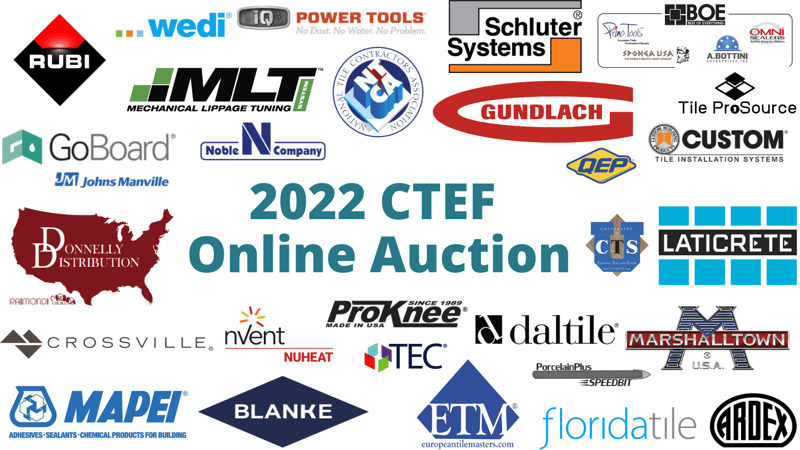 Other Examples of Tile Industry Online Auctions
If you've never participated in an online auction, you may enjoy learning about the one that the Tile Heritage Foundation organizes. This is an annual event that auctions off stunning artisan planters in July.
You can read about it in this TileLetter article:
>> UPDATE: BONUS DAY ADDED — TILE HERITAGE FOUNDATION'S ANNUAL ARTISAN PLANTER AUCTION NOW RUNS ON EBAY JULY 12- 22, 2020.
How Do You Participate in the CTEF Online Auction?
This is what is very cool about an online auction: you can participate from your desktop or laptop, via your phone or other digital device using an app. You can even do so via text!
To bid, your first step is to register at https://www.accelevents.com/e/ctefauction.
You can sign up via Facebook
Or you can register with your email, phone number, and account password.
After doing so, you can submit your desired bid amount. You will then receive a text confirmation of your bid. You will receive instant text outbid notifications and be notified if you have won an item at the end of the auction through email and text. And it costs you nothing to bid.
You can bid on as many items as you'd like. As you saw at the top of the article, this is a great time of year to stock up on installation tools and materials, and you're sure to find many of the items you know, love, and depend on in this online auction.
Will You Help Us Get the Word Out About the CTEF Online Auction?
CTEF counts on you to deliver on its mission. Could you help us get the word out?
If you have any questions, don't hesitate to reach out. As we get more information, we'll update this article.
We hope you'll consider participating in the online auction, too.
Thanks for reading!