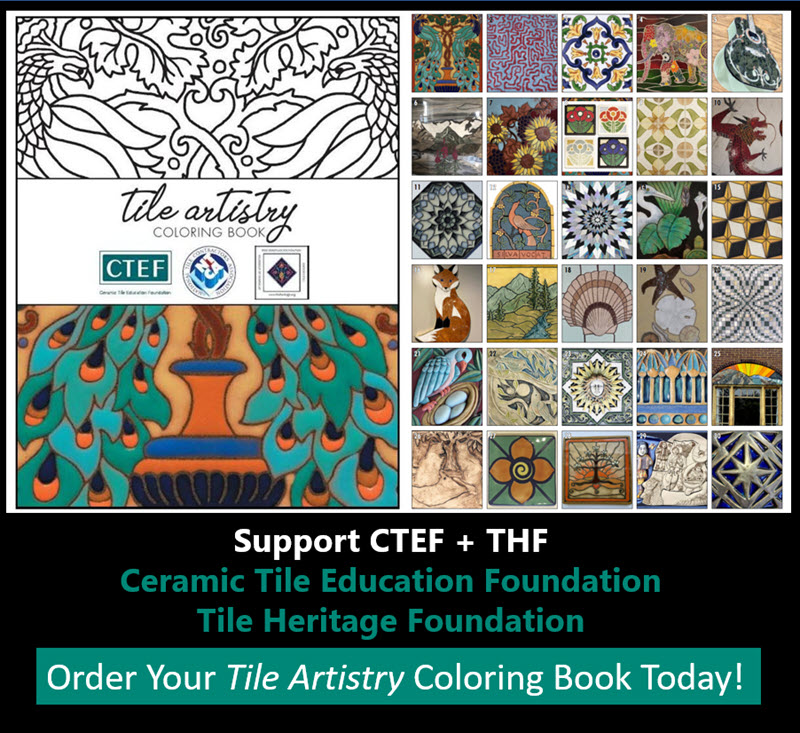 Support the tile industry, de-stress with tile inspiration, give a gift that makes tile education, certification, and heritage possible. All that just in time for the holidays!
Or for any occasion.
Order your CTEF + THF Coloring Book Today!
This coloring book comes to you thanks to the National Tile Contractors Association (NTCA) with support from tile artists whose works are featured within, and LATICRETE who sponsored the book's printing.
You can purchase the Tile Artistry coloring book online via the NTCA Online Store. It costs $15 and includes shipping.
Proceeds are split evenly between CTEF and Tile Heritage Foundation (THF).
>> See Tile Artistry: NTCA launches art tile coloring book fundraiser to benefit THF and CTEF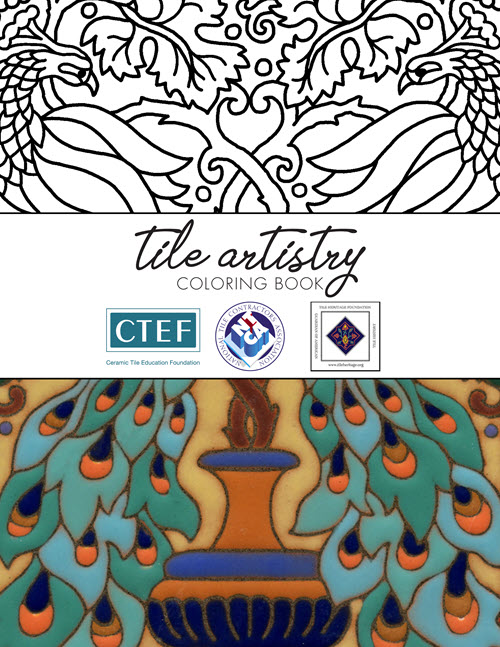 What You'll Find Within the CTEF + THF Coloring Book
Within the 68 pages of the Tile Artistry coloring book, you'll find 32 art tile designs for you to color.
The designs come from members of THF, Tile Council of North America (TCNA), and the tile industry in general. They even include several mosaic creations from tile artisans.
Lesley Goddin puts the project into perspective in her introduction. More specifically,
"... This project supports training, education, and preservation in the industry, and health in the workplace and at home by the calming practice of coloring."
And,
"This is a book of interactive art – starting with the stunning original designs from our artists that you can explore and customize with colored pencils, crayons, gel pens, or markers. Enjoy an evening of quiet contemplation, restorative creativity, or a time of shared hygge with friends and family. And as you support your own well-being, know that your donations are also supporting two essential organizations in our industry. Win-win, all around"
At the back, you'll find a color key, and contact information for the tile artists and artisans who created the works.
Perspective on the Tile Artistry Coloring Book From Its Originator: Lesley Goddin
We caught up with Lesley Goddin, Editor of Tile Magazine, and the mastermind behind the Tile Artistry coloring book to learn more about this exciting project.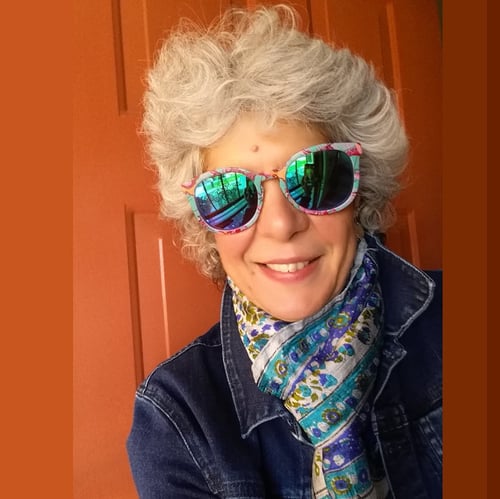 CTEF: Lesley, what inspired you to create this coloring book?
LG: Back in 2020, I had posted a few stories on TileLetter.com about some great fundraisers – auctions for Ceramic Tile Education Foundation (CTEF) and Tile Heritage Foundation (THF).
>> See CTEF Online Auction: 10/21 through 10/26. Mark Your Calendar!
I started thinking about other ways could we raise money for these essential organizations that had been hurt by Covid in terms of the isolation and lack of travel for training. At the same time, I was choosing to de-stress by relaxing with several coloring books I own.
Somehow both ideas came together: a tile-related coloring book that ideally could launch around the holidays and make affordable, tile-related gifts while raising funds! And since we at NTCA were increasing our focus on artisan tiles and tile setting, it made sense to feature beautiful art tile and mosaic designs to provide further education – in a very different way – about how tile work beautifies our world.
CTEF: How did you select the artwork?
LG: I initially emailed the art tile members of Tile Council of North America (TCNA) and THF and explained what we were doing – requesting one or two art tile designs that would convert well to line art.
We required a strong linear design to create clean areas to color.
Also, I saw some unique works on social media that looked like they would convert well to line art and reached out to those artists. Some artists were able to provide line art renditions with their full-color images, and that made things SO much easier.
For those that didn't have line art, TileLetter Art Director Michelle Chapman spent many hours converting them to colorable line art images. There were some that just couldn't make the transition over to line art, and unfortunately, we couldn't use them, which is a shame since they were stunning designs, too.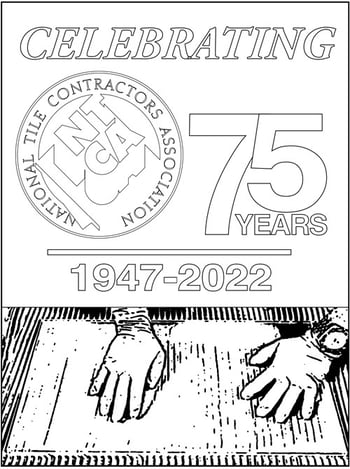 A coloring page celebrating NTCA's 75th anniversary in 2022 is also included.
CTEF: Is there information about all of the included artworks in the coloring book?
LG: Yes. On the facing page for each design, we include the title of the piece, the artist, the studio or company, the location, and how you can find them online.
Also, the back inside cover of the book has all 30 designs in full-color thumbnails, with a facing-page of contributing artists and their information.
CTEF: Lesley, which is your favorite design?
LG: Impossible to choose!
Is it the curvilinear forms, the florals, the geometrics, landscapes, animals, birds, sea-related designs, or musical instruments?
There's something for everyone!
CTEF: Have you colored in any designs from the book yet?
LG: Nope, not yet! I only got it last night, and so far I am just grooving on how beautiful all the designs are just in black and white.
I think I might need to get together with some friends for a colorathon.
But our sponsor, LATICRETE, did submit a colored version of its ad coloring page.
CTEF: What's the best feedback you've heard so far on the Tile Artistry Coloring Book project?
LG: Margo Locus, Publisher, and Editor in Chief of Fabulous Floors Magazine also runs a retail store with her husband, Locust Trading Company in Andrews, N.C. She called me to tell me she wanted to order in bulk to supply the children's area of her store, which is set up to occupy children while their parents shop.
A friend who is a therapist said she is planning on sharing them with clients to encourage relaxation.
I've also been delighted by people commenting that they are buying them for holiday gifts, or sharing the Tileletter.com story on their pages to spread the word. For example, Robert Ford said,
"We are going to be ordering some for our clients with children and just any children in passing. It's one small way to help keep the mosaic side of the tile industry driving in the hearts of our younger generations."
Every book purchased is a donation for CTEF and THF, so it is really exciting!

>> To learn more about the Tile Heritage Foundation, check out Add Your Mark to the Global Monumental Hand-Print Tile Industry Mural
CTEF: Lesley, is there anything else you'd like readers to know about this coloring book project?
Yes. We actually had the art ready to go for the 2020 holiday season, but we needed a sponsor to fund the printing. It was a tough year for budgets and we just couldn't get a sponsor on board.
But earlier this year, we reached out to Ron Nash, President and COO of LATICRETE North America – knowing his love for art and unique projects – and once I explained what we wanted to do, he signed on without hesitation.
With LATICRETE's generous and gracious sponsorship, it was all systems go! And in fact, Ron created the art for LATICRETE's colorable ad in the book.
And we also have a coloring page that celebrates NTCA's 75th anniversary in 2022. If this is as much of a hit as we hope it will be, we'll start planning the next one in mid-year 2022!
CTEF: Thank you, Lesley, for sharing your passion for tile with us and via this wonderful fund-raiser project!
Have you Ordered Your CTEF + THF Coloring Book?
If you have, let us know which tile designs you most enjoyed coloring.
If you haven't, please go ahead and order your own copy of Tile Artistry online via the NTCA Online Store. It costs $15 and includes shipping.
Thanks for reading.