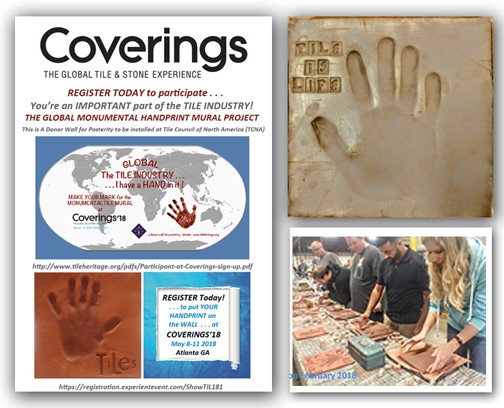 Are you familiar with the Global Monumental Hand-Print Mural Project?
It's a massively big project, conceived by the Tile Heritage Foundation, a non-profit organization dedicated to research and the preservation of ceramic surfaces. The mural honors all who participate in and contribute to the tile industry and supports Tile Heritage's vital tile industry archiving work.
Will you participate?
What is this Global Monumental Hand-Print Mural Project?
As Lesley Goddin explains in An Inspiring Opportunity - Here's Your Chance to Put Your Hand in Clay!,
"The concept is to create a "monumental tile mural" honoring everyone with his or her "hand" in the tile industry today. All imprints will be part of this historic tile installation for posterity – it's a FUN project!"
Once completed, the Global Monumental Hand-Print Mural will be installed in Anderson, South Carolina at Tile Council of North America headquarters (just five miles from CTEF's training facility).
The goal for Tile Heritage is to encourage individuals from every aspect of the tile industry to participate over the next year or so. The mural requires 5000 hand-print tiles.
Coverings 2018 in Atlanta, Georgia represents a perfect and convenient opportunity to add your own mark! You can press your hands, names, logos or even inspiring thoughts into a wet clay tile and become part of the mural.
If you can't do so at Coverings, look for other workshops taking place around the country.
Who's Involved in the Global Hand-Print Mural Project?
As we mentioned, Tile Heritage is the project creator.
However, this is definitely a tile industry project supported, sponsored and embraced by many people and organizations such as,
Coverings
Taffy Events
TCNA (where the mural will be installed)
Freeman
Merola Tile
Interceramic
James Hardie
Mary Yocum of Schluter Systems
Hohn & Hohn
And others involved locally and nationally in the tile business.
Nitty Gritty Coverings'18 Details for Making Your Hand-Print Tile
Coverings 2018 takes place May 8 through 11 in Atlanta, Georgia. During that time, you can sign up for the tile-making workshop happening each day.
Tile Heritage anticipates 500 tiles being created during that time. That said, they need your hands to make the tiles happen.
>> Sign up when you register for Coverings - it's a 'menu' option.
>> You can also sign-in on the floor of Coverings at one of the two Hand Print locations and at the Tile Heritage Foundation Booth located with Tile Council of North America, National Tile Contractors Association and Ceramic Tile Distributors Association.
>> Download the Coverings pre-registration form (with links to PayPal)
Other Ways to Participate in this Global Monumental Tile Project at Coverings'18
Wait, there's more!
Volunteer to help out during the workshops
In addition to hand printing in clay, with two 10 x 60 ft workshop booths open for participants from 8-10th May, the project needs volunteer assistance as well.
As we mentioned above, there will be two locations for hand-print tile creation -- one in Hall C right next to the Installation Experience and one as you enter Hall B.
Tile Heritage is looking for volunteers with skills in handling clay, ceramic materials and tools and also without these skills. You'll find more details in the volunteer sign up form.
Note: volunteering comes with benefits, including lots of accolades! Details in the sign-up form.
>> Download the volunteer sign-up form
Become a Mural Sponsor
You and/or your organization can also become a sponsor of the Global Monumental Hand-Print Mural Project. You'll find several levels of support - from sponsoring workshops, clay, firing, installation and even t-shirts. For details, check out the sponsor form.
>> Download the Mural Sponsor form.
Ready to Add Your Own Mark?
This industry wouldn't be as successful as it is without the support of all of those involved. CTEF is certainly aware of that as you can see based on those who sponsor CTEF, are Friends of CTEF and host locations for CTI program hands-on testing.
Your mark belongs on the Global Monumental Hand-Print Mural Project.
Thanks for reading.