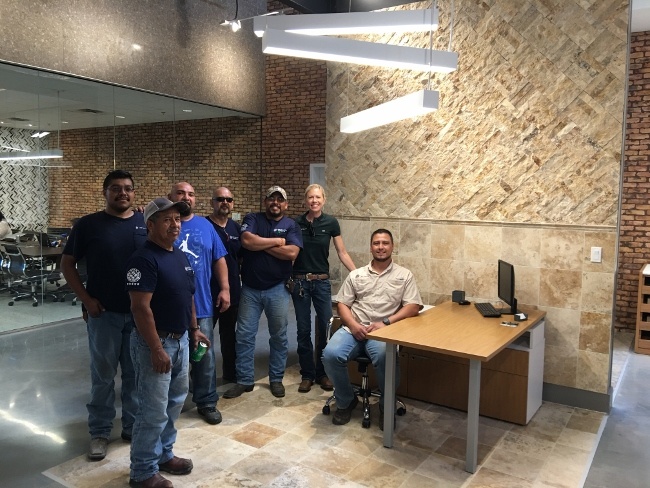 Interested in differentiating your business? Try tile installation certification. This article highlights J&R Tile, Inc. in San Antonio, Texas, which has successfully differentiated its business through the Certified Tile Installer (CTI) program.
We caught up with Erin Albrecht, J&R Tile Director of Operations and daughter and niece of the company co-founders, to learn more.
How a Proud Employer of CTIs and ACTs Supports Quality Tile Installation
CTEF: Tell us about yourself and J&R Tile, Inc.
EA: This business was founded by my uncle and father - Johnny and Raymond Kotara - 35 years ago in San Antonio, Texas.
They were both union-trained installers who went through a tile setting apprenticeship program 44 years ago. When they heard the owner of the company they worked for wanted to sell the business, they purchased it.
>> See A legacy in mosaic
CTEF: Erin, what is your role at J&R?
EA: I am Director of Operations for J&R Tile.
CTEF: How did you get started in the tile business?
EA: It has been a part of my entire life. I helped out my Dad on side jobs and worked summers, too.
I also have a background in education and coaching which translates easily with goal setting to a company that has such a strong emphasis on education and training.
>> See About J&R Tile, Inc.
CTEF: Your email signature references NTCA, NTCA 5 Star Contractor, ACT and Women-Owned. Tell us about each.
EA: We are members of the National Tile Contractors Association, and are fortunate enough to be a 5 Star Contractor. This is a powerful group of like-minded professionals across the country, we meet annually, and it's been a great experience for J&R.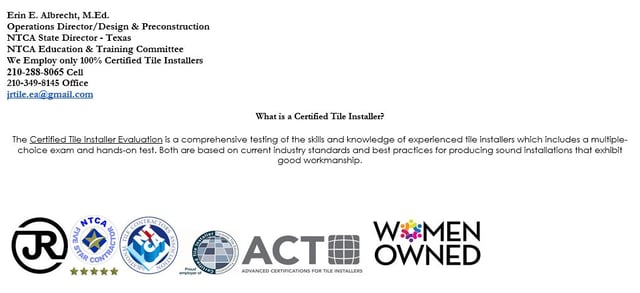 We employ Certified Tile Installers (CTIs) and Advanced Certifications for Tile Installers (ACTs), and are a woman-owned and woman run company.
>> See What's the Certified Tile Installer Program?
>> See Advanced Installer Certification
CTEF: It also makes strong statements about certification such as "We only employ 100% Certified Tile Installers." and includes an explanation of the CTI Program. Tell us more.
EA: The explanation about the CTI program says,
"What is a Certified Tile Installer? The Certified Tile Installer Evaluation is a comprehensive testing of the skills and knowledge of experienced tile installers which includes a multiple-choice exam and hands-on test. Both are based on current industry standards and best practices for producing sound installations that exhibit good workmanship."
We are proud to have every J&R project led by a true professional, a CTI.
Our culture is to promote from within with our own apprenticeship program modeled around TCNA standards and CTEF testing criteria.
>> See Ensure Proper Tile Installation: Become a Certified Tile Installer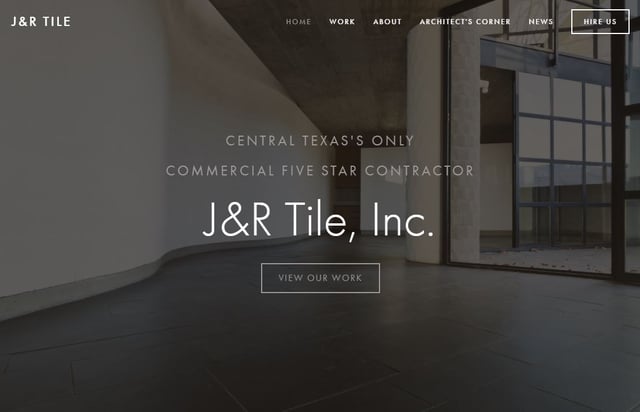 CTEF: Erin, how many CTIs do you have in your organization?
EA: We have 7 CTIs, with plans to test 3 more at Coverings 2017 in Orlando.
We also have 2 CTIs with ACT certifications.
Also, all staff has been to factory training in Tennessee for thin panel porcelain at either Stonepeak or Crossville.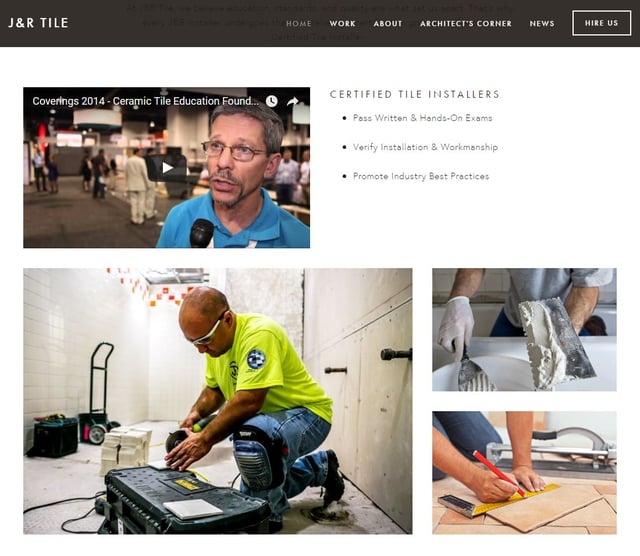 CTEF: What convinced you to embrace the CTI program as you have?
EA: It's important to differentiate, and our business has always been known as one of the best in the area. We decided to be the most qualified with credentials to prove it.
Our staff has embraced the philosophy, and wear that badge of honor on custom shirts we purchase for them.
We are proud to say we are the only commercial tile company in the area with Certified Tile Installers.
J&R was founded as a union company. Although the union no longer exists in Texas, for us in San Antonio, tile installation certification is the closest we can get to that kind of professional accreditation. J&R pays for all costs associated with testing our staff.
CTEF: How has certification changed your business?
EA: Certification has enabled us to become a NTCA 5 Star Contractor for starters.
We have been involved in the community, at local high schools on post-secondary options, with the Texas Workforce Commission, and many other outreach functions. As a result, we have gained some great employees wanting to earn the certification who have been involved in tile most of their career.
Also, architects have specified us on their plans under Quality Assurance in the 9300 section.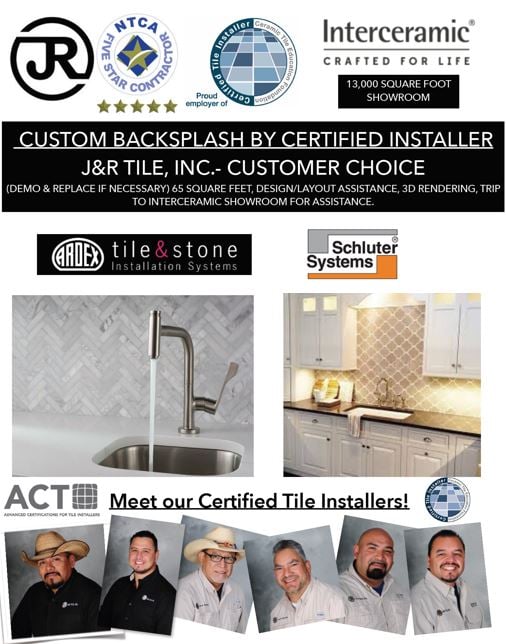 CTEF: You were involved in a fundraising event benefitting the Leukemia & Lymphoma Society and offering a custom backsplash by a CTI for the silent auction. How did that go? What was the reaction?
EA: There was a great response, and the Interceramic Showroom we just completed was an awesome place for the winner to go select the backsplash. The winner has already selected a travertine 3"x6" with a glass decorative band, and I've already been to her house and put her on our schedule!
The Interceramic Showroom in San Antonio was a very intricate and difficult installation of 13,000 SF lead by one of our Advanced Certified Installers, Adam Arrellano.
That showroom is pictured above, with the J&R Team. CTI/ACT Adam Arrellano (seated) lead the way in this project. In blue is CTI Jimmy Martinez, and in a ballcap is CTI/ACT Triniti Vigil. Also pictured are team members Fred Orozco, Jose Palma, and Ezekiel Rodriguez.
Jose and Ezekiel are also Crossville Laminam factory certified installers, and Jose will be taking the Spanish CTI test at Coverings 2017 where J&R has been invited to participate in the installation design showcase (we are one of three contractors in the country participating).
CTEF: How did you get so involved in the NTCA as State Director – Texas; Education & Training Committee?
EA: I'm passionate about professionalism and the continuing training and education it takes to be the most professional at our trade as we can be here at J&R. My NTCA role means I can help others in any way I can to guide them in the right direction about joining a professional trade organization, and investing in training their staff.
CTEF: What advice would you offer someone considering the Certified Tile Installer Program?
EA: Don't forget your kneepads when taking the hands-on test! Our latest CTI Jimmy Martinez didn't have his for his CTI Testing at Coverings in Chicago, thank goodness some nice Italians from Russo donated some.
CTEF: Thank you, Erin, and the entire J&R Tile team for being so passionate and committed to quality tile installation and certification!
Are you wondering how to differentiate your tile installation business? Consider embracing CTEF's CTI Program as J&R Tile has.