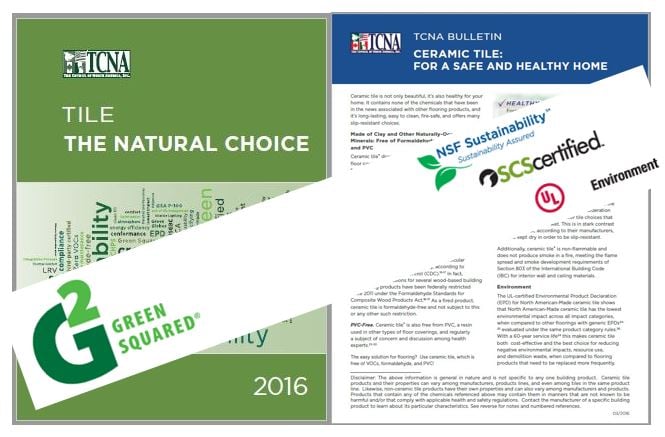 Did you know that tile is an ideal sustainable building material for the home? Not only is it beautiful, practical, intensely visual and long-lasting, but it's eco-friendly, too! Talk about the perfect design solution for floors and walls especially when combined with expert installation and Certified Tile Installers.
To explain what makes tile such a natural choice, the Tile Council of North America (TCNA) has developed three powerful resources - not to mention the WhyTile.com site. Let's explore them.
Here's Why Tile is such an Ideal Sustainable Building Material!
1. Tile: The Natural Choice
First is TCNA's free bulletin titled "Tile: the Natural Choice" (pdf download). This 45-page publication details the performance and sustainability-related attributes of ceramic tile. It is a testament to the sustainable characteristics of tile.
This is of special interest if you are involved in Green Building credits and requirements. Included in the TCNA Bulletin is a guide to LEED v4 and tile and one to the EPD for Ceramic Tile Made in the USA.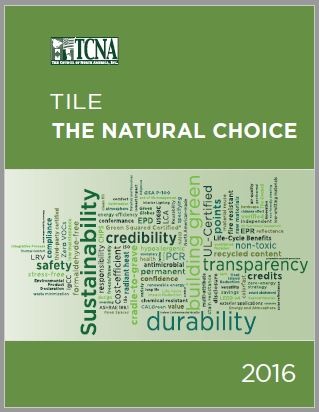 More specifically, the TCNA brochure explains that,
Tile stands the test of time
Think of all the historic buildings around you created with tile and installed by qualified labor.
Tile inspires design
The design possibilities of tile are limitless! That's what makes the Installation Design Showcase at the Coverings Show so exciting and inspiring.
>> See Sustainable Tile, Expert Installation Make for Spa Lobby by Healing Environments
>> See Wood Plank Tile Creates Fun Vibe for Architecture is Fun's Hotel Lobby
>> See Thin Tile Installation Expertise Creates Clubhouse Bar & Lounge
>> See Synergy Between Ceramic Tile Installation and Design? Critical Says Alena Capra
>> See When Expert Tile Installers and Designer Create a Retail Space at Coverings16
If you need additional inspiration, be sure to explore Instagram, Pinterest or Houzz for ideas.
Tile embodies unequaled versatility
Not only is ceramic tile hypoallergenic, easy to sterilize, fire resistant, resistant to chemicals, stain resistant and easy to clean, but it is durable and able to withstand heavy foot and wheel traffic. You can even find time with enhanced traction to prevents slips and falls.
Furthermore, you'll find tile that is applicable for dry, wet as well as submerged applications (i.e., bathrooms, showers, spas and pools) and exteriors even in freeze/thaw climates.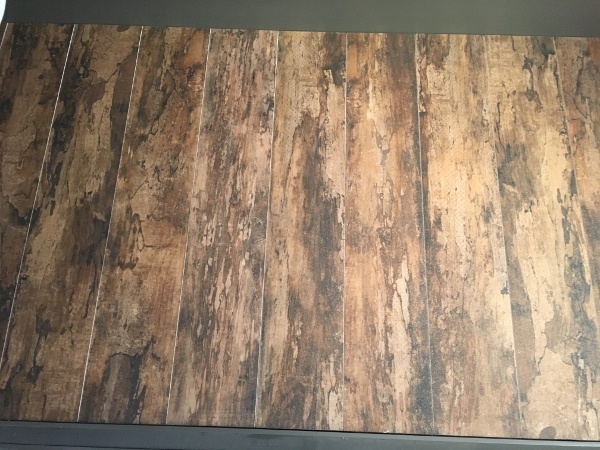 Tile embodies robust sustainability!
From a robust sustainability, tile deserves tremendous respect:
Recycled content, waste reclamation and building material reuse of tile
Recycled-content tile can be used for floors, countertops and walls. It can be made from either recycled glass or wastes from mines or factories.
Ceramic and porcelain tiles may be made from factory waste (known as post-industrial waste) as a result of the production of conventional tiles. Some manufacturers, such as Crossville Tile, produce tiles that contain 50 percent to 100 percent in-house manufacturing waste — waste that would otherwise have ended up in landfills.
Exceptional tile life-cycle cost means best value for customers homeowners and commercial facility owners
Tile – whether quarry tile, glazed ceramic floor tile, glazed porcelain tile, mosaic tile and unglazed porcelain tile – has a lower installed cost and life-cycle cost than many other flooring options according to the TCNA Green Report – Life-cycle Cost Study (look on page 53 of "Tile: the Natural Choice").
Regional tile manufacturing and raw materials.
You'll find that many of the tile setting materials are made in the US, too.
Tile: an ideal eco-friendly flooring choice for indoor air quality and zero VOCs. More on that below.
From an energy perspective, tile can lower energy needs for both heating and cooling. It works wonderfully with radiant heating and it doesn't require harsh chemicals for maintenance.
Furthermore, tile contains no plastic.
2. Green Squared Certified
Are you familiar with Green Squared Certified for "Stress free Sustainability?" TCNA's Green Initiative Committee, consisting of a group of volunteer industry stakeholders, began drafting Green Squared® in 2009.

As About Green Squared explains,
"The draft standard was further developed and finalized by the ANSI Accredited Standards Committee (ASC) A108 which represents manufacturers, distributors, installers, green building professionals, and other relevant interests. The result was ANSI A138.1 Green Squared - American National Standard Specifications for Sustainable Ceramic Tiles,Glass Tiles, and Tile Installation Materials.
ANSI A138.1 is modeled after other respected green building product standards. Since being green today involves much more than use of recycled materials, energy efficiency, or any other single attribute, ANSI A138.1 takes a multi-attribute approach to sustainability. The standard addresses product characteristics, manufacturing, end of product life management, corporate governance, and innovation, and it establishes the spectrum of environmental and social criteria most important to today's green building world. Some criteria are mandatory, and others are elective. To meet ANSI A138.1, a product must meet all mandatory requirements and obtain a minimum threshold of elective credits. Credit weighting of each elective is based on ANSI ASC A108 dialogue which took into consideration both stringency and environmental relevance.
ANSI A138.1 covers a variety of products including ceramic and glass tiles, powder goods (grouts, mortars, etc.), liquid and paste installation products (trowelable membranes, liquid polymer additives, etc.), panel installation products (backer boards, underlayments, etc.), and sheet installation products (crack isolation membranes, waterproof membranes, etc.). This allows the industry to offer installed systems of conforming products, the first offering of its kind by any building material industry."
Green Squared applies the "cradle-to-grave" standard and looks at all of the steps involved in the lifecycle of tile to ensure that each meets rigorous sustainability requirements.
3. Ceramic Tile: For a Safe and Healthy Home
The third resource that TCNA has issued is a free one-page bulletin titled Ceramic Tile: For a Safe and Healthy Home (pdf download). It explains what makes tile such a healthy flooring option for your home, in addition to being such a sustainable building material.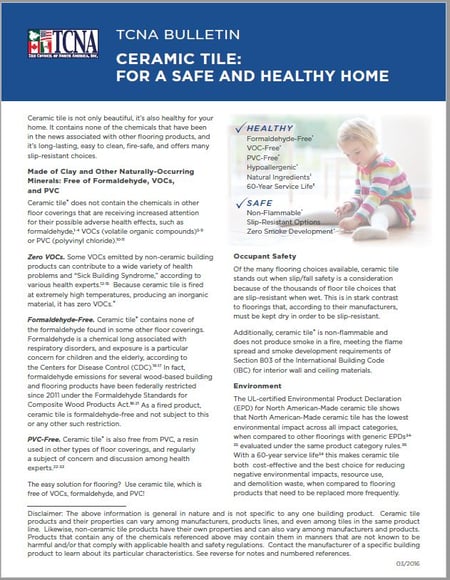 Because ceramic tile is made of clay and other naturally-occurring minerals, it is free of formaldehyde, VOCs, and PVC resin.
Ceramic tile is available in a multitude of choices that, when wet, are slip resistant.
It is non-flammable.
The Latest on the Sustainability of Tile on WhyTile.com
Furthermore, because tile is naturally inert and resistant to dust and other harmful pollutants that are known to cause a variety of health problems, it is a hypoallergenic flooring option. That means:
No dust mites

No bacteria

No fungi

No mold

No other irritants
>> Check out WhyTile - Healthy Spaces
Convinced that Tile is a Sustainable Building Material?
We certainly hope so!
Be sure to read through the two bulletins and become familiar with ANSI A138.1. Combined with quality tile installation, we can't imagine a better wall or floor solution than tile.
Can you?
Note: We originally published this article on 02/07/2017, and it remains no less sustainable today as updated.