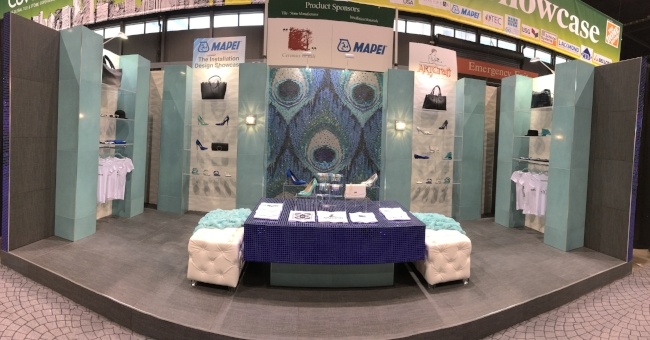 Ceramic tile installation and design must work together.
In fact, as designer Alena Capra, principal of Alena Capra Designs and the Coverings Industry Ambassador, explains it's critical. There must be synergy between the two. She should know given her involvement in the Coverings Installation Design Showcase, how frequently she features tile in her designs, and her long association with Coverings.
Tile Installation and Design MUST Work Together!
In When Expert Tile Installers and Designer Create a Retail Space at Coverings, we mentioned that during the annual Coverings show, the largest tile & stone exhibition in North America, the best and most expert tile installers collaborate with the most talented architects and designers to demonstrate what's possible in a tile installation that unfolds over the few days of the show.
During Coverings 2016, Alena teamed up with Artcraft Granite, Marble & Tile Company, a third-generation family business to create a magnificent retail space.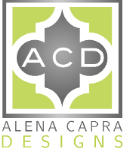 As James Woelfel, President of Artcraft Granite, Marble & Tile Company, states in Coverings Installation Design Showcase to Celebrate Leading Installation and Design Talent,
"The Installation Design Showcase is an opportunity to illustrate the importance of proper methods and standards in tile installation and show how they play such a vital role in tile design," said Woelfel. "When designers, architects, general contractors and owners see for themselves the difference a certified tile installer makes in a project, they have a greater appreciation for the technical knowledge and quality craftsmanship it takes to make a job successful."
>> Learn more in How Qualified Tile Contractors Participate in the NTCA Technical Committee
Introducing Alena Capra, Expert Designer and Coverings Ambassador
An award-winning designer, Alena loves tile (see Alena Capra, Interior Designer, Talks Tile and Design), celebrates bold colors, patterns and textures and keeps a relentless eye on all the details required to make a design come to life - including those having to do with expert tile installation.
A Peacock to Remember at Coverings states that,
"[Alena]'s covering the waterfront of trends in tiles for 2016, including the 3-D look, the blue hues, the flooring with a wallpaper-like print, and the colorful glass mosaic [statement wall in a mosaic peacock print] at the display's center."
She explains about her "eye-popping cross-section of a luxury boutique,"
"The shoes are in the color of my tiles, coordinating cobalt, aqua, turquoise, and black and white," she says. "I'm going to merchandise it down to the hangers in the display racks that are the same colors as the turquoise wall tiles."
Definitely eye-popping as you can see from the concept board Alena developed for the Coverings16 Design Installation Showcase retail store.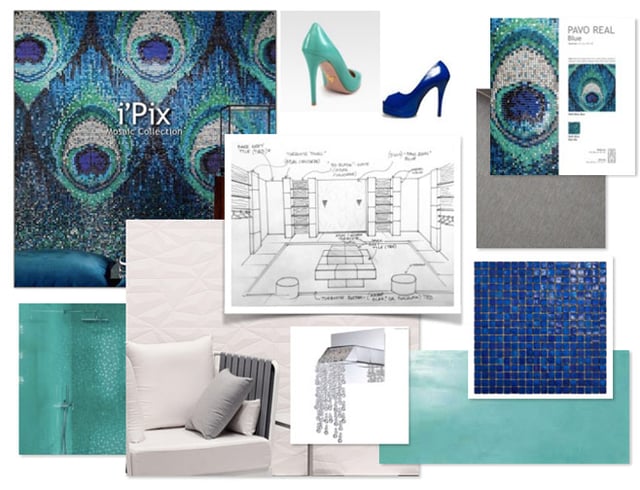 We caught up with Alena during Coverings16 to discuss her design and the importance of synergy between ceramic tile installation and design to bring it all to life.
Alena Capra Talks Design and Ceramic Tile Installation
CTEF: Alena, what ceramic tile products did you use in your design?
AC: I used tile products from several Ceramics of Italy manufacturers, including Ceramica Sant'Agostino, Tagina Ceramiche d'Arte, Atlas Concorde and Sicis. More specifically,
The beautiful peacock mosaic from the Sicis Pavo Real Collection,
Turquoise wall tile from the Atlas Concorde "Dwell" collection,
For the flooring, Sant'Agostino "Digital Art" 24x24 collection which has the texture of fabric,
Also part of this Design Installation Showcase was MAPEI. We used their custom color matched grout for the blue and aqua tile, and their regular grout for the other areas.
The image below shows you the blue mosaic table display with MAPEI's custom color matched grout.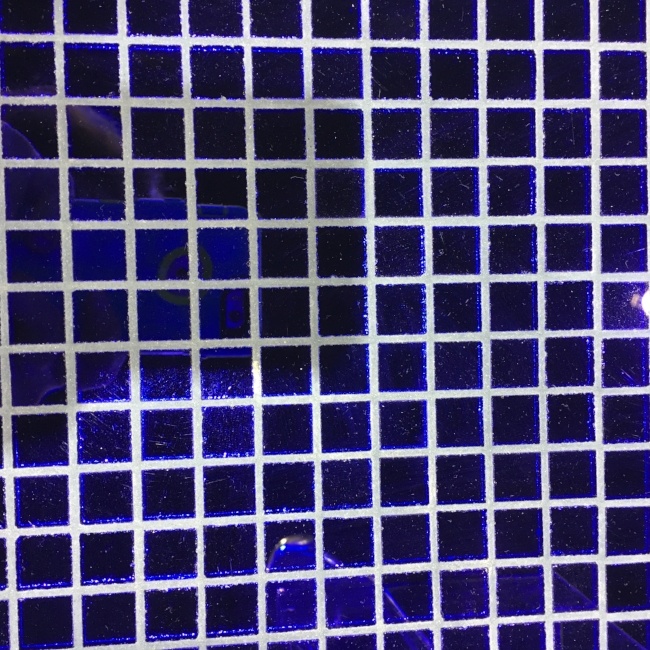 CTEF: What inspired you to select those products?
AC: I had always loved the Dwell "turquoise" tile from Atlas, and when I saw the Sicis Pavo Real mosaic, I though those two would really match perfectly!
Then I added in some 3D tile from Tagina for a pop as you can see in the image below...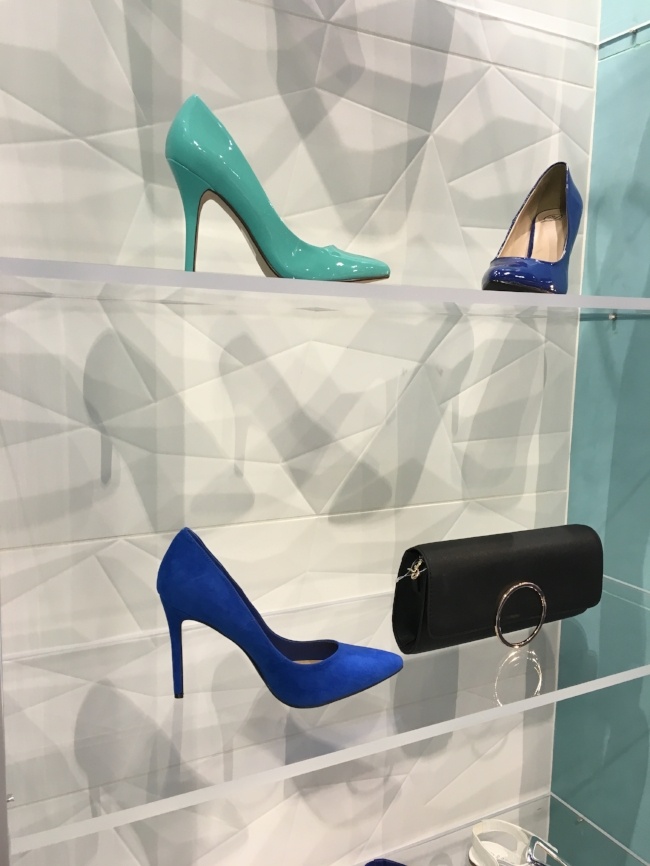 and some fabric-like tile from Sant Agostino.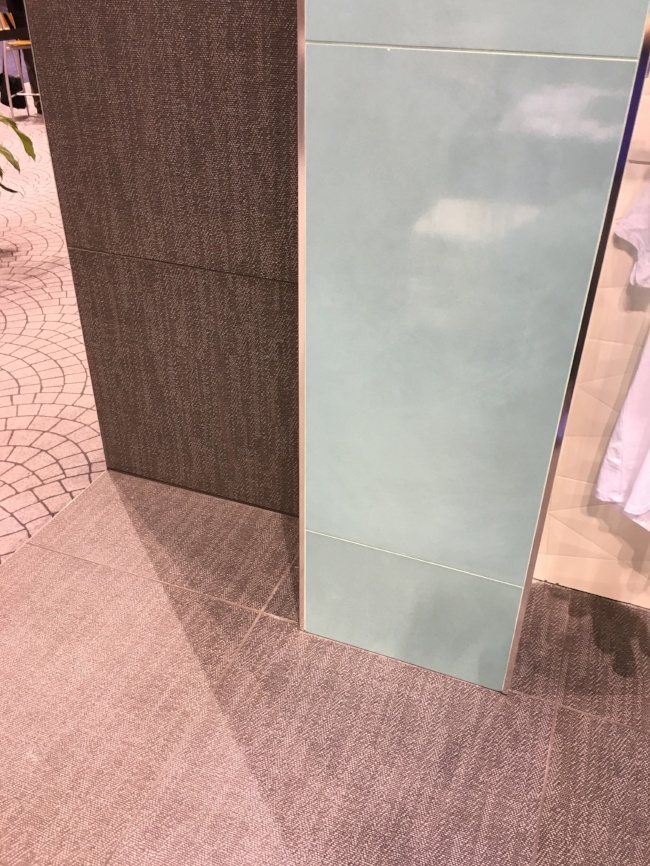 I wanted to incorporate lots of different textures since this was a boutique space. I wanted it to be fun and really different.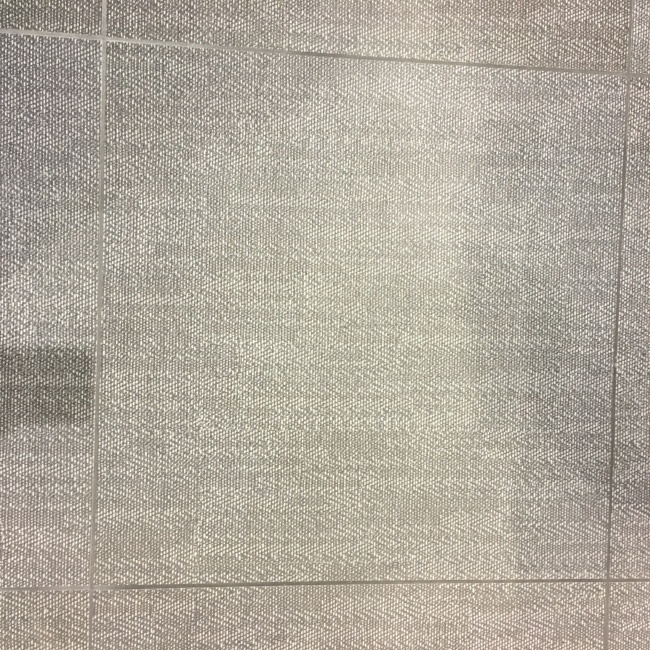 CTEF: How was the peacock mosaic created? Did you design it? You mentioned that it was hard to work with because of paper...
AC: The peacock mosaic was a design that Sicis has in their catalog. Its called Pavo Real.
They custom sized and scaled it to fit the dimensions, and sent a drawing to approve. It is numbered and there is a map for easy installation. The biggest challenge is that you cannot see what it looks like until the paper face comes off after install. So, it brings a lot of anticipation for the reveal!
That's another reason to use qualified tile installers. They know the product and the process for installing ceramic tile. The peacock mosaic is a focal point, and should look perfect!
(Below is a closeup of the peacock mosaic.)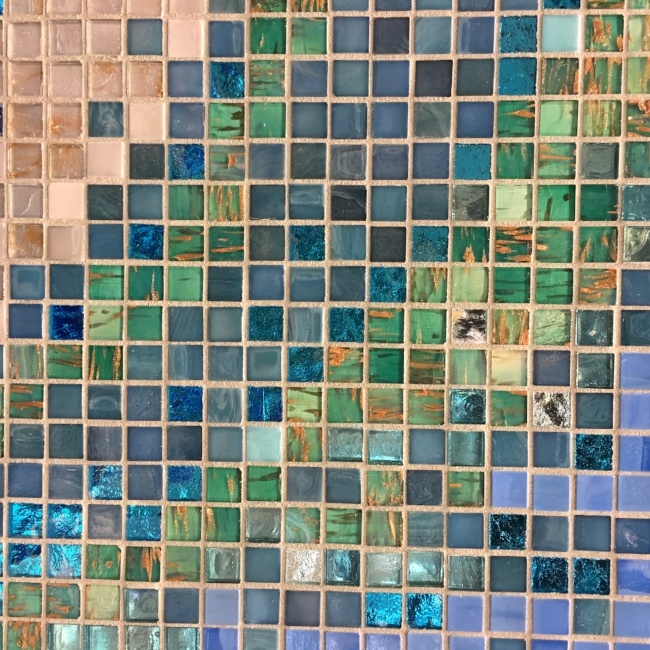 CTEF: What kinds of last minute changes happened and why?
AC: I added some blue mosaic trim on the edges of the display walls to frame it out. We had a little extra, and the tile was so beautiful I wanted to bring it in one more place.
I also removed one level from the center display structure, because I felt it would block too much of the back wall Peacock tile. Once we removed the top piece, it was perfect!
CTEF: What were some of the difficult installation aspects of your design that a lesser competent crew would have had difficulty with?
AC: I think the mural mosaic can be more difficult for inexperienced installers.
Also, there were lots of cuts because of the columns, and also some tight spaces to tile in.
Luckily, I was paired with the best of the best when it comes to tile installation. Art Craft's crew did an amazing job with the installation! Everything looked perfect. I had worked with them on the first showcase years ago, so I knew that they would do a great job!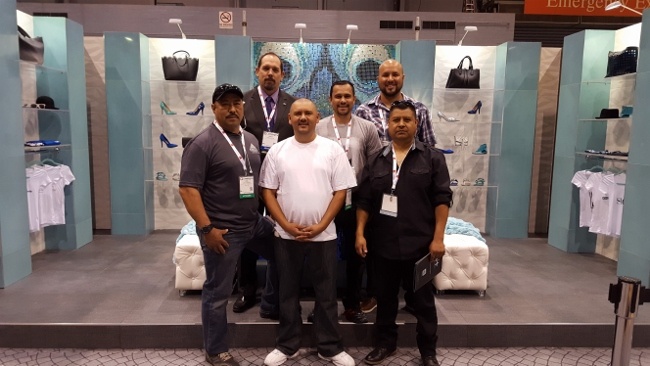 CTEF: How different is the Design Installation Showcase experience from a real-world situation?
AC: The experience is actually quite similar to a real life project install, except the time frame is a little more condensed.
I treated it like one of my projects. Checking in often, going over details of design with the installers, etc.
CTEF: What are some tile installation problems you've encountered in other projects and how did you end up dealing with them?
AC: Some tile problems I've seen over the years include grout joints being spaced unevenly and too wide.
Also, I've seen the wrong grout used as well-- which can ruin an entire project!
In those situations, there was no saving, the tile needed to be removed and re-installed.
Luckily these were none of the installers I partner with. I always trust my tile designs to installers who know my design style, and can execute. I try and make many job site visits to prevent any of these issues. Even on out-of-state projects I request probably too many install photos along the way! But its the best way to ensure proper execution of a design.
CTEF: Any other observations/comments?
AC: This was my favorite installation & design showcase yet!
They are always beautiful, but this year, everyone participating just went all out! Each space was unique and beautifully designed and installed. I was honored to be in such good company!
Here are links to those other installations:
>> Wood Plank Tile Creates Fun Vibe for Architecture is Fun's Hotel Lobby
>> Thin Tile Installation Expertise Creates Clubhouse Bar & Lounge
CTEF: Thank you, Alena, and congratulations on a magnificent retail boutique design and installation at Coverings16!
In this 2:49 minute video, you can hear Alena Capra share highlights from her design installation and the importance of synergy betweeen ceramic tile installation and design.
How Do You See Tile Installation and Design Working Together?
What has your experience been designing and installing a space with tile? How critical was the synergy that Alena describes and how did you ensure that your vision became reality once installed?
Let us know in the comments.
Note: We originally published this article on 06/28/2016, and have updated it because tile installation and design matter so much.