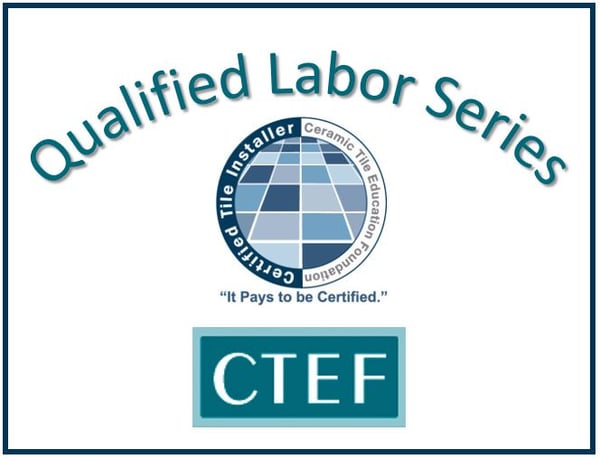 To borrow from the original Fab Four, money won't buy you tile certification. Rather it's your experience and skill as a tile setter that allows you to validate your tile installation skills as a Certified Tile Installer.
That's according to Mike McLawhorn CTI #188 and Territory Sales Manager for HB Fuller.
Mike is next in the CTEF Blog series about Qualified Labor based on an article in TileLetter.com titled Mike McLawhorn: CTI credentials are confirmation of tile setter knowledge that money can't buy.
Meet Mike McLawhorn CTI #188
Before becoming a representative for HB Fuller, Mike spent 12 years as a self-employed tile setter. He became a Certified Tile Installer (CTI) in Charleston, SC, in 2009, in the very early days of the program. Not only did he want to support the tile industry's efforts to legitimize the tile setters that truly care about doing things right, he also saw it as an opportunity to market his own company as one that was trustworthy and possibly increase his profitability.
According to Mike,
"I wanted to do everything I could to set myself apart from the thundering herd of setters,"
most of which were mediocre in their tile installation skills. He wanted nothing to do with that, saying,
"We live in a world that allows mediocrity to self-destruct those who accept mediocrity."
Designed to Fail the Inexperienced Tile Installer
You may already be aware that most who've taken the hands-on portion of the Certified Tile Installer program test consider it the toughest 25 square feet of tile you'll ever install.
>> See Grading the Toughest 25 Square Feet of Tile You'll Ever Install (Video)
Mike adds perspective to that characterization:
"In my opinion, [the test] must have been designed to fail the student that didn't have time in the field and to reward the student that was experienced. If one didn't think ahead, the hands-on tasks would lead to a dead end, and then there was no time to finish it, which would lead to failure."
Note that if you can't complete the hands-on test, within the allotted time (7:09 am until 4:00 pm), you immediately fail.
Tile Certification: Confirmation of a Tile Setter's Competence
Anyone who suggests that the CTI program is a scam or even a sham, is completely wrong. As Mike explains, one of the most valuable parts of CTI credentialing,
"...is that no one can buy into [it]. Money or the absence thereof, simply is not a factor. Certification is a confirmation of a tile setter's industry knowledge, hands-on expertise, and more importantly, time in the field with a trowel in one's hand."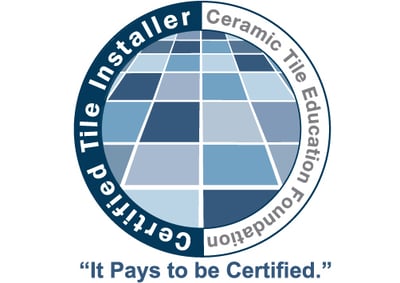 Perhaps you've heard people say, "it pays to be certified." That has to do with the many benefits associated with becoming a Certified Tile Installer including the manufacturer provided coupons.
>> See FAQs about Tile Certification
Why is Tile Certification More Important Than Ever?
In addition to confirming the competence of a tile setter, the CTI program indicates a commitment to staying ahead of tile industry changes. Here's what Mike has to say about that:
"Decades ago, technology changes in the tile trade happened more slowly. In today's tile world, there are multiple tile companies and multiple setting material companies pumping out new technology nearly every quarter! In order to be considered a knowledgeable service provider, we must maintain a familiarity with the new technologies as they become available."
Furthermore, project specifications are evolving. Whereas they used to be generic and tile installers used techniques passed-down over the years, they now include specific installation standards and methods and the use of CTIs. He explains,
"Officials are clearly stating techniques and methods to accommodate the newer tile trends, which call for more sophisticated installation systems. And finally, they are mandating/specifying the use of CTI tile crews to provide a better chance of a successful installation of their project. Certification is paramount to the tile industry. "
Ultimately, the tile industry is changing annually and only the professional, progressive-minded applicators will benefit and grow.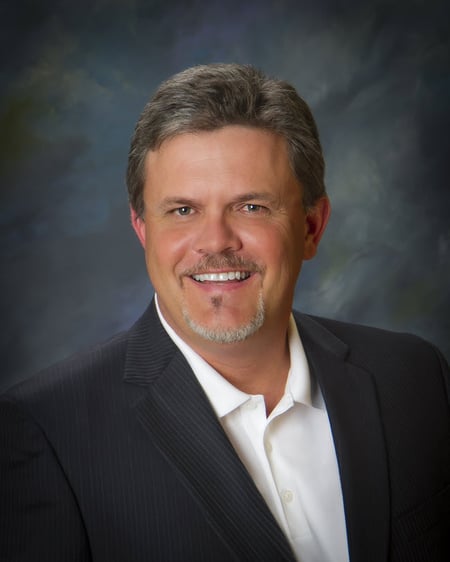 CTI Credibility Adds to Effectiveness as TEC Rep
Certification has proved invaluable for McLawhorn as an independent tile contractor, and also as a representative for HB Fuller's tile setting products. It offers him unique perspective and adds to his own credibility when he speaks with customers and other tile contractors. After all, not everyone who takes the CTI program tests pass.
Mike states,
"I've been given the opportunity to utilize my CTI certification on multiple fronts. Obviously, I used the certification to promote my own business in the past. And, I continue to use my CTI certification in the corporate world for HB Fuller as a professional rep of TEC tile setting products.
Nearly every day, my discussions with customers and other tile contractors are supported and validated by my certification. There is no doubt that my CTI certification is an integral part of my reputation as a source of knowledge to my customer base. There is absolutely no level of corporate savvy that can replace the credibility that the certification gives me in the market place. The certification absolutely trumps any brand or corporate influence regarding my abilities as a rep."
Helping CTEF
In addition to these opportunities, Mike also had the opportunity to help CTEF.
"After my certification and due to my prior corporate experience, Scott Carothers of CTEF asked me to proctor a few examinations when he was unable to do so. It was an incredible opportunity to proctor an industry-accepted exam."
>> If you're a CTI, are you interested in becoming a Regional Evaluator?
Ready to Validate Your Own Tile Installation Skills?
If you haven't already, consider becoming a Certified Tile Installer (CTI). As a CTI, you set yourself apart from the crowd and know how to anticipate tile installation problems before they occur. Do it right the first time and get paid accordingly.
If you need additional reasons to do so, please read Why Should You Take the CTI Test? Contractors Respond.
Are you ready to validate your skills as a tile installer? Become a CTI like Mike McLawhorn.
Thanks for reading.