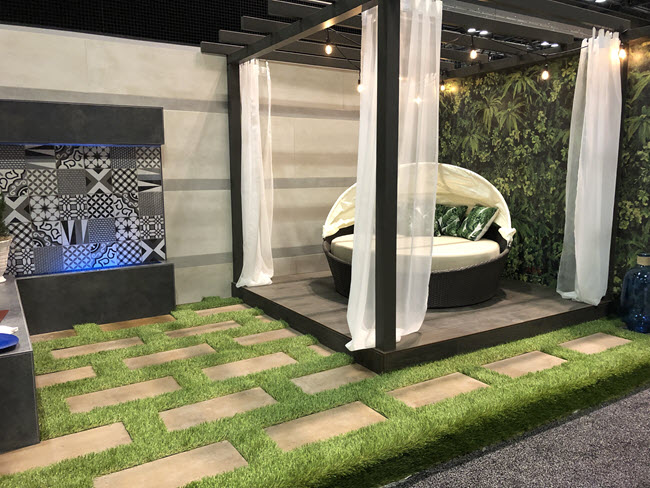 Did you experience Hidden Oasis at Coverings 2019? It was one of the three stunning installations featured in the newly expanded Installation & Design Experience incorporated into the National Tile Contractors Association Booth.
Brad Denny, vice president and COO of Nichols Tile & Terrazzo Co, Inc., a Five Star Contractor of the National Tile Contractors Association (NTCA) located outside of Nashville, TN, led the installation team behind this vignette. Brad is also Certified Tile Installer #1190 and intensely active in the tile industry:
Region 6 Director for the NTCA

Recipient of the Dedication to Membership award, a recognition specially created just to honor his passion for methods, standards, and the internet.

Chair of the NTCA's Social Media Subcommittee

A moderator on the Tile Geeks Facebook group
We caught up with Brad to ask him a few questions.
Meet Brad Denny CTI #1190, Nichols Tile & Terrazzo Co.
CTEF: Tell us about Nichols Tile & Terrazzo Co.
BD: We are a three-generation family business in the Middle Tennessee area. Since 1973 we have been enjoying the challenges and success of tile installations, both commercial and residential.
We have a great team of installers, apprentices, and laborers who have a passion for great installations. Through our involvement in organizations like the National Tile Contractors Association (NTCA) and CTEF, we've continued to better ourselves in the face of changes in the industry with methods, standards, and products.
Our efforts were confirmed in 2017 as we became an NTCA Five-Star Contractor.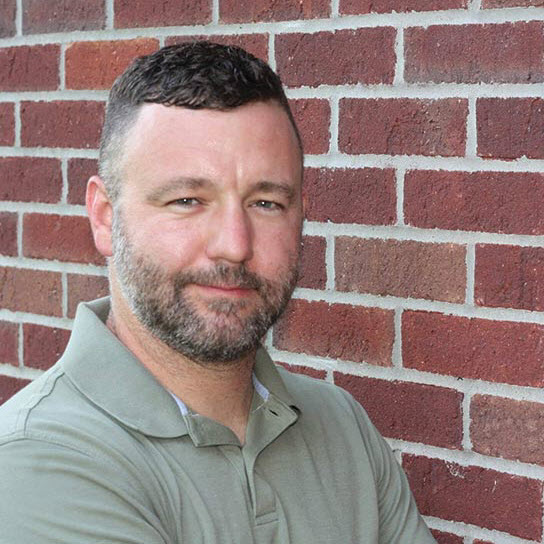 CTEF: How did you get started with tile?
BD: Being a family business, the opportunity was always there to work and I didn't voluntarily take that opportunity as a youngster…I was forced! After two years of college, where I scheduled classes around working on projects we had going on, my skills had developed to the point where becoming a full-time installer made sense.
From there, I worked diligently for many years honing my craft and being responsible for our field operations. The time came where I was needed to use my field knowledge to estimate. As my passion for our business increased, I took a role in leading the company.
>> See Contractor Spotlight: Brad Denny, Nichols Tile & Terrazzo Co Inc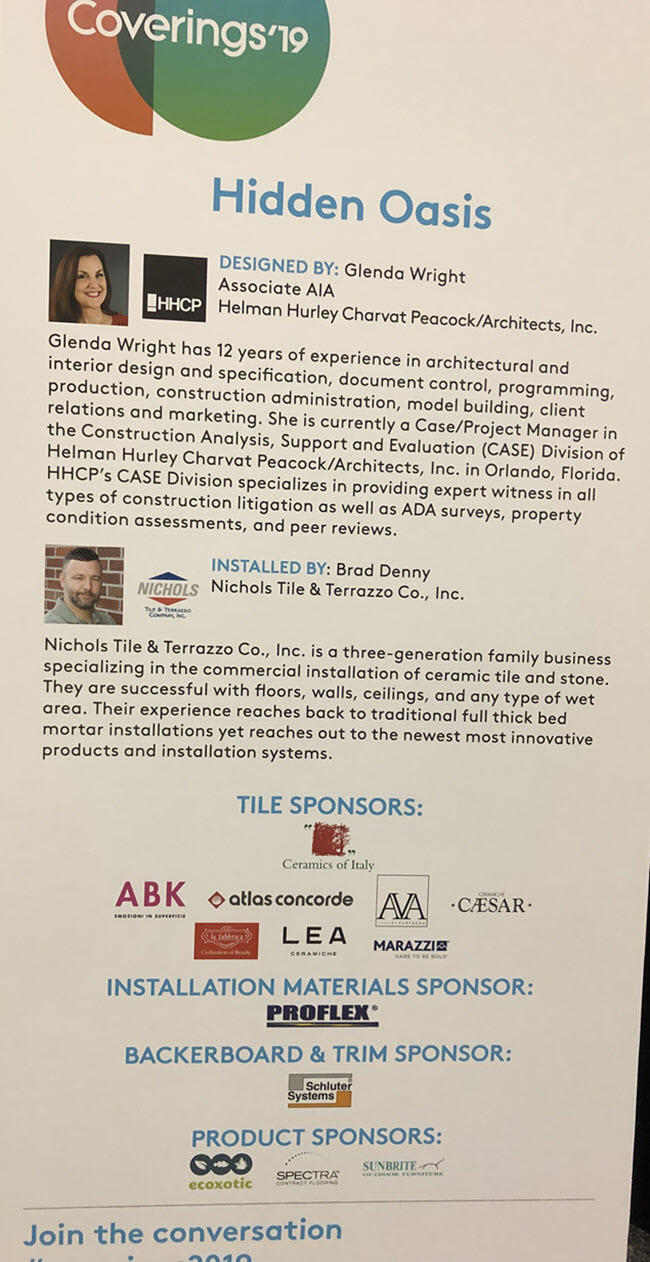 CTEF: When and why did you become a CTI?
BD: I became a CTI after testing at The International Surfaces Event in January of 2016, not the easiest of places to take it.
My grandfather said I was a good installer, my dad said I was a good installer, my wife said I was a good installer, our clients said I was a good installer…but I wanted to have a unbiased evaluation by a qualified individual that knew what "good" installations really look like inside and out.
CTEF: How has that affected your business
BD: We haven't fully utilized all there is to gain from certification in regards to marketing, mainly because we are working to have more CTIs, but becoming a Five-Star Contractor was a huge move to legitimize our years of being a great tile contractor which wouldn't have been possible without certification.
It has been a great way for me to show that I have the basic field skills and knowledge to address the tiling needs of my clients, and other installers recognize that my abilities in the field are legitimate…giving my voice strength.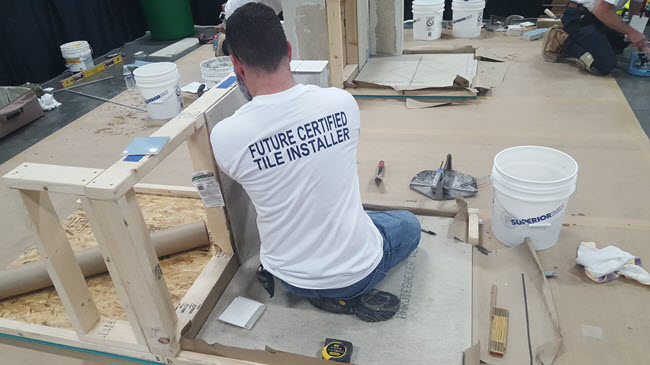 CTEF: Why did you decide to participate in the Installation & Design Experience?
BD: I had the pleasure seeing legendary tile contractors participate in the Installation and Design Showcase over the years, and though it is a daunting task, I wanted our company to perform on that stage as well.
I mentioned earlier that we enjoy challenges, and I knew the IDE would not disappoint.
>> Read about past Installation & Design Experience installations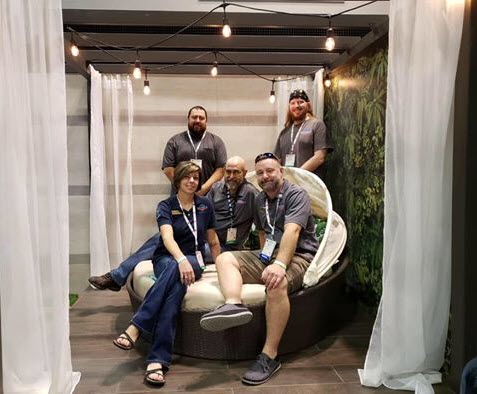 CTEF: Who on your team participated and who was a CTI?
BD: Chris Martin, Mario Bertoli, Trevor Golden, and my dear sister and co-owner of the company, Amber Hunter, all had sweat equity in the project.
Trevor and I did the Gauged Porcelain Tile Panels (GPTP), Chris installed the wall tile, Mario did the floor, and Amber helped troubleshoot the fountain.
We all worked together on grouting, the pavers, finishing, and the fountain in general. I was the only CTI who participated, and I still enjoy getting dirty from time to time!
What was really awesome, is how excited the other guys were about talking with Dan Hecox (installer, CTI, and Evaluator for the CTI) about taking the test.
I think we will soon have more CTIs!
CTEF: What were their reactions to the project?
BD: They didn't think we'd get it done on time, which seems to be a common feeling, but they loved the design and were excited to get it done.
The experience overall was incredible, as we bonded and felt proud of what we accomplished. The whole Coverings experience opened their eyes to the things that make me passionate about our industry.

CTEF: How different was this compared to the projects you do for customers?
BD: Let's be real, it only has to last the duration of the show!
However, we put the effort in to make it look great on top and underneath using proper practices.
I'm pretty sure I would ask for more time from my customers, but in regard to the complexity, this wasn't too far out of the scope of what we do day in and day out.
CTEF: How was working with HHCP Design and how did you prepare?
BD: Glenda Wright with HHCP was a complete pleasure to work with, and it was the preparation process that demonstrated that.
When installers can have direct access to the visionary of the project, they can usually pull off making the vision a reality. Glenda and I were able to communicate often to understand what needed to be done to make this a successful venture.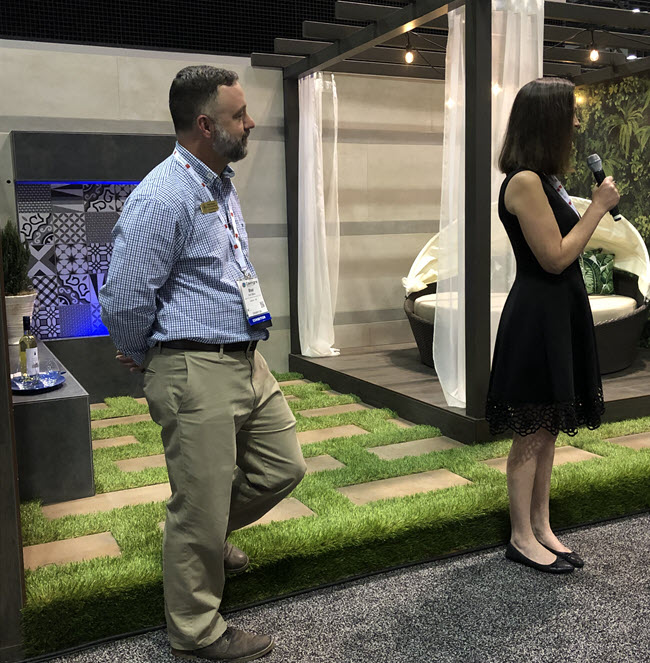 >> See INSTALLATION & DESIGN EXPERIENCE DESIGNER OFFERS SHOW PERSPECTIVE which describes Designer Glenda Wright shares her thoughts on her vignette, trends, and qualified labor. There, Glenda explains,
"My vignette demonstrates that tile is a durable, water-resistant and low-maintenance finish that lends itself perfectly to the creation of an exterior space where one can relax and rewind while enjoying the soothing sounds of a water wall. When correctly specified and installed, tile provides beauty, ambiance and value, making it an ideal finish."
CTEF: What tile products did you install?
BD: Ceramic Tiles of Italy, PROFLEX, and Schluter Systems were kind enough to sponsor our booth.
All the representatives were willing to help make the experience a positive one. I think if you ask around, everyone thought our booth looked great and without the materials it wouldn't have happened!
>> See Italian Products Bring Color and Style to a Hidden Oasis Vignette at Coverings
CTEF: What kinds of installation challenges did you encounter?
BD: Our biggest challenge was the fountain. We prefabricated most of it at our shop in Nashville, then finished it up at the show.
Mostly error on my part, we didn't accurately calculate the path of water (water can be tricky!) and had some leaking that needed to be addressed. In the end, we got it fixed (after one crazy long night…the unfinished show floor is really neat to walk at 2 am, thanks Amber!) and the fountain was a show favorite.
CTEF: Thanks, Brad, and congratulations on this beautiful installation!
You can listen to Brad speaking with Irene Williams during Coverings 2019 below:
Ready to become a Certified Tile Installer?
Ready to become a Certified Tile Installer? If you have experience and are ready to demonstrate your skill and knowledge, we urge you to register for the program, study the provided written materials, take the tests and become certified.
If you have questions, please let us know in the comments.
Thanks for reading.