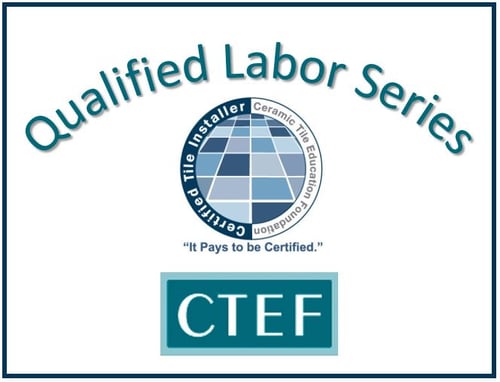 Wondering why tile installation certification is necessary for your tile business? Robert Davis CTI #1246 provides five good reasons why a tile installer should become a Certified Tile Installer (CTI).
Robert is next in the CTEF Blog series about Qualified Labor based on an article in TileLetter.com titled "Becoming a Certified Tile Installer: a way to measure progress" by Terryn Rutford.
Meet Robert Davis CTI #1246
Robert Davis has been in the tile industry since 2007. In 2015, he founded Davis Solutions in Lebanon, Oregon and in June 2016 he became a Certified Tile Installer at Daltile in Portland, Oregon.
Why? Because even after nine years he realized that he still had things to learn, including updating his tile installation practices to follow accepted industry standards and best practices.
"I have forced myself to change some of my install practices. I was trained in a lot of practices that are contrary to industry standards, like hard grouting changes of plane and a lot of other things. Using approved methods protects me and the homeowner; there's literally no reason to stay in a rut other than laziness."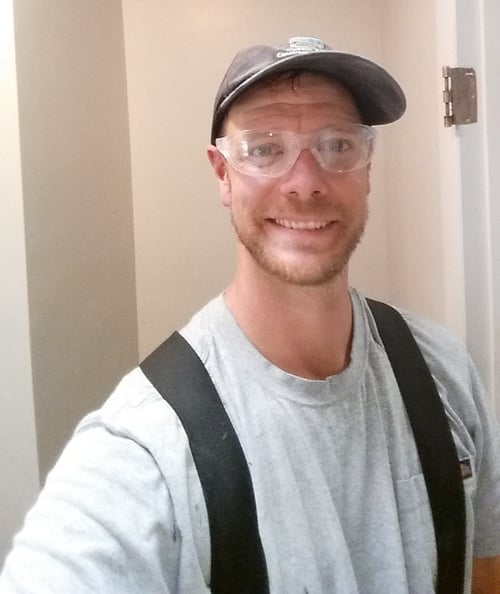 Five Good Reasons for Becoming Tile Certified
Robert's reasons for becoming a Certified Tile Installer offer valuable perspective for anyone who takes the tile installation trade seriously and professionally.
1. Stand Out in an Industry Often Bogged Down By Inexperienced Tile Installers
Tile installation horror stories abound. They stand in deep contrast with the kind of outstanding work that true artisans and qualified labor do. (See the CTI Installation Gallery Images).
That's a point Robert Davis highlights when he described his quest for betterment in an industry often bogged down by inexperienced tile installers.
"I realized early in my career that a lot of substandard work was happening around me -- and being done BY me -- to tell the truth. There was an existential gap between what I wanted to execute in the way of installations and what I was capable of. I have been pursuing education ever since. The Certified Tile Installer certification was a way to measure my progress."
If you've been reading this blog, you have an idea of the kind of work Robert is seeing all around him. For example,
>> What HGTV Can Teach You About Quality Tile Installation
>> How Not to Install Tile on Floors, Walls and in Showers
2. You Have No Business Going Out on Your Own as a Tile Contractor if You Can't Pass the CTI Test
In Schluter Hosts First New Jersey Hands-On Certified Tile Installer Test, we mentioned that the hands-on portion of the CTI Test is often referred to as "The toughest twenty-five square feet that you'll ever install." Time management and mental preparation are critical to success.
Davis put that into practical perspective. About the hands-on test portion, he said,
"A person has no business going out on their own as a tile contractor if [they] cannot pass it. If you cannot plan, prepare, arrive with everything necessary, and execute an excellent install, you need to spend some more time under the wing of someone who can."
The CTI designation identifies the professional installer who has reached a level of proficiency to independently and consistently produce a sound tile installation that displays good workmanship. That's why only installers with at least two years of experience as the lead installer setting ceramic tile on a full-time basis can register for the program. Experience as a helper, improver, grouter or finisher doesn't qualify toward the two-year requirement.
Davis pointed out that not all good installers have to pass the test, but made it clear he believes any good installer could pass it. When he was testing, Davis said there was an expert installer who has likely been installing longer than Davis has been in the trade and he got his CTI on the same day as Davis.
"He made it look easy. And he was done hours ahead of anyone else."
3. The CTI Hands-on Test: a Compressed Version of Real Tile Installation
Davis was clear that becoming a CTI was a step towards improving himself and his trade, but that the CTI test was nothing he hasn't faced before.
"Installers show up to a site and execute a design in a specified amount of time. The test is basically a compressed version of the same challenges an installer faces onsite. Can you manage the clock effectively? Can you make decisions on the fly while honoring the spec sheet? Can you set aside your discomfort and/or uncertainty and get the job done? The challenge of any install is to find the balance."

4. Learn Tile Installation from the Best
As much as Robert committed himself to tile installation best practices, he admitted that it can be tough to change your ways when you've been installing tile for years.
"Sometimes we learn things that are hard to swallow. It's tough to open a textbook written by the best, most experienced and learned people in your field and read that you've been doing something wrong for years. We can either say, 'I've been doing it this way for so many years...', or we can learn from the best and move on. Education is the only reasonable means of advancing the industry."
Ultimately, education and knowledge are what helps dedicated professional installers stand out as Qualified Labor. They pride themselves on learning from the best and taking the industry forward:
"The value of education is that we can stand on the shoulders of giants who led the way and learned the hard lessons at great cost. We can learn the same lessons at the same foolish cost, or we can exercise a bit of humility and begin the race far ahead of a majority of the competition."
5. Want to Validate Your Skills as a Tile Installer? Get Certified.
The Certified Tile Installer program truly validates your skills and knowledge as an installer. It enables professional tile installers to provide industry-recognized proof of their abilities and secure more work.
Since taking the tests, Robert Davis said,
"I cherish the thoughts that I was up to the task and that I won't have to do it again, in equal measure."
Certification is the best way to validate your skills as an installer. Certified Tile Installer tests are offered throughout the year all over the country and costs $495. The test consists of a 155-question, open-book, multiple-choice technical proficiency exam and a full-day, hands-on portion. The written portion will definitely help you prepare for the hands-on part since it addresses the following topics:
Industry associations and industry standards
Safety
Concrete substrate considerations
Wood substrate considerations
Crack isolation membranes
Backer boards
Bonding materials
Ceramic tile performance properties
Tile installation workmanship standards and best practices
Cementitious grout
Movement joints
Flexible sealants (caulks)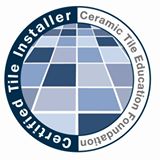 Ready to Validate Your Own Tile Installation Skills?
If you haven't already, consider becoming a Certified Tile Installer (CTI). As a CTI, you set yourself apart from the crowd and know how to anticipate tile installation problems before they occur. Do it right the first time and get paid accordingly.
Are you ready now to validate your skills as a tile installer? Become a CTI like Robert Davis!