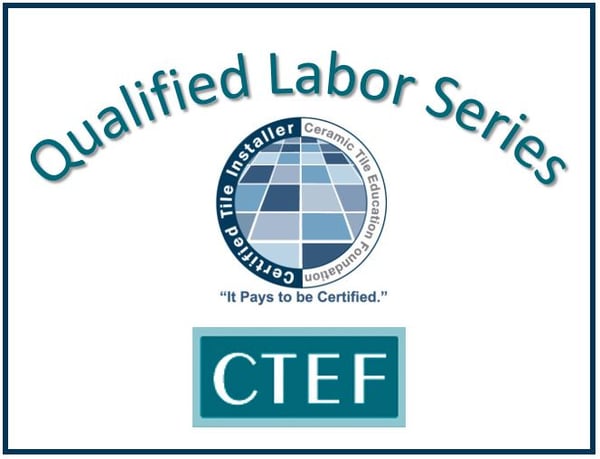 If you're serious about installing tile as a profession, you'll become a Certified Tile Installer. That's according to Bill Baptista CTI #834, who feels strongly about certification as a differentiator.
Bill is next in the CTEF Blog series about Qualified Labor based on an article in TileLetter.com titled Bill Baptista: "Don't Be Left Behind; Get Certified"
Meet Bill Baptista CTI #834, Owner J&B Tile
Bill Baptista is the owner of J&B Tile in Westport, Massachusetts, a company he opened in 1988 which specializes in high-end, custom showers. It's a company he keeps deliberately small after growing it to a 15-man shop. "Now, I'm small, but people are very happy with what gets done," he says.
Becoming a Certified Tile Installer has been an important aspect of his success.
Tile Certification Leads to Business Success
In fact, shortly after achieving Certified Tile Installer (CTI) status, Bill Baptista walked into a high-end tile shop in Portsmouth, Rhode Island, handed the owner a pamphlet explaining certification, and that was it. The owner immediately recognized the value and importance of qualified labor for her high-end clientele, including architects who are building multi-million-dollar homes.
As Baptista explains,
"Because she has high-end clientele, she wanted a certified installer. And that opened up the door for me. [The architects] want someone who knows what they're doing and doesn't look like they rolled out of the back of a pick-up truck. You have to kind of look the part."
Furthermore,
"I've been doing all her work ever since then."
Certification has proved especially lucrative for Baptista who is one of four Certified Tile Installers in his area. He makes a point of always making sure customers know that.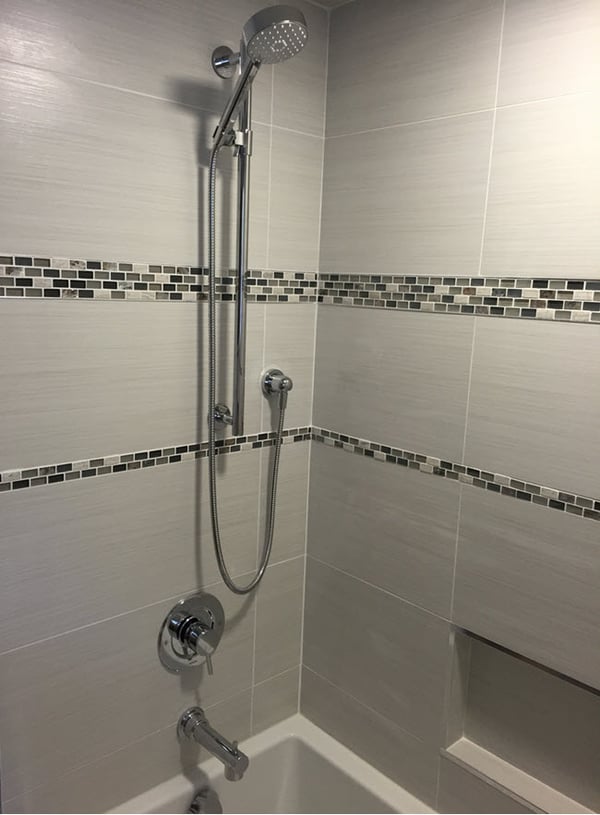 Certification Differentiates You From Tile Hacks
Baptista emphasizes that tile certification is no joke. More specifically, he says,
"There are a lot of hacks in this business. And it's not like an electrician or a plumber who have to be licensed. You don't necessarily have to be licensed in the tile business."
Certification benefits the entire tile industry, too. Baptista explains that at last once a week he has potential customers calling him to come and look at jobs that were done by non-certified tile installers. He explains,
"(These jobs are)... I mean horror shows. I don't think they know what a chalk line is, a straight line. They're not using the right notch trowels. They're not using the right mortar. They really have no idea what they're doing. They're giving the tile industry a bad name."
That's a serious problem.
>> See How Not to Install Tile on Floors, Walls and in Showers
Learn More Efficient Ways to Install Tile
Although Baptista went into the hands-on portion of the CTI test with considerable experience, he learned a few new methods and approaches that make him more efficient. He says,
"Being in the business that long, I knew most of my stuff, but it's kind of nice getting it reinforced. I definitely learned some things. Of course, I do things a certain way. When you go to the class you see things done another way. Not that I was doing anything wrong, but I could've been doing things a little bit different; more efficient like I do now."
Note: This is a point that Jason McDaniel makes in Passionate About Setting Tile By the Book: Jason McDaniel Explains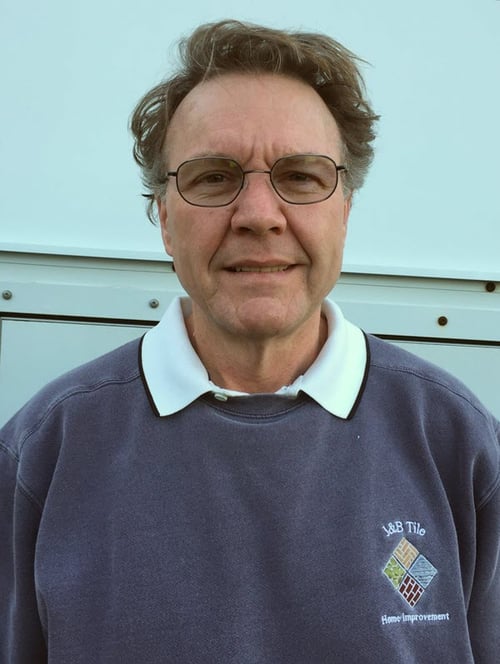 The Certified Tile Installer Program Has Integrity
To anyone who thinks that the Certified Tile Installer program tests represent disreputable schemes to grab money - a point some have made on Facebook - take Bill Baptista's word.
About CTEF director of certification and training Scott Carothers, Bill says,
"He doesn't just take your money and give you a certification. That guy makes sure you know what you're doing before he gives you that certification. In fact, when I was there, there were two other guys that had been there before and didn't pass the certification. They were there doing kind of a make-up before he gave them a certification. It's not just a money grab; [Carothers] is dead serious."
>> See Grading the Toughest 25 Square Feet of Tile You'll Ever Install (Video)
Always Be Educating Yourself About Proper Tile Installation
Continuing your education of the tile industry and all of the ever-evolving installation materials, methods and standards - not to mention the tile itself - truly is the best way to stay relevant. Baptista urges all tile installers as follows,
"If you're serious about this business and want to stay in it for the long haul, then you have to distance yourself from all those 'ham and eggers' out there that have no certifications. You have to do something different. And that's what I do. I go to [manufacturer] classes and when the National Tile Contractor's Association comes around and puts on their demonstrations, [I go]. Anything new on the market, I read up on it, look into it. You have to stay on top of things in this industry or you're going to be left behind."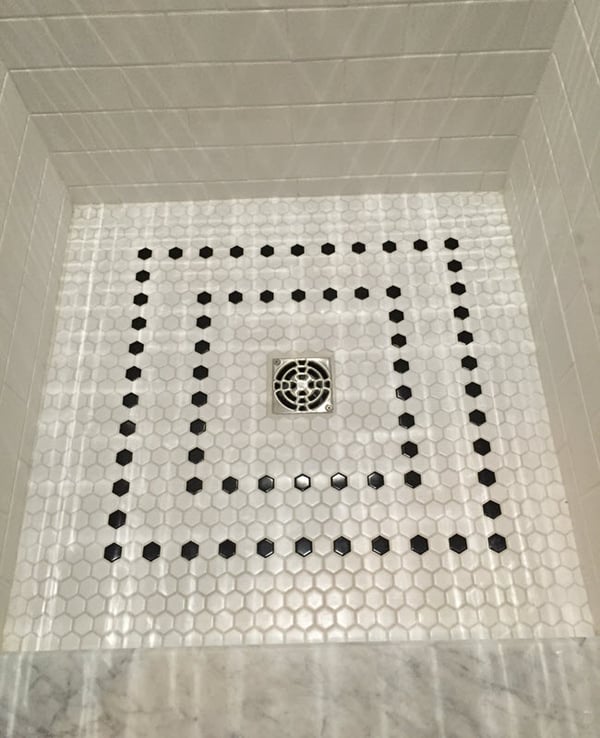 Always Be Educating Your Customers, Too
Don't forget to educate your customers about your tile installation knowledge and your CTI status. That builds trust and credibility. In Bill Baptista's case, it has also been an important part of his business success.
"When I go in and see a customer, I have a little binder that I bring in and show them all of these certifications that I've been to. And then I always ask them at the end, because they're usually getting more than one price, has anybody else shown you anything like this? And they say no. And I definitely get 90% of anything I go and look at. And I think it has a lot to do with [certification]."
Make use, too, of the tools available on the Ceramic Tile Education Foundation website. Print some of them out and hand them to customers to help them with their decision-making process. Baptista certainly does, explaining,
'Tile is expensive. It's expensive to install. Here's a pamphlet with what you should be looking for in an installer. People thank me for it and I usually always get the call."
Ready to Validate Your Own Tile Installation Skills?
If you haven't already, consider becoming a Certified Tile Installer (CTI). As a CTI, you set yourself apart from the crowd and know how to anticipate tile installation problems before they occur. Do it right the first time and get paid accordingly.
If you need additional reasons to do so, read Why Should You Take the CTI Test? Contractors Respond.
Are you ready to validate your skills as a tile installer? Become a CTI like Bill Baptista.
Thanks for reading.