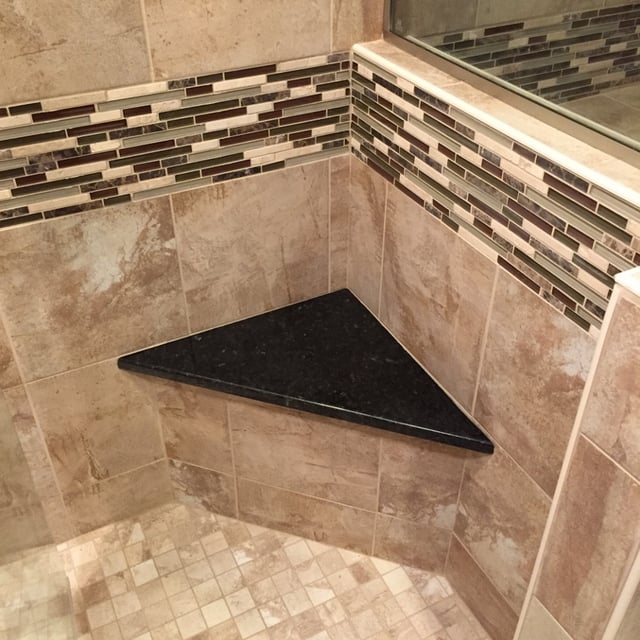 Have you encountered tile discoloration in a shower?
Showers, because they are inherently and intensely wet, tend to be harsh environments. They also tend not to be forgiving of uninformed installations. That's why employing Certified Tile Installers is so important. They know to anticipate situations such as tile discoloration in a shower because they take very seriously the TCNA Handbook, the ANSI Standards and manufacturer instructions.
In this article, we share with you observations that Martin Brookes, Heritage Marble owner, consultant and proud employer of CTIs, and NTCA Technical Trainer Mark Heinlein CTI #1112 made after reviewing images of a shower installation that exhibited tile discoloration.
Why Are Showers Such Harsh Environments?
It's important to understand how harsh typical showers are.
You see, showers have to deal with large quantities of water. They need to effectively provide a safe environment for intense water usage without subjecting the rest of the home to water damage.
Let's put that into perspective:
T

he average rainfall in Florida is about 60" per year.

100" of rain/liquid precipitation per year is the technical definition of

a rainforest.

A daily 15 minute shower represents 30 gallons of water per day or the equivalent of 3" of rainfall per day which translates to 1100" of rainfall per year.

That means that a shower represents a rainforest x 11.
So a stone or ceramic tile installation needs to be able to handle an intensely wet environment effectively and consistently over time, despite the fact that it's quite tricky to contain water in areas where building materials are moisture-sensitive.
>> See How to Manage Moisture in Tile Showers: Schluter Training Session
What's Causing the Stone in the Shower Floor to Discolor?
Here's the situation that Martin and Mark came across and were asked to provide expert advice on based on the description and the images below.
A beautiful stone product exhibited discoloration after it had been installed in a shower floor and in use for about one year.
The contractor sealed the stone before and after grouting.
The affected space represents approximately 4

-5 sq ft of stone mosaic tile.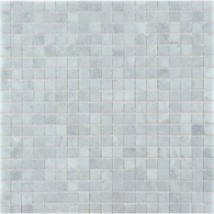 The contractor used a standard polymer-modified thinset and a pre-formed pan with a surface applied waterproofing sheet membrane.
The photos below show you what the tile discoloration in this shower looks like.

Notice the blotchiness which corresponds to water, and also how the discoloration looks to be going up the wall.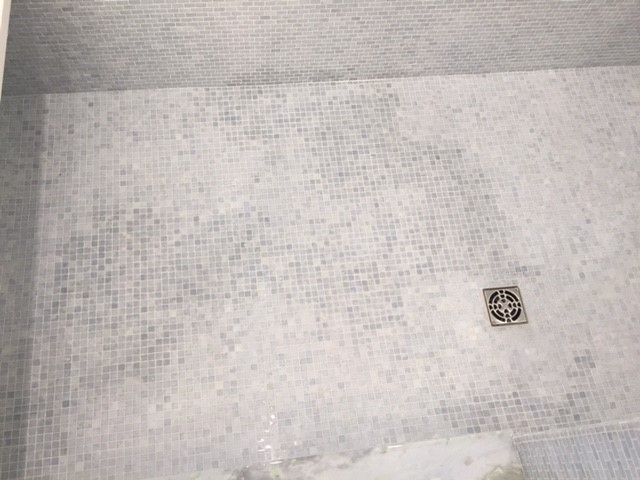 Not an Appropriate Material for this Shower Installation!
Based on the information and the photos, Mark Heinlein shared the following observations:
Improper application of the modified thinset on the membrane may cause the puddling of water on top of the pan resulting in water wicking up the wall and into the stones.
Some manufacturers of membranes and pre-formed tray systems have specific requirements for the mortars to be used with their systems. In this case, an inappropriate mortar may have been used and incorrectly installed which could potentially void manufacturer warranty support.
Become Familiar With Mortar Troweling Techniques!
Martin Brookes offered his expert advice on what he observed:
I have inspected many of these and here is my 2 cents. Certain membrane manufacturers make it very clear in their installation guidelines that moisture sensitive stone should not be used. Be sure to check with the manufacturer before installing.
Secondly, even though they used a modified mortar and a mosaic (both not in line with the manufacturer's instructions), I doubt this was the reason for failure.
The direct bond shower systems typically don't have a weep system to evacuate moisture. If the installer is not familiar with proper mortar troweling techniques, the ridges will not be flattened into the valleys, leaving aquaducts below the tile surface. The moisture which resides in this space, through the capillary action, will make its way uphill as you can see in the photos.
>> See How to Correctly Trowel Mortar When Installing Tile?
The Best Confirmation of Shower Tile Discoloration: Destructive Testing
To confirm the analysis, though, you would need to take the shower apart (as happens during the Certified Tile Installer hands-on test); Martin refers to this as destructive testing.
As this article demonstrates, successfully completing a tile installation in a shower environment takes knowledge of the materials, understanding of the correct installation standards and deep knowledge of proper troweling techniques.
>> See What HGTV Can Teach You About Quality Tile Installation
Don't forget about proper sloping recommendations either.
>> See Does Your Tile Slope To the Drain?
Have You Encountered Tile Discoloration in a Shower?
The National Tile Contractors Association (NTCA) has a task force working on similar discolorations of stone in all sorts of wet area installations with all different types of pans, drains, substrates, mortars, etc. Martin Brookes is a member.
If you'd like to help gather additional data to help determine precise cause(s) for these types of shower floor stone discoloration problems, please leave a comment and we will forward you the survey so you can aid NTCA in collecting data for the purpose of improving shower installations on a national level.
>> See How Qualified Tile Contractors Participate in the NTCA Technical Committee
Become a Certified Tile Installer
If you haven't already, consider becoming a Certified Tile Installer so you learn how to anticipate tile installation problems before they occur.
Note: We originally published this post on 07/11/2017, and have updated it.