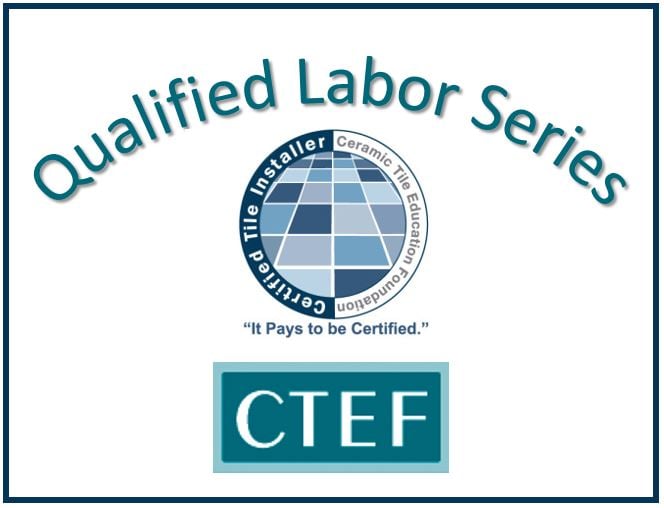 Having members of the tile industry come together to address installation issues, new product introductions and customer questions makes the work of the Ceramic Tile Education Foundation really exciting. Ultimately, this truly kicks tile industry education up a knotch or two and more.
Take Karl Parker CTI #1188 who believes strongly in industry education. Karl is the next Certified Tile Installer (CTI) to be featured in the CTEF Blog series about Qualified Labor based on articles in TileLetter.com.
>> See Karl Parker is on the leading edge of education in the tile industry. Non-partisan tile education event promotes product knowledge, NTCA and qualified labor (page 92).
Karl Parker Organizes Non-Partisan Industry Education Event to Raise the Bar on Tile Installation
Karl Parker of All American Design and Construction LLC in Albuquerque, New Mexico, has done something no other NTCA state director has done before.
(If you aren't familiar with NTCA state directors, they are active tile contractors and NTCA members who work closely with NTCA staff to promote membership in their region and support local NTCA events.)
>> See All American Design and Construction LLC Tile Letter NTCA Member Spotlight
In this case, Karl successfully hosted a tile education event completely unsponsored by any one tile vendor, bringing together customers and competitors.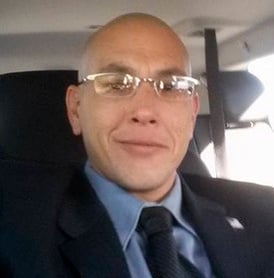 Karl Parker's brainchild started out with a conversation after the grand opening of his new show room, Creative Kitchen and Bath Solutions.
Parker was sitting around withJames Allred of Bostik, Tim Whittington of Schluter, and Matt Atencio of Stonewood Flooring discussing the need for unity, support, and education in the industry. Atencio suggested that Parker use his new-found state directorship to do something about the problem.
"Here at Stonewood Flooring we pride ourselves on customer service," Atencio said. "If your installers aren't up to date…something really bad [can] happen. It's important that [tile installers] are informed of everything, so everyone comes out a winner."
One thing led to another and Parker's first ever "non-partisan" tile industry education event was born.
Education Focuses on Uncoupling Membranes
After a great deal of discussion, Parker decided to focus the event on uncoupling membranes. Parker said he made this choice because, "out here in New Mexico, it's a hard market, and no one's really using it yet."
>> See What actually does an uncoupling membrane do?
Though uncoupling membranes were the star of the show, attendees also discussed how thinset mortars work, the value of directional troweling, and the main purpose of backer board as a tileable substrate.
Atencio said, "A lot of the people I talked to were very happy. It answered a lot of their day-to-day questions as well as bringing up topics that they didn't think the event would cover."

Education Event Details
With the education event topic finalized, Karl got manufacturer representatives and as many local tile vendors as he could on board. He then cold-called other tile setters to inform them about the event.
The following manufacturers participated:
Ardex
Blanke
Bostik
Custom Building Products
LATICRETE
MAPEI
Schluter
TEC
Local vendors included Arizona Tile, Big D Floor Covering Supplies, Design Materials, Emser Tile, Stonewood Flooring, and The Tile Shop.
55 people attended the event which took place at a local hotel. No one left empty-handed. Each participating manufacturer and vendor donated supplies for giveaways and raffles at the end of the program. At minimum, everyone went home with a healthy supply of buckets and trowels and each manufacturer donated one of their uncoupling membrane products to be raffled off.
Keeping Up With Tile Industry Product and Specification Changes
Donald McKeough, operations manager for Rio Grande Flooring, expressed how good he felt about the industry as follows,
"While all the suppliers are competing, they are all there to help you. The tile community has an open door."
More than just tile installers attened the event.
Bob Dreyer, owner of Bullseye Construction Services, and one of several general contractors in attendance, said about the event,
"The tile industry has changed so much in the last few years; there are so many [tile] products I don't know anything about. It's really good to have the information, so I can know the subcontractors we hire are doing the right thing."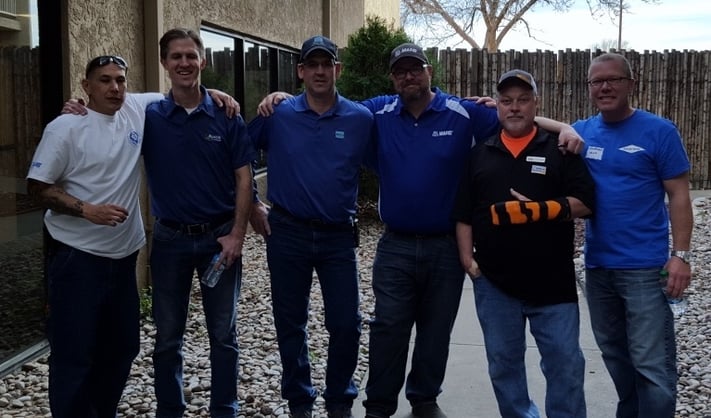 From l. to r., Karl Parker (far left) of All American Design and Construction LLC/Creative Kitchen and Bath Solutions -organizer of the educational program -- with participating manufacturer reps James Allred, Bostik; Tim Evans, LATICRETE; Jason Barbari of MAPEI; Tim Whittington, Schulter; and Johathan Hess, of SBS Construction Products, which represents both TEC/H.B. Fuller Construction Products and Blanke.
Bunny James, owner and founder of Precision Surfaces, said he attended, "to see any new things I haven't run into yet. I've been in the industry for 20 years and there are always new products coming up or new ways of doing things."
James plans on attending any future events put on by Parker.
Tile Installation Certification: More Important than Ever!
In the opening presentation, Parker highlighted the value of being involved with the NTCA. He also discussed the Certified Tile Education Foundation (CTEF) and the Certified Tile Installer (CTI) program.
According to McKeogh, certification has become more important than ever for installers in New Mexico,
"CTI is a great benefit because [New Mexico] is doing away with the G3 specialty license [for tile setting]. At least there's something out there that we can get to help cover that."
The absence of a specialty license for tile installers means that anyone can set tile in New Mexico whether or not they have experience.
Parker became a CTI in December 2015 because,
"I wanted to set myself apart from everyone else. There are only three other Certified Tile Installers in Albuquerque."
Since this first non-partisan tile industry education event, Parker has organized a second and plans on continuing on a quarterly basis.
>> See June 15, 2016 Tile Letter Editor's Letter for perspective on the second event held.
Do you actively participate in industry education sessions? Consider exploring the tile training courses that CTEF offers and then register to attend.