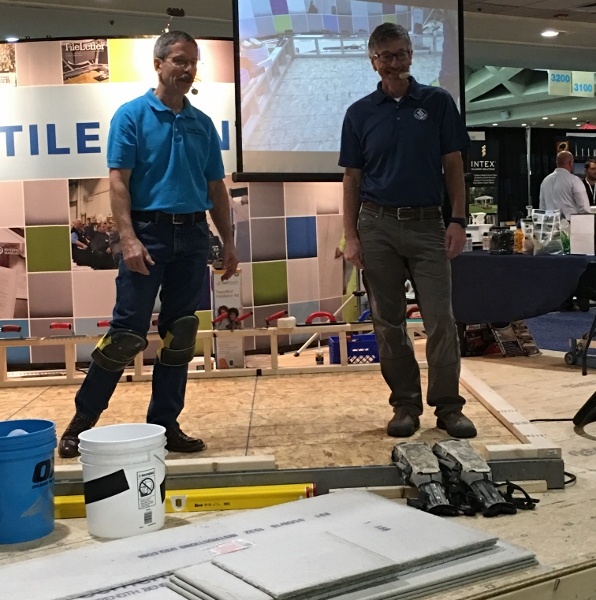 Did you attend the Remodeling Show | DeckExpo | JLC LIVE (R|D|J) on Oct. 6 and 7 in Baltimore, Maryland? If you did, you had the opportunity to see proper tile installation firsthand, and ask questions of installation experts, Scott Carothers from CTEF and Mark Heinlein from NTCA (pictured above).
>> See Why Scott Carothers Cares Intensely About Tile Installation Certification and Education
>> See Mark Heinlein on 5 Benefits of Being a Certified Tile Installer
What is the Remodeling Show | DeckExpo | JLC Live (R/D/J)?
R/D/J is an annual trade-only residential construction mega-event that provides remodelers, deck builders, and other industry professionals with a vibrant exhibit hall filled with nearly 300 products and services from leading manufacturers, a strong educational conference program with business and job site training, and networking events every day of the event.
In addition to residential construction professionals and deck builders, the show attracts a wide variety of deck and railing professionals, remodelers, general contractors, marine contractors, and other specialty contractors from North America and more than 20 countries from around the world.
What makes this show particularly interesting is that attendees tend to work with many types of materials, in addition to tile. By virtue of not focusing 100% of their time on tile, these professionals expressed intense interest in what Scott and Mark demonstrated. In fact, many observed that they had never seen tile done that way!
Seeing is definitely believing when it comes to installing tile correctly!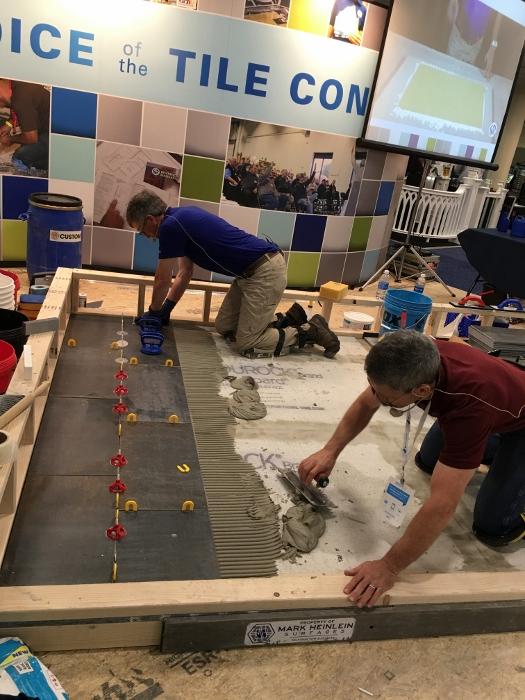 What Tile Topics NTCA and CTEF Focused On During the Remodeling Show...
During this two-day, cross-discipline show, NTCA trainer and presenter Mark Heinlein and CTEF director of training and certification Scott Carothers delivered a total of eight presentations highlighting different aspects of tile installation, complete with live demonstrations.
These presentations examined varying substrates, multiple methods of flattening, leveling and preparing substrates for installation and the use and applications of multiple types of mortar, grout and sealants, organized as follows.
On day one, Mark and Scott addressed the following:
Introduction to and description of tile industry standards, methods and best practices.
Overview of the project.
Criteria for different tile types and sizes, especially large format tile.
Examination and preparation of the substrate.
Installation of cementitious backer board.
Installation of electrical heat system encapsulated in self-leveling underlayment.
Expansion joints.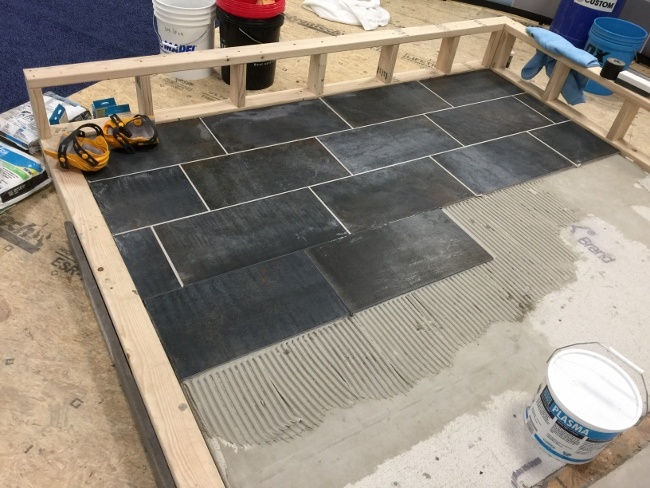 On day two, they covered:
Review of the project status and industry standards.
Criteria for proper mortar and grout selection.
Proper selection of grout joint width.
Standards for lippage and finished floor flatness.
Trowel selection and proper mortar coverage.
Manufacturer instructions and mixing techniques.
Tile layout and installation.
Grout installation.
Expansion and soft joint installation.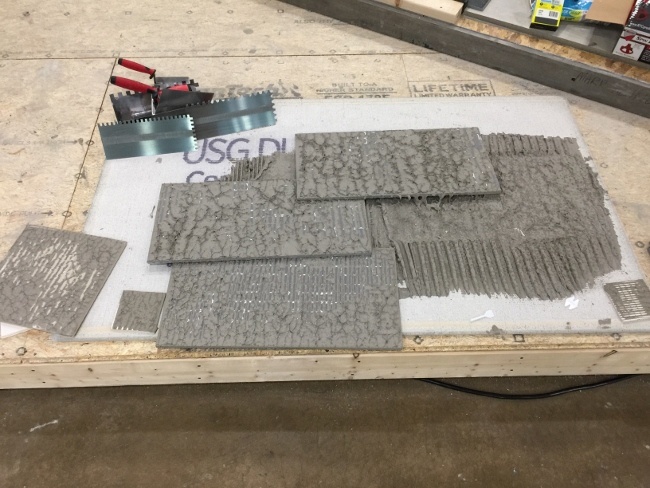 Over the course of the show and in between presentations, they conducted a live installation clinic whereby they prepared, tiled and finished two complete floor areas! They did so based on tile industry standards, best practice installation techniques and manufacturer instructions, essentially bringing to life the topics covered in the presentations.
Reactions to Proper Tile Installation Techniques

The centrally located live stage demonstration area made for plenty of conversation. It quickly became a key attraction of the show. Many contractors attended every episode of the demonstration. They kept the presenters and staff busy during breaks asking questions related to proper installation, industry standards, membership in the NTCA and interest in Qualified Labor / Certified Tile Installer testing.

We mentioned earlier that Scott and Mark heard multiple instances of attendees never having seen tile installed that way before. Throughout the event, they focused on informing their audience about the importance of adhering to industry standards, manufacturer instructions and best practices:

>> See How to Correctly Trowel Mortar When Installing Tile?

>> See Why You Need to Eliminate Spot Bonding When Installing Ceramic Tile

>> See Why Do You Need Expansion Joints When Installing Tile?

>> See Why a Tile Installation Mockup is Really Necessary

>> See ANSI Standards: A Tile Installer's Best Friend!

Many attendees realized the benefits and potential for improving their level of professionalism and networking and became members of the NTCA at this event.

CTEF's Scott Carothers also conducted two CTI practical examinations during the event. These were a big draw for contractors interested in improving their level of recognition and professionalism in the tile industry.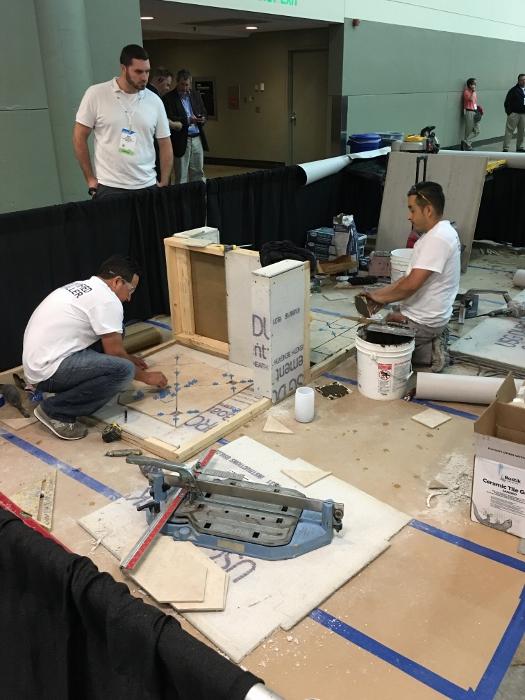 Special thanks to Connie Heinlein and NTCA's Assistant Executive Director Jim Olson who both worked behind the scenes, behind the camera, and with the audience to make the presentations a success.
What's Next with Tile Installation and the Remodeling Show?
The response to demonstrating proper tile installation techniques was so strong, that the NTCA plans to attend and similarly present at the Remodeling Show in Portland, Oregon in early December, 2016. NTCA trainers Robb Roderick and Mark Heinlein will take to the stage to demonstrate an installation similar to the one presented in Baltimore.
As in Baltimore, two additional installers will be tested to determine their skills and knowledge for properly installed ceramic tile.
If you are in the Portland, Oregon vicinity, we hope to see you there!