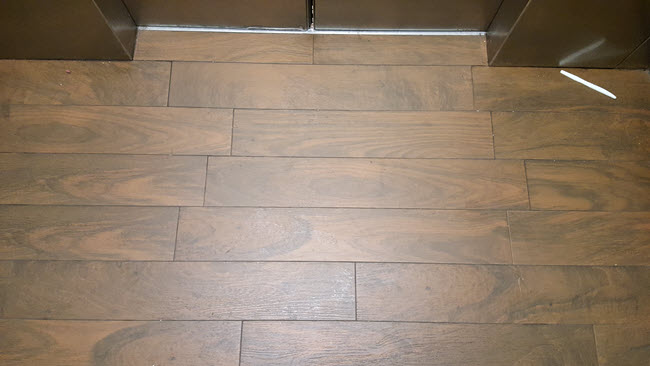 Wood plank tile: it's beautiful and offers so many advantages over hardwood floors. What kind of grout joint offsets should you work with?
The beauty and longtime satisfaction with ceramic and porcelain tile installations such as these many times depends on the use of the creativity employed in the design process. As an installer, when working with these popular woodgrain pattern tiles, you'll need to make many installation choices as to the tile pattern and color, grout joint offset along with the grout joint size, and color.
33% or Random Grout Joint Offset: Get Their Choice Before You Start
Those choices, though, must have the approval of your customer. That holds whether the consumer, the architect, the designer, the retailer, or even you the installer provide the pattern and layout suggestions.
Ultimately, success comes with the customer being happy with the final appearance.
33% Joint Offset Recommended
Most of these wood look tiles are planks that range from 3" up to 9" wide and lengths from 24" to 72" and beyond.
To aid in determining the grout joint offset, the ANSI Specification A108.02-4.3.8.2 offers assistance. It states:
"For running bond/brick joint patterns utilizing tiles (square or rectangular) where the side being offset is greater than 18" (nominal dimension) the running bond offset will be a maximum of 33% unless otherwise specified by the tile manufacturer. If an offset greater than 33% is specified, specifier and owner must approve mock-up and lippage."
>> See ANSI Standards: A Tile Installer's Best Friend!
>> See How Acceptable is Warped Tile?
What About Random Grout Joints?
This language is of great help to the installer by eliminating the 50% offset and its possible lippage, but what about a random grout joint?
Almost all wood flooring is installed using a random (no pattern) end joint.
Likewise, these tile installations may look more natural if installed randomly rather than a regimented joint layout.
However, this option presents two challenges.
1. Beware Excessive Lippage
If the planks are running in a random pattern, it is possible that offsets between 33% and 50% could occur and cause excessive lippage.
As an installer, you need to pay strict attention to this possibility and minimize joints in this area. If you do encounter excessive lippage, photo, the installer was fortunate that lippage was not a factor.
If lippage does occur, the installer may have to widen the grout joint to accommodate the resulting lippage.
>> See Three Lippage Hazards to Avoid
2. Know What the Customer Wants
The other challenge is to be certain the customer knows what pattern they have selected and how it will appear on the floor.
Photos of past jobs or a manufacturer's brochure or website can help them "see" the final look. Installers should never assume they know what the customer wants. We recommend a mockup and obtaining written agreement.
>> See Why a Tile Installation Mockup is Really Necessary
Always ask and get the final decision in writing. Not doing so can be extremely costly.
Otherwise, you might encounter a situation where you create a beautifully installed random joint plank floor that your customer rejects because the random pattern not only doesn't meet her expectations, but the expectations haven't even been established.
Remember that doing so is an opportunity to educate your customer about ANSI Specifications that call for a maximum 33% joint offset and explain about lippage and other tile installation methods and standards.
How Do You Handle Wood Plank Tile and Grout Joint Offsets?
How do you handle customer expectations especially as it relates to wood tile looks? Do you discuss offsets and review mockups to gain your customer's approval?
>> See Offsets, Grout Joints and Customer Expectations
The process demonstrates expertise and professionalism, not to mention respect for the project owner, something in which Certified Tile Installers take great pride.
>> See What's the Certified Tile Installer Program?
Thank you for reading,
Scott