Fred Hueston, President and Founder of Stone Forensics, recently published Why It Is Important to Hire a Certified Tile Installer, Including CTEF Certification. Have you read it?
The article is so powerful that - with Fred's permission - we are sharing highlights with you here.
Perspective on Stone Forensics and Frederick M. Hueston
Stone Forensics specializes in natural and engineered stone, tile, concrete, masonry, and related surfaces.
As the word 'forensics' suggests, the company specializes in using industry expertise along with chemistry, physics, and geology to better understand tile, stone, concrete, and masonry installations and failures.
Fred serves as a stone and tile inspector, expert witness, and historic preservation specialist. When he says something about proper (tile) installation, you must pay attention.
Why Hiring Certified Tile Installers is Important
Fred feels strongly about hiring Certified Tile Installers and how doing so can significantly benefit the outcome of your tile installation project, whether it's for your floors, walls, or countertops. He explains,
"Tile installation is a skilled craft that requires precision, attention to detail, and expertise to ensure a durable and aesthetically pleasing result."
In his article, he details how CTEF's Certified Tile Installer program supports the tile installation craft.
CTIs Demonstrate TIle Installation Expertise and Skill
To become a CTI, tile installers must demonstrate expertise in tile installation and knowledge through a 155-question written test, and a rigorous hands-on test. As Fred states,
"Their skills are examined through a 9-hour hands-on test to determine if they are capable of handling various tile materials, patterns, and designs with confidence, creating a greater likelihood of a flawless installation that enhances the beauty of your space."
>> See Grading the Toughest 25 Square Feet of Tile You'll Ever Install (Video)
CTIs Take Quality Workmanship Seriously
You'll hear the theme of quality workmanship come up repeatedly from Certified Tile Installers. According to Fred,
"Tile installation is a meticulous process that requires precise measurements, proper substrate preparation, and impeccable attention to detail. CTIs take pride in their workmanship and are committed to delivering a high standard of quality in every project, as evidenced by their desire for certification."
They believe, as you should, that the finished product they leave you with will not only look stunning but also stand the test of time.
>> See The Certified Tile Installers Credo
The Right Tile Installation Materials for the Right Application
Setting tile has become increasingly complex given the range of materials available. Certified Tile Installers understand and appreciate the importance of best practices, methods, and specifications depending on the application, as Fred notes:
"CTIs have demonstrated their ability to seek out the best information on various tile types, their properties, and their suitability for different areas of your home. They can guide you in choosing the most suitable tiles based on factors like water resistance, durability, and design preferences."
>> See The TCNA Handbook for Ceramic, Glass, and Stone Tile Installation
And Fully Understanding Substrates and Tile Installation Conditions
Tile installation is not just about placing tiles on the surface. (You may have heard Scott Carothers refer to 'tile placers' - not good.) It requires a complete understanding of the tile substrates and the conditions in which they need to exist and perform. Says Fred,
"CTIs have demonstrated an understanding of substrates, such as concrete, cement backer board, or drywall, and how to prepare them properly for tile installation. They can also assess the environmental conditions of your space, considering the installation is done in a way that accounts for potential moisture, temperature, and movement considerations."
What About Compliance with Building Codes?
Building codes vary from locality to locality and are not directly part of the CTI program process. However, CTIs are professionals and, as such, understand the importance of complying with local business codes and how to adhere to industry standards. Fred reminds you that,
"As your tile industry professional, CTIs can be a resource to ensure that your tile installation meets all necessary codes and regulations, providing you with peace of mind that your project complies with safety and construction guidelines."
Time and Budget Management for Tile Projects
Tile installation professionals know how to manage their time and budget. The Certified Tile Installer program places a premium on proper time management skills which means doing it right the first time so as to be efficient and avoid costly mistakes.
Selecting a tile installer based on price alone often leads to terrible outcomes. We don't recommend it.
>> See How Not to Install Tile on Floors, Walls, and in Showers
Listen to Fred who explains,
"While hiring a CTI may initially seem like a higher upfront investment, it can save you both time and money in the long run. Their certification forced them to work efficiently and focus on avoiding costly mistakes and rework during their hands-on test. Additionally, a well-installed tile surface requires less maintenance and repairs, ultimately saving you money on future maintenance expenses."
CTIs, Warranties, and Insurance
Finally, on the topic of warranties and insurance, Fred points out that:
"Some CTIs offer warranties on their workmanship, giving you added assurance and protection. In case of any issues arising from the installation, a certified installer will be equipped to address them promptly and professionally."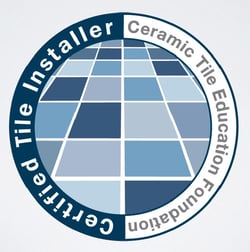 Believe Stone Forensics When It Comes to Certified Tile Installers!
Fred's final words say it all:
"Hiring a CTI is a decision that can make a significant difference in the success and longevity of your tile installation project. A tile installer with expertise, attention to detail, and adherence to industry standards is a recipe for a flawless and long-lasting result.
From achieving precise layouts to helping select suitable materials, a CTI brings valuable skills to your project, enhancing the beauty and functionality of your space.
When embarking on your next tile installation endeavor, consider the benefits of working with a certified professional, particularly a CTI, to create the tile masterpiece of your dreams."
Thank you, Fred. We couldn't state this any better!
And, thank you for reading.