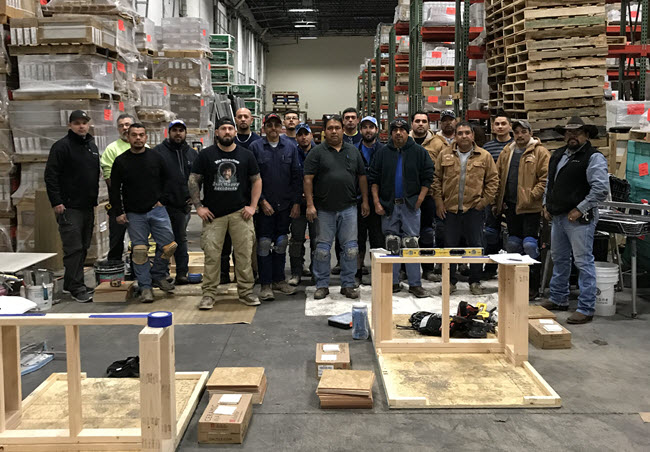 What do you do on weekends? In the case of the installers pictured above, they gathered to take the CTEF Certified Tile Installer (CTI) hands-on tile installation evaluation test at Daltile in San Antonio, Texas.
A Hands-on Testing Host Location
Daltile is one of many incredibly supportive members of the tile industry who support the CTI testing program.
Daltile not only supports tile installation training and education, but by also hosting the hands-on testing, they help expand the reach of the CTI program. If it weren't for the support of the tile industry, the Certified Tile Installer (CTI) Program would not be as successful as it is. For this, CTEF is very grateful.
>> See Schluter Hosts First New Jersey Hands-On Certified Tile Installer Test
>> See Tile Industry Teamwork in Action at Artistic Tile in Nashua, NH
In the case of Daltile, they regularly make available their many locations for hands-on CTI testing, and, as with all the generous hosts locations, site managers actively participate in making these events a success.
Why Daltile Values the CTI Program
In the 1:38 minute video below, you hear Daltile manager Darren Langston explain to CTEF Regional Evaluator Coordinator Kevin Insalato why he values the CTI program.
Darren has spent the past 27 years with Daltile. He is the manager of the San Antonio location and he values tile installation certification for the end user.
A certified tile installer is assurance that the end user will have an installation that looks good, is flat and is installed correctly.
That in turn means that end users will want to include tile again the next time they have a project in their home because they are so happy with the final installation.
By the way, this is the third CTI hands-on test that Daltile in San Antonio has hosted.
More Organizations Require Certified Tile Installers
Of particular interest for this hands-on CTI evaluation test is that many of the installers were required to undergo certification because their employers required it.
For example, J&R Tile in San Antonio only employs Tile Installers. Erin Albrecht (who's behind the camera in the video above) explained this concept in a previous article titled How To Differentiate Your Business With Tile Installation Certification,
"We are proud to have every J&R project led by a true professional, a CTI.
Our culture is to promote from within with our own apprenticeship program modeled around accepted tile industry standards and CTEF testing criteria."
Increasingly, too, companies must have CTIs on staff to bid on certain types of projects where Qualified Labor is required.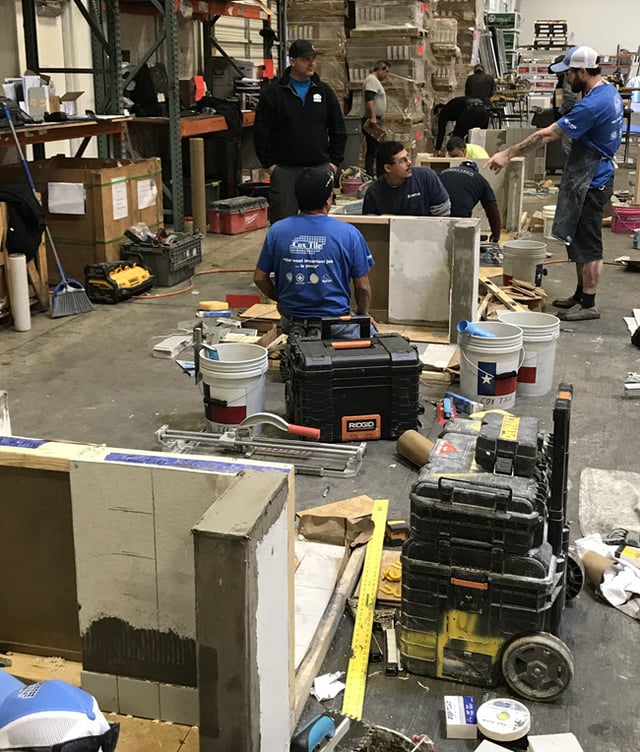 What's Involved for the Hands-on CTI Test?
The Certified Tile Installer (CTI) program comprehensively tests the skills and knowledge of experienced tile installers via an online open-book multiple-choice exam and a hands-on test. Both are based on current industry standards and best practices for producing a sound installation that exhibits good workmanship.
In the case of the hands-on test, CTEF evaluators are able to verify that an applicant has the skills to deliver an installation that meets industry performance and workmanship standards.
Installers must demonstrate their ability to execute a complex layout and proper installation of:
Vapor retarding membrane

Backer board

Tile (walls and floors)

Cementitious grout

Flexible sealant (caulk)
To learn more about what's involved in the test and how it is graded, see
>> Video Details Hands-on Certified Tile Installer (CTI) Test
>> Grading the Toughest 25 Square Feet of Tile You'll Ever Install (Video)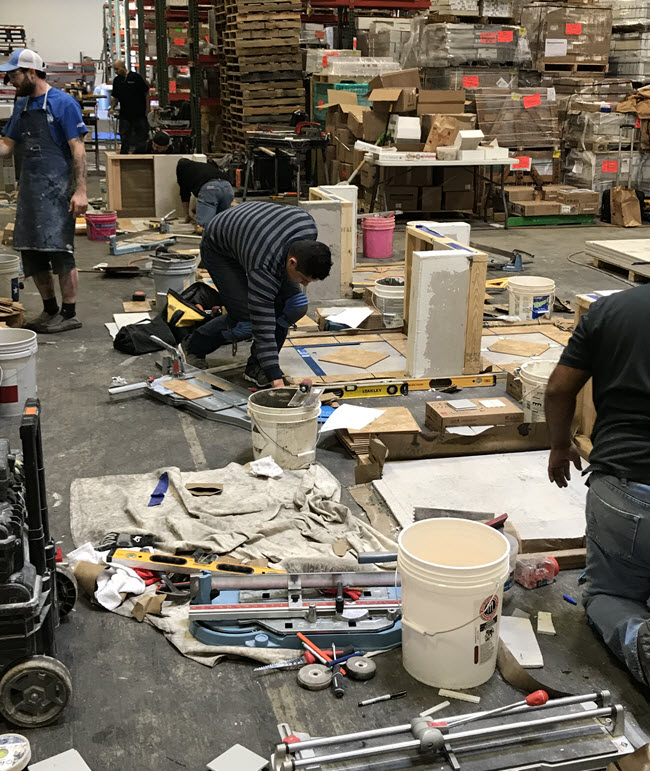 The pictures above were taken at Daltile in San Antonio, Texas, the day of a hands-on test evaluation. In addition to the 17 installers taking the test, three CTEF Regional Evaluators (REs) - Frank Galvan, Triniti Vigil, and Kevin Insalato - monitored the event.
When You Become Qualified Labor, the Tile Industry Has a Reason to Refer You
Special thanks to Darren Langston and Daltile for their ongoing support of the CTI testing program by hosting this CTI hands-on test in San Antonio.
For the installers who take the CTI test and the businesses supporting them, the payoff is gained by becoming a crucial part of the Qualified Labor pool that provides the consumer, whether residential or commercial, with a choice of the best quality possible.
It's also about supporting the tile industry and everyone who believes in delivering quality tile installations.
Are you ready to become a Certified Tile Installer?