Are You Inspired by Tile?
We are and that's why we're excited to join in on the National Tile Day celebrations by sharing with you highlights from current tile trends.
What is National Tile Day?
National Tile Day takes place on February 23.
Founded in 2017 by Coverings, the largest international tile & stone show in North America, this event shines a spotlight on the benefit of tile in residential and commercial design, and celebrates the timeless role it has played in architecture and design.
>> See Timeless Tile Installations That Delight the Senses
"National Tile Day is rooted in a desire to celebrate the many great benefits tile has to offer as a material," explains Alena Capra, industry ambassador for Coverings. "We're encouraging the architecture and design community to get inspired by tile."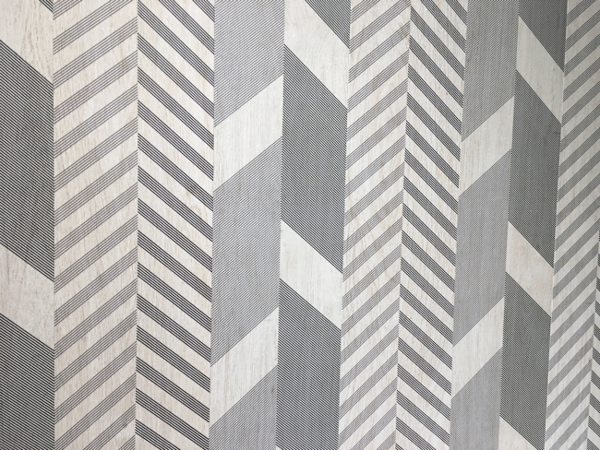 Given the advancements in inkjet printing technologies, the increase in tile sizes, new manufacturing techniques and the creativity of those designing tile, you'll find numerous stunning tile possibilities for every room in your home or office, as well as outdoor spaces and even outdoor walls.
>> Explore stunning tile installations from Coverings' Installation Design Showcase
It's no surprise when you consider how the durability and energy efficiency of tile adds value.
Furthermore, no material is more sustainable or has lower maintenance costs. Tile is not only versatile, but also durable and long-lasting.
>> See What's an Ideal Sustainable Building Material? Tile Of Course!
Wondering How to Observe National Tile Day?
At a very minimum, look around you and take the time to admire and appreciate the tile around you - its beauty, how it has been installed, the quality of the craftsmanship...
>> See Is Your Tile Layout Centered and Balanced, With No Small Cuts?
Explore tile online. You'll find stunning boards on Pinterest and remarkable images on Instagram, not to mention blog articles that highlight the beauty of tile.
>> See Have You Explored WhyTile.com?
Here are a few Pinterest Boards created by WhyTile:
If you'd like to be more actively involved (in addition to considering tile in an upcoming remodel), you can share on Instagram and Twitter favorite tile images and include the hashtags #WhyTile, #Coverings2021, and #NationalTileDay.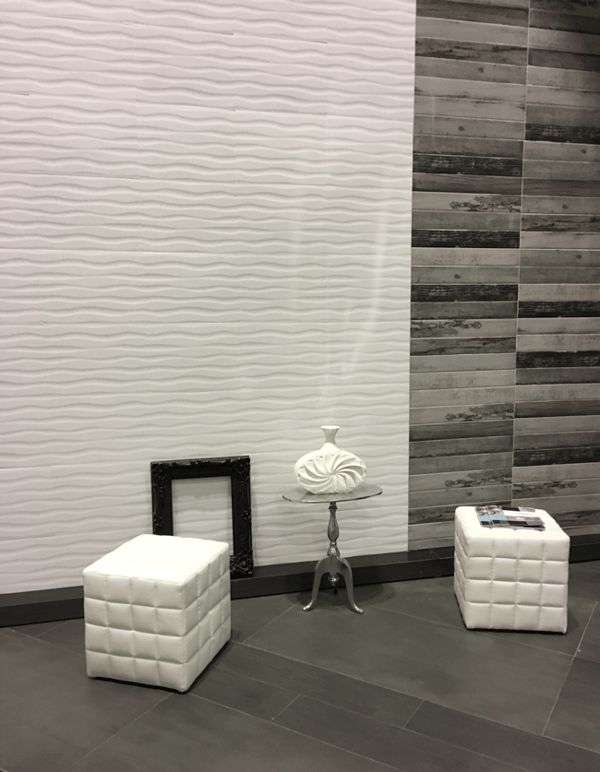 Tile Trends to Celebrate for National Tile Day
Let's investigate several highlights from articles reflecting the latest trends in North American, Italian and Spanish tile. You'll notice how they overlap. No surprise when you realize that the tile industry is truly international in scope.
>> 9 Major Trends in Bathroom Tile Ideas For 2021
>> Tile trends 2021 – from Art Deco to terrazzo to outdoor tiles
Apartment Therapy Tile Trends
According to Tile Trends You'll See Lots of in Apartment Therapy, be on the lookout for the following mesmerizing trends.
Fishscale
If you love repeating patterns and want one that is less geometric and more curvaceous, be sure to explore fishscale tile.
Dark Marble Looks
The next evolution in the classic marble looks is darker, black and brown marble patterns in porcelain tile. These warmer tones create bold and luxurious spaces without the maintenance requirements of traditional stone.
Gauged Porcelain Panels & Ultra-Thin Tile
When you think marble patterns, inevitably you think of big all-encompassing patterns that set off the natural veining and patterns.
Thanks to changes in tile manufacturing technology, gauged porcelain tile panels are now possible. These are measured in feet (and meters) rather than inches, and can be ultra-thin, making possible dramatic installations that show off the beauty of marble with few grout lines.
Hand-Painted Decorative Tile Looks
It's not all about imitating nature in tile, though. Decorative patterns - either by reinterpreting traditional hand-painted designs or creating contemporary interpretations with texture, 3-dimensions and distressed finishes.
Super-Realistic Wood Tile Looks
Wood-looks continue to be strong. As with stone-looks, advancements in inkjet digital printing technology continue to generate new evolutions with stronger visuals and even more realistic tactile qualities that match new styles available in hardwood.
You'll even find wood-look tile styles that appear hand-scraped and wire-brushed.
Tile Trends Highlighted in the Coverings Blog
By the way, tile trends exist in a continuum as you can see with the evolution of 2019 trends into 2020. For example, according to Coverings' Top 7 Tile Trends to Watch in 2019, here are trends to keep your eyes peeled for:
New Surfaces
Tile producers have completely upped the ante in terms of surface design, which can be seen in dozens of awe-inspiring, new finishes and textures designed for aesthetics as well as functionality.
At the same time, looks that complement industrial designs are still trending: oxidized metals, aggregate stone, concrete and terrazzo looks.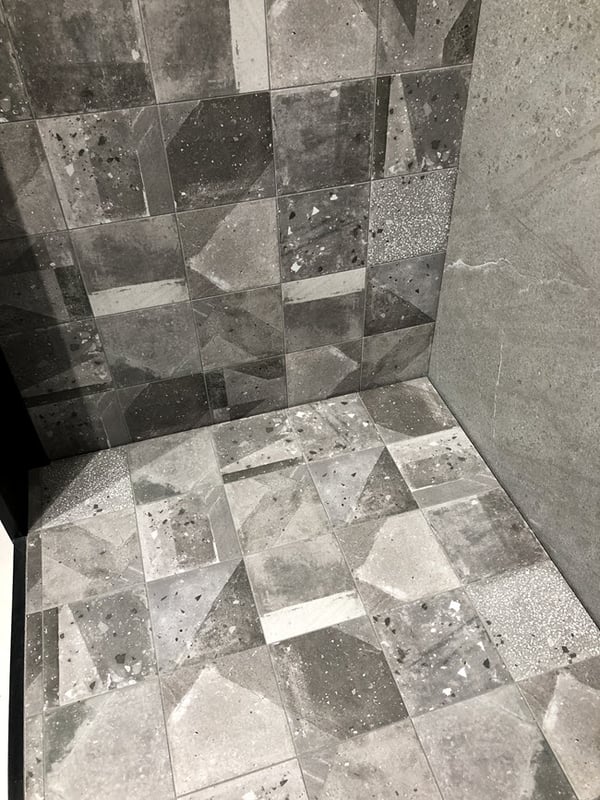 Tile Systems
You'll find that many companies are expanding their range of thicknesses – and thus applications – with tiles ranging from 3-30mm including a new 12mm thick porcelain tile specifically designed for kitchen countertops, bathroom vanities, tables, and outdoor kitchens.
Playful Tile
Perhaps the strongest theme is playfulness as you witness the continuous experimentation with color, size, and patterns to create one-of-a-kind surfacing for architects and designers.
Lunar Marble
This trend echoes the dark marble looks from earlier in this article. It's a deliberate attempt to move beyond common varieties of stone like Carrara, statuario, and travertine to find obscure marble full of color and character. These are then digitally manipulated to create something that is literally out-of-this-world.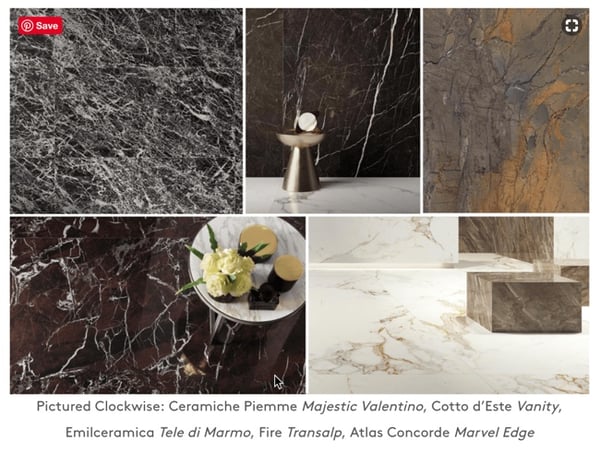 The Blues
Whether soft or electric, blue is one of the hottest hues in tile design this year, offering a revitalizing pop of color to a variety of interiors.
In fact, Classic Blue is the Pantone Color of the Year for 2020.
Big Patterns
Think big porcelain panels and slabs with minimal grout lines to create the alluring effect of wallpaper with the technical benefits of tile.
Did you know that some companies are even marketing their products as ceramic wallpaper, offering an expansive catalog of patterns digitally printed on tiles up to 5.25'x10′?
Tradition
Everything old is new again - from ancient forms and 18th-century patterns to tiles inspired by charming places seemingly fixed in time.
Also on the Coverings Blog is At the Core of Ceramics. This article breaks the current tile trends into two mega trends:
Very thin gauged porcelain tiles that offer clean, simple designs and are often inspired by stone, marble and even alabaster and onyx.

A revival of smaller more traditional tiles that feature some of the core elements of ceramics: color, decorations, relief work, and effects created with glazes.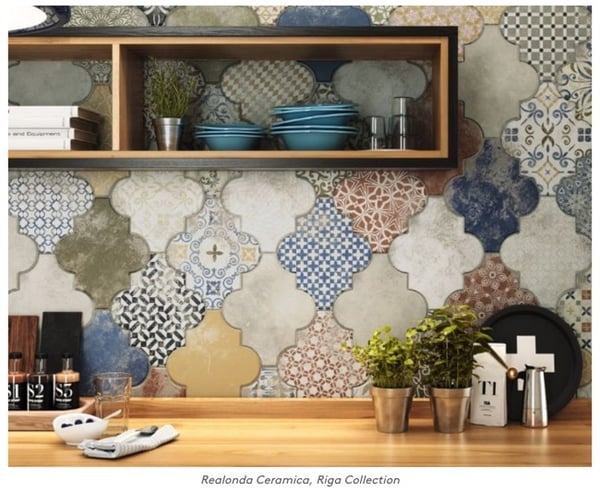 Let's Not Forget What Makes Tile an Ideal Design Element
Ceramic tile is a superior material for most applications, residential or commercial, due to its versatile design options, waterproof installation, health and safety benefits, durability, and that it's sustainable.
1. Versatile Design Options
Virtually any size and any finish can be created to meet any design trend or residential taste. Ceramic tile has the functionality to be installed on all your surfaces — the floor, wall, backsplash, shower floor, insets and shower surround, ceiling, pool, and patio, to name a few.
Add to the mix the pattern in which your tile is hand-laid and the color of grout you choose. Ceramic tile's unlimited potential for color, shape, texture, style, and pattern combinations means your options are truly endless to suit any décor and virtually every need.
2. Waterproof Installation
Unlike many other materials, a high-quality tile installation is not affected by water.
3. Significant Health Benefits
Ceramic tile is free of harmful pollutants, providing a healthy space:
No volatile organic compounds (VOCs)

No allergens

No formaldehyde

No polyvinyl chloride (PVC)

No plastic
4. Durability
Ceramic and porcelain tile is extremely durable and able to withstand the rigors of high-volume commercial traffic.
Add to that stain resistance, scratch resistance, that it prevents bacterial growth and is fire resistant, too.
5. Sustainability
Tile is energy efficient
Tile's inherent thermal mass reduces peak heating and cooling, which helps moderate temperature swings in your home. This means less work for your HVAC system and more energy savings for you.
Recycled and Reusing Tile
You'll find many tile options available which are made from recycled materials. Plus, once installed, tile can be reused generation after generation. There's no question: combining incredible durability and responsible manufacturer usage of recycled content, tile is one of the most eco-friendly flooring options available.
Regional Raw Materials
Did you know that the materials used to make tile are generally found within 500 miles of manufacturing facilities? This explains why tile has the lowest carbon footprint of any flooring choice!
Tile is Certified Green
Look for the Green Squared Certified® mark. It quickly and easily identifies the most sustainable products available such as tile which embodies intrinsically sustainable product characteristics, as well as efficient manufacturing and corporate responsibility.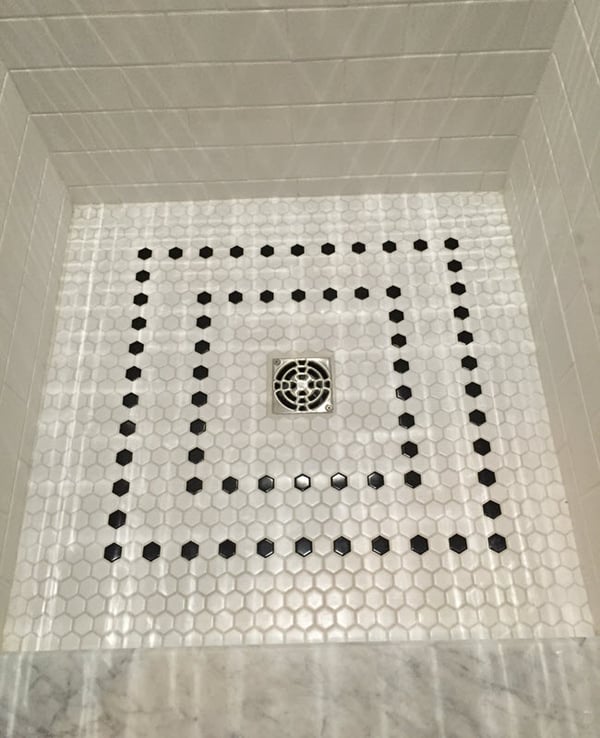 Don't Forget the Importance of Qualified Labor for Your Beautiful Tile Installations!
As important as the tile is, the quality of its installation matters significantly. For that reason, we recommend Qualified Labor for every installation. Certified Tile Installers keep up with all of the current tile trends and the materials developed to install them successfully.
>> See 5 Tile Trends Affecting Installation Methods and Standards from Coverings.
Happy National Tile Day!
Thanks for reading!
Note: Originally published on 2/19/19 and updated on 2/23/20. National Tile Day is timeless. ♥