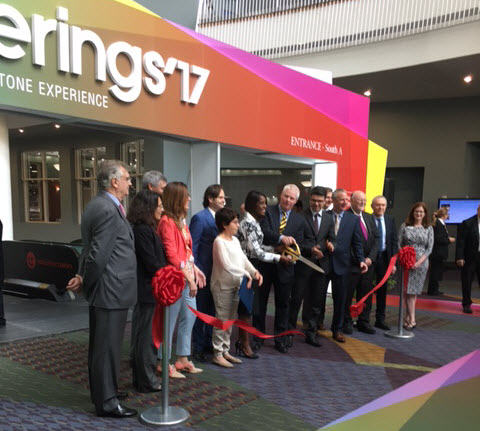 Why should we discuss tile trends on a blog that focuses primarily on tile education and installer certification? Because they really matter.
New trends in tile often affect tile installation methods and standards. They often call for new installation materials, and more importantly, they raise customer expectations for tile installations done right.
In other words, with so many exciting tile trends capturing the heart and imagination of homeowners, architects and designers, it's even more important for tile installers to stay up-to-speed with best practices so they can install those new tile products correctly the first time.
That's another reason for hiring a Certified Tile Installer.
5 Exciting Tile Trends from Coverings 2017
The best source of new trends in tile is Coverings, the yearly tile and stone trade show. It's the largest tile and stone show in North America with 9 miles of the latest trends and includes exhibitors from over 40 countries.
It's also the show where you get to witness installation and design firsthand via the Installation Design Showcase, using many of those new products.
>> See Installation + Design
Unlike trends in the fashion world, those in tile tend to evolve and mature slowly. They also tend to stick around for a while as they inspire future interpretations of the trend.
>> See Timeless Tile Installations That Delight the Senses
If you are an installer, you can't ignore tile trends because eventually you'll need to know how to properly install these new products, regardless of the methods used in the past.
In fact, as Scott Carothers has mentioned multiple times on this site, it's critical to stay abreast of the latest tile installation standards and best practices. Not only is tile changing, but also the products used for installing tile. Tile is truly dynamic and exciting as you can see from the trends we detail below.
1. Wood Plank Tile
Wood plank tile continues to evolve. It's very popular because it offers all of the beauty and individuality of wood without the maintenance.
Not only can you find intensely realistic wood finishes with textures that feel authentic, but also a wide range of colors, wood patterns and levels of pattern variation to meet any design preferences for walls as well as floors. You'll even find planks blended with fabric and other products that accurately mimic natural stone. Again, without the maintenance.
Wood planks are becoming longer and narrower as well as shorter and wider as you can see in the image below.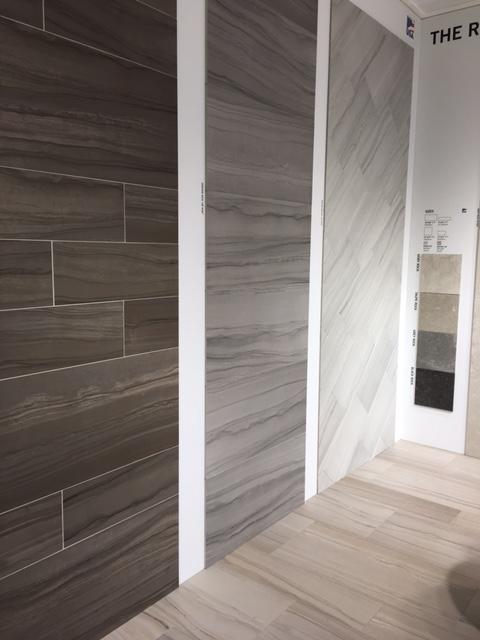 In terms of installation implications, wood planks fall into the large format tile category.
>> See Is Your Floor or Wall Flat Enough for Large Format Tile?
In the image below, notice how beautiful wood tile looks in a herringbone pattern.
Notice, too, how that plank format morphs easily into a subway tile. In this case, the look is more rustic and artisanal-looking and it features considerable shade variation.
>> See How to Prepare for Tile Shade Variation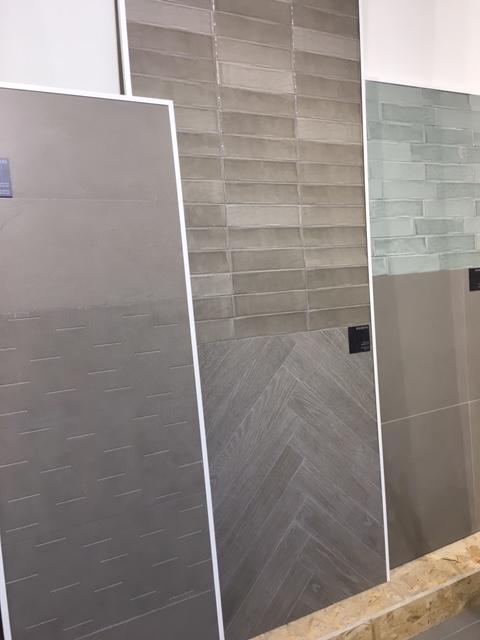 The subway tile trend remains important as does the brick-look in porcelain. The image below captures that subway tile or brick shape in a rustic weathered finish in high-contrast colors.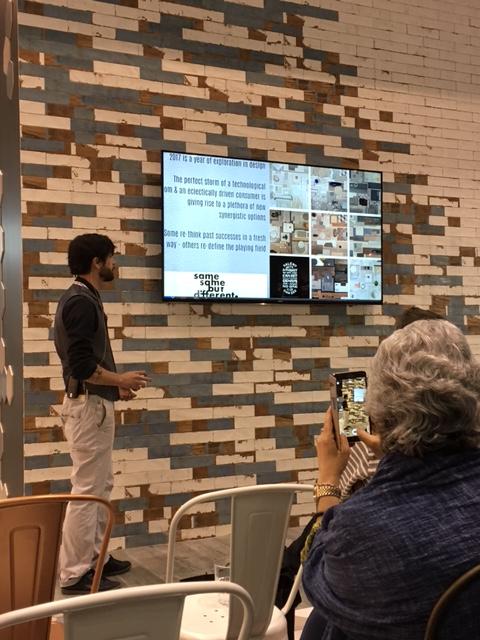 The image below also includes a wall with considerable shade variation. It contrasts beautifully with the low-contrast large format wall tile, and the wood plank chevron floor pattern.

2. Marble and Stone Porcelain Looks
You may be wondering how marble and stone looks can be a noteworthy trend. After all, stone looks are a natural for tile.
What's different is the increased realism of the patterns, similar to the wood-looks in tile. The marble and stone patterns replicated in tile capture with uncanny accuracy the veining, the tones, the character and the shade variation. Add to that a large format and the effect is truly exciting!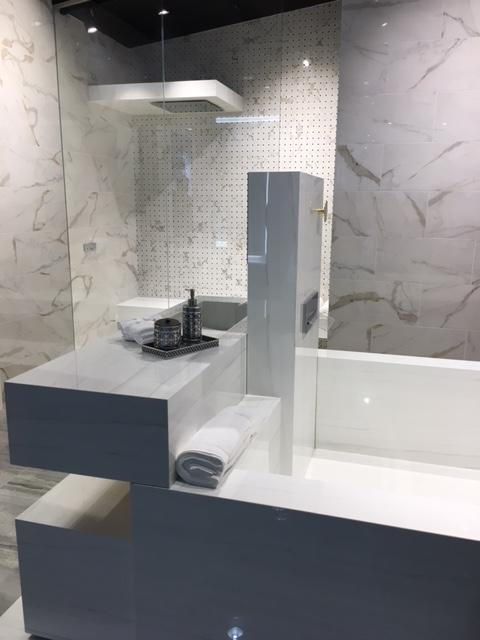 What makes porcelain marble looks in particular so compelling is how much more forgiving it is in wet environments than natural products.
>> See How to Deal with Tile Discoloration in a Shower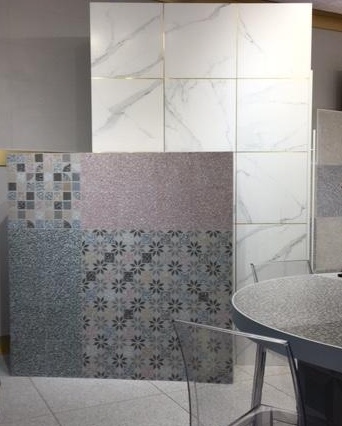 Another stone look featured at Coverings17 consists of interesting rock amalgams, where the small shapes create larger natural-looking patterns.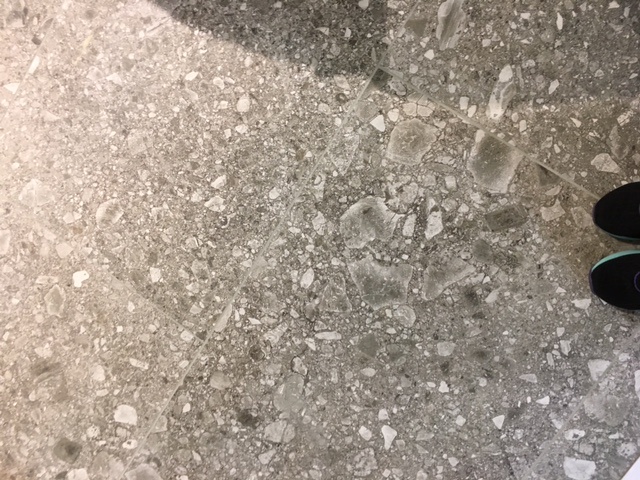 The patterns are abstract.
Here, too, large formats are a big deal and need to be installed correctly.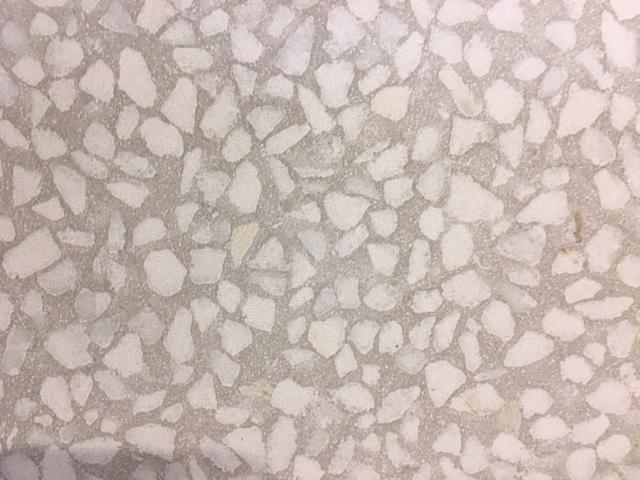 3. Extreme and Subtle Tile Textures
Subtle textures we observed include not just wood-grain patterns, but also linen and fabric textures.
In terms of extreme tile texture, Alena Capra used 3-D tile in her Installation Design Showcase project during Coverings16.
>> See Synergy Between Ceramic Tile Installation and Design? Critical Says Alena Capra
That trend continues.
What caught our eye, though, is an added rustic or artisanal quality that is very playful. In the image below, the subway tile shapes create interesting dimensional light effects. It contrasts beautifully with the plain, flat-surfaced (large format) tile below it.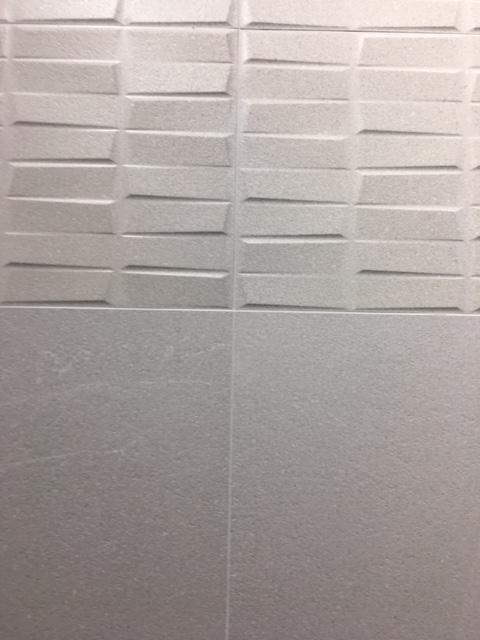 In this more raucous installation, all kinds of 3-D patterns in different colors create a patchwork of large hexagons. The look is definitely hand-crafted, yet also industrial.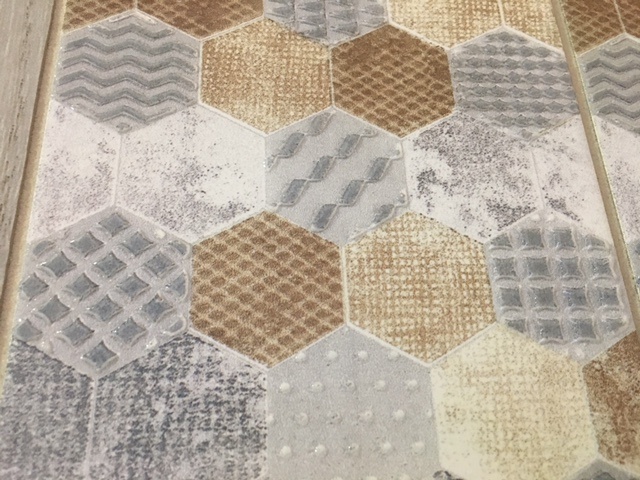 4. Hexagons in Different Scales
Speaking of hexagons, they continue strong in tiny form as well as large!
We noticed hexagons included in playful geometrics as you see here where the small hexagons form a diamond pattern. Notice the different colors and qualities of the individual hexagons: they include variation and even shimmer.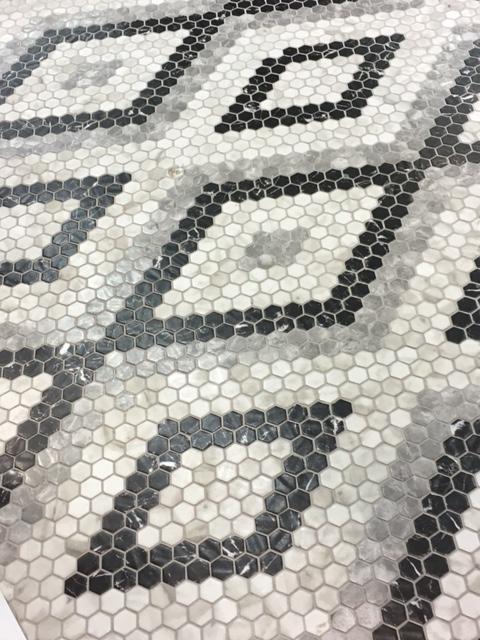 This next image combines a variety of hexagons - in different solid patterns with a traditional cement tile pattern patchwork.
As with all tile installations, and particularly those featuring ranging patterns and colors, it's critical to create a mockup and obtain customer approval beforehand.
>> See Why a Tile Installation Mockup is Really Necessary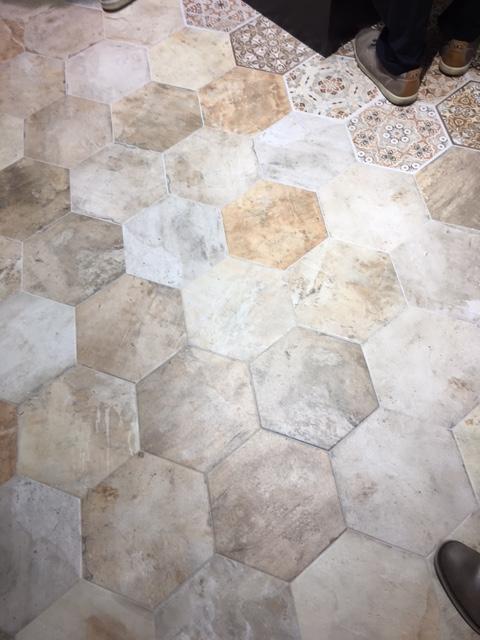 5. Big Industrial Looks in Tile
Perhaps the biggest trend in tile has to do with large size panels often interpreted in time-worn industrial looks.
You'll see these large tile panels used on walls, on floors and on countertops.
You'll even notice thicker versions used as pavers for outdoor spaces.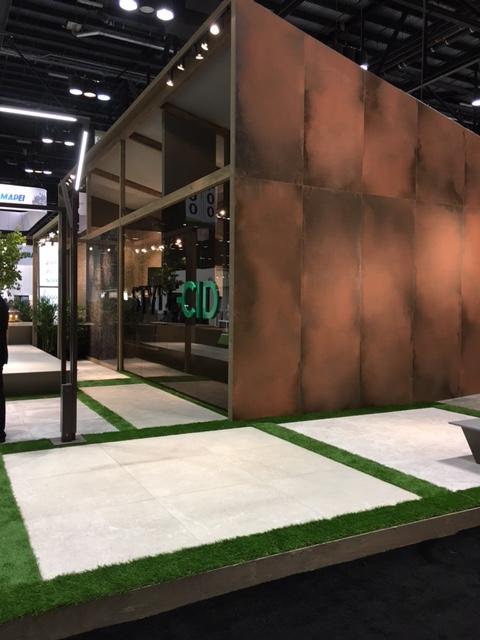 These industrial looks can be metallic and oxidized, or concrete-like. The effect is usually contemporary, yet surprisingly warm as in the example below.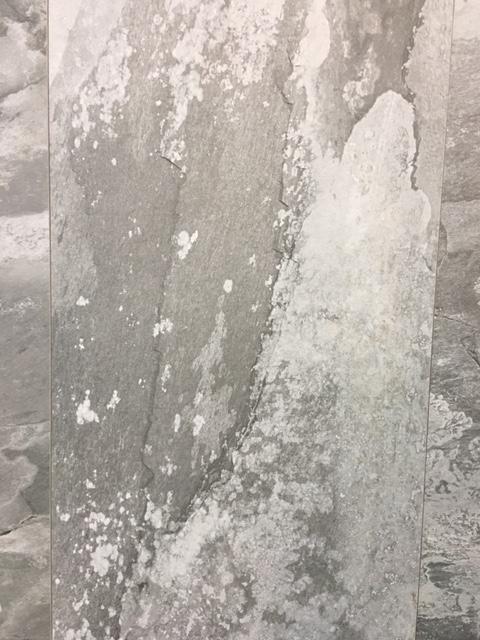 When it comes to installing these large panels, you definitely need specialized experience, tools and techniques that the Advanced Certifications for Tile Installers validate. This is especially true since at Coverings17, the Tile Council of North America announced approval of the installation standards (A108.19) for Gauged Porcelain Tile (GPT) which in the recent past has also been known as thin tile.
>> See Industry Collaboration, Exhaustive Research Results in New ANSI Gauged Porcelain/"Thin Tile" Standards Debuting at Coverings
How these Trends in Tile Affect Tile Installation
As we mentioned at the beginning at the article, trends bring new products and require new techniques to ensure the proper installation and full enjoyment of the finished tile space. Although we've only touched on a small subset of new tile product developments, that subset highlights how vibrant and dynamic the tile industry is to the architecture and design communities.
Your next kitchen or bathroom installation may not involve the new 10 foot tall porcelain panels, but it may include large format tile in a wood plank look or a cement-stone look combined with textured mosaics. To achieve this, you'll need someone who can create and complete a stunning installation using the proper expansion joints, without spot bonding the mortar on the back of the tile, but rather by properly troweling the mortar in a straight line. High quality installations will always stand the test of time.
>> See Why Do You Need Expansion Joints When Installing Tile?
>> See Why You Need to Eliminate Spot Bonding When Installing Ceramic Tile
>> See How to Correctly Trowel Mortar When Installing Tile?
That's why it matters to hire a Certified Tile Installer.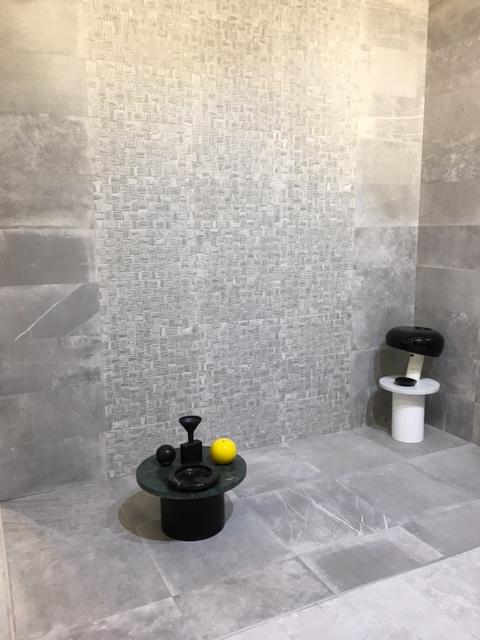 More on Trends in Tile at Coverings17
For more information (and great visuals) about tile trends at Coverings, read: