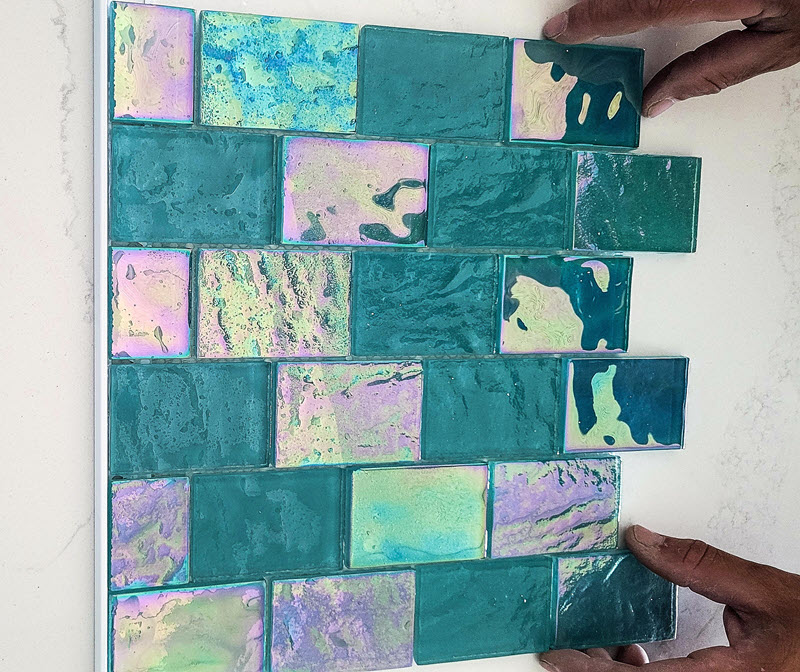 If you have no experience in tiling and haven't been involved in a trade school program, how do you become a tile installation professional?
Great question, and here are options for you to consider.
How to Become a Tile Professional
We've found that there are two aspects to the tile profession. One is understanding what the trade demands, and the other is knowing what steps to pursue.
What's Involved in Being a Tile Installer?
First, what does being a tile installer entail?
Tiling is Physical Work
Installing tile is physical work, so be prepared to interact firsthand with tile in a variety of sizes, as well as in boxes, not to mention installation products and materials such as thinset and grout. You may need to lift and carry those materials in packages or buckets, and you'll operate tools to mix thinset, cut tile, and more.
Realize, too, that you'll be on your knees, or standing for extended periods of time.
Installing Tile Involves Tracking Many Details
Are you detail-minded? That's a real plus for tile installers.
Tiling involves laying out tiles to be installed, sometimes in a pattern. No two spaces are the same; once you measure and take into account the size of your tiles and how they fit into the space, you may need to determine how best to place the tiles to minimize cuts while creating a visually attractive installation.
You'll want to be exact in your measurements, and comfortable rechecking your work.
Some installation products have a short working time, and you don't want to run out of materials mid-project.
Finally, the neater you are in your work, the less time you need to spend cleaning up.
>> Clean Tile Installation + Technical Excellence: Chanel Carrizosa CTI #1380
Time Management Skills Matter For Installing Tile
Tracking details goes hand-in-hand with time management skills. Can you complete a task within a set amount of time? Can you plan out what you need for the task?
As you become more knowledgeable and have more experience, you become more competent and efficient installing tile.
>> How To Cut Tile and Manage Time (Video)
Some Tile Work Takes Place in Customers' Homes
Many tile professionals focus on residential business. When that's the case, you need to work in another person's home, sometimes with the homeowner present.
At some point, you may be the person who discusses expectations for the installation with the homeowner.
Regardless, you'll want to be courteous and respectful of the space during the project and listen carefully throughout the project so you can communicate effectively with the homeowner.
For those working on commercial projects, you may need to interact with the project owner and other decision-makers such as architects, and designers.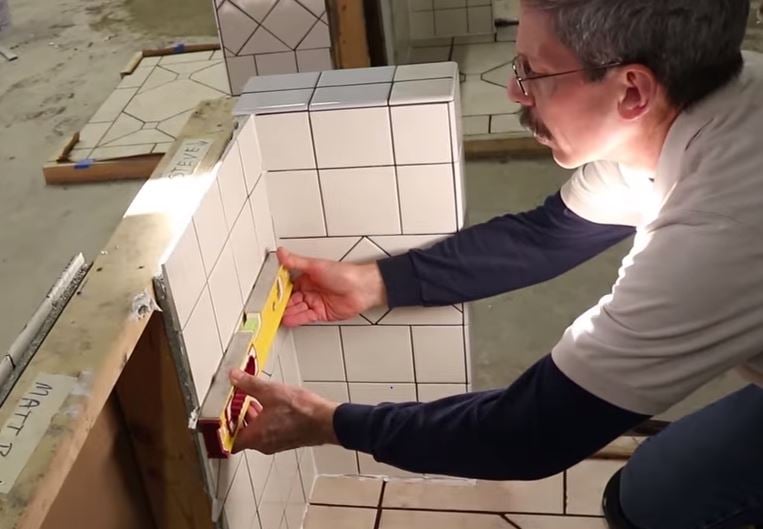 5 Steps to Becoming a Tile Professional
If you're serious about becoming a professional tile installer, here are the steps we recommend.
Step 1: Obtain Your High School Diploma
Step 2: Learn the Tile Trade
Step 3: Become a Certified Tile Installer
Step 4: Join a Tile Installer Professional Organization
Step 5: Develop a Professional Online Presence
Step 6: Never Stop Learning!
Let's explore each of these steps in more detail.
Step 1: Obtain Your High School Diploma
A good first step is to graduate from high school or to successfully complete a GED (General Educational Development) program consisting of four subject tests that indicate you have high school-level academic knowledge.
>> Check out GED.com including how to complete the tests online.
If you're still in high school, look for classes such as the ones that Indeed.com's article titled How to become a tile setter lists:
"Woodworking: A course in woodworking can teach you how to use the tools and equipment tile setters may use daily, like circular saws and electric cutters. A woodworking course offers the chance to learn how to safely and properly use these tools while under supervision.
Math: In math class, you can learn how to take proper measurements, which tile setters use to measure and cut tile accurately. You can also use your knowledge of addition and subtraction as you offer clients cost estimates for your services.
Art: Tile setters lay tile so that it looks nice and compliments the interior or exterior space. They also choose colors that match the room the tile is going into. An art class may help you get an idea of the best ways to choose and set tile in the most aesthetically pleasing way."
And, if you're all set, then go to Step 2.

Step 2: Learn the Tile Trade
Next, you'll need to start your exposure to tile installation. You might take part in a formal apprenticeship or journey worker program, or create your own education path by starting as a helper to gain experience and absorb the responsibilities associated with being an installer.
If you're not ready to take that step, consider a training program from CTEF. Note that you may be eligible for a scholarship from FCEF (more info below).
Let's explore each of these options.
Tile Installation Apprenticeship Program
Some tile contractors have formal apprenticeship programs in place whereby you progress through different roles as you gain experience shadowing and supporting expert installers. You become familiar with the tools, how to measure, lay, and seal tile.
Journey Worker Program
Union apprenticeship programs typically last four years. As Training to Become a Tile Floor Installer explains,
"Apprentices are paid a sliding percentage of the negotiated journey-worker wage, based on time in the program. They spend about 2,000 hours on the job site each year and about 150 hours in the classroom or online training.
Furthermore, because these apprenticeships are a partnership between contractors and the union, the costs are split between them. Consequently, apprentices pay only for some basic materials.
As a journey worker, you become qualified to work without supervision. With a little experience, you can choose to become certified in the installation or licensed to run your tile installation business."
Once you have completed the program and are a journey worker, you are set.
>> What About Tile Apprenticeships and Vocational Schools?
Become a Helper to a Tile Installer
You may need to develop your own education path by starting as a helper to an established tile installer so you can learn the basics and progress so you become a lead installer setting ceramic tile on a full-time basis for at least two years.
From helper, expect to progress through improver, grouter, and finisher. Your goal is to reach a level of proficiency to independently and consistently produce a sound tile installation that displays good workmanship. That experience includes full responsibility for substrate prep, layout, coordinating with other trades, and properly installing underlayment, tile, grouting, and sealant materials.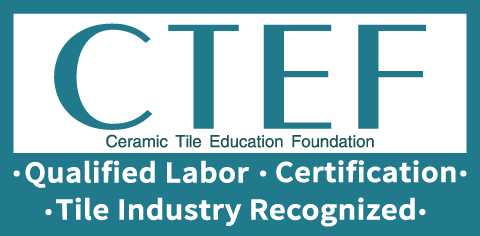 Take a CTEF Training Program
The Ceramic Tile Education Foundation (CTEF) conducts classes in the Pendleton, South Carolina facility detailing what's involved for tile industry professionals.
Two classes, in particular, are worth participating in especially if you're an entry-level installer and/or considering a career as a tile professional:
Understanding & Installing Ceramic Tile (UICT)
Understanding & Installing Ceramic Tile (UICT) offers basic instruction of the TNCA Handbook and the American National Standards Institute (ANSI) specifications along with actual hands-on experience for the individual seeking an entry-level installer position with a tile contractor.
This 4-1/2 day course provides basic instruction of the TCNA Handbook and ANSI specifications along with actual hands-on experience in installing tile. It is ideal for someone who is seeking an entry-level installer position with a tile contractor.
All aspects of the thin-bed (thin-set) tile installation process including floor prep and installation materials are covered.
Mortar Shower Base & Waterproofing (MSB&WP)
The MSB&WP is a two-day course and focuses on the proper installation of the shower pan, including common mistakes and causes of failure. It can easily be bundled with Understanding & Installing Ceramic Tile for a 15% discount.
This course explores properly installing a conventional water in/water out shower pan and includes common mistakes and causes of tile installation failure. In this class, you will individually construct your own traditional-type shower base and curb out of mortar while following industry-accepted methods and requirements for waterproofing tile showers.
The instructor will provide you with an overview of alternative shower systems and products available on the market, shower pan repair techniques, as well as sheet and liquid membranes that are used in various waterproofing applications.
Emphasis is on getting optimal performance out of wet area materials and methods with the goal of ideally eliminating failures and callbacks. Because instructors address the full spectrum of industry-accepted materials and methods, attendees gain the ability to select appropriate materials and methods for the various wet area jobs and challenges that may be encountered.

Please Note: FCEF Scholarship
If you sign up for the Understanding and Installing Ceramic Tile Course offered by CTEF, be sure to check out the Floor Covering Educational Foundation's scholarship program, as you will almost assuredly be eligible for a scholarship to offset this expense.
Once you have completed the CTEF training, you can more confidently approach established tile installers to gain experience with tile installation.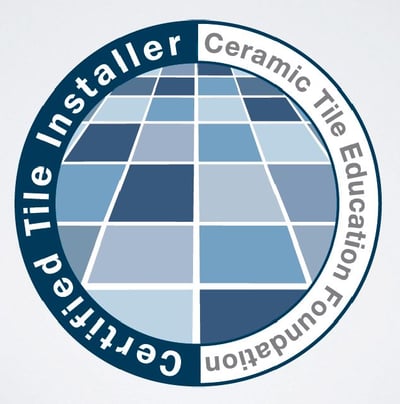 Step 3: Become a Certified Tile Installer
If you're truly committed to becoming a tile professional, you will want to become a Certified Tile Installer or CTI. The CTEF CTI program is the only third-party assessment of installer skill and knowledge that is recognized by the tile industry.
>> Learn about the CTI program
You'll find references online to the CTI program in just about all of the digital listings that offer advice on getting immersed in the tile trade:
Indeed.com says:
"Though you don't need to get certified to become a tile setter, customers may be more willing to hire you if you are certified. Certification also offers you extensive knowledge on the newest updates, techniques, and equipment innovations within the field. The most common certification for tile setters is the Certified Tile Installer (CTI), offered by the Ceramic Tile Education Foundation, which teaches you the fundamentals of tile installation and setting."
FamilyHandyman.com says the following about becoming a CTI:
One can learn the trade and work with only on-the-job experience and no certification. However, those who choose this path remain limited in career advancement and independence. Billaud recommends participating in an apprenticeship program or the basic training courses provided by the Ceramic Tile Education Foundation.
Zippia in How To Become a Tile Setter not only brings up the CTI program but also the Advanced Certifications for Tile Installers (ACT):
"Several groups, including the Ceramic Tile Education Foundation, the International Masonry Institute (IMI), the International Union of Bricklayers & Allied Craftworkers (IUBAC), the National Tile Contractors Association (NTCA), the Tile Contractors Association of America (TCAA), and the Tile Council of North America (TCNA) have created the Advanced Certifications for Tile Installers (ACT) program. Certification requirements include passing both an exam and a field test.
Workers must also have either completed a qualified apprenticeship program or earned the CTI certification to qualify for testing."

Step 4: Join a Tile Installer Professional Organization
The tile industry offers many opportunities to network and actively learn from other installers. These include digital forums such as Facebook groups and professional organizations.
>> The Top Tile Associations and Organizations
The National Tile Contractors Association (NTCA) in particular offers many opportunities for education and lifelong learning, and networking.
For example,
Step 5: Develop a Professional Online Presence
As a tile professional, you'll want to not only keep a reference sheet with projects completed to share with potential customers, but you'll also want to have a digital presence where your track record can easily be viewed.
Create a LinkedIn profile for yourself where you can add your professional experience and certifications. Include a link to your profile in your email signature, and on your website, if you have one.
Develop a company Facebook profile where customers can leave reviews about their experience with you, and where you can post images of completed projects.
Don't forget to claim your Google Business Profile. These are the profile listings that show up in search and on maps when people search locally. Encourage customer reviews and acknowledge them. You can also add photos of completed projects.

Step 6: Never Stop Learning!
Seriously, take every opportunity to keep on learning. Many tile-related manufacturers offer training specifically related to new products and materials; participate in those.
Attend industry events and learn about new methods and standards. Participate in the committees working on setting those standards. That's what makes the tile industry so exciting!
As with any trade or career, the more curious your mind is, the easier it becomes to learn and love what you do. Installing tile may be an ages-old profession; however, you'll discover plenty of innovation in the methods and practices as well as the products, materials, and tile itself.
>> The Certified Tile Installers Credo
Are You Ready to Become a Tile Professional?
Let us know if you have questions about the steps outlined above on how to become a professional tile installer. We would love to welcome you to the trade!
Thanks for reading.