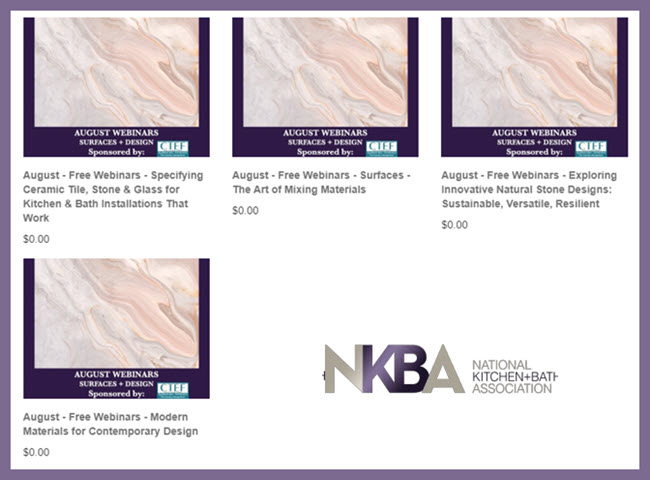 When it comes to successfully completing kitchen and bath installations, Qualified Labor matters. It helps ensure that the tile installation will perform as expected and look as designed for years to come in spaces that demand a great deal from proper performance.
Given how demanding these spaces are, there's tremendous benefit to ensuring that designers and installers collaborate as Dan Hecox showed us in Dan Hecox Inspires Designers, Tile Installers to Aspire to Higher Standards. The more designers understand the requirements of tile installations that perform and the better tile installers communicate with designers, the more likely success is all around.
CTEF Sponsors NKBA Webinar Series
For that reason, CTEF is pleased to once again collaborate with the National Kitchen + Bath Association (NKBA) as a sponsor of the August 2020 weekly webinar series which focuses on surfaces and materials.
Here's perspective on the NKBA webinar program.
The NKBA Professional Development Team began the free Webinar Series for members and nonmembers in January 2018. The free sessions offer the attending participants 0.1 CEU per event.
Each month, participants have four, 60-minute sessions available each of which features a subject matter expert.
>> To register for the sessions, go to the NKBA store, click on webinars and create an account.
For these upcoming sessions, CTEF introduces each one and highlights the criticality of Qualified Labor to the tile installation process. Each session will be recorded and we plan to share them with you in this space as they become available.
What makes 2020 special is that CTEF's own Scott Carothers kicks off the month as a subject matter expert!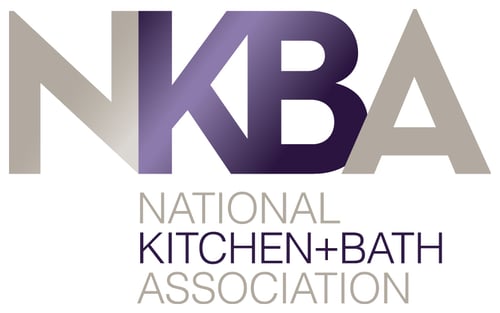 In 2019, CTEF sponsored webinars focused on sustainability in April. You'll find details on those below.
About NKBA
If you aren't familiar with the NKBA, it is the world's leading non-profit trade association for the kitchen and bath industry offering certification, research, tools and events such as webinars to design professionals.
Interestingly, the organization started out in 1963 as a network of kitchen dealers. Since then, it has evolved into the premier association of designers, retailers, remodelers, manufacturers, distributors, fabricators, installers and other kitchen and bath industry professionals.
Here are the NKBA's vision and mission:
"The association's vision is a world in which everyone enjoys safe, beautiful and functional kitchen and bath spaces. Our mission is to help make it happen through the creation of marketplaces, networks, affiliations and certifications that raise the level of professionalism by inspiring, leading and empowering each member of our community."
The NKBA also owns the Kitchen & Bath Industry Show (KBIS), the largest trade show worldwide for the kitchen and bath industry.
The 2020 NKBA Webinar Series About Surfaces & Materials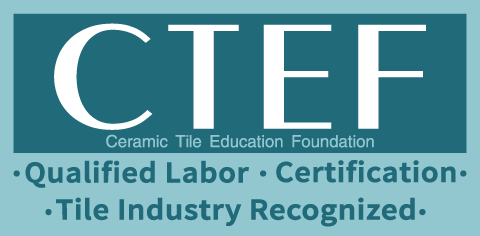 Specifying Ceramic Tile, Stone & Glass for Kitchen & Bath Installations That Work
As mentioned above, Scott Carothers, Director of Certification & Training for CTEF kicks off the month of August on Tuesday, August 4, 2020 from 12:00 to 1:00 pm ET.
>> Register for Scott's session
Here's more perspective on that session:
Today's clients are smart and discriminating. Many times, they know what they want and enlist the expertise of a design professional to create a beautiful, functional, and long-lasting kitchen or bath. A successful installation that will stand the test of time combines that design with the appropriate tile installation standards and best practices.
Luxurious, easy-to-maintain bathrooms designed for life's fast pace must be able to handle large volumes of water dispensed through multiple shower heads and/or from frequent use. Although waterproofing systems from manufacturers with a lifetime warranty build client confidence, the choice of tile affects success, too.
It's important to understand of the wide array of tile products available for use in the kitchen or bath which products are appropriate and will function well especially in wet environments. For example, although natural stone offers an aesthetic that can be difficult to match, the enhanced technology of present-day tile products offers consumers significantly reduced care and maintenance. Even seasoned professionals have difficulty discerning the difference.
Ultimately, the stunning design using the best and most attractive tile products requires one additional component; the inclusion of Qualified Labor as defined by the Tile Council of North America (TCNA). TCNA and the Handbook Committee strongly recommend using installers who have demonstrated their commitment to their craft and take the time to say current with the latest materials and methods. Why? Because tile is a permanent finish, the lowest bid should not be the driving factor, but rather who is the most qualified to perform the scope of the work specified.
Learn more in this presentation about the key considerations of a proper kitchen and bath tile installation, the characteristics of tile, stone and glass, and the benefits of hiring Qualified Labor for the installation of tile.
At the end of this session you will:
Identify key considerations in a proper tile installation in the kitchen and bath.

Describe the characteristics of tile, stone and glass.

D

iscover the necessities of hiring Qualified Labor.
>> Here is the YouTube link to Scott's presentation.
The Art of Mixing Materials
Next, Christine J. McDuffie, Regional Sales Leader for Hallmark Building Supplies, Inc., addresses mixing materials on Wednesday, August 12, 2020 from 12:00 to 1:00 pm ET.

>> Register for the Art of Mixing Materials
As the session description explains,
The creative landscape has changed as design increasingly becomes a fusion of ideas, material, technology and the environment. Smooth transitions flow between art, architecture and design and each medium must be able to adapt, progress and evolve with time.
Designers are the key to a seamless link between nature, technology and aesthetics, for both interiors and exteriors. In this webinar, we'll arm you with information about the benefits of various surfaces, wood, concrete, solid surface, quartz, etc. and how they can blend together to achieve beautifully functional, long lasting spaces.
At the end of this session you will:
Identify the basics of a variety of surface materials.
Discover how these materials can be used in unique applications.
Explore how to achieve differing looks through the mixing of materials.
Evaluate the functional aesthetic of various surfacing materials and how they can combine to create beautiful interiors.

Exploring Innovative Natural Stone Designs: Sustainable, Versatile, Resilient
On Wednesday, August 19, 2020, from 12:00 to 1:00 pm ET, Dacia Woodworth, the Architect & Design Community Liaison for the Natural Stone Institute addresses designs with natural stone.
>> See How to Install Floor Tile When It's Natural Stone Rather Than Ceramic
>> Register for the Natural Stone webinar
As the session description details,
Award winning natural stone projects will be presented in order to showcase its versatility, sustainability, and resilience. We will review how common and custom natural stone products are used in innovative ways. Learn what metrics the industry uses to define sustainability and see how they compare with artificial building materials.
Natural stone is the world's oldest building material; however innovative designs are only limited by one's imagination. Find out how the use of natural stone can bring your vision to reality for your clients.
Three modules will be presented, focusing on inspirational project photos, and the "How" of what is featured. At the end of this session you will:
Review the geology of stone, how it is processed and its standard sizes.
Define common stone applications within commercial and residential projects – review what standards and drawings are relevant, how it is specified and bid, and how to source natural stone.
Realize how stone differs from artificial building materials in regard to sustainability.
Modern Materials for Contemporary Design
The last August session is about modern materials and contemporary design. Nelson Wills, Partner – VP Business Development for Element Designs leads this session on Thursday, August 27, 2020 from 12:00-1:00 pm ET.
>> Register for Modern Materials for Contemporary Design
Here's what to expect:
This webinar is an essential guide into trends in the kitchen and bath industry as the next generation grows into buying influence. It's also a how to guide of incorporating clean and transitional/modern materials into today's and tomorrow's designs.
While this session has a focus on the Influence of European standards, this is an American based CEU for knowledge and to focus on ideas about materials in the emerging marketplace of contemporary design trends.
At the end of this session you will:
Describe three contemporary design materials and discuss the characteristics of each.
Discuss the interior design applications for aluminum, glass, and high gloss acrylic.
List the project types where aluminum, glass and acrylic can be incorporated and how best to include these elements for a contemporary design.
You can watch the video recording:
2019: Four Designer-Focused Webinars on Sustainability Themes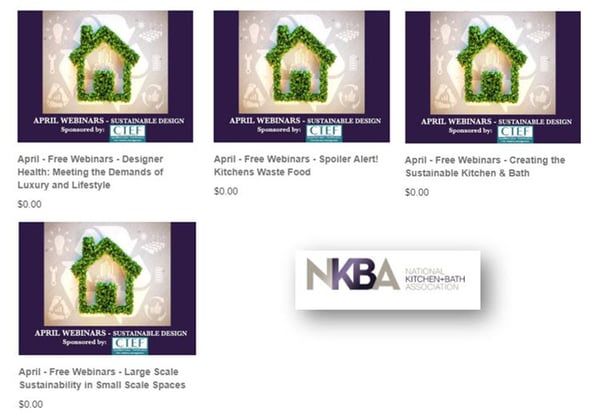 Given that tile is a natural choice, sustainability seemed like a perfect theme to sponsor.
>> See What's an Ideal Sustainable Building Material? Tile Of Course!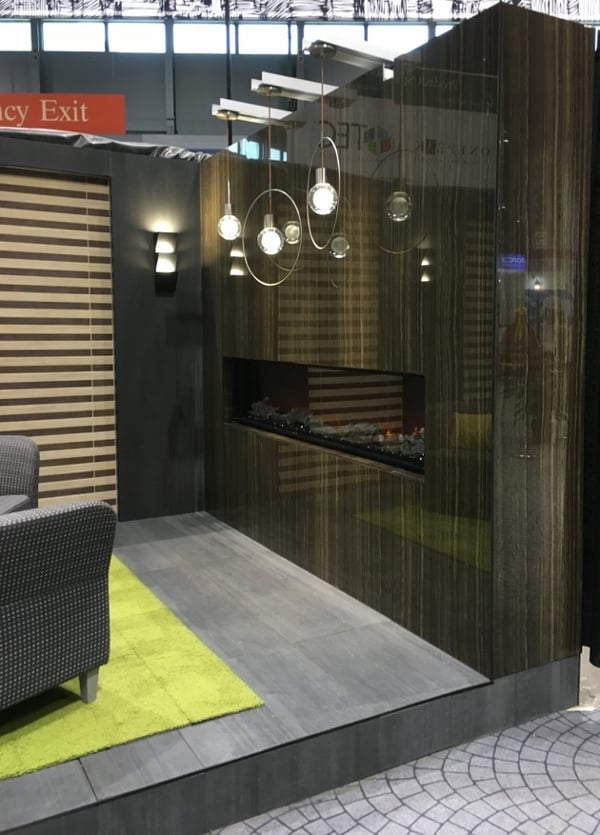 Designer Health: Meeting the Demands of Luxury and Lifestyle
The first webinar of the April sustainability series addressed the evolution of design and how it affects lifestyle and sustainability.
The subject matter expert was Lauren Levant, Owner of Lauren Levant Interior and took place on Wednesday, April 10, 2019 from 3:00-4:00 pm EDT.
The session description read,
"Health is the ultimate luxury. The discerning client of the present and the future is redefining the luxury lifestyle. No longer about mere beauty, the most successful and sought-after projects are now designed with health and well being at the center. Premium materials with healthy finishes, responsibly sourced are becoming in greater demand, and clients are willing to pay a premium for them. Like the organic, non-GMO groceries, the homes of today's luxury clientele need to take care of them from the inside out."
At the end of this session participants will:
Discover the importance and significance of incorporating healthy products into your design.
Recognize effective ways to design for a health-conscious client – where and how to look for products to use and manufacturers to lean on.
Reflect and analyze on the outcome of healthy design – how it effects the project bottom line and contributes to your brand.
To access the recording, click on Play Recording (59 minutes). The password is: Muwb9FdK
>> See Sustainable Tile, Expert Installation Make for Spa Lobby by Healing Environments

Spoiler Alert! Kitchens Waste Food
The second session addressed a more sustainable way of designing kitchens so they waste less food. Led by Paula Kennedy, CMKBD, Principal and Designer of Timeless Kitchen Design, it took place on Wednesday, April 17, 2019 from 12:00-1:00 pm EDT.
The description read,
"Today's kitchens are not designed with food preservation in mind. That may sound strange to say and isn't so much of what we do focused around food storage? Yes, but food Preservation is different than merely STORAGE.
Are you tired of throwing away produce? The U.S. wastes 30-40% of food per year. The amount of food wasted that goes to the landfill is disturbing. As food spoils in the landfill it gives off methane gas that contributes to the Greenhouse effect. We'll talk about consumers shopping habits and their concerns of healthy and sustainable living.
Did you know some fruits and vegetables like it cool, some like it room temperature, and some need humidity? There are the fruits and vegetables that produce ethylene gas as they ripen that is detrimental to surrounding produce! Why did no one tell us you aren't supposed to store your bananas and apples together! Remember cellars, larders and that cute little wicker basket designed into a base cabinet? Did you know those wicker baskets that you we don't design into kitchens anymore actually served a valuable purpose?
We will address how to design kitchen spaces, storage and equipment to better serve our client and the environment. Proper food storage will reduce food waste which will save food from ending up in the landfill and it will support our client's health by having that health snack readily available. We'll also talk about trends that are bringing new equipment into the kitchen that we need to plan for, as well as trends of getting back to basics of home gardens and preservation techniques."
At the end of this session participants will:
Discover how residential consumer food waste effects the environment.
Explain how food waste can be addressed through design, product offerings and tips/tricks for food preservation.
Develop your knowledge of current technology and discuss the future of the food industry.
To access the recording, click on Play recording (56 min). The recording password is kYz6PPk7
Creating the Sustainable Kitchen & Bath
The third webinar session happened on Monday, April 22, 2019 from 12:00-1:00 pm EDT and addressed creating truly sustainable kitchens and baths. It was led by Robin Fisher, CMKBD, Principal Designer & Owner of Robin Rigby Fisher Design.
The session description read,
"Global warming is a scientific fact, although approximately 30% of the U.S. population does not believe that this is a man-made effect. The construction industry is one of the leading contributors to climate change.
Through this 60-minute webinar, you will learn to understand how man is contributing to climate change and how you as a Kitchen and Bath Designer can make choices for your client that will benefit how they and their family live in their home and health benefits without selling the benefits to the planet. (Although each step is just one small step to aiding the planet.)"
At the end of this session participants will:
Explore and define the need to design sustainable kitchens and baths.
Apply methods to incorporate sustainability into your designs.
Discover tools to use to sell sustainability without "selling" sustainability to your clients.
Click to download the presentation notes.

Large Scale Sustainability in Small Scale Spaces
The last session took sustainable design practices to residential spaces. Led by David Tracz, Co-Founder of //3877 Architecture and Design, it took place on Tuesday, April 30, 2019 – 12:00-1:00pm EDT.
According to the session description,
"This webinar, led by co-founder of DC-based architecture and interiors firm //387 David Tracz, will evaluate sustainability practices in residential design on a macro and micro level. Starting with an introduction to the latest sustainable technologies in residential design, the webinar will walk through these various solutions, showcasing their benefits to both the design of the home as a whole and the bath specifically.
Each technology, new to market and established in the industry, will be discussed on a larger scale. This will be followed by a deep dive into how each technology, when implemented by the design team and homeowner can vastly shrink the environmental footprint of the residence. Within this frame of the conversation, David will touch on the bathroom's reputation as a high-energy producing space. He'll share methods for improving and minimizing the bathroom's energy output, which also offers a long-term cost-savings to homeowners. Examples of David's own bathroom renovation and energy efficient home will be referenced throughout the presentation, acting as a guide for what listeners should consider for their own projects."
At the end of this session participants will:
Unpack the latest in sustainable technologies for residences, with a focus on water saving elements and solar panel sourced energies.
Illuminate the benefits of integrating sustainable technologies in macro and micro terms.
Showcase how technologies installed for the whole home impact design, habits, and environmental footprints for individual rooms in the home with an emphasis on the bathroom.
To access the recording, click on Play Recording (59 minutes). The password is: iHGhEck5
Sustainable Design and Qualified Labor Need to Successfully Coexist
We all recognize the importance of sustainable design in both the kitchen and bath as it relates to our environment. But once the stunning and functional design is complete, the work necessary to bring it to a beautiful completion requires the knowledge and skills of Qualified Labor. The purpose of utilizing sustainable design is to conserve our resources. The same is true for the labor and materials used during the installation of tile.
Because tile is a permanent finish, the lowest bid should not be the driving factor, but rather who is the most qualified to perform the scope of work specified. Qualified Labor knows how to implement the work required satisfactorily the first time, thereby eliminating the waste involved when unskilled workers are hired. Many times, the low bid is unable to meet the requirements of the specified work which results in failure and unusable materials going into the landfill.
Attend the NKBA Surfaces & Materials Webinar Series and Support the Promotion of Qualified Labor
What's your reaction to the NKBA Webinar series? What do you consider most important for designing kitchen and bath spaces that perform as they should? We hope you'll attend these sessions or check back to watch them.
We look forward to promoting Qualified Labor with the NKBA.
Thanks for reading.
Note: We originally published this article on March 26, 2019, and have updated it.