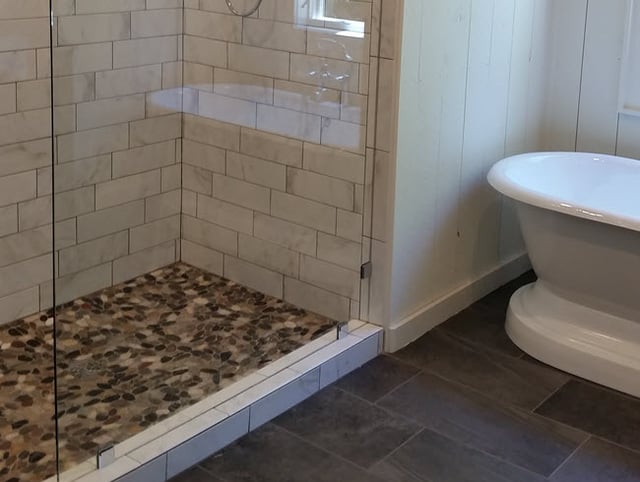 If you're having porcelain tile installed and you're looking for confirmation or validation that the project will be completed correctly, where do you go?
We recommend two paths:
Know where to find porcelain tile installation standards
Know where to find tile installation experts for the project
Let's explore.
Where Can You Find Tile Installation Standards and Guidelines?
The tile industry takes seriously its standard-setting role and its commitment to encouraging and supporting installer skills and knowledge. That's why the Tile Council of North America (TCNA), the National Tile Contractors Association (NTCA), the Ceramic Tile Distributors Association (CTDA) among others, and the Ceramic Tile Education Foundation (CTEF) exist:
To provide guidelines, education, and certification for correctly installing porcelain tile.
>> See The Top Tile Associations and Organizations
>> And, Tile Installation Resources and References
Tile is beautiful, versatile, easily maintained, and has a rich history. It is also a practical product that must be installed correctly.
It's helpful to know where to find installation resources so you can comprehensively evaluate your installer's skill and knowledge before he or she is hired to complete your dream installation.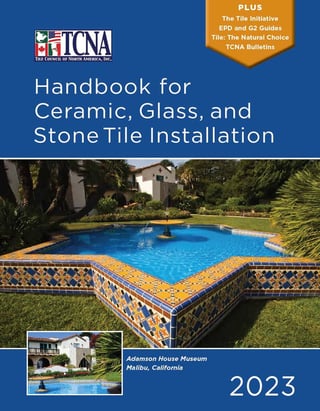 ANSI and TCNA Handbook
Here are the primary tile industry standards, methods, and guidelines used for the proper installation of porcelain tile.
American National Standards Institute (ANSI) A108 and A118 - American National Specifications for the Installation of Ceramic Tile - Material and Installation Standards
ANSI A137.1 - American National Standard Specifications for Manufacturing Ceramic Tile
Tile Council of North America (TCNA) Handbook for Ceramic, Glass, and Stone Tile Installation
>> See The TCNA Handbook for Ceramic, Glass, and Stone Tile Installation
These standards and guidelines are extensive in that they cover many types of installations using tried and true best practices, methods, techniques, and materials recommended for a variety of structures and substructures.
>> See ANSI Standards: A Tile Installer's Best Friend!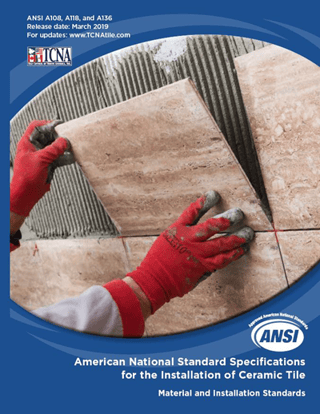 For example, ANSI A108 defines the acceptable lippage for installed Pressed Floor and Porcelain Tile that has been tested and passed the required minimum standards for ceramic tile (found in ANSI A137.1) as follows:
All sizes of Pressed Floor and Porcelain Tiles with grout joint widths of 1/16" wide to less than 1/4" wide: Allowable lippage is 1/32".
All sizes of Pressed Floor and Porcelain Tiles with grout joint widths of 1/4" wide or greater: Allowable lippage is 1/16".
For reference: 1/32" is roughly the thickness of a credit card. 1/16" is roughly the thickness of one penny.
>> See Do You Have Enough Mortar to Accommodate Most Tile Warpage?

NTCA Reference Manual
The National Tile Contractors Association produces the NTCA Reference Manual. It's an invaluable tool for the tile industry and a well-respected companion document to the TCNA Handbook for Ceramic, Glass, and Stone Tile Installation and ANSI standards.
The Reference Manual is a comprehensive blend of the knowledge, experience, research, and development of the NTCA Technical Committee members, which includes ceramic tile contractors, consultants, distributors, manufacturers, and others associated with the tile industry.
It's updated annually and includes close to 300 pages of information covering everything from substrate preparation to finished grout.
The purpose of the Reference Manual is to identify recurring tile and stone installation challenges, recognize potential problems, and gain consensus from industry experts on offering solutions.
>> See NTCA Reference Manual: An Invaluable Tool for the Tile Industry
How to Use this information?
For quality-oriented tile contractors, these standards will be a guide for all of their ceramic tile installations. They are all available for purchase by the consumer, whether they be residential or commercial, and will provide direction relating to the best method available.
If you are an owner considering a project that includes tile, we strongly encourage you to interview and hire a qualified tile contractor who employs industry-recognized mechanics. Installers of this caliber own, understand and use the tile industry standards listed above.
Where can you find tile installation experts for your project?
To find qualified labor, look for tile installation certifications such as,
Certified Tile Installers: CTIs are ceramic tile installation professionals who have successfully passed industry-approved written and hands-on tests for the proper installation of tile. These installers have the knowledge and skills to install your tile using current tile industry best practices while adhering to industry-approved standards.
ACT Advanced Certifications for Tile Installers: ACT Certified Tile Installers have specific certifications in tile installation procedures that meet current ANSI standards and TCNA guidelines for floor and walls. To qualify to take these advanced tests, ACT Certified Installers must have either successfully completed a Department of Labor approved apprenticeship program or have passed the CTI - Certified Installer test offered by the Ceramic Tile Education Foundation (CTEF). ACT Certified Installers represent the pinnacle of performance in the tile trade and maintain a level of excellence superior to non-ACT certified installers.
>> See Why Certification
Look for installers and tile contractors who are members of accredited tile industry organizations such as the National Tile Contractors Association.
All NTCA Contractor members, whether they are Five Star Contractors, Certified Tile Installers, Advanced Certified Tile Installers, or regular Contractor members, have access to the most current and accurate tile installation standards and methods available.
Having access to live technical assistance from the NTCA Technical Experts is invaluable in cases where trouble-shooting and problem-solving are required. These experts each have over 30 years of tile installation and project management experience, while also being members of many industry technical and specification committees involved in creating the industry standards for all types of tile installations.
>> See How to Deal With Tile Installation Problems?
Look for NTCA special member designations and recognitions.

More specifically, NTCA Five Star Members have completed and been approved for acceptance into a strong association accreditation program. They have been NTCA members for over three consecutive years, have an active safety program, and are committed to continuing education, training, and certification for their installer.
In the Five Star applications process, these contractors must provide formal recommendations from their customers, suppliers, and peers in the tile installation industry. They are also required to employ Certified Tile Installers.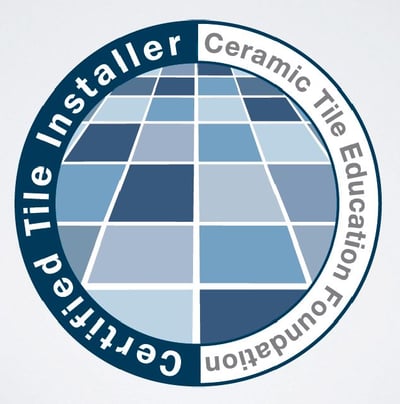 Find a Certified Tile Installer
If you're ready to find a tile setter to install your porcelain wall and floor tile project, here are your next steps.
1. Use the information we've put together based on years of experience ensuring that your tile gets installed correctly the first time because your tile installer is truly considered qualified labor.
>> See Looking to Hire a Tile Installer? Here's Your Roadmap.
2. Visit the CTI Zip code locator on this website to find a CTEF Certified Tile Installer.
Let us know if you have additional questions.
Thank you for reading.
Note: We originally published this article on 10/24/2017, and have updated it.