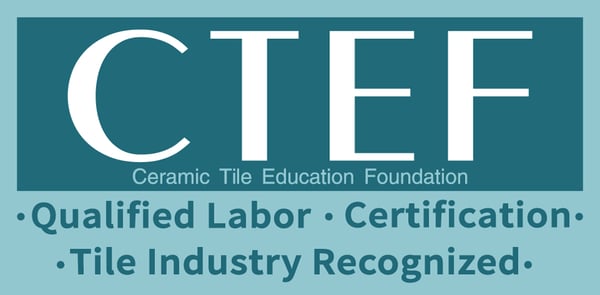 The Ceramic Tile Education Foundation has news to share with you! We are searching for an Executive Director to take the foundation's mission to the next level.
This represents a major milestone for CTEF. Realize that all the education, training and certification of 1,500 CTIs and many ACTs achieved this far has happened because of the intense dedication of two full-time staff members, an army of volunteers and the outsourcing of some functions.
It's time, though, for a dedicated Executive Director.
We caught up with Bart Bettiga, Executive Director of the National Tile Contractors Association (NTCA) and member of the CTEF Board of Directors to learn more.
Bart Bettiga Discusses the New CTEF Executive Director Search
CTEF: Bart, why is CTEF searching for an Executive Director?
BB: One of the most important objectives in the tile industry today centers around the need for recruiting and training qualified tile installers.
The Ceramic Tile Education Foundation offers the only tile industry recognized certification test validating the skills and knowledge of the installer. This industry certification will become even more important as consumers, homebuilders, general contractors, specifiers and designers seek qualifications through programs such as industry certification.
The Foundation relies on industry support in order to carry out its educational and certification goals.
The need for this program to grow to new levels is urgent and the Foundation is seeking to hire a dedicated self-starter who can work with industry leaders and supporters to reach its goals and objectives.
CTEF: Who has played that role up to now?
BB: The Foundation is based in Clemson, South Carolina, and has relied on a very small staff, coupled with support of leading trade associations in the tile industry, and its sponsors and volunteers.
For many years, Scott Carothers has led the Foundation as it developed its certification program. He will continue with the Foundation as its director of certification and education. What CTEF needs now is a strong leader who can help escalate the program, expanding its educational and certification outreach.
CTEF: What milestones has CTEF achieved?
BB: The Foundation has a very strong group of dedicated installers who have successfully passed the Certified Tile Installer (CTI) test. There are now 1,500 CTIs actively working in the industry.
In addition, CTEF has worked with other industry associations to develop the Advanced Certification for Tile Installers (ACT) tests. The new director will work closely with staff and industry leaders to further develop both of these programs.
CTEF: What industry and organizational challenges do you see affecting the tile industry, CTEF and its relationship with NTCA?
BB: The tile industry is poised for growth. Our products continue to be a popular choice for both commercial and residential applications.
The technology being developed creates both opportunity and challenges. It has created many new options for industry growth, but it also requires true skill, craftsmanship and training to successfully be installed.
The challenge for NTCA, CTEF and other groups is to work together to recruit, train, and certify this labor force, creating consumer and building industry confidence in both our product and its installation.
CTEF: Bart, what kind of a person are you looking for?
BB: The ideal candidate will have a clear understanding of the construction industry, and it would be perfect if they had significant experience in tile distribution, manufacturing, and installation.
But this is not paramount to being qualified for this position.
We are looking for a proven leader; one who can motivate volunteers and sponsors to clearly understand the vision of the Foundation's purpose, so that they will want to invest their resources, both time and money, to help CTEF make a bigger impact on industry growth.
CTEF: How will this role interact with the director of certification and training role?
BB: The Executive Director will support the certification and training director by raising awareness of the programs to consumers and the construction industry.
They will be responsible for raising the necessary funds and support to continue to develop both certification and training, and for recruiting sponsor and volunteer support to make this happen.
CTEF: Why not have Scott Carothers take on the Executive Director role?
BB: Currently the CTEF operates with just two full time staff, and relies on outsourcing program support in marketing and promotion, along with association support from the tile industry.
Scott Carothers has done an outstanding job getting the CTI Program to reach 1,500 installers who have passed the test. However, in order for this number to grow at a much faster pace than it has to date, he needs to be able to focus solely on the training and certification testing process.
The Executive Director will come in to help expand this program, by raising more support in funding and volunteerism.
The Executive Director will help to solve logistical challenges and will be focused on promoting and marketing the existing CTI installers so that they get hired to perform the work.
CTEF: How will the executive director role interact with TCNA, NTCA, the Coverings Board, CTDA, and others?
BB: The Executive Director will work closely with all of these groups and will rely on developing partnerships and support from their staffs.
More importantly, they will leverage this support to work with the members of these organizations to grow the program.
CTEF: Bart, where is the CTEF Executive Director located?
BB: CTEF has its office and training center in Andersen, South Carolina, located near TCNA Headquarters by Clemson University.
It is a short drive to large markets like Atlanta, Charlotte, and Nashville. The Executive Director will work here to further develop the relationship with TCNA and its staff, and travel to other major markets to garner support for CTEF programs.
CTEF: Thanks, Bart.
Interested in Applying for the CTEF Executive Director Position?
If you consider yourself the ideal candidate Bart has described, consider applying. If you're interested, you can do so by downloading the Executive Director information kit which includes the position description and the 2018 CTEF Annual Report. When you do, you can upload your own resume.
Let us know if you have questions.
Thanks for reading.